If you know me, you know I love my cast iron.  I have a fancy set of Calphalon non stick that we got for our wedding but since I've started keto I almost exclusively cook with Cast Iron.  Well recently I've pickup up a new ginormous-sized cast iron skillet and I knew what I had to do.  I had to make a giant, week sized frittata! If you're not familiar, a frittata is basically a skillet baked omelet.  It is very similar to a quiche but the taste and texture is different because of the cooking vessel. Also, I have been getting tired of my standby breakfast quiche and I needed something new.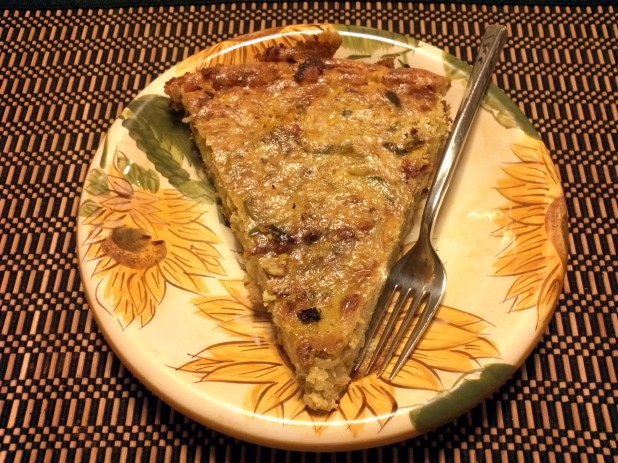 Here's a finished slice!  It was amazing!  I think I did use a few too many veggies but the end result was really good.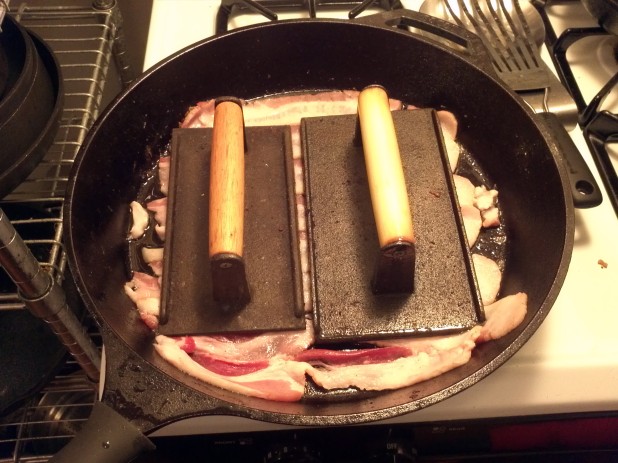 The first step in this recipe is to cook the bacon.  This pan is so big I needed both of my bacon presses in order to cover the bacon!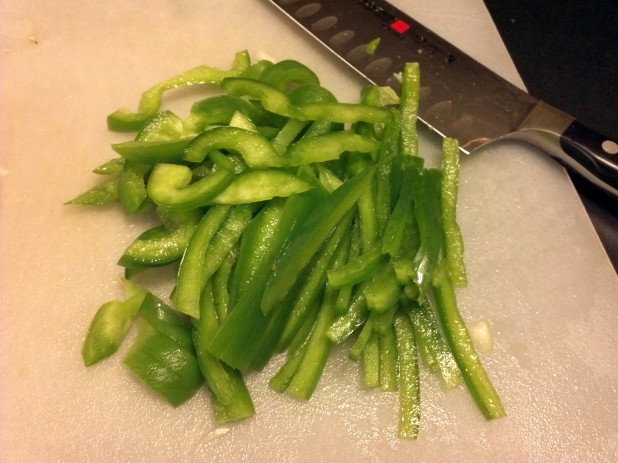 While the bacon is cooking, take this chance to prep the vegetables.  The first thing is to thinly slice a green pepper.  I like to do slices because when fried they make a string like texture which gives a nice feel to the breakfast.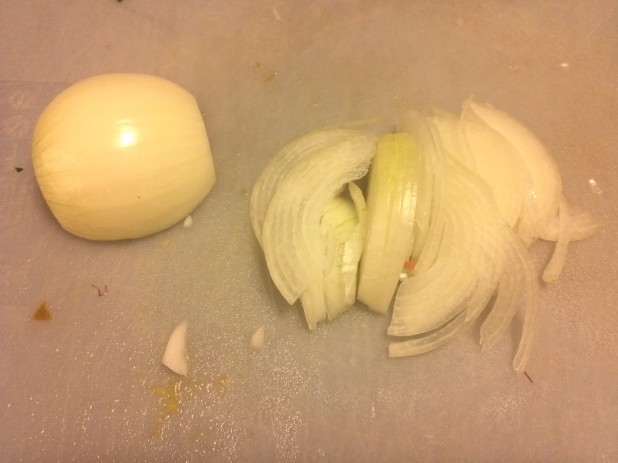 Do the same with an onion.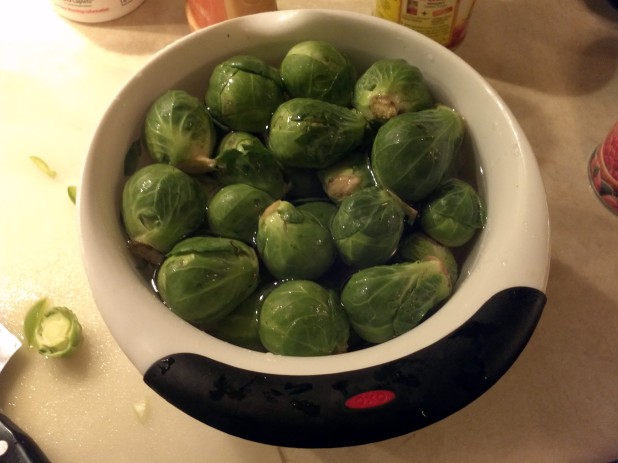 Next come the brussels sprouts. I used to wash the brussels sprouts individually but now I just put them in a bowl and soak them in cold water.  Then you can move them around and rinse them all at once.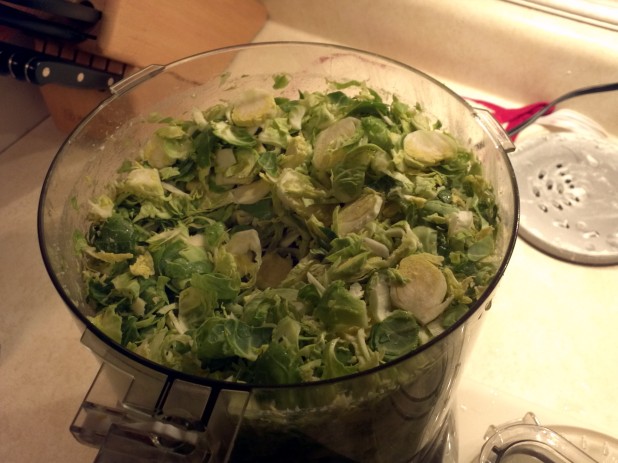 For this recipe, I used the slicing attachment for the food processor. It makes quick work of the brussels sprouts! I just take a few out of the water at a time and throw them down the chute of the slicer.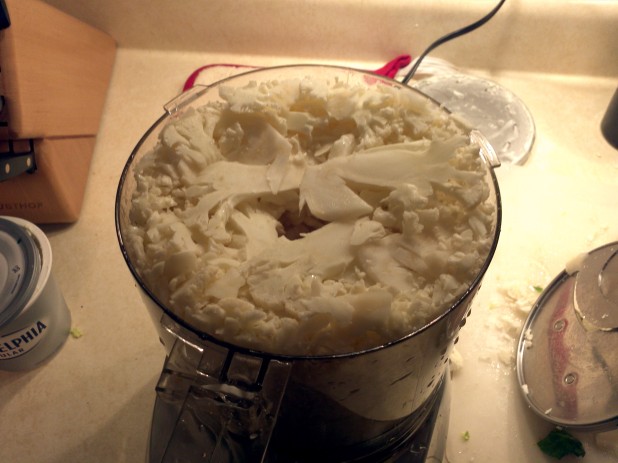 I did the same thing to a head of cauliflower.  I'd never actually sliced cauliflower like this before but it was pretty easy!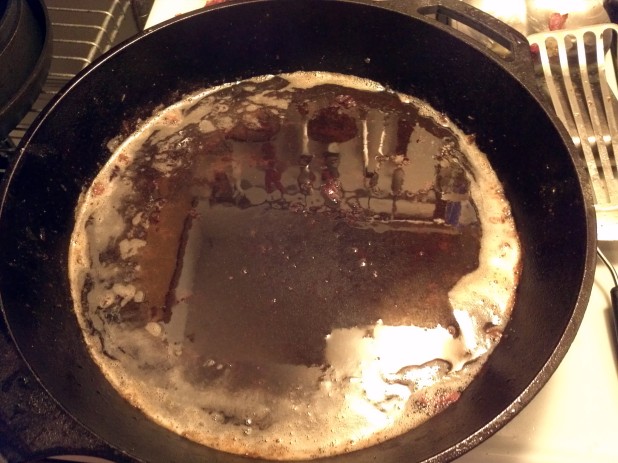 At this point your bacon should be done.  The added bonus is that we've got the frying grease all ready to go for our vegetables.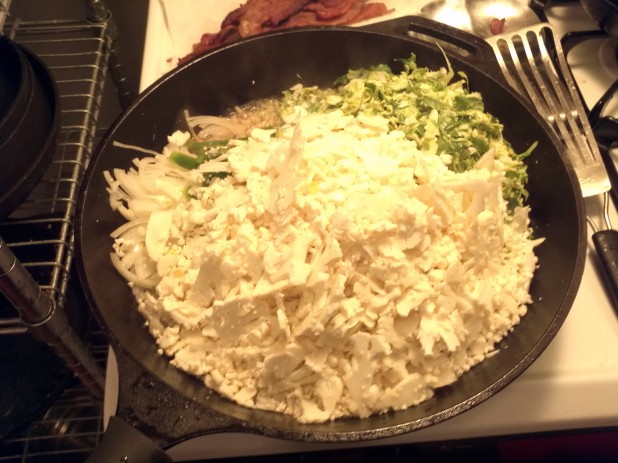 Now throw all the vegetables in and get frying!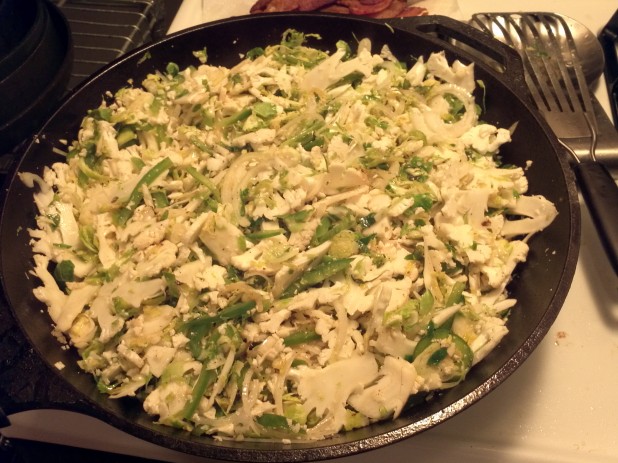 Here's the vegetables mid fry.  I mixed them around every few minutes to distribute the heat.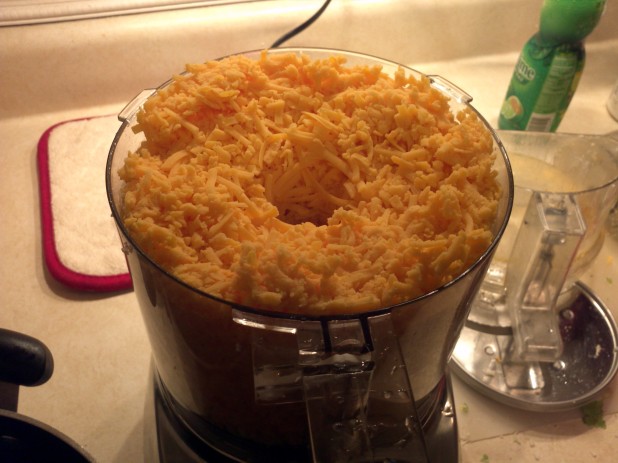 While the vegetables are cooking, I shredded my weeks worth of shredded cheddar.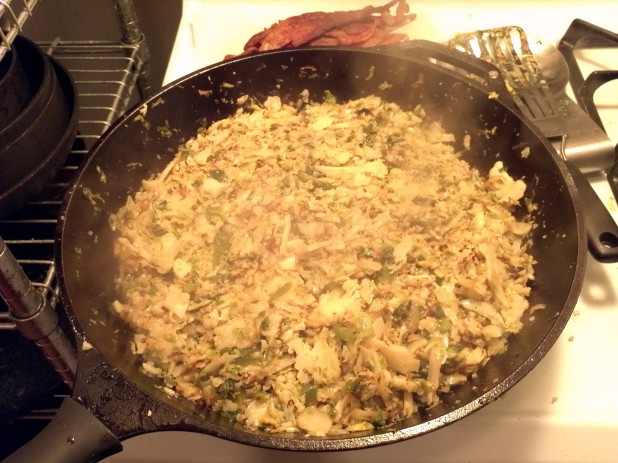 Eventually the vegetables will reduce down to this form.  When they start to get translucent you are good to go!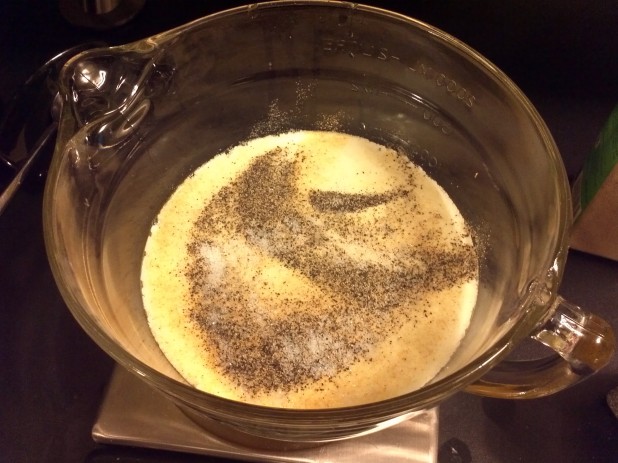 Prep the eggs by getting 12 eggs, 180 ml of heavy cream and the spices together.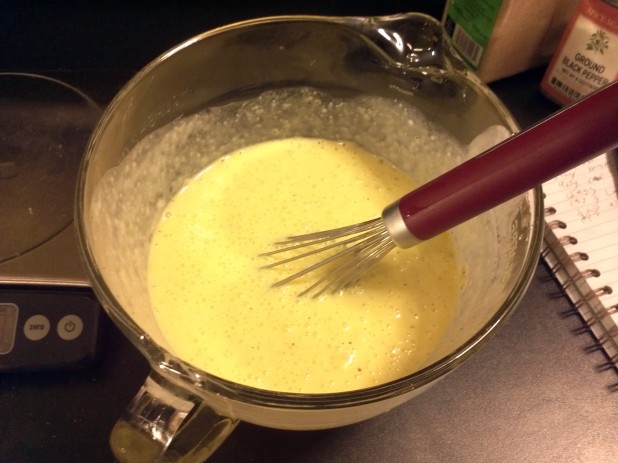 Whisk the eggs together and set aside.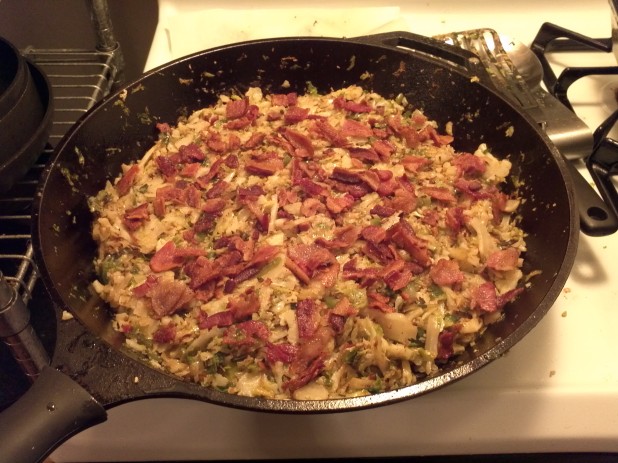 Now crumble the bacon and add it to the mixture.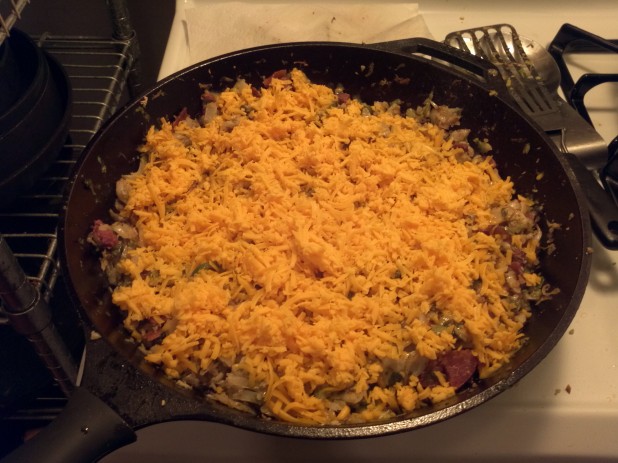 Then add the cheese to the skillet and mix it up.  These next steps need to be done fast as you don't want the cheese in the skillet too long or else it sticks.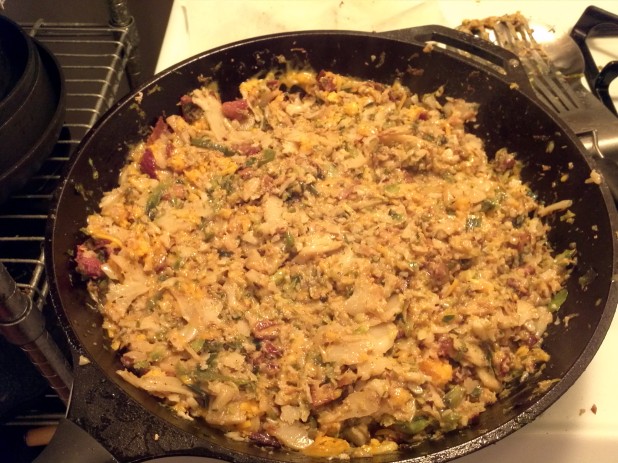 Mix it all up and it should look like above.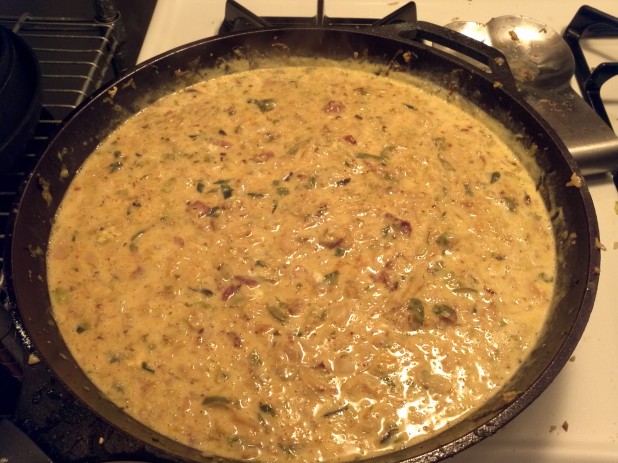 Finally, add the eggs and mix it some more. At this point, you want to cook the mixture, as it is right now, for 2-3 minutes on the stove top.  This sets the bottom of the mixture.  If you skip this step you'll probably have a runny frittata.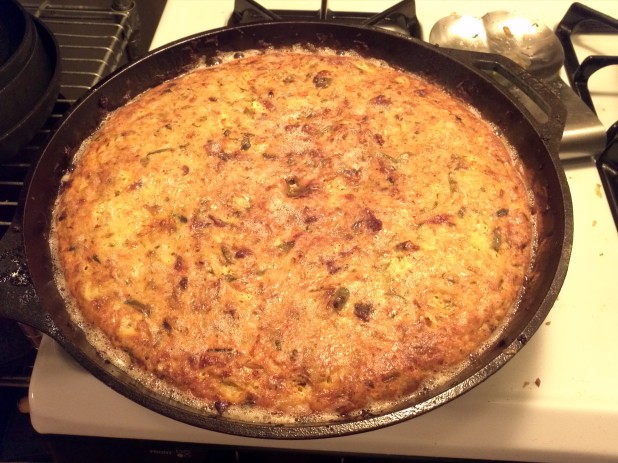 After 25 minutes in the oven you'll get a golden brown crust and a finished frittata!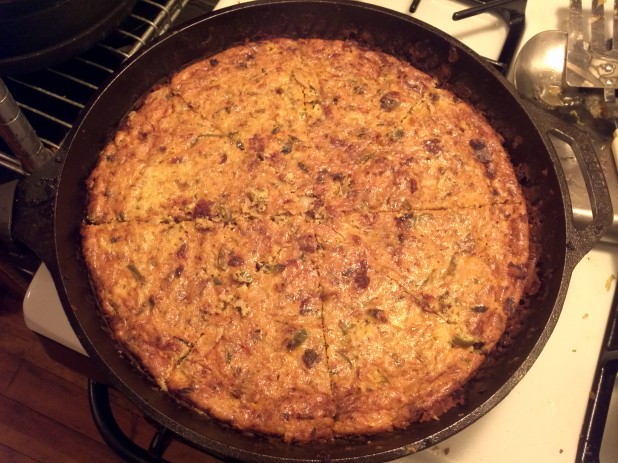 I only needed four days worth of breakfast this week so I cut the mixture into 8 pieces.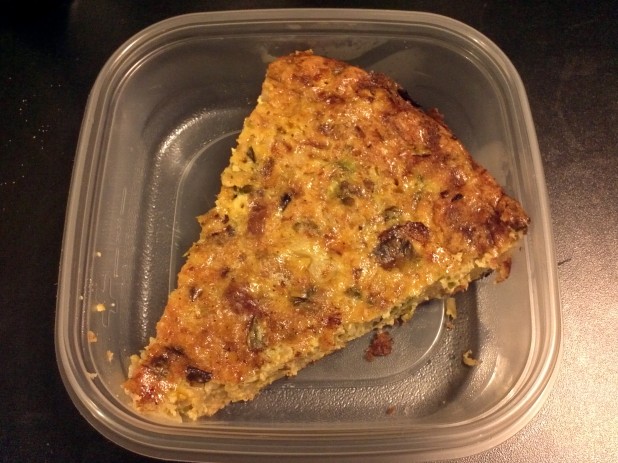 And there you have it!  I place the breakfast into a ziploc, microwaveable container and I'm all set for the week.  I don't even eat breakfast at home anymore, I just grab one of these on my way out the door and heat it up at the office!

Cast Iron Skillet Frittata
Nutrition Information
Serving size:

⅛th

Calories:

491
Fat:

35

Carbohydrates:

18

Fiber:

6

Protein:

29
Prep time:
Cook time:
Total time: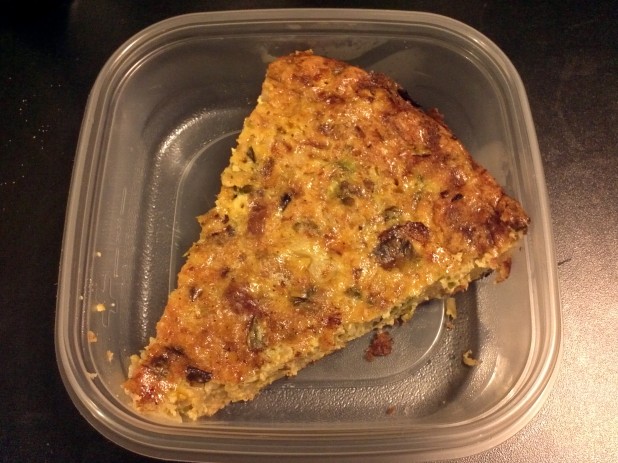 Ingredients
8 Slices Bacon
1 Small Onion (125 g)
1 Small Pepper (133 g)
542 g Brussels Sprouts
1 Head Cauliflower (965 g)
12 Oz. Cheddar Cheese
12 Eggs
6 Oz Heavy Cream
½ tsp Garlic Powder
½ tsp Onion Powder
½ tsp Salt
½ tsp Pepper
Instructions
Start by cooking bacon until crisp, keep the bacon grease in the skillet
Thinly slice the onion and pepper
Shred the brussels sprouts and cauliflower
Cook all the vegetables in the skillet
While vegetables are cooking, prepare the egg mixture with 12 eggs, 6 Oz cream and spices, whisk to combine
If required, shred cheddar cheese
When the vegetables are done, aka translucent and cooked, crumble and add the bacon and cheese
Mix well and then add the eggs and mix again
Cook for 2-3 minutes on stovetop
Transfer skillet to oven set to 450 and cook for an additional 25 minutes
Slice and serve!
Notes
I used a lot of vegetables, probably more than I wanted to. If I were to do it again I'd reduce the amount which would also lower the carbs. IMPORTANT: Make sure the skillet you use is oven proof to 450 degrees. Also, if you use some sort of handle protector on your cast iron, make sure to take it off as well!