I was at Trader Joe's after picking up my meat CSA and they had some really good looking avocados.  Admittedly, I don't eat nearly as much avocado as I'd like.  I've always been scared of figuring out which one is ripe enough to eat and having the timing work out so they're not totally brown. Well, I've finally gotten over my fear and figured out the proper feeling procedure.  Basically you want a deep brown / black avocado that is soft to the touch but not too soft.  The advantage of avocados are that they're a keto super food since they've got so much fat. So much so, that it actually makes this dish a perfect ratio which means that it already has the roughly 65% / 30% fat to protein mix. Its also a 5day dish meaning it works well to make on Sunday and eat all week. Anyway, I decided to make a chicken avocado casserole suitable for lunch!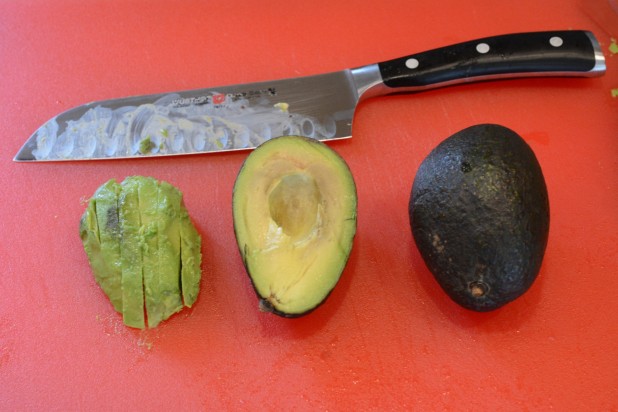 Here you can see the different stages of cutting up the avocado. For ideal ripeness, the color should be like on the left.  Start by splitting the avocado in half and removing the pit.  Then peel off the back skin and slice into sections as shown on the left.  This avocado is a little brown in color but its still good.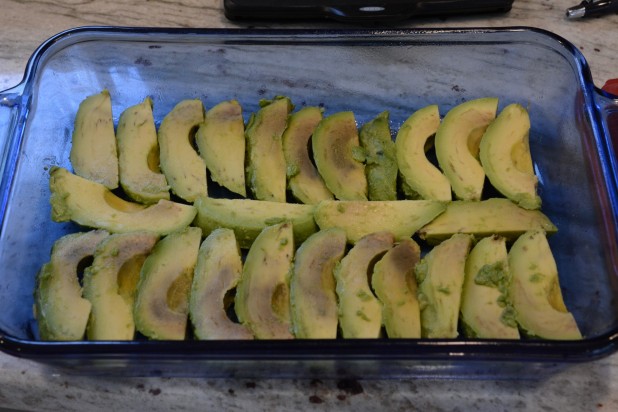 Then grease a baking dish and line with avocados.  Don't worry if you have more avocado than needed, we'll throw it in the casserole.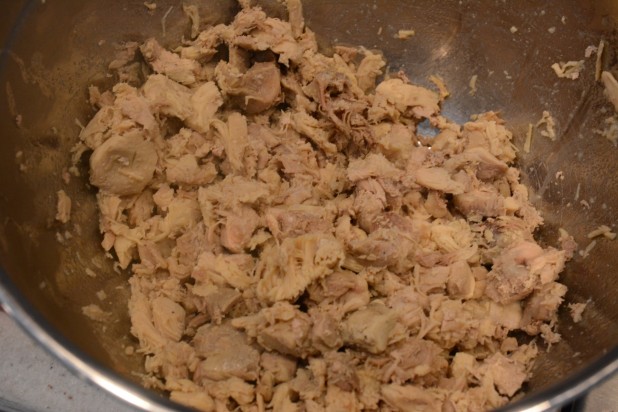 So I had some precooked chicken thighs that I'd frozen and just unthawed.  I've started doing this sort of thing a lot now.  Prepping more than I need of veggies, meats, etc and making them into little starter kits for meals.  Saves a ton of time.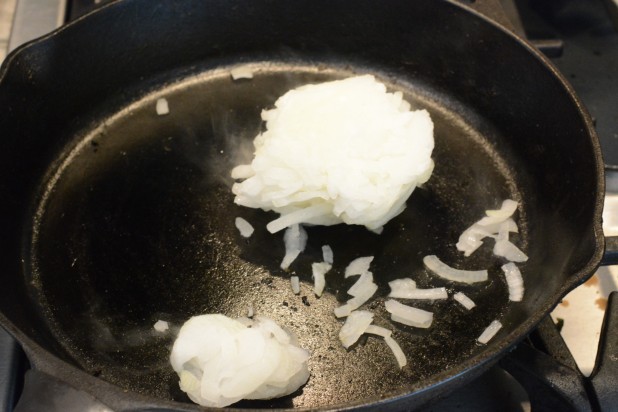 See, now I buy a full bag of onions and then shred the whole bag using a food processor.  Then I freeze it all and only use what I need. It also allows me to easily use exactly 150g of onions instead of the variability of a regular vegetable.  I do the same thing for peppers. So fire up your cast iron and get cooking!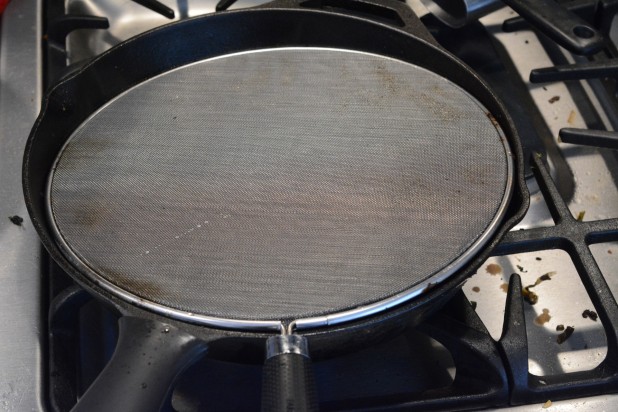 Since we moved, I've started using splatter shields. Bacon grease used to get absolutely everywhere. The new place has a nice new stove and granite counter tops so I'm trying to keep it cleaner.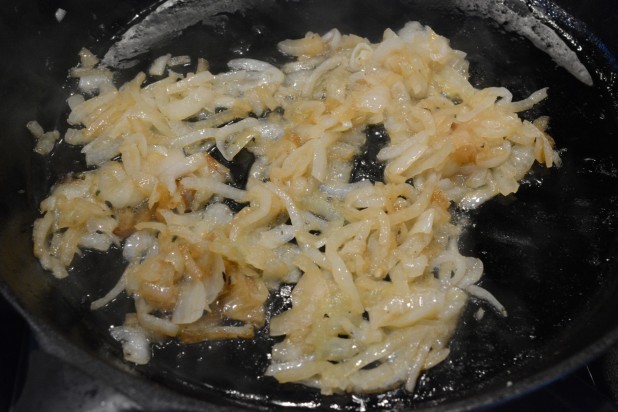 Here are the onions caramelizing!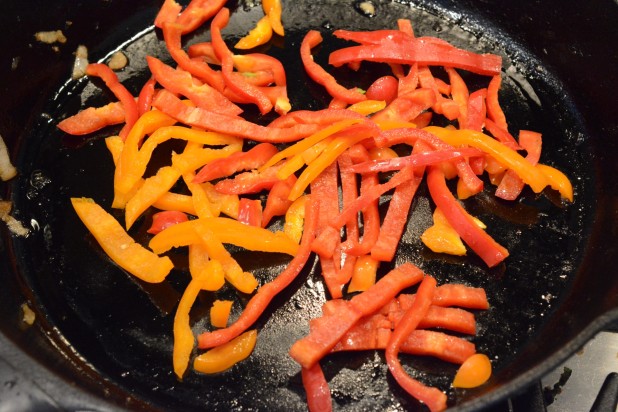 Now do the same for the peppers.  I normally use green peppers because they have less carbs, but all I had was a selection of smaller colored peppers.  So ignore the colors and pretend I used green ones 🙂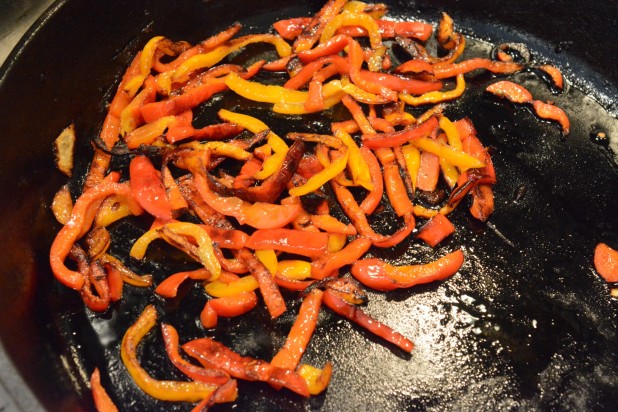 Caramelized.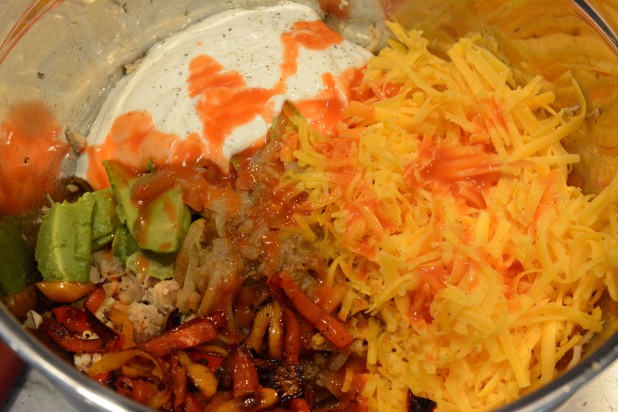 Now throw everything in a huge prep bowl.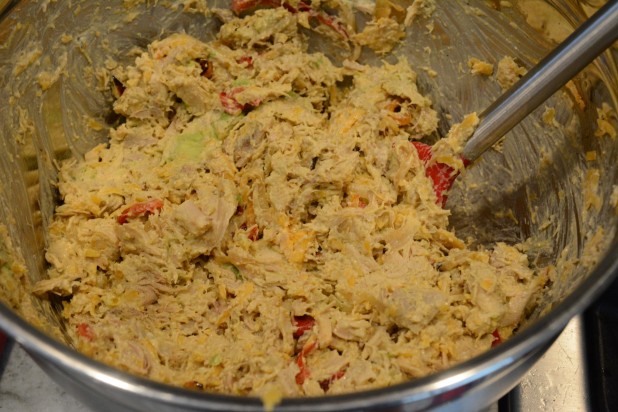 Here's the mixture after its been stirred.  You can see bits of the left over avocado as well.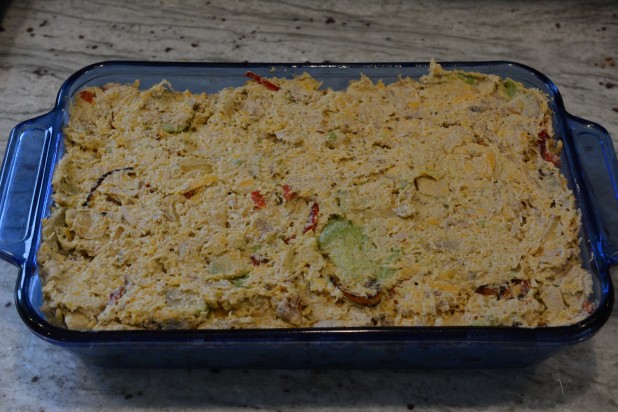 After the mixture is combined, spread it over the avocado slices.  Be a little careful to not spread out the avocado.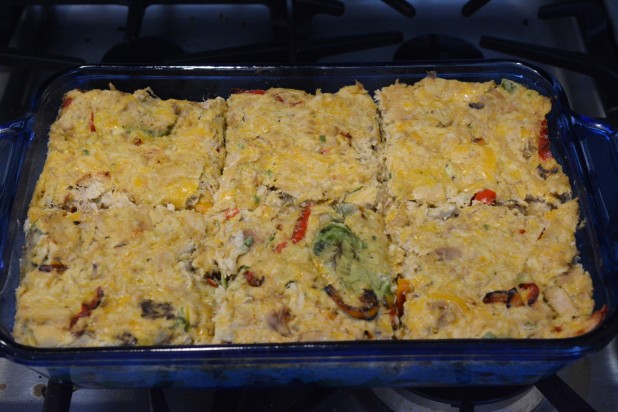 And here's the finished product sliced for lunch! This was a short week so I only made it for 6 but it would easily scale up to 10.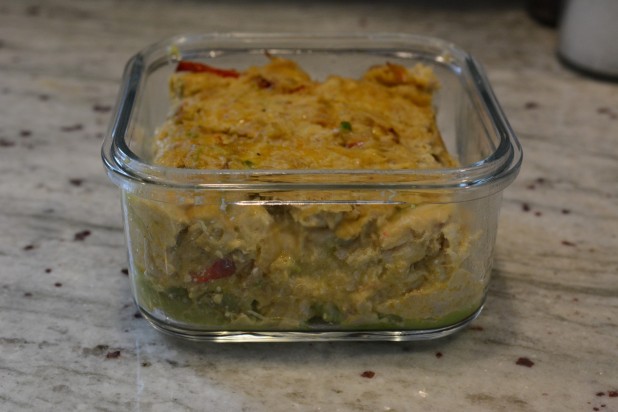 Here's a picture of the final product ready for lunch.  I was concerned about the avocado staying good but it lasted all week (was also super yummy)!

Chicken Avocado Casserole
Nutrition Information
Serving size:

⅙th

Calories:

549
Fat:

40g

Carbohydrates:

13g

Sodium:

465mg

Fiber:

7g

Protein:

39g

Cholesterol:

170mg
Prep time:
Cook time:
Total time: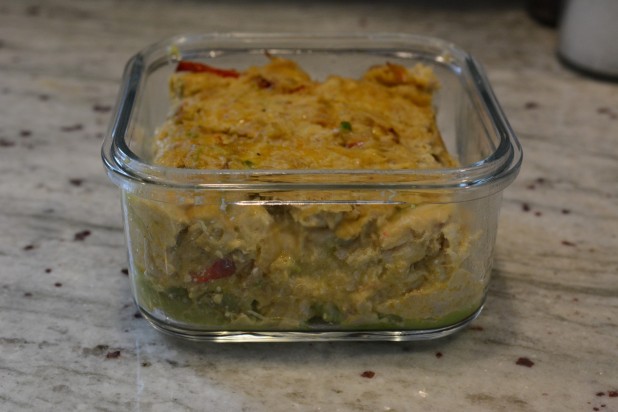 Ingredients
8 Boneless Chicken Thighs, cooked
4 Small Avocados
1 Medium Onion
1 Medium Pepper
8 Oz. Sour Cream
8 Oz. Cheddar Cheese
1 Tbsp Frank's Red Hot
Salt and Pepper to taste
Instructions
Preheat oven to 350 F
Start by cooking the chicken thighs, for this recipe I had them already cooked, but just bake at 350 for 1.5 hours covered with some water or cube and pan fry until juices are clear
Peel avocados, cut in half, and slice into thin strips
Grease a baking dish and line the bottom with avocado slices, reserve any extra
Cut the peppers and onions into strips and pan fry until caramelized
Add the chicken into a large bowl and flake apart
Add remaining ingredients, including any extra avocado, and mix
Spoon mixture over the avocado slices
Bake for 20 minutes
Splatter Shield
This is the same concept as the microwave cover but for your pans on the stove. Bacon grease splatters. A lot. Like an insane amount! Every time you make a dish like Blackened Pork Chops you're going to get grease all over the stove, all over the floor, and all over the walls. Avoid that and get a splatter shield.
4.8 Quart Casserole Dish
Great for cooking those gigantic, week long casseroles! I call them 5day meals on the website. Normal casserole dishes are 10×13 but this one is gigantic and can easily be divided into ten portions.
Glasslock Lunch Containers
The easiest way to conquer keto is to premake your lunches. I used to use Ikea 365+ containers but they started to leak after a while. These glasslock containers are by far the nicest I've ever seen.
Tovolo 7.5 Quart Mixing Bowl
Most of my large 5day recipes and casseroles are all mixed together before being baked. You really need a giant bowl to hold all the ingredients and this one fits the bill!
Lodge 12-inch Cast Iron Skillet
The only pan you really need. Once properly seasoned, this pan can cook anything you can imagine! Lasts forever and never wears out.
Cuisinart 9-Cup Food Processor
I first got this food processor as a wedding gift and I wasn't sure how I felt about it. Well, let me tell you, its been a godsend on keto! I shred cheese, slice brussels sprouts, and rice cauliflower like a boss!