Update: I've posted a YouTube video on making Chorizo Breakfast Casserole!
I break my breakfast foods into two separate categories. First there is the weekend breakfast. This is meant to be extravagant, over the top, and possibly really long and time consuming.  There is a decent payoff but it is in no way practical for every day eating.  Also, these recipes might be too high in calories or have ratios that aren't perfect for keto. The second category is the weekday breakfast.  These should be super easy and make tons of portions. Today's recipe fits in the later category. Chorizo Breakfast Casserole is designed for 5 days of breakfast for two.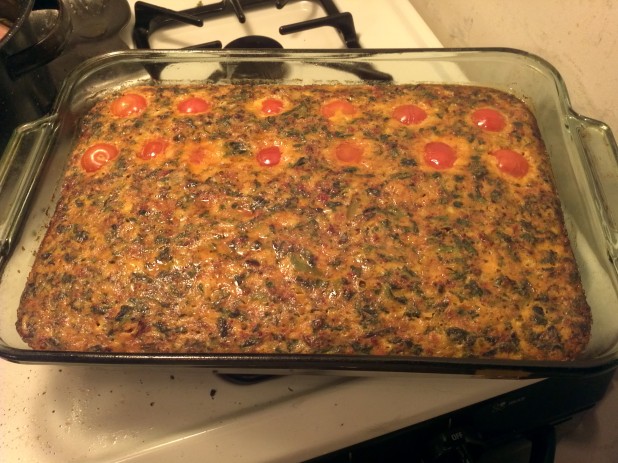 Here's the finished result!  Note that half has tomatoes because my wife like's them in her breakfast and I don't 😉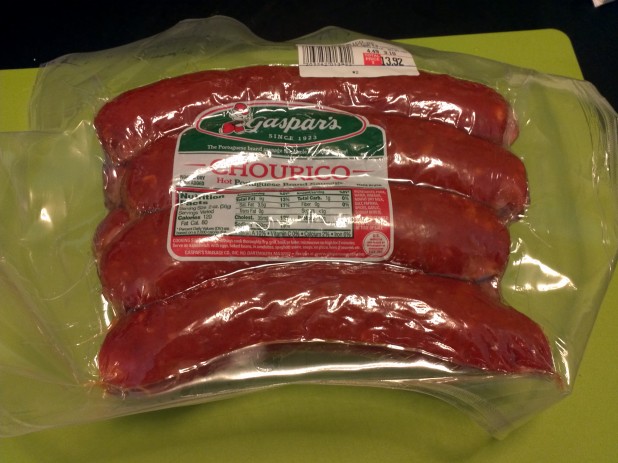 Today's recipe starts with chorizo.  If you're not familiar, its a spicy Latin sausage.  I used to be able to find it ground but for some reason it now only comes in this sausage form.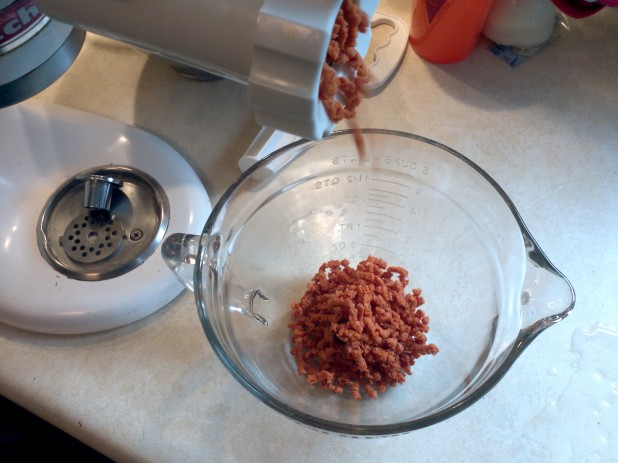 No fear, we can grind it! Honestly, I was kind of shocked that this worked so well but I just jammed those sausages into my Kitchenaid meat grinder and it make a really nice consistency!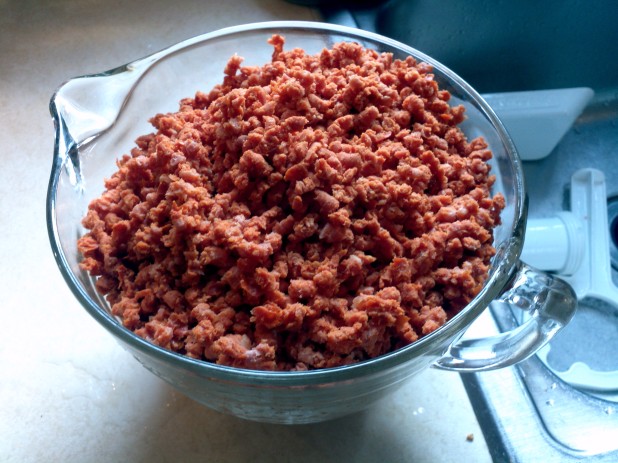 I ground the whole package and froze the remainder for later.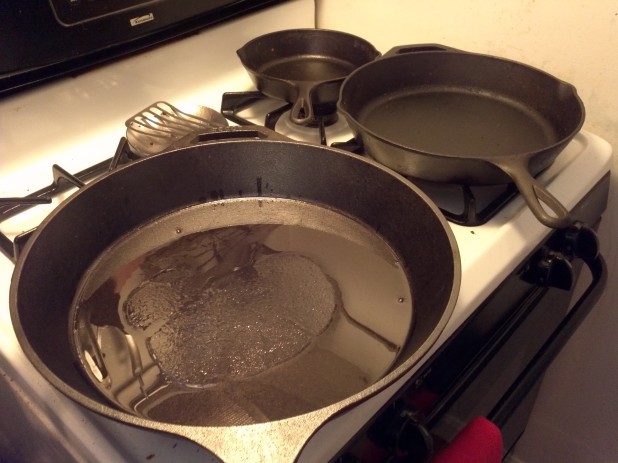 To make my breakfast cooking easier, I recently picked up a 15″ Lodge Cast Iron. Note, this thing is HUGE! You can see my 12″ and 8″ in the background for comparison. On the plus side it really makes quick work of these large portion sizes.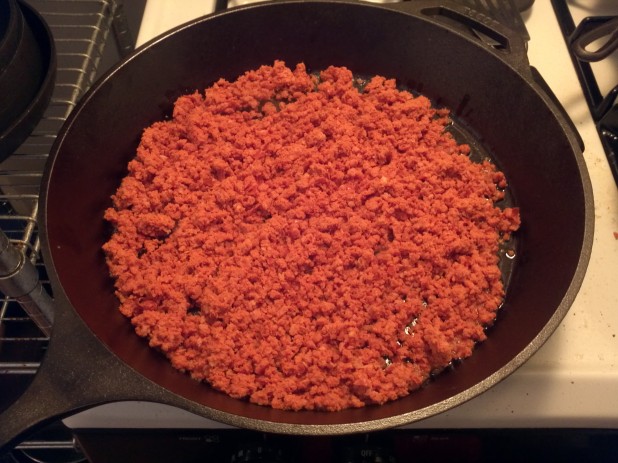 Spread the ground chorizo out on the skillet and cook away!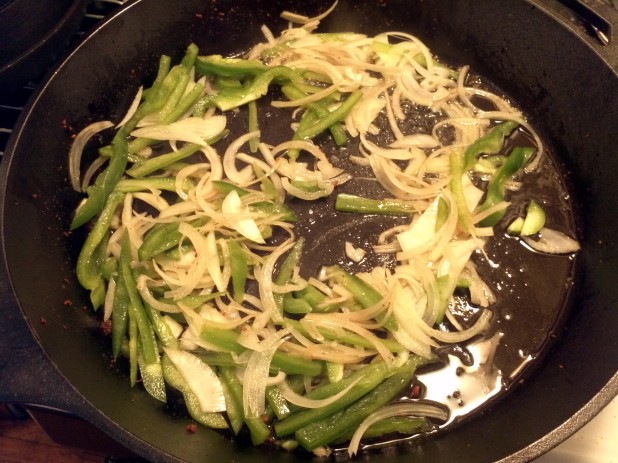 Next I chopped up some onions and peppers and threw them in the same skillet after the chorizo was finished.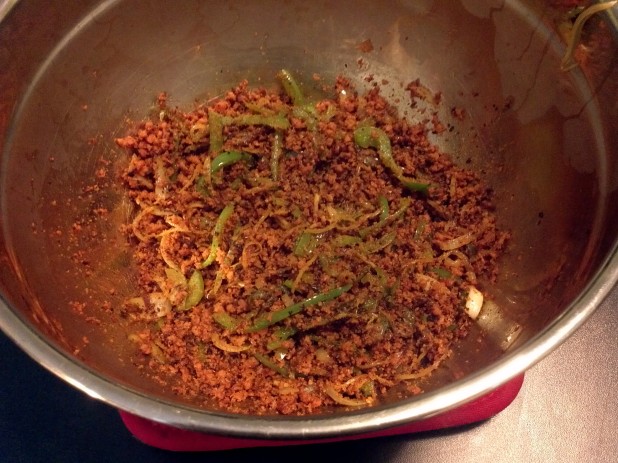 Once the onions are done, add them into a large bowl along with the chorizo.  This is a change from the way I used to make my breakfast casseroles like the breakfast quiche. I used to mix them up in the casserole dish but this caused it to be inconsistent and it would often stick to the pan. So now I use a huge bowl and add all the ingredients as they finish.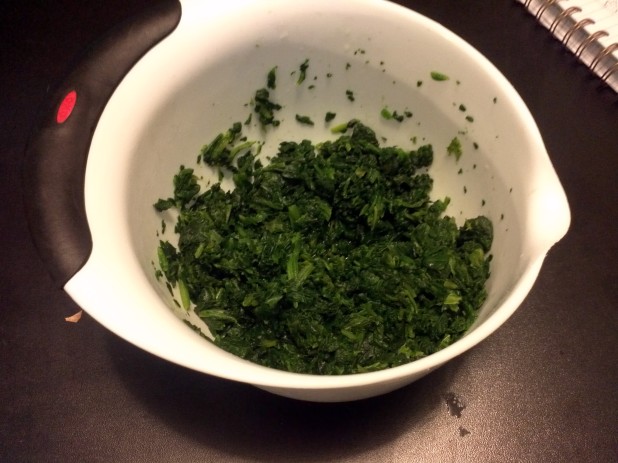 For this version, I microwaved some frozen spinach, drained it, and tossed it in.  Note that you could add any vegetables at this point.  I often go with either cauliflower or broccoli depending on what I have on hand.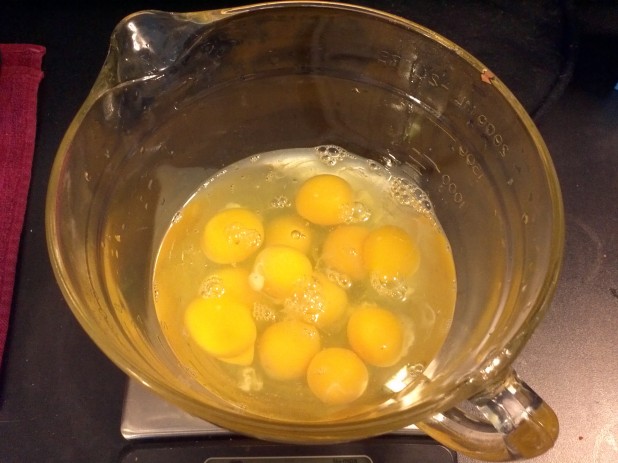 Now for the eggs. For casserole sized dishes, I normally do 12 eggs.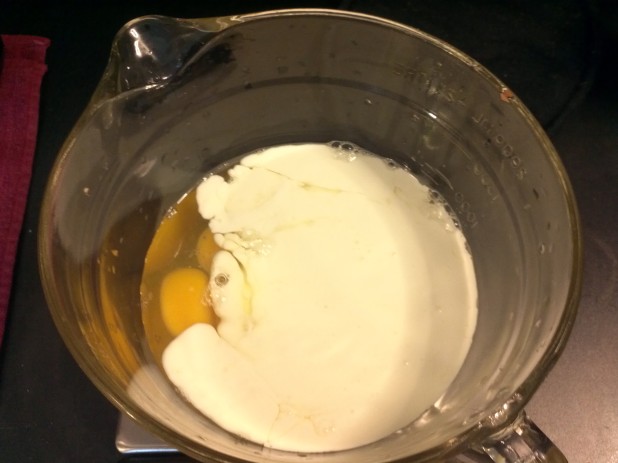 Then I add 1 Tbsp (15 ml / 15 g) per egg.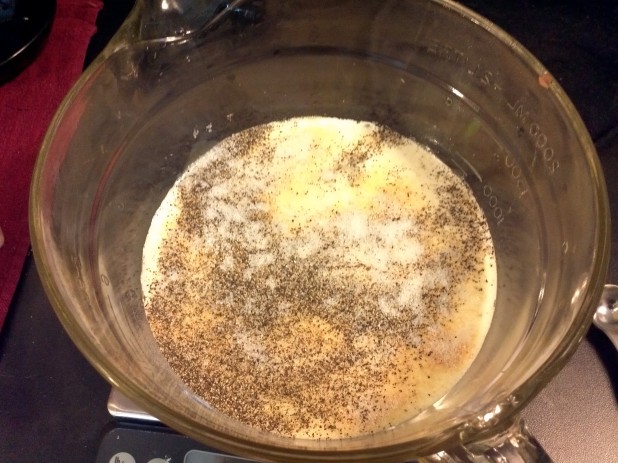 Then I add the standard spices.  For me that means onion powder, garlic powder, salt and pepper.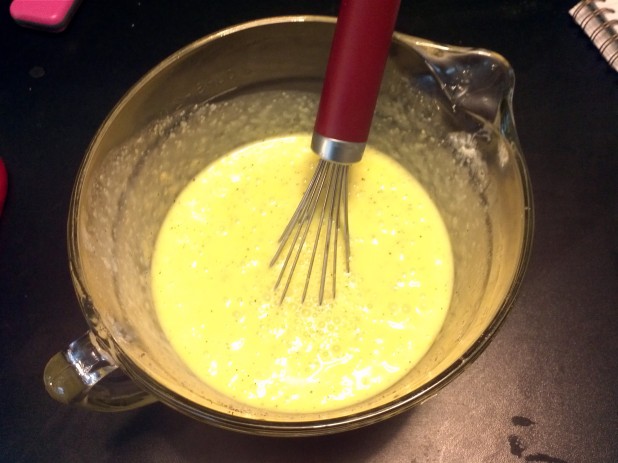 Finally I whisk it all together.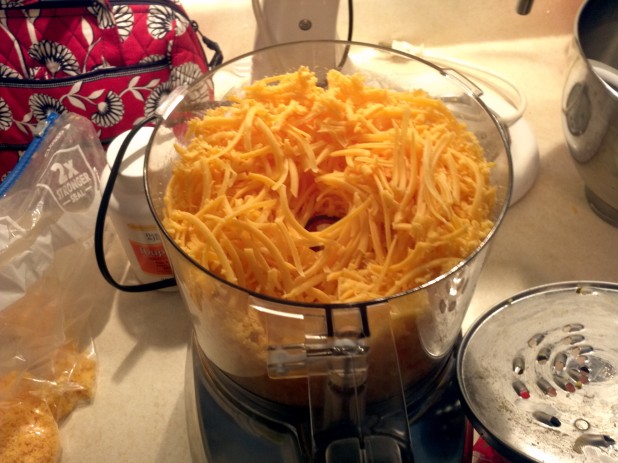 The last ingredient is freshly shredded cheese.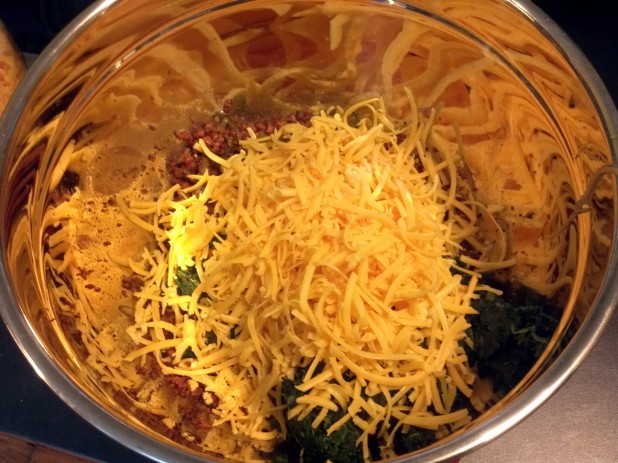 Add the cheese to the bowl along with all the rest of the ingredients.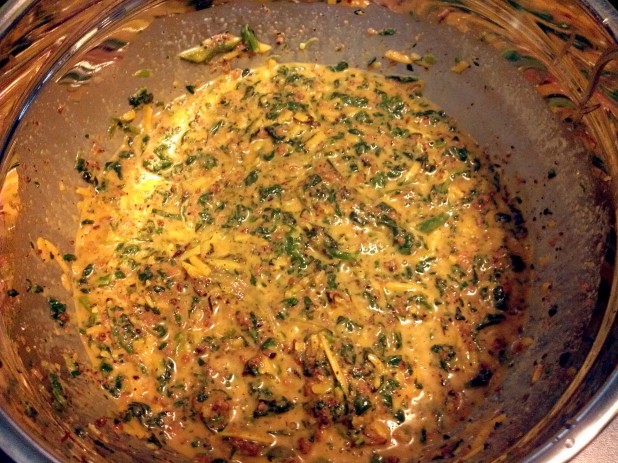 The last thing to add is the egg mixture.  Make sure to do this fast as some of the ingredients might be hot and you don't want to scramble the eggs. You want to transition the mixture to a casserole dish soon after you add the eggs.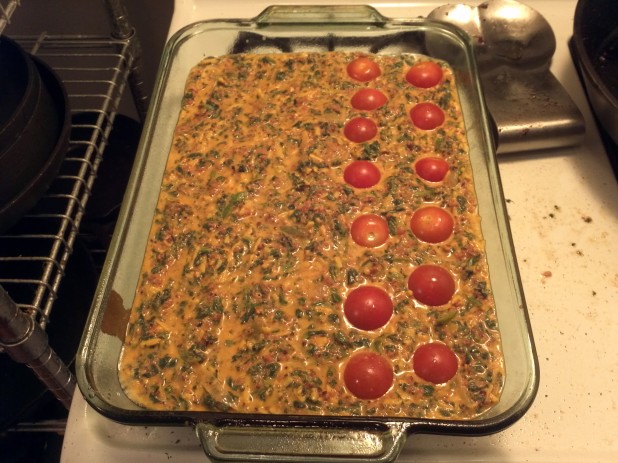 Move the mixture to a large casserole dish and optionally add tomatoes.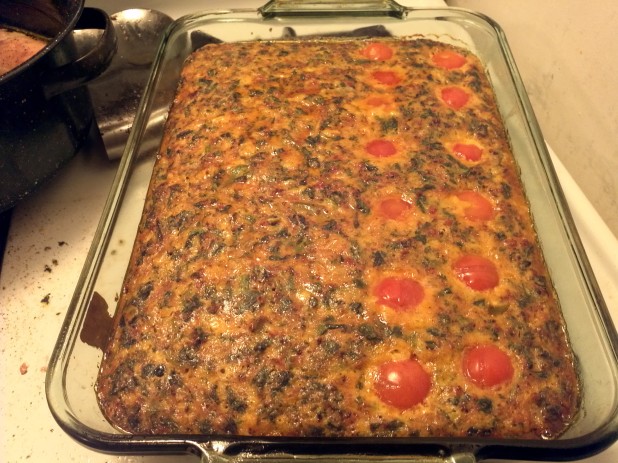 That's it!  You're done!  Now you have a full week of Delicious Chorizo Breakfast Casserole!

Chorizo Breakfast Casserole
Nutrition Information
Serving size:

1/10th

Calories:

362
Fat:

28

Carbohydrates:

7

Fiber:

2

Protein:

24
Prep time:
Cook time:
Total time: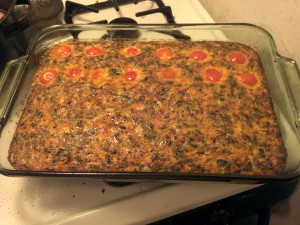 Ingredients
16 Oz Ground Chorizo
110 g Onion (1 small)
145 g Green Pepper (1 small)
366 g Spinach
180 g Heavy Cream (12 Tbsp)
12 eggs
1 tsp Garlic Powder, Onion Powder, Salt, Pepper
8 Oz Cheddar
9 Oz Cherry Tomatoes
Instructions
Cook the spinach in the microwave
Grind up or chop the chorizo and cook in a skillet until browned
Put finished chorizo in a large bowl
Thinly slice 1 onion and 1 pepper, cook in the same skillet, when done put in the large bowl
When the spinach is done, add to the bowl
Whisk together the 12 eggs, heavy cream and spices
Add the cheese to the bowl and combine, then add the egg mixture and combine
Transfer to a greased casserole dish
(Optional) Add cherry tomatoes
Cook at 350 degrees for 50 minutes
Tovolo 7.5 Quart Mixing Bowl
Most of my large 5day recipes and casseroles are all mixed together before being baked. You really need a giant bowl to hold all the ingredients and this one fits the bill!
Lodge 12-inch Cast Iron Skillet
The only pan you really need. Once properly seasoned, this pan can cook anything you can imagine! Lasts forever and never wears out.
4.8 Quart Casserole Dish
Great for cooking those gigantic, week long casseroles! I call them 5day meals on the website. Normal casserole dishes are 10×13 but this one is gigantic and can easily be divided into ten portions.