Update: This recipe is now also on CMK's YouTube Channel. Check it out: Super Crispy Wings!
I've made tons of wings before but they've never truly been as crispy as I'd like.  Sure, most times they exceed the quality of restaurants but some places serve absolutely, crazy crispy wings.  So, I decided to try and replicate it.  My first foray into wings was baking them.  They turn out great, but not crispy.  Next, I tried frying them.  This yielded crispier wings, but still not exactly what I was looking for. Today on this edition of fry-day I'm going to break out my fryer and crisp those wings!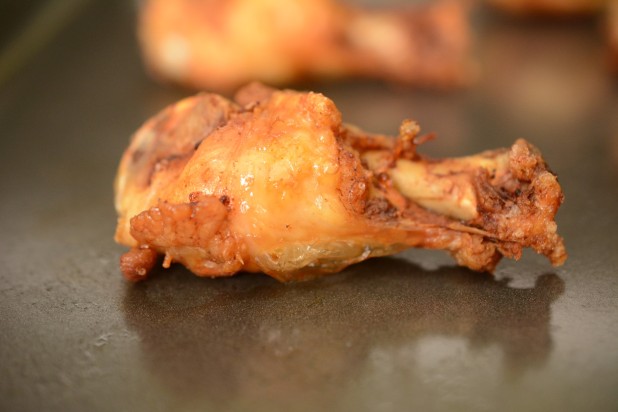 Here's a preview, isn't it lovely?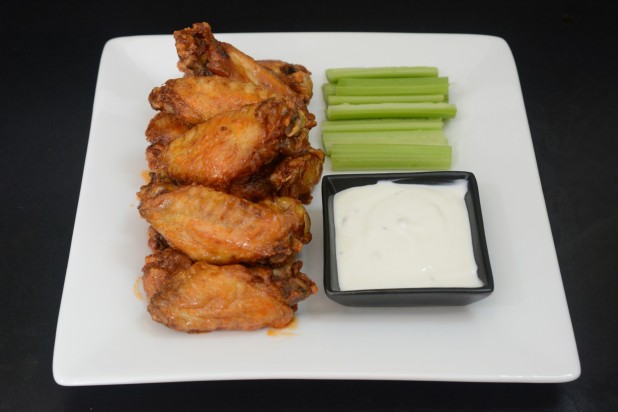 Mmmm!  They turned super crispy! The secret is to fry the wings twice. Alton Brown saved us the trouble and tried a ton of different test cases and determined that the ideal method for crispy wings is to first fry the wings a long time at a low temperature, then let the wings sit, then fry them again at a high temperature!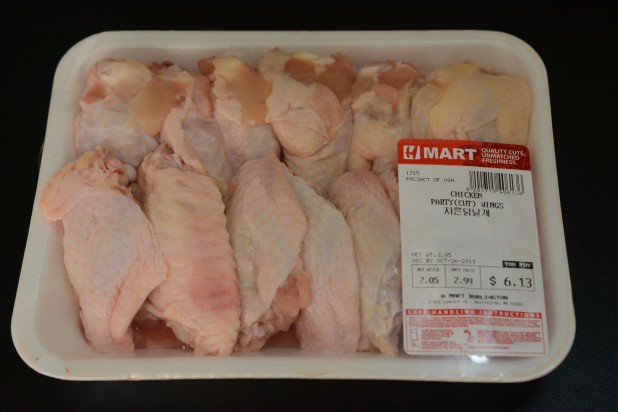 Start with some fresh wings.  Last time I also used frozen so this might also help reach the goal of a perfectly crisp wing.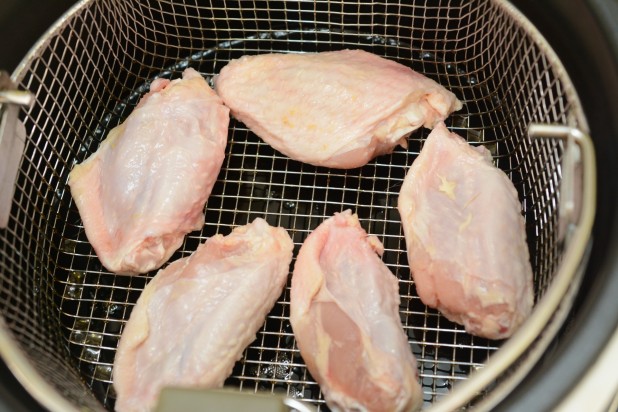 Now pat the wings down and make sure they're super dry and throw them in the basket. For this first round, set the fryer as low as you can go. On my fryer this means 275 degrees. Cook them for 14 minutes and let them rest for a few minutes after frying. This first round cooks the wings but doesn't draw the moisture out of them. It shouldn't bubble that much doing this part.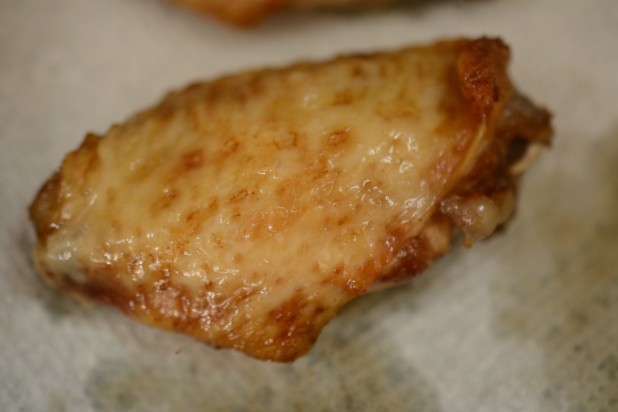 Here's the wing portion of the wings.  As you can see, its cooked, but the skin is still soft.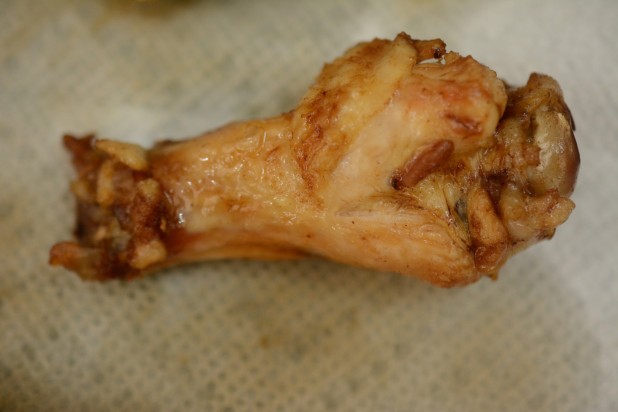 Here's the drumette.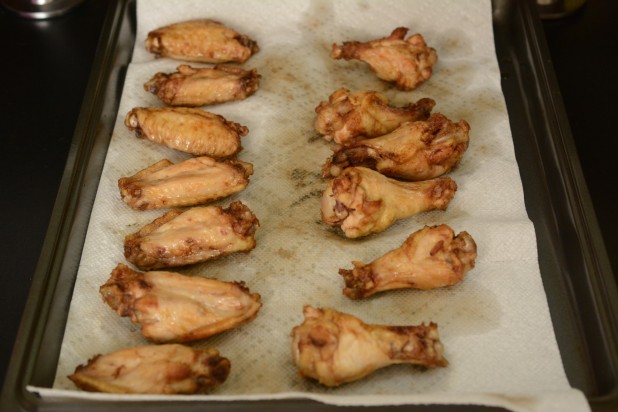 After the first round, heat the oil as high as it can go, 375 on my fryer.  Let it get to temperature, wipe the buffalo wings off one last time, and fry them again for 6 minutes!  Above are the resulting wings.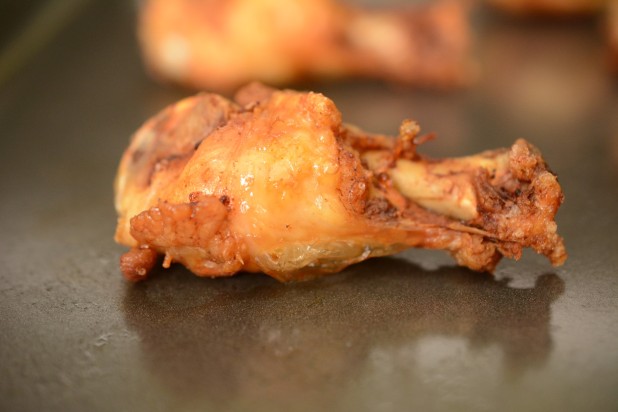 Now that's a crispy wing!  As you can see the same drumette is now golden brown in color and the skin is taut.  You can even see some exposed bone like a crispy restaurant wing!  Toss them in some buffalo sauce and you've got Crispy Wings!

Fry-day: How to make Crispy Wings!
Nutrition Information
Serving size:

6 wings

Calories:

686
Fat:

55

Carbohydrates:

0

Fiber:

0

Protein:

42
Prep time:
Cook time:
Total time: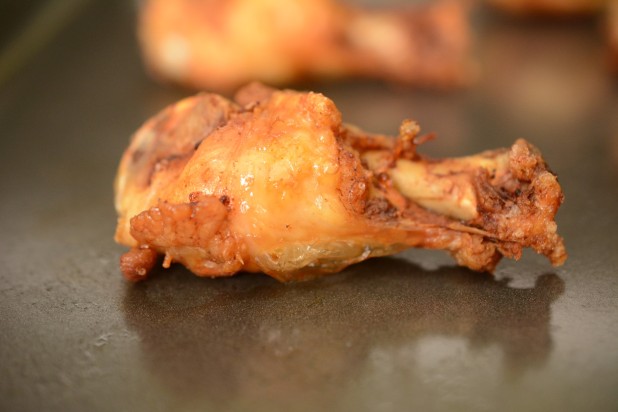 Ingredients
12 Chicken Wings, Raw, Thawed
4 Tbsp Frank's Red Hot
4 Tbsp Unsalted Butter
Instructions
Preheat fryer oil to 275
Pat wings down so they are super dry
Fry wings for 14 minutes
Let wings rest until back to room temperature
Preheat fryer to 375
Pat wings dry
Fry for 6 more minutes or until golden brown and the skin is taut
Optionally, mix together Frank's Red Hot and melted butter
Toss the wings in the sauce
DeLonghi Deep Fryer
If you follow the blog, you know that I've gotten a little obsessed lately with my Deep Fryer to the point where I post a weekly Fry-day article. I had one of these in college and it always made me feel guilty using it. I feel so liberated that there are all sorts of keto friendly fried foods like nuggets, wings and brussels sprouts!
Cone Filters, 50 Pack
To keep your frying oil clean, you really need to filter it on a regular basis. Fryers will come with one or two filters in the kit but they run out fast. This 50 pack will keep you going for well over a year
Filter Stand
Use this stand in conjunction with standard cone filters to easily filter your oil. This system is in place of the filtering method that comes with your fryer.