Sometimes you just want a burger. I wanted a burger that encompassed everything keto had to offer.  Of course that had to include bacon, a bacon weave, fried eggs, beef and cheese!  I tried to fit the kitchen sink but the metal had hidden carbs 😉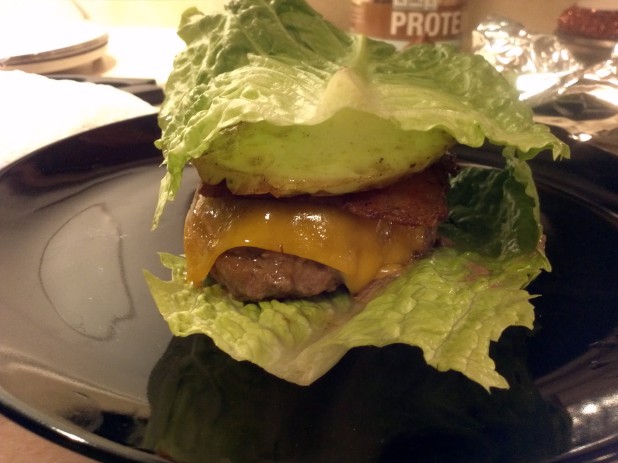 Here is the result, boy was it good!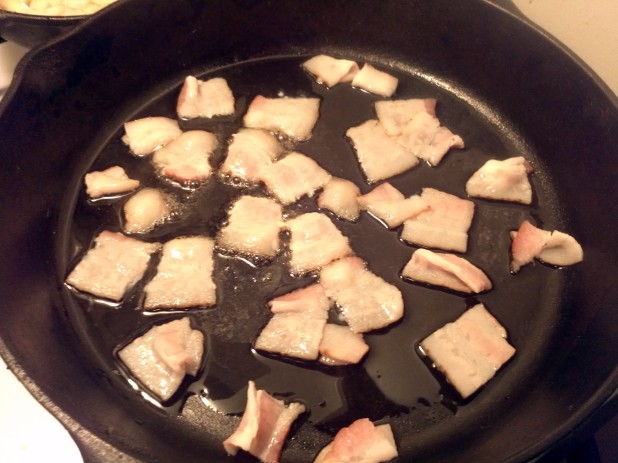 The first step is to cut up some bacon to make bacon bits for IN the burgers.  I took one slice for every two burgers, so four in this case.  Just cut them up and fry them in a skillet until mostly crispy.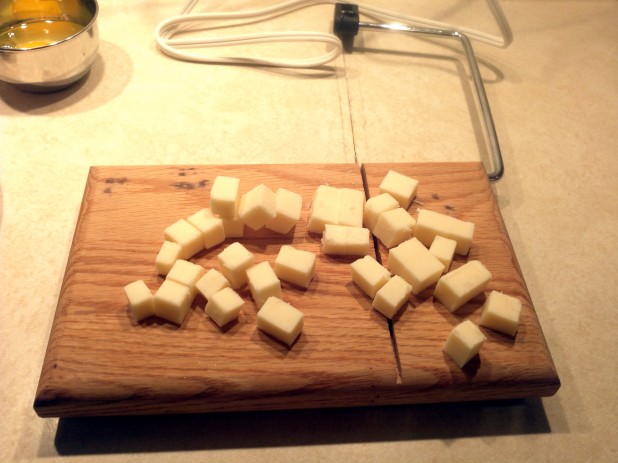 The second inside burger ingredient is cheese!  I used my cheese slicer to cut some cheddar into small blocks.  This thing is really nice to quickly cut cheese into uniform sizes.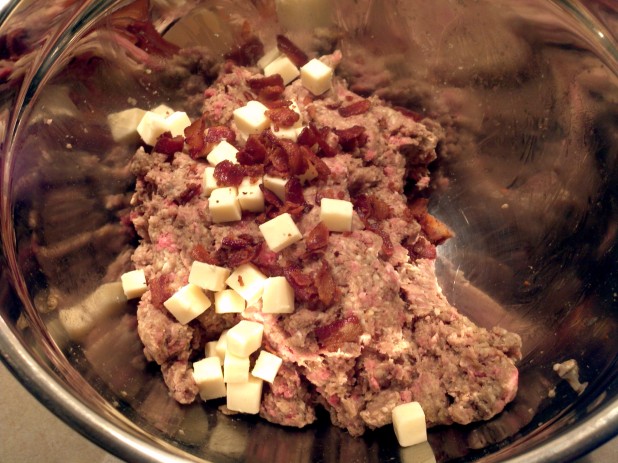 Throw everything into a large prep bowl.  Here I've used 80/20 ground beef, cheddar cheese, bacon, eggs, almond flour, Worcestershire sauce, garlic powder, onion powder, salt and pepper.  Mix it all up with your hands and form into patties.  I normally cover my scale with saran wrap and either decide on a size ahead of time like say 6 oz or divide the whole weight into something like 8 portions.  This helps both with portion control and for even cooking.  In this case I chose 6 oz burgers.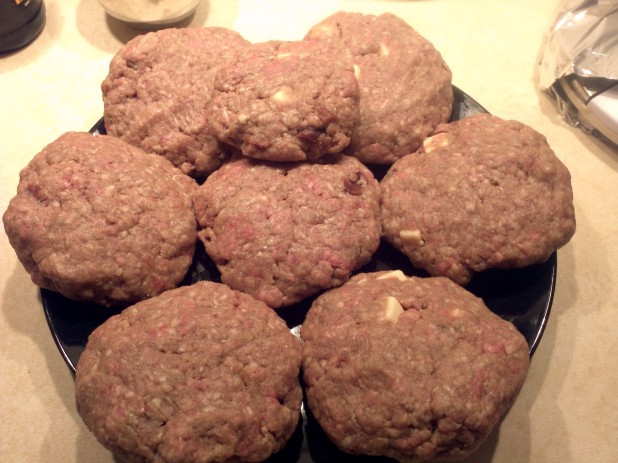 Here are the completed burgers.  It didn't completely work out with the 6 oz portions so I made one small one.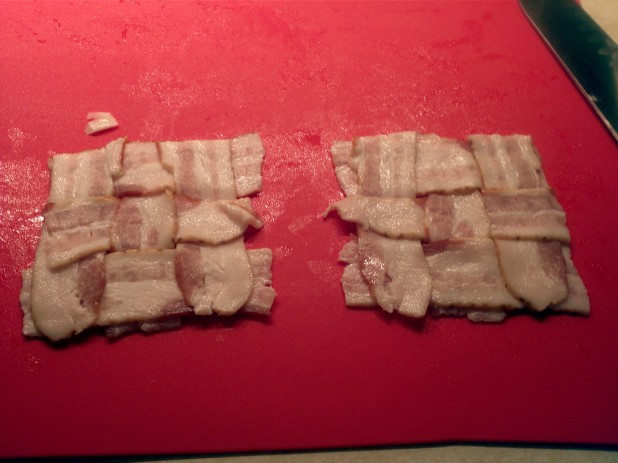 For an added touch, I threw together some 3×3 bacon weaves.  Make sure to get these together before you start so you are ready to go all at once. For each one take two pieces of bacon and divide them into three equal pieces.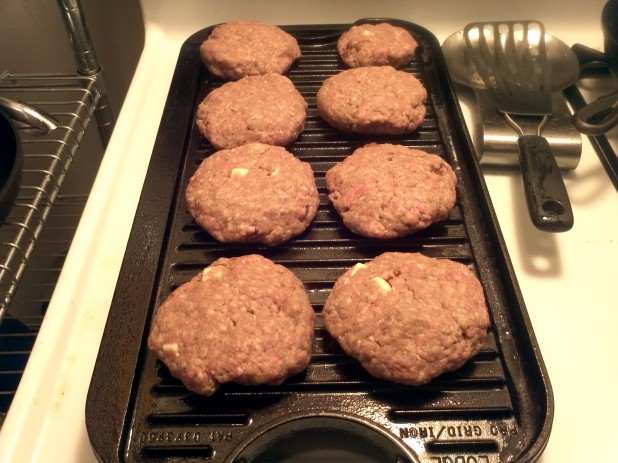 Here are the burgers on my new cast iron griddle. I preheated it with both burners for about 5 minutes and then turned them to low for the actual cooking. You could also cook your burgers on a grill or in a regular skillet but I wanted to try out the grill part of this griddle.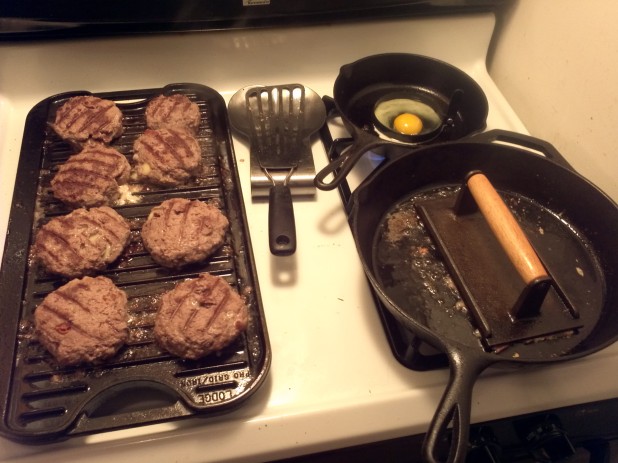 Here we've got everything going at the same time!  This is almost all of my cast iron in use at once!  The bacon weaves are under the bacon press and in the back I have my egg topper being cooked up in an egg form. For more information on how to make a bacon weave, check out the YouTube Video!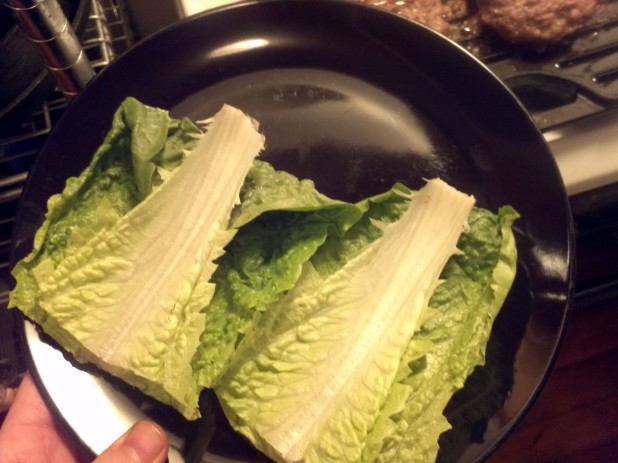 Take your Romaine lettuce leafs and cut them in half to form the bun.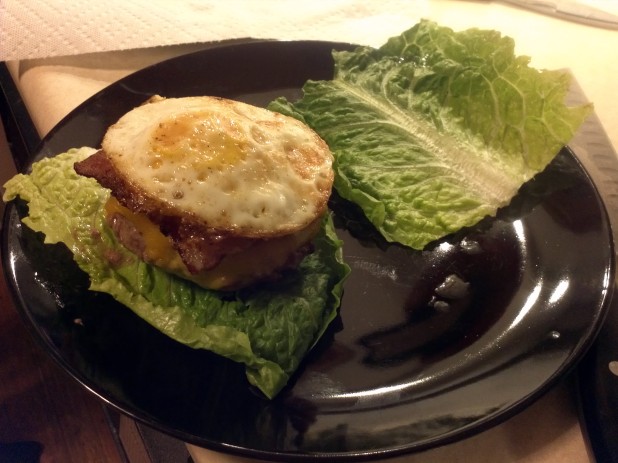 Here is the final burger.  You could also use almond buns as the bread substitute instead of lettuce but with all of the stuff we've packed on and into this burger, it would be quite the high calorie meal.

Kitchen Sink Keto Burger
Nutrition Information
Serving size:

1 (6 oz patty with egg and bacon)

Calories:

727
Fat:

58

Carbohydrates:

3

Fiber:

1

Protein:

49
Prep time:
Cook time:
Total time: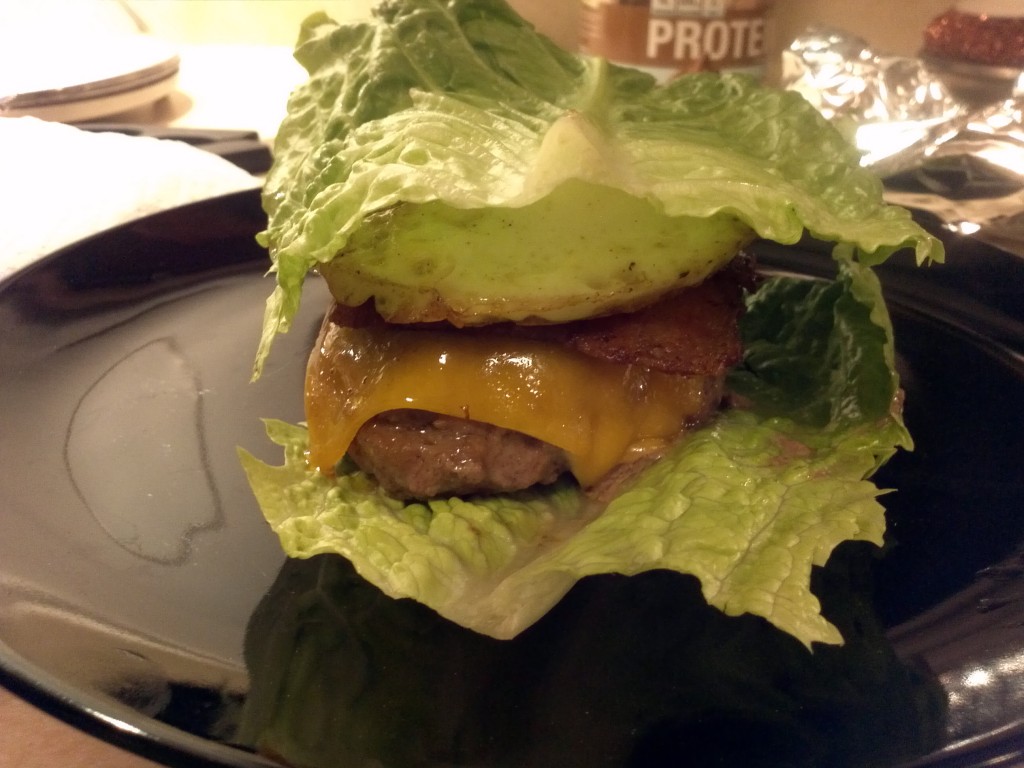 Ingredients
42 oz Ground Beef (80/20)
2.5 oz Cheddar Cheese, cubed
3 slices Bacon
1 Tbsp Worchestershire Sauce
2 Large eggs
1 Tbsp Almond Meal (optional)
To Taste Salt, pepper, garlic powder and onion powder
Instructions
Cut up bacon and cook until crisp
Cube Cheddar Cheese
Combine beef, eggs, cheddar, bacon and seasonings with hands, make 6 oz patties
Cook patties to desired temperature on skillet, griddle or grill
(Optional) Create 3x3 bacon weave to top burger
(Optional) Top burger with cheddar cheese
(Optional) Fry egg and put on top of burger