Inspired by the outlawed baked potato, today I show you how to make loaded baked chicken!  I served it with some spicy fried brussels sprouts for the perfect meal!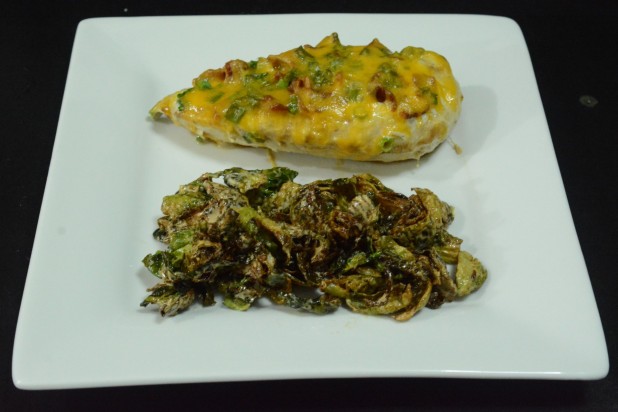 Here's the finished loaded baked chicken, kind of looks like a loaded baked potato, doesn't it? I've paired it here with some spicy brussels sprouts.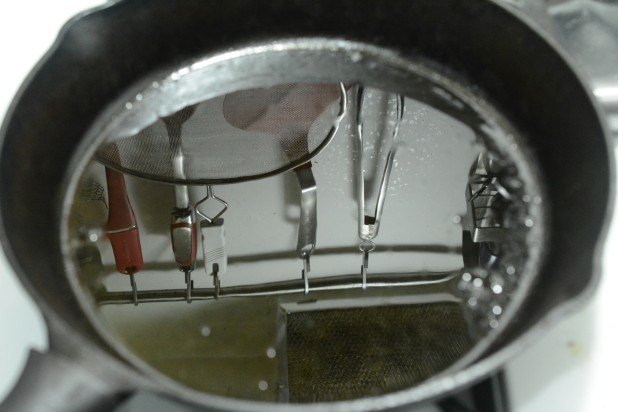 Start with a cast iron skillet.  Add some cooking oil and get it really hot.  Personally, I always use leftover bacon fat but you could use olive oil or something similar.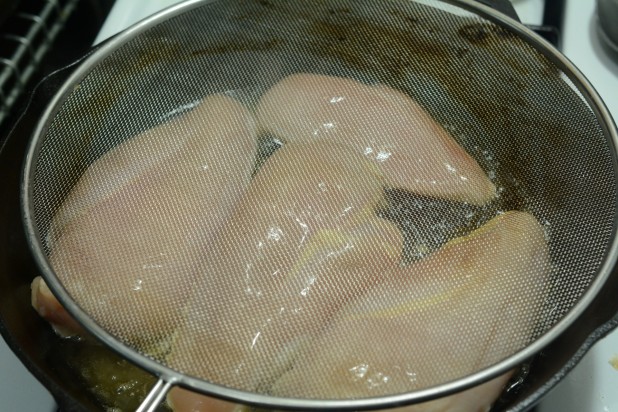 Next, drop the chicken into the heated oil. I like to use a splatter screen to try and reduce the amount of splatter on the stove. Ideally you want some nice caramelization on the outside of the chicken but that much heat will definitely splatter.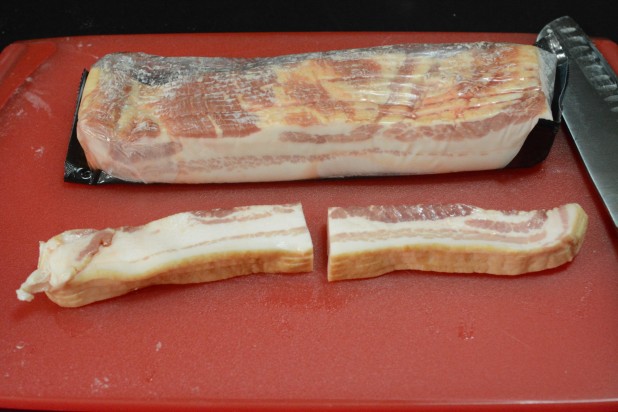 While the chicken is cooking, we'll make some bacon bits.  Basically I just took four slices of bacon and cut them in half.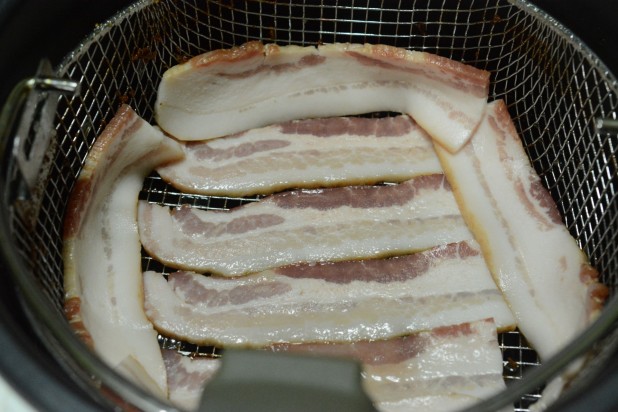 I already had my deep fryer out for the Brussels Sprouts so I figured I'd have it do double duty and make some bacon bits. You can just pan fry some bacon if you don't have a fryer handy 🙂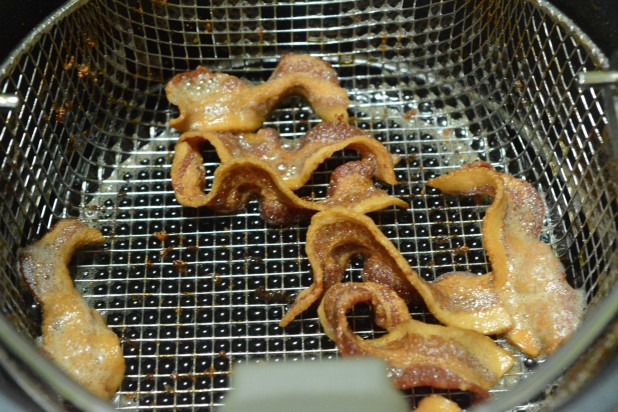 They turned out really well! Bacon curls a lot in the fryer but for this application it doesn't really matter since we'll be crumbling them.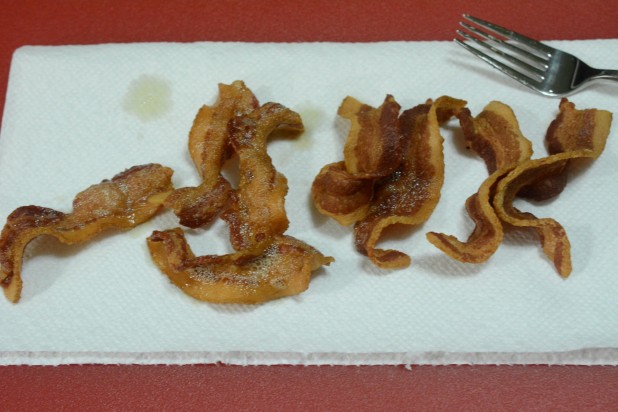 Let them drain out on a paper towel and we'll use them later.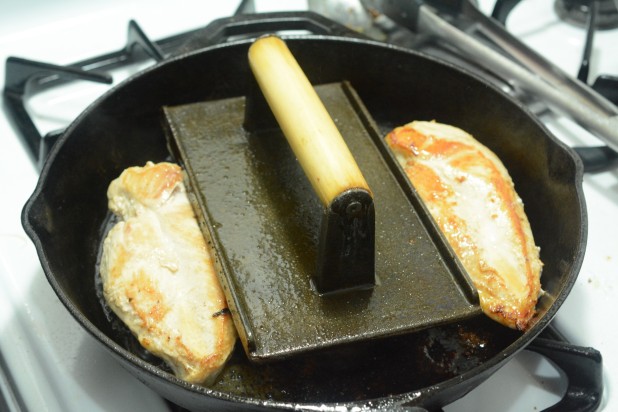 I threw the bacon press on the chicken to try and force more surface area on the bottom of the cast iron to increase browning.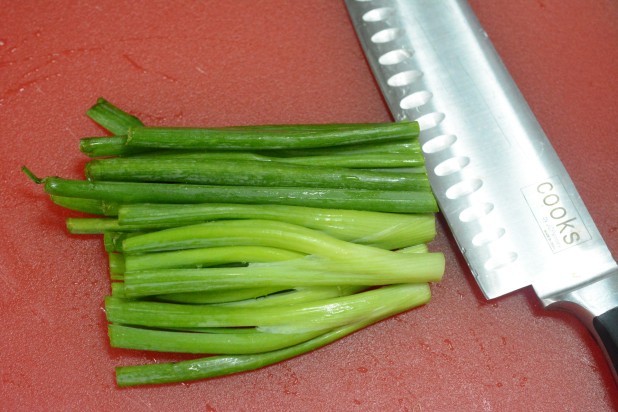 While the chicken is cooking, we can prep the green onions as well. I like to wash them, then cut the ends off, and then cut them in half. This makes it easier to chop them all at once.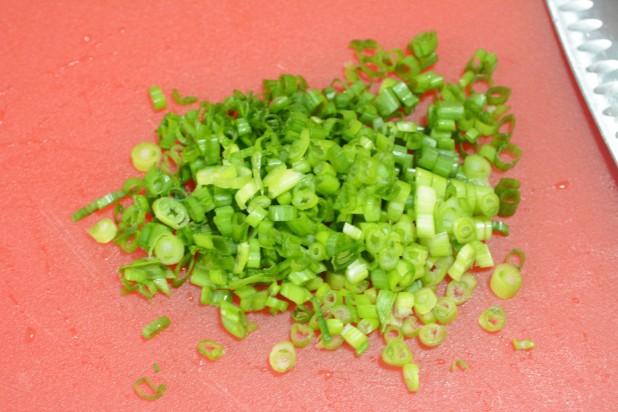 Here's the chopped green onions.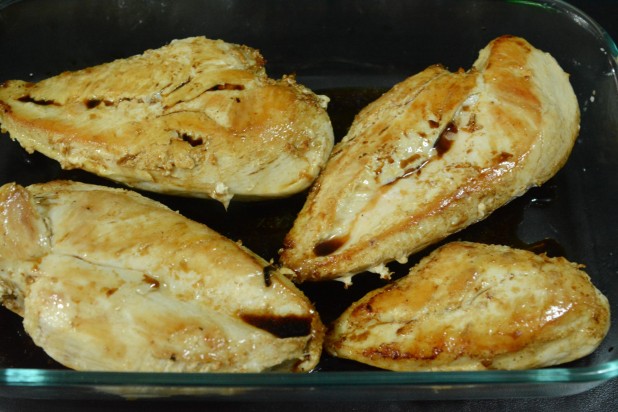 Once the chicken is done, place them in a baking dish and cover the chicken with the soy sauce.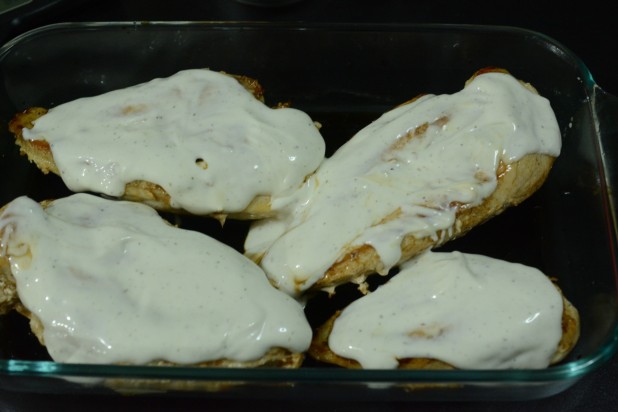 Next, add the ranch dressing on top of the chicken.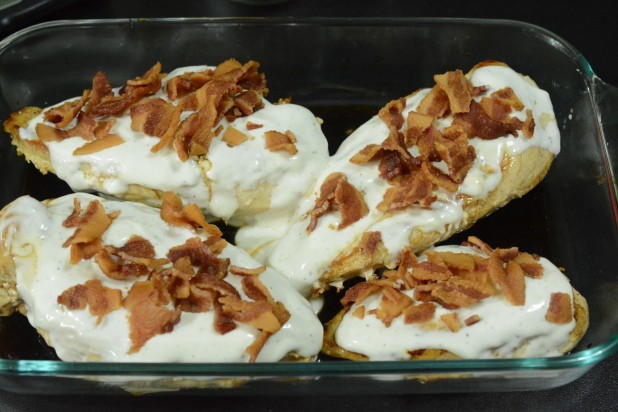 Layer the chicken with bacon bits.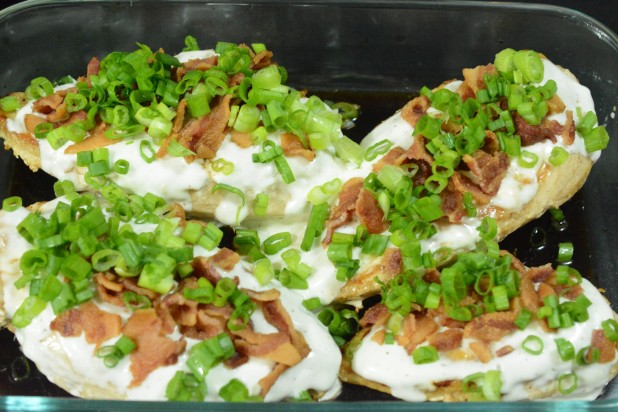 And green onions.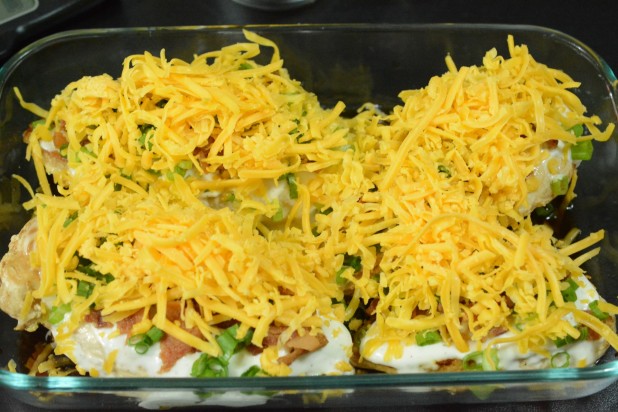 And cheese.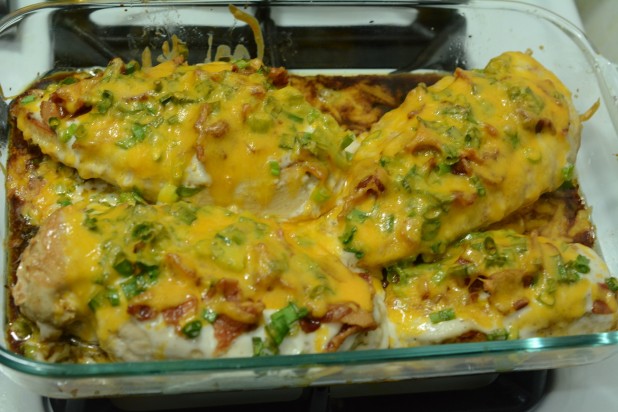 Place the chicken under the broiler until the cheese has melted. Then you're all done with your loaded baked chicken!

Loaded Baked Chicken
Nutrition Information
Serving size:

¼th

Calories:

527
Fat:

28

Carbohydrates:

3

Fiber:

0

Protein:

63
Prep time:
Cook time:
Total time: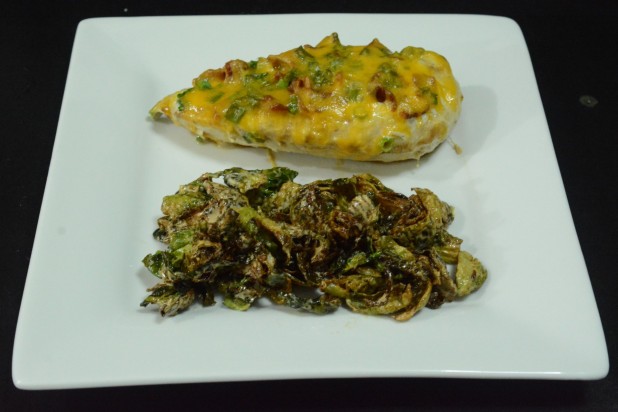 Ingredients
4 Chicken Breasts
4 Bacon Strips
1 Oz. Soy Sauce
4 Oz. Ranch Dressing
3 Green Onions
4 Oz. Cheddar Cheese
Instructions
Heat cast iron pan with some cooking oil on high
Pan fry chicken breasts, flipping half way, until internal temperature reaches 165, probably 10-15 minutes depending on thickness
While chicken is cooking, prepare bacon bits by frying or cooking bacon and then crumbling
Also, chop up 3 green onion stalks
Place chicken in a baking dish and top with soy sauce, then ranch, then bacon, green onions and cheese
Broil on high until the cheese melts, 3-4 minutes