So the other week I bought some sausages.  Well, a TON of sausages.  So I wanted to come up with some cool ideas to use them all. I like cutting up sausages and using the meat just like a ground beef or chicken. I also have been trying to eat more vegetables.  What I came up with was Stuffed Peppers!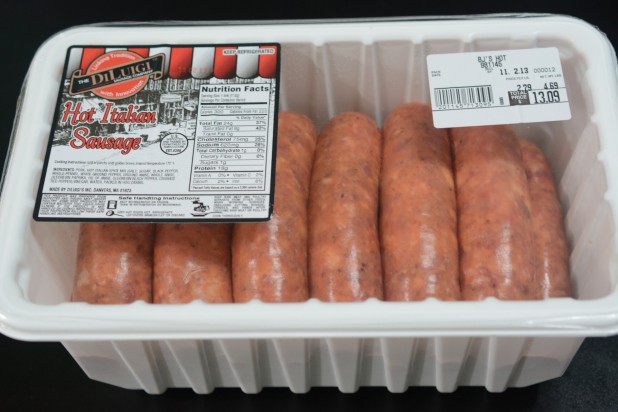 Like I said, a ton of sausages …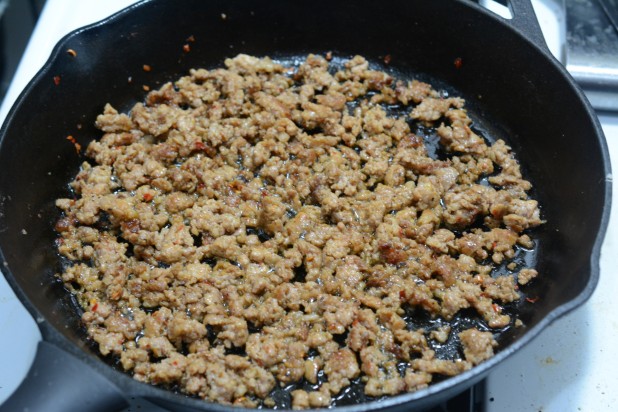 Start by taking two of the sausages and breaking them open.  Then pan fry them in a cast iron skillet.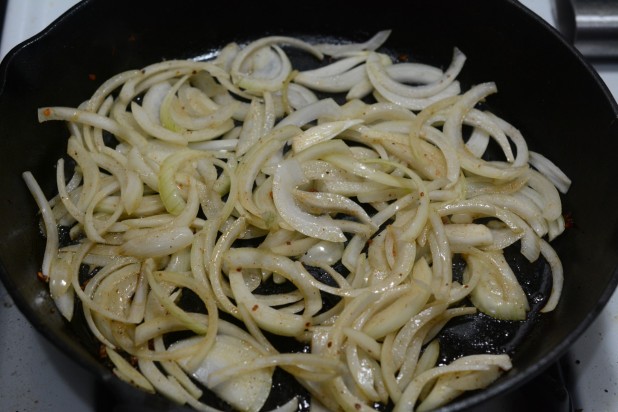 After the sausage, use the left over grease to fry some thinly sliced onions.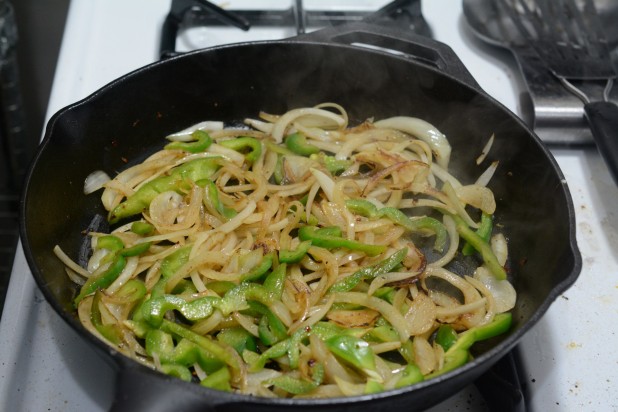 I also threw in some slices of green pepper from the reamed out pepper.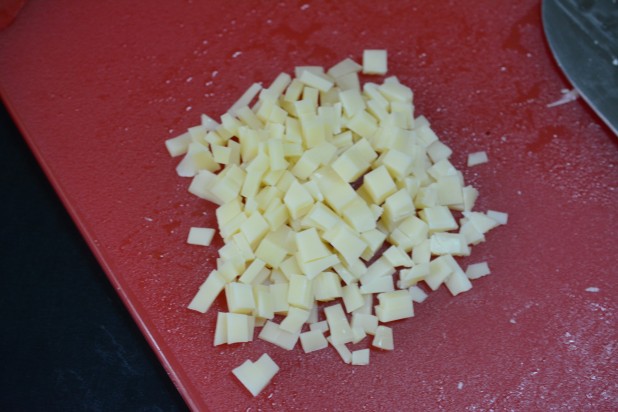 For the cheese component of this recipe I used Parmesan.  I just chopped a block of Parmesan into tiny squares.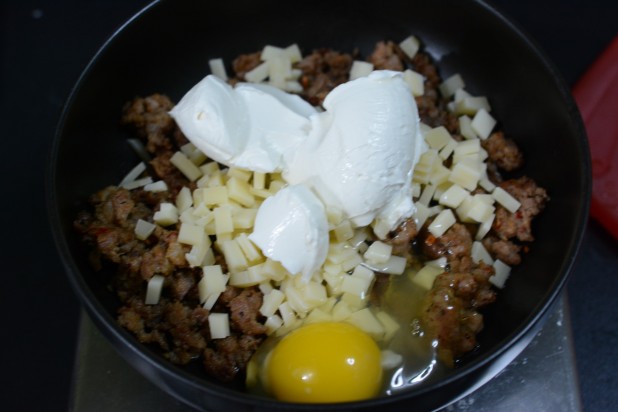 Now it's time to throw it all together!  Combine all of the ingredients in a bowl to make the stuffing.
Here's a shot of the mixed stuffing.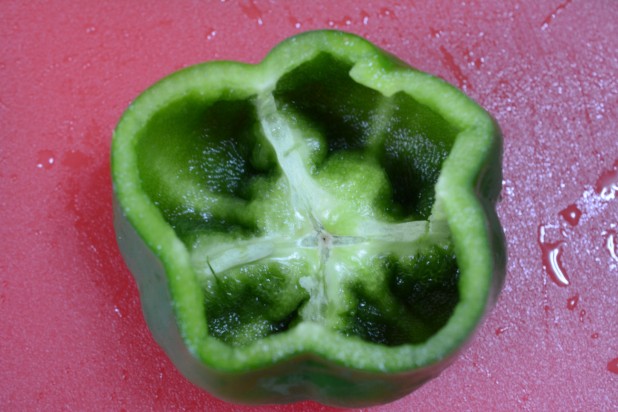 For the pepper, cut off the top and cut out the seeds and side supports.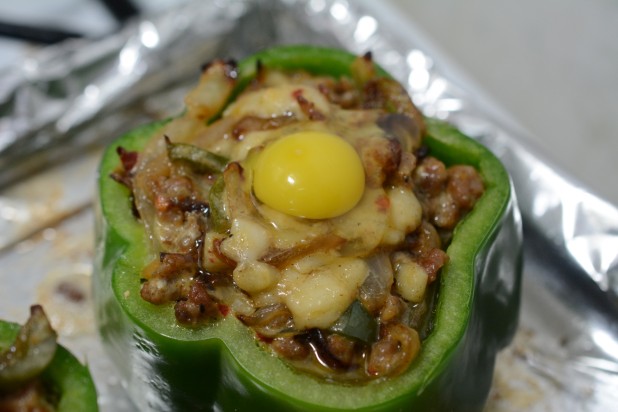 Then stuff 'em!  I had some quail eggs so I thew one in there for good measure. I baked two of these and used my toaster / convection oven for super quick meal making.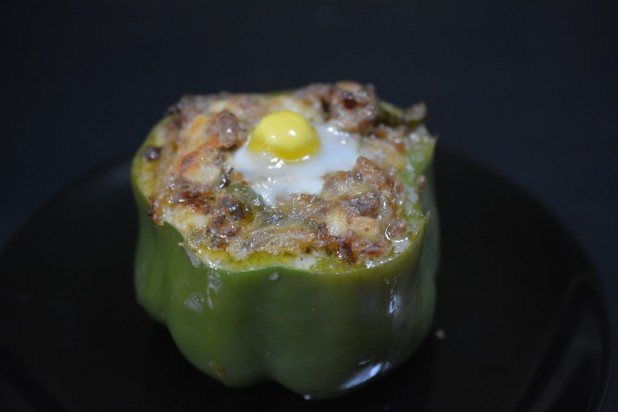 And here's the finished product!

Stuffed Peppers
Nutrition Information
Serving size:

1 Pepper

Calories:

484
Fat:

35

Carbohydrates:

14

Fiber:

3

Protein:

30
Prep time:
Cook time:
Total time: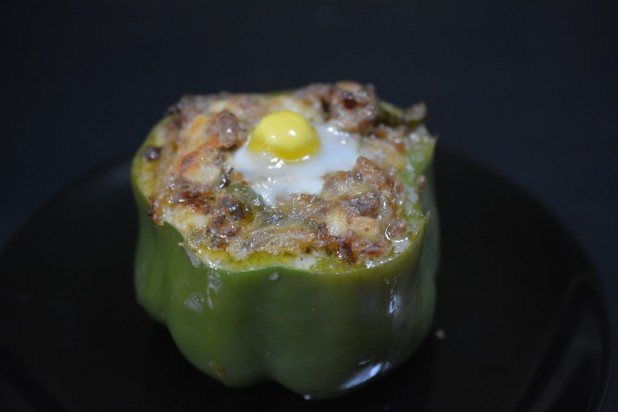 Ingredients
2 Green Peppers
1 Small Onion
2 Sausage Links
1.5 Oz Parmesan Cheese
2 Oz. Cream Cheese
1 Egg
2 Quail Eggs
Instructions
Start by removing the skin of the sausage and cooking the sausage into crumbles
Cut off of the top of the peppers and remove the seeds
Chop up the tops of the peppers
Chop up onions and cook the peppers and onions
Chop up Parmesan cheese into small pieces
Combine the peppers, onions, cheese, sausage and cream cheese
Stuff the peppers with the stuffing and top with a quail egg
Cook for 20 minutes at 400 degrees
Lodge 12-inch Cast Iron Skillet
The only pan you really need. Once properly seasoned, this pan can cook anything you can imagine! Lasts forever and never wears out.
Black and Decker Convection Oven
My convection oven is my best friend. Whenever I am making a dinner for just one or two I always use this over my full sized oven. Meals like Lazy Keto Chicken were designed for this thing, the hot air cooks stuff super fast and uses less energy.