This week in my CSA haul I got some meat labelled "pork kabobs".  So, with such a clear description of what I should do with it, I set off cooking!  I knew I wanted to skewer and cook the kabobs but I wanted a nice sauce to go with it.  A lot of thai food flavors pork with peanut sauce so I thought I'd try my hand at a keto version.  Instead of peanut sauce I used Sunflower Butter which has a similar consistency and really cool taste.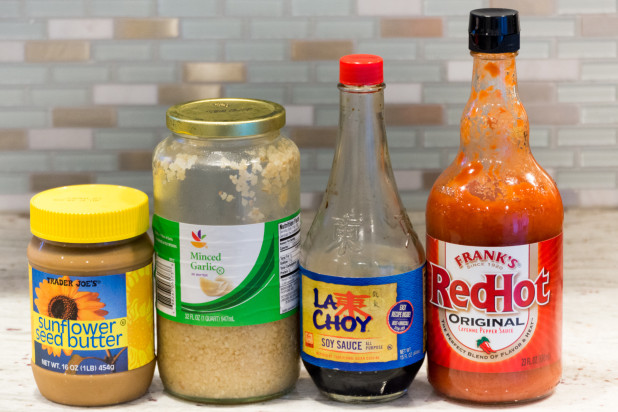 Here are the main ingredients for my marinade.  I used the Sunflower butter, garlic, soy sauce and some hot sauce to add the heat.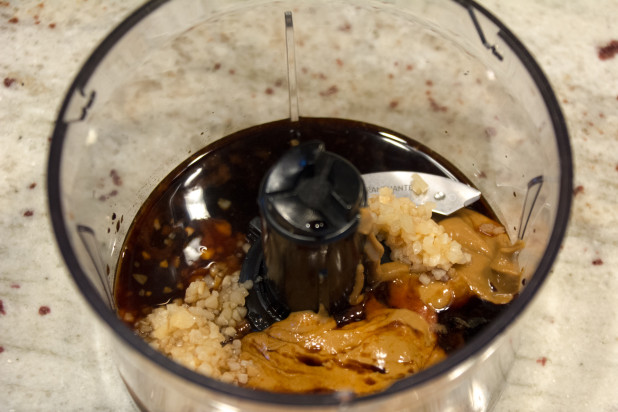 The marinade is made by adding all of the ingredients into a mini food processor.  This one comes with my immersion blender and is super convenient for when you want to mix together a sauce.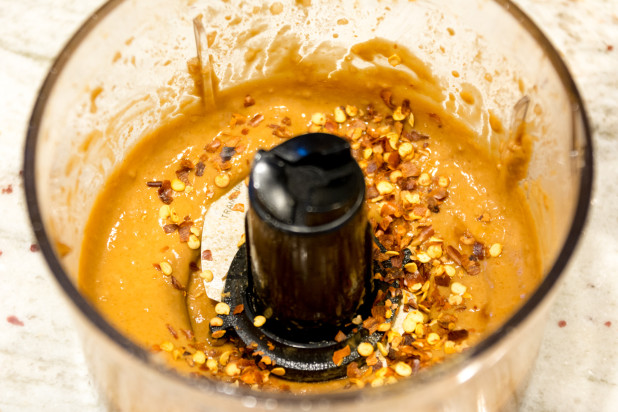 Here's the marinade after the first pulsing.  The sauce was good but it needed some more heat so I added the crushed red pepper.  If you want a milder sauce, you can omit this ingredient.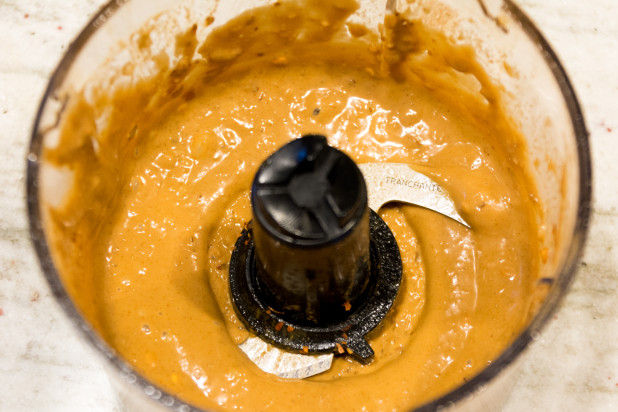 Here's a pic of the final sauce.  It turned out really well!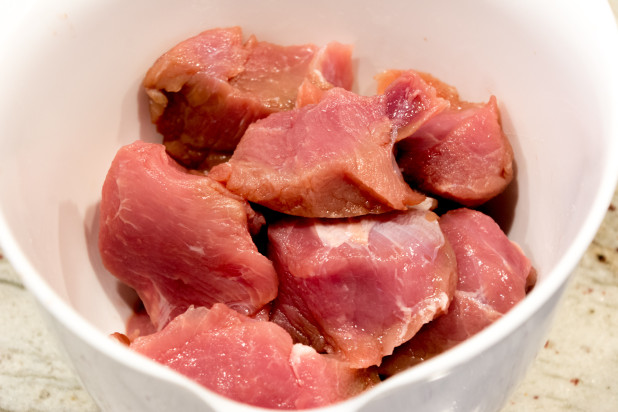 Place the cut portions of pork, something like tenderloin or pork butt, into a non-metal bowl.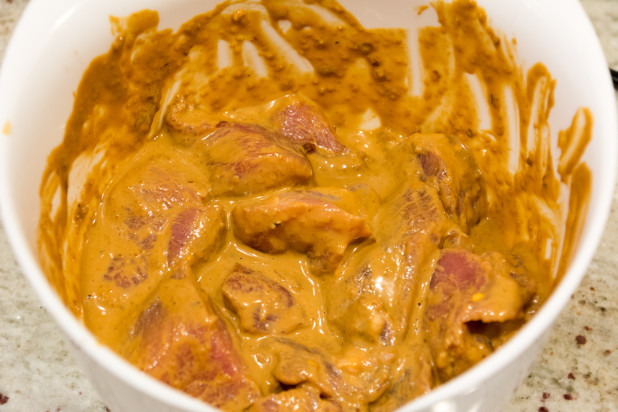 Then cover and mix with the sauce.  Let this sit as long as you can stand, ideally 1 hour or more.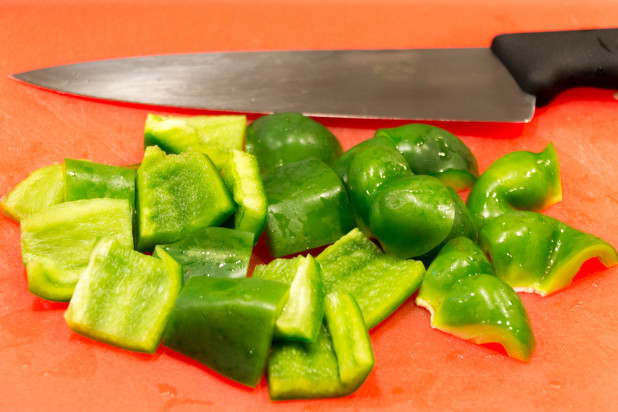 Then chop up a pepper into squares.  You can add other veggies such as onions or squash but this was all I had on hand 🙂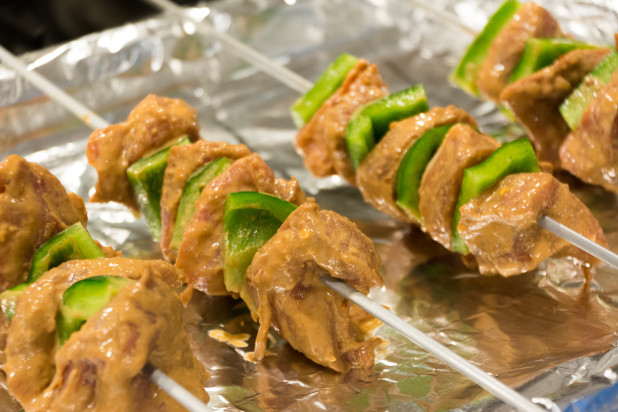 Then skewer the meat and veggies onto some metal skewers and place on a foiled oven pan.  I put them such that they were suspended on the edges of the pan since my skewers are really long.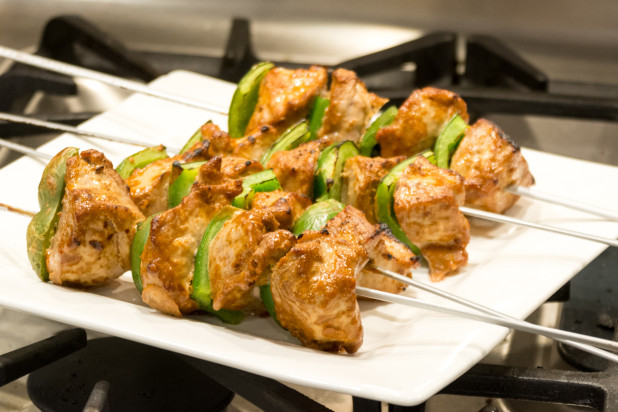 Mmmm! I broiled them which gave them a really nice finish and softened the peppers. 5 minutes per side or until the internal temperature reaches 145.

Sunflower Butter Pork Kabobs
Nutrition Information
Serving size:

1 Kabob

Calories:

200
Fat:

8g

Saturated fat:

1g

Unsaturated fat:

5g

Carbohydrates:

5g

Sodium:

506mg

Fiber:

2g

Protein:

24g

Cholesterol:

65mg
Prep time:
Cook time:
Total time: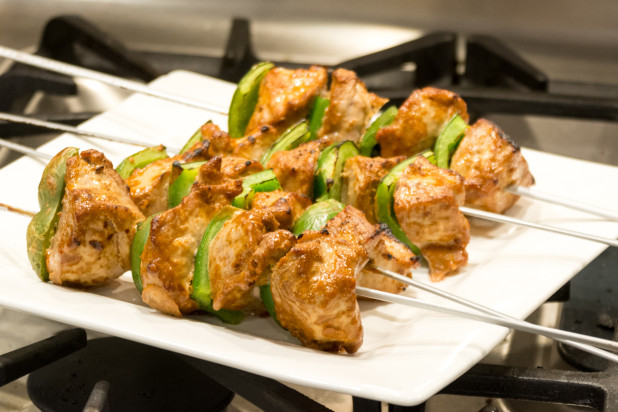 Ingredients
3 Tbsp Sunflower Butter
2 tsp Hot Sauce
1 Tbsp Soy Sauce
1 Tbsp Minced Garlic
½ tsp Crushed Red Pepper
1 Tbsp Water
1 Lb Pork Kabob Squares
1 medium Green Pepper
Instructions
Start by placing the marinade ingredients into a small food processor
Mix the ingredients until smooth
Cut the pork into bite sized squares and place in a non-metal bowl
Mix the pork and marinade together and allow to marinate for 1 hour, up to 24 hours
Chop up the green pepper into small pieces
Thread the green pepper and pork onto metal skewers
Broil on high for 5 minutes on each side or until internal temperature reaches 145 degrees
Metal Skewers
Metal skewers are a great addition to any BBQ set. They're perfect for skewering some shrimp or making some kabobs. They can even be used in a deep fryer to make a super appetizers!
Sunflower Seed Butter
A great alternative to peanut butter, especially for people that are allergic to peanuts. This stuff is crazy good and less carbs than peanut butter as well!
Cuisinart Immersion Blender
The Immersion Blender is another one of those items I thought would be completely worthless when I first got it. I knew you could make soups with it but I never imagined that you could whip up a chocolate mousse or even use its mini food processor to make homemade dressing!