The other week, someone posed the question on reddit's /r/ketorecipes entitled, "Carbquik. Good or bad?" To be honest, I've been asking myself that question for a long time. I've always wanted to try Carbquik but I've never really taken the time to research it or obtain Carbquik. In case you're not familiar, its a baking mix that claims to be similar to Bisquick. I've never seen it in stores so you basically have to buy it from Amazon or the manufacturer's website. Once I got the shipment in, I knew my first recipe would have to be pancakes, with bacon of course! So I started with the recipe on the box and tweeked it until I had something I liked.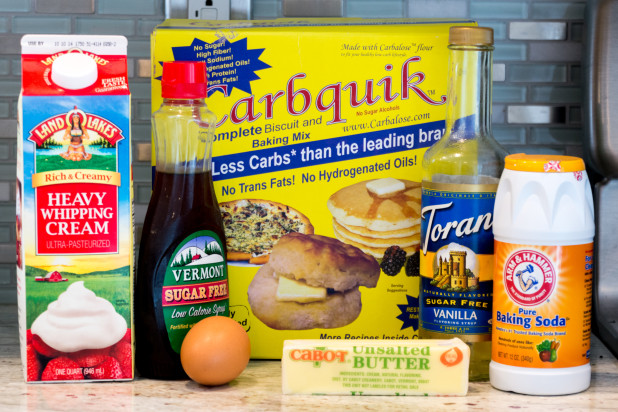 Here are the ingredients we're going to use. Most of them are pretty stock but you might have trouble finding Sugar Free Maple Syrup as well.  Its purely optional and it does contain artificial sweeteners so it could be left off.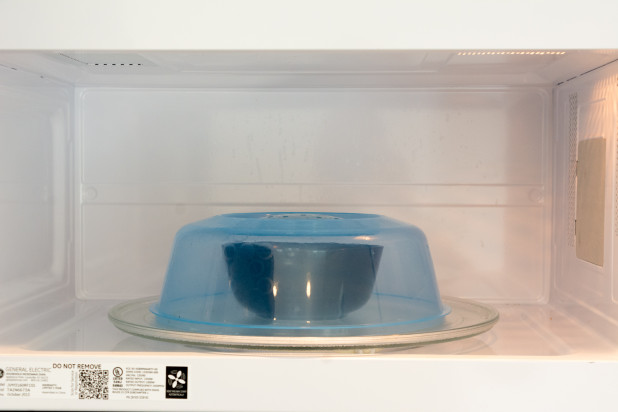 Start by melting the butter.  I always use unsalted butter because I figure I can add my own salt if I need it.  I also make sure to use a microwave splatter shield as butter has a tendency to explode when microwaving. My microwave doesn't fit in the dishwasher but these shields do 😉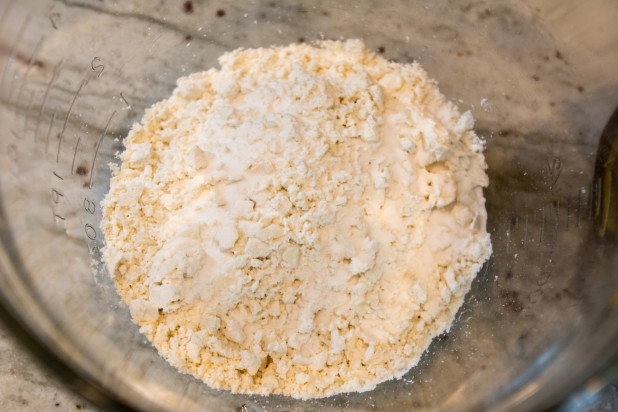 Start by mixing the dry ingredients together.  In this case its just the Carbquik and baking soda.  The manufacturer recommends not mixing too much, not sure why but I assume it has to do with the distribution of leavening agents.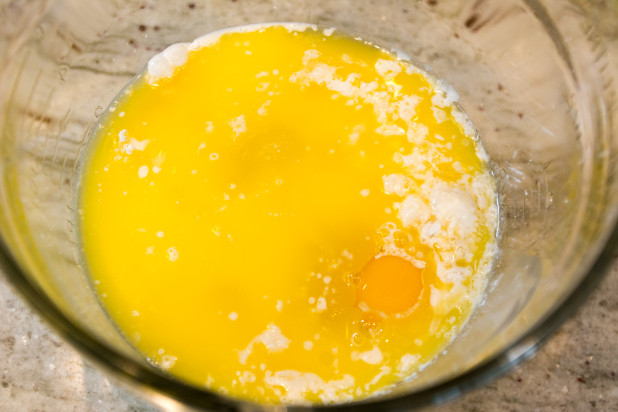 Now add the liquid ingredients.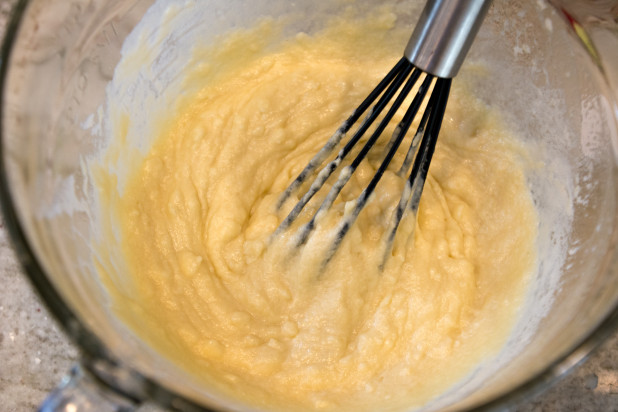 Whisk the ingredients together until blended.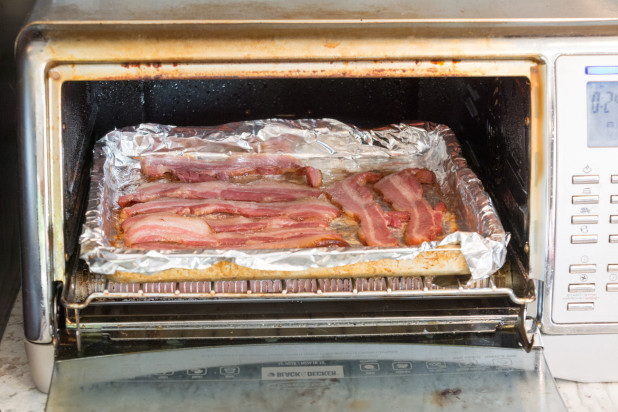 While I was mixing the ingredients together, my bacon was cooking in the convection oven.  This weeks bacon was from my CSA so it was a really smokey, thick cut .. Mmmm!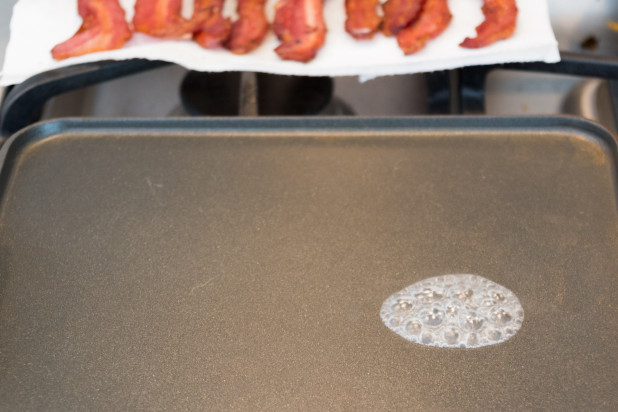 Next, heat a non-stick pan over medium-high heat.  Personally, for pancakes I like to use a square griddle pan. I always have trouble flipping stuff like pancakes and the low sides make it much easier than a typical round skillet.  Additionally, anything low carb tends to be looser and even harder to flip!  You'll know the pan is hot enough when a few drops of water bounce around on it.  This is a bit of an exaggeration but you get the point.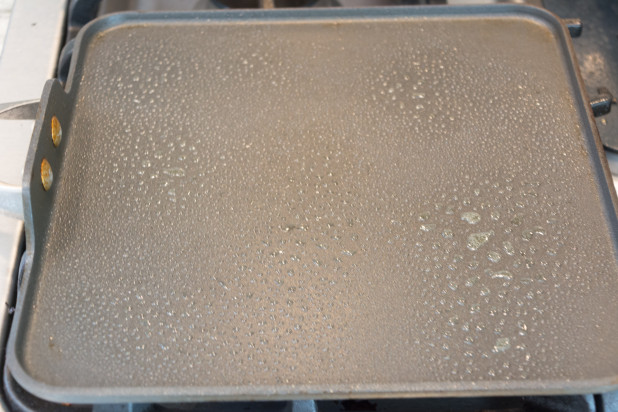 Spray that bad boy with some Pam.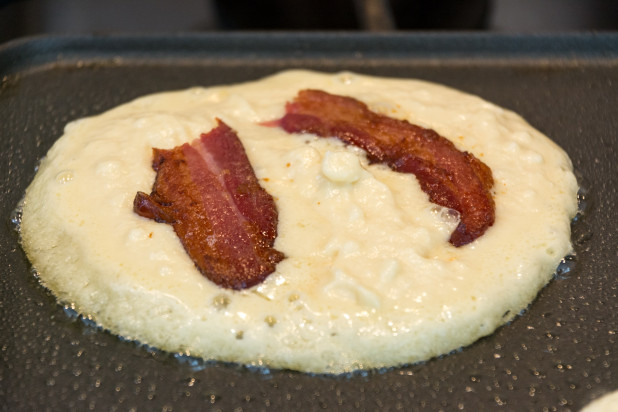 Now plop down some of the batter and throw some bacon on it!  Try to make the pancakes small so they're easier to flip. When the sides and the middle start to bubble, and you can see a bit of brown on the bottom, flip them over.  You can kind of push the pancakes and try the spatula to see if they're ready.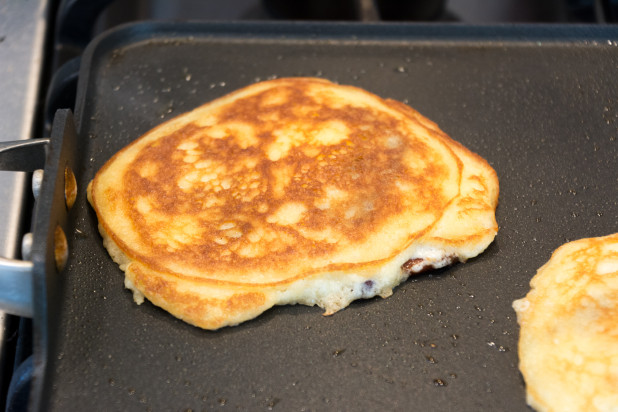 Once they're flipped over, cook for a minute or more and you're good to go!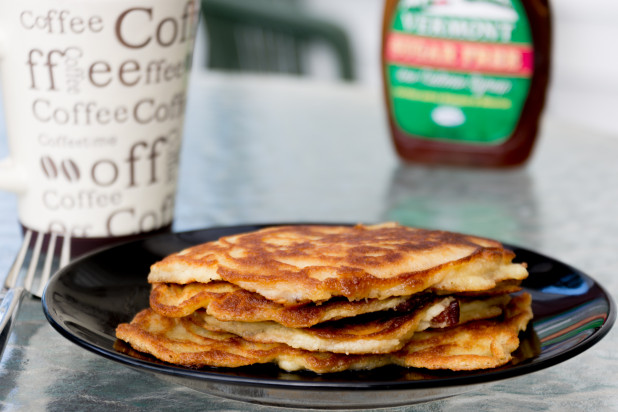 Here's a finished stack of Bacon Keto Pancakes!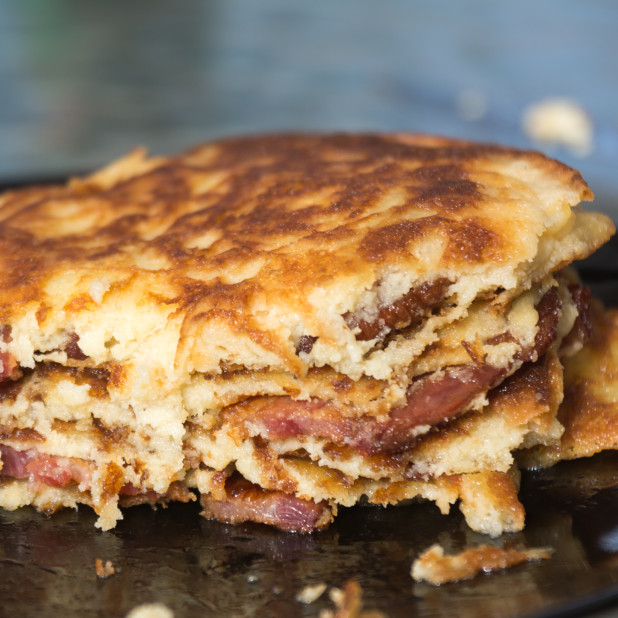 And here's a  bonus money shot of the inside of the pancakes with they're baconey goodness!! I'd say for this application, Carbquik was a winner. What should I make next with it?  Have you tried Carbquik?  Sound off in the comments or on social media!

Bacon Keto Pancakes
Nutrition Information
Serving size:

2 Pancakes

Calories:

443
Fat:

46g

Carbohydrates:

5g

Sodium:

791mg

Fiber:

4g

Protein:

12g

Cholesterol:

186mg
Prep time:
Cook time:
Total time: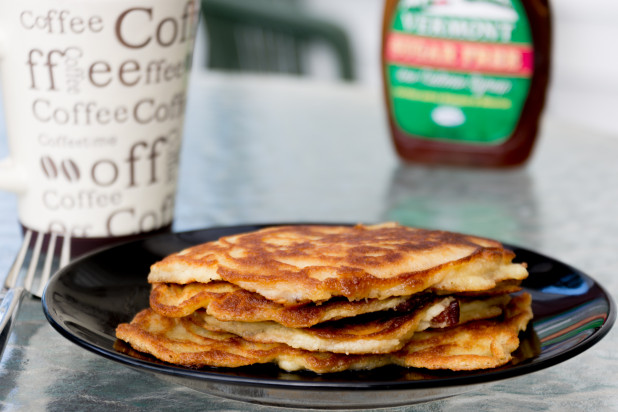 Ingredients
1 Cup Carbquik
1 Egg
½ Cup Heavy Cream
¼ Cup Water
½ Cup Unsalted Butter, Melted
1 Tbsp Sugar Free Vanilla Syrup
½ Tsp Baking Soda
8 Slices Bacon
Instructions
Cook bacon either in the oven or on the stove
Melt butter in the microwave
Mix together the Carbquik and the baking soda
Add the liquid ingredients and mix
Heat pan over medium-high heat and then spray with Pam
Spoon a glob of batter onto the pan, try not to make them too big or else they won't flip, add bacon
When bubbles start forming near the center, or the edges start to brown, flip
Cook for an additional minute or so
Carbquik Baking Mix
Not sure I 100% believe this product, but it claims to be independently tested for accurate low carb numbers. It performs almost exactly like Bisquick and is the only low carb baking mix I've ever come across. Give it a try and let me know what you think!
Black and Decker Convection Oven
My convection oven is my best friend. Whenever I am making a dinner for just one or two I always use this over my full sized oven. Meals like Lazy Keto Chicken were designed for this thing, the hot air cooks stuff super fast and uses less energy.
Calphalon Square Griddle
This low sided non stick pan is perfect for cooking any dish that needs to be flipped. I almost always use cast iron but sometimes you actually need a nonstick pan for things like pancakes or omelettes and this pan fits the bill perfectly.
Microwave Splatter Cover
The Microwave Splatter Cover is an interesting one. I don't think much of the population even knows they exist. If you're parents had one in the 80's then you've seen it but chances are its a foreign invention. All it does is contain the splatter from your creations. If you follow the 5day montra of keto cooking, you'll be microwaving 10 things a week at minimum! This saves a lot of cleanup time (and you're coworkers will thank you)!
Vermont Sugar-free Maple Syrup
Low carb sugar free maple syrup, perfect for use on low carb pancakes or anywhere you'd use a traditional maple syrup.
Torani Sugar Free Syrup
Sugar Free Syrups are great if you want to create a special keto cocktail or spice up your coffee. Since these things are so specific, they are rarely found in stores and have to be bought online.