Cast Iron Skillet Frittata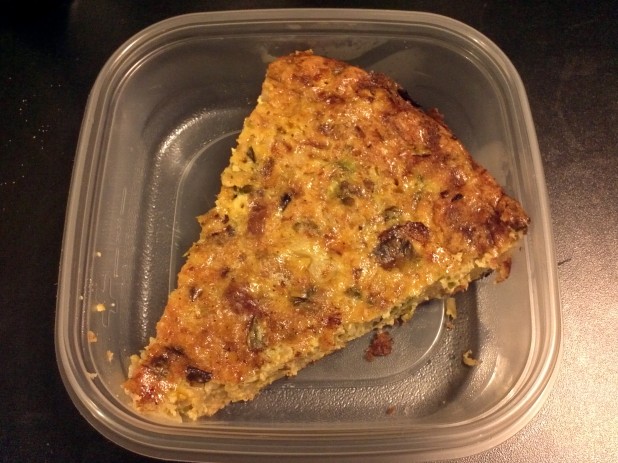 8 Slices Bacon
1 Small Onion (125 g)
1 Small Pepper (133 g)
542 g Brussels Sprouts
1 Head Cauliflower (965 g)
12 Oz. Cheddar Cheese
12 Eggs
6 Oz Heavy Cream
½ tsp Garlic Powder
½ tsp Onion Powder
½ tsp Salt
½ tsp Pepper
Start by cooking bacon until crisp, keep the bacon grease in the skillet
Thinly slice the onion and pepper
Shred the brussels sprouts and cauliflower
Cook all the vegetables in the skillet
While vegetables are cooking, prepare the egg mixture with 12 eggs, 6 Oz cream and spices, whisk to combine
If required, shred cheddar cheese
When the vegetables are done, aka translucent and cooked, crumble and add the bacon and cheese
Mix well and then add the eggs and mix again
Cook for 2-3 minutes on stovetop
Transfer skillet to oven set to 450 and cook for an additional 25 minutes
Slice and serve!
I used a lot of vegetables, probably more than I wanted to. If I were to do it again I'd reduce the amount which would also lower the carbs. IMPORTANT: Make sure the skillet you use is oven proof to 450 degrees. Also, if you use some sort of handle protector on your cast iron, make sure to take it off as well!
Serving size:
⅛th
Calories:
491
Fat:
35
Carbohydrates:
18
Fiber:
6
Protein:
29
Recipe by
Caveman Keto
at https://cavemanketo.com/cast-iron-skillet-frittata/