Smashed Raspberry Lemonade Poptail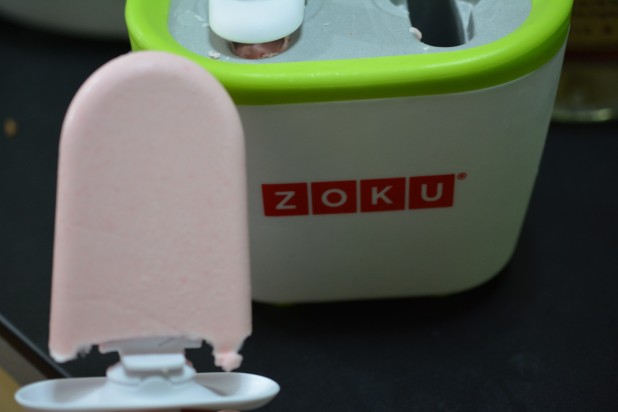 60 mL Heavy Cream
25 mL Torani Sugar Free Raspberry Syrup
10 mL Lemon Juice
20 mL Vodka
5 mL Vanilla
Freeze Zoku device for 24 hours or until fully frozen
Each popsicle uses 60 mL or 4 Tablespoons of mix total, if only using one flavor, make as above, if making multiple flavors, make a mix of (3 parts Cream to 2 parts Coconut Milk to 1 part Flavored Syrup ) to total 120 mL for two
Mix the ingredients and place them in the freezer as well, you want all the ingredients to be as cold as possible
Bring out the Zoku and place the popsicle stick in it
Add the liquid and wait 16 minutes, since this is a poptail and contains alcohol, it will take longer to freeze and might not completely freeze
Once it is completely frozen (you can check by using a toothpick), screw on the extractor to release the mold
Snap on the drip shield and eat!
Only contains ⅕th of a shot of alcohol, approximately 13 proof or 7% alcohol. Any higher and it wouldn't freeze.
Serving size:
1 Popsicle (60 mL)
Calories:
125
Fat:
10
Carbohydrates:
1
Fiber:
0
Protein:
0
Recipe by
Caveman Keto
at https://cavemanketo.com/smashed-raspberry-lemonade-poptail/