One of the things I really miss from back in my carb days is hashbrowns.  I've made them with turnips before so I figured, why not give Radishes a try? Just the other day I made a Radish Scramble and I figured I'd try to see exactly how versatile these little red buggers were! If you're craving potatoes, check out my entire section of faux potato recipes.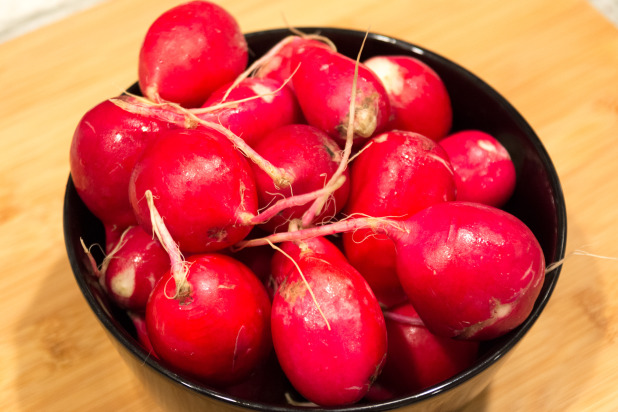 Start with some fresh Radishes!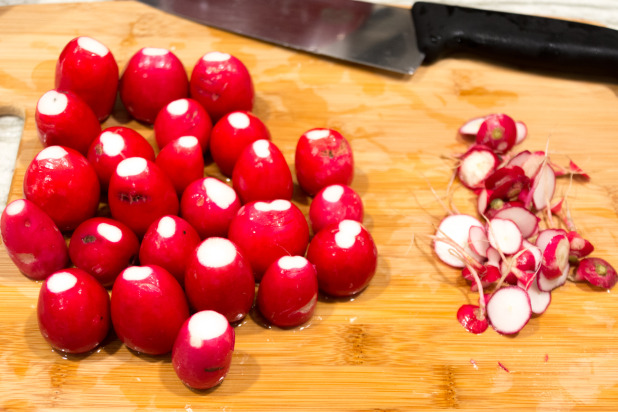 Wash the Radishes and cut the tops and bottoms off.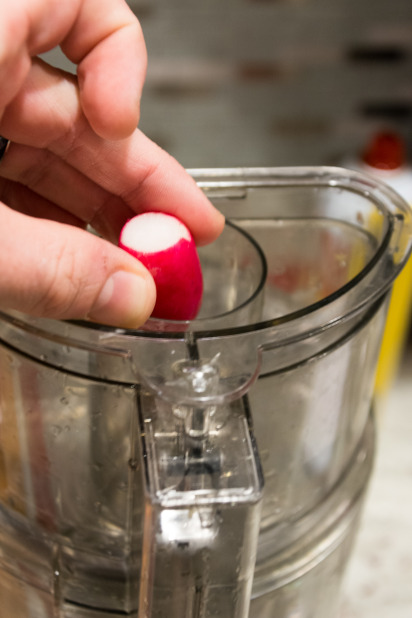 For this recipe, I used the chute on my food processor.  All you do is turn the unit on and chuck these things in! I used the grating blade for this part.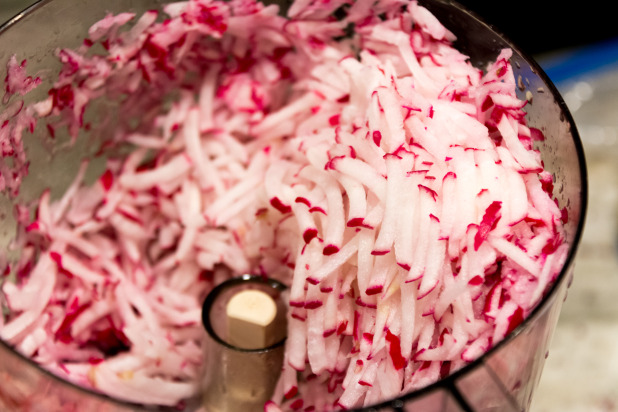 As you can see, the result is perfectly shredded Radishes.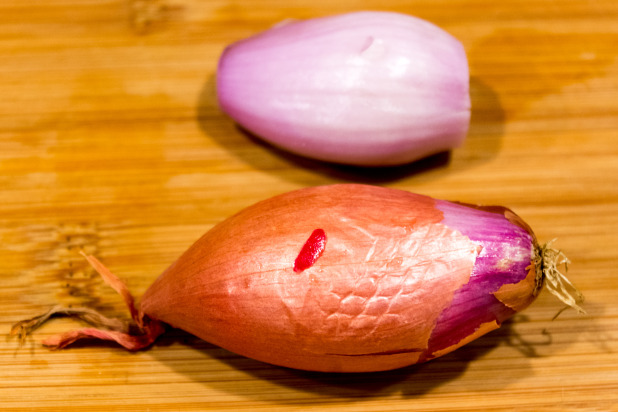 Next, I added some shallots.  Remove the outer skin as shown but keep the shallot whole.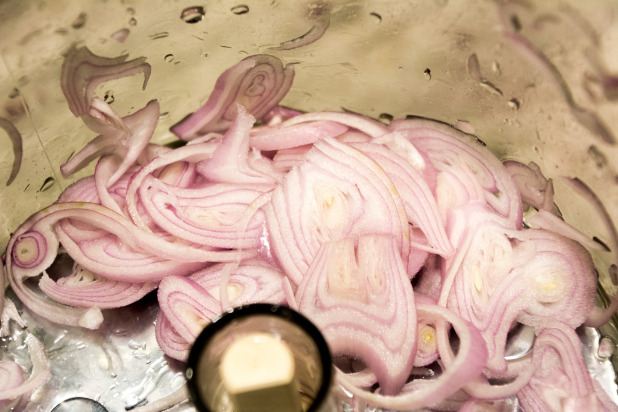 Then I used the slicing blade on the food processor to thinly slice the shallots.  I just threw them down the same chute. Obviously you could just use a knife but I already had the food processor out and dirty.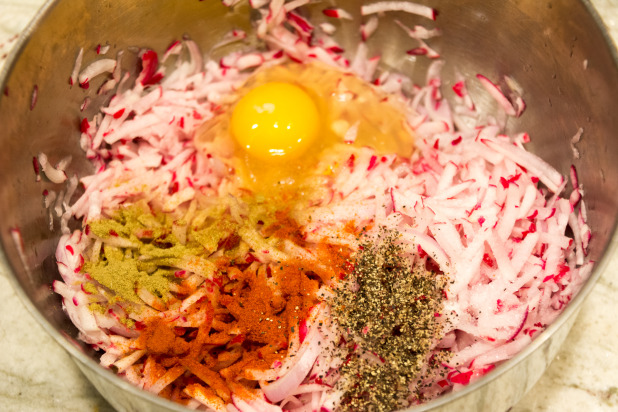 Next, throw all of the ingredients into a large bowl and mix.  Note that not all the ingredients are shown because I had to adjust the recipe for the pancakes to stick together.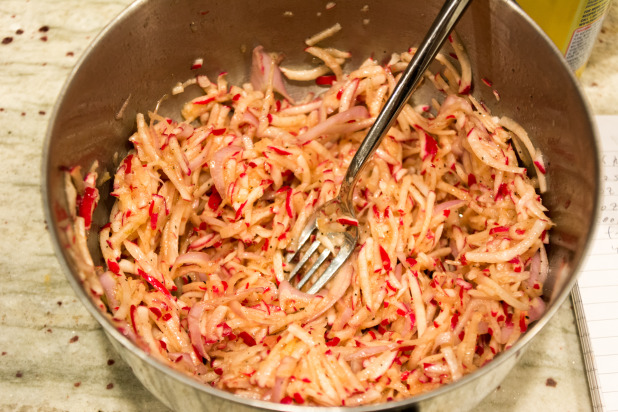 Here's what your mixture should look like!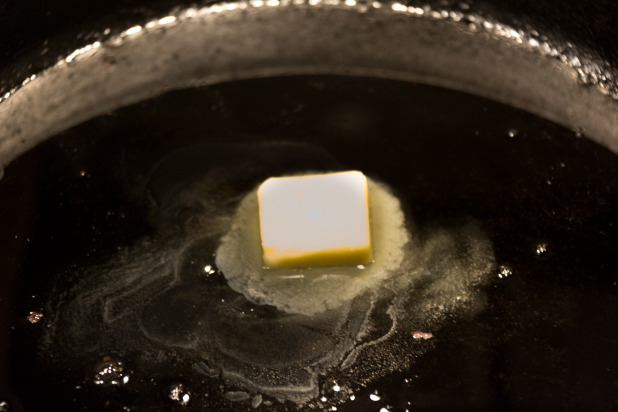 Now heat some bacon grease and melt some butter in a cast iron skillet!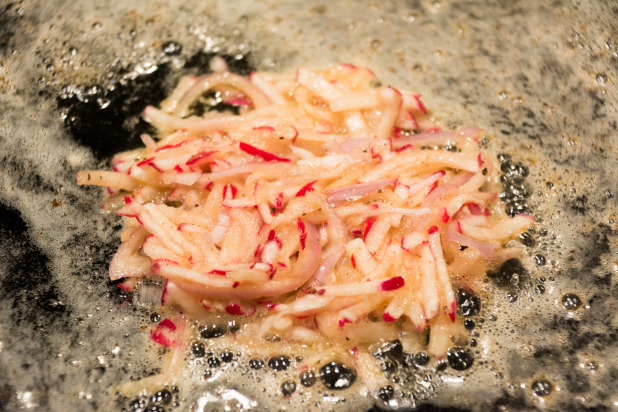 Make little "pancakes" of the radish hashbrowns and fry them.  Don't make them too big or else they will be impossible to flip.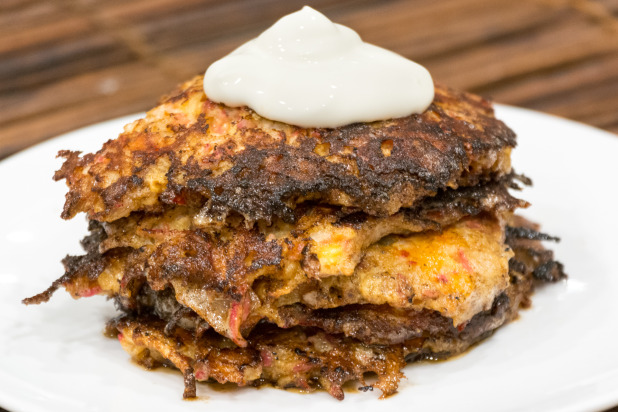 Here's the finished Fried Radish Hashbrowns with a dollop of sour cream on top!

Fried Radish Hashbrowns
Nutrition Information
Serving size:

⅓rd (3 pancakes)

Calories:

238
Fat:

18g

Carbohydrates:

10g

Sodium:

440mg

Fiber:

3g

Protein:

10g

Cholesterol:

175mg
Prep time:
Cook time:
Total time: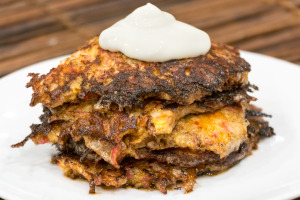 Ingredients
1 lb Radishes
2 Shallots
¼ tsp Paprika
¼ tsp Thyme
¼ tsp Salt
¼ tsp Pepper
1 whole egg + 1 yolk
1 Tbsp Coconut Flour
2 Oz Cheddar Cheese
1 Tbsp Bacon Grease
1 Tbsp Butter
Instructions
Start by washing the radishes and cutting off the tops and bottoms
Shred the radishes using a food processor
Peel the shallots, then use the food processor with the slicing blade
Combine all of the ingredients into a bowl except the butter and grease and mix
Heat the bacon grease and butter in a skillet
Scoop out some of the mixture into the skillet and pan fry until crisp, flipping once