Last month I posted my DIY Sous Vide machine and I've been keeping busy cooking! So far through my experimentation there are some things that are worth cooking (flank steak) and others that aren't (bacon was a disaster).  Today I'm going to show you how to cook one of the best.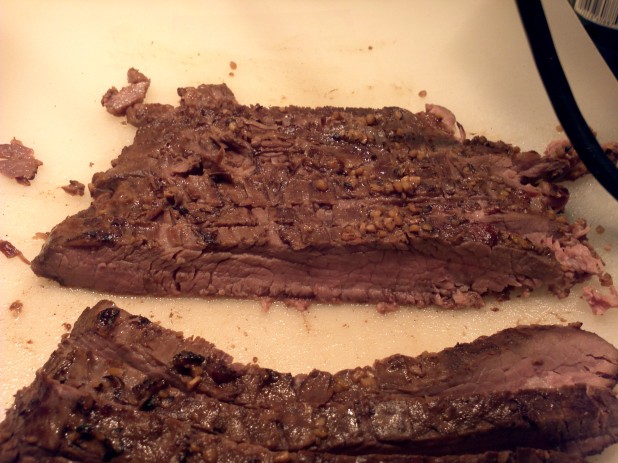 Here is the finished result!  I cooked it medium cause the wife doesn't like it too raw but you can customize it for whatever level you want.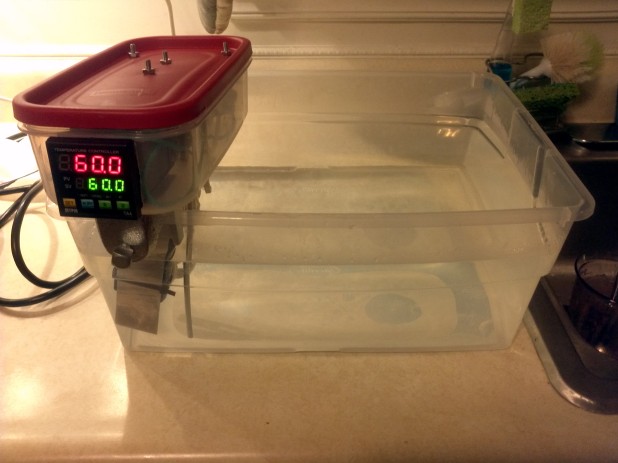 Start by setting your Sous Vide machine to the desired finish temperature.  I use this website as a guide to what temperature / cook time to cook various meats.  For this flank steak, I cooked it at 60 C for 24 hours.  Basically I just put it in before I went to bed and ate it for dinner the next night.  If you don't want to build your own machine, I recommend picking up a commercial Sous Vide machine.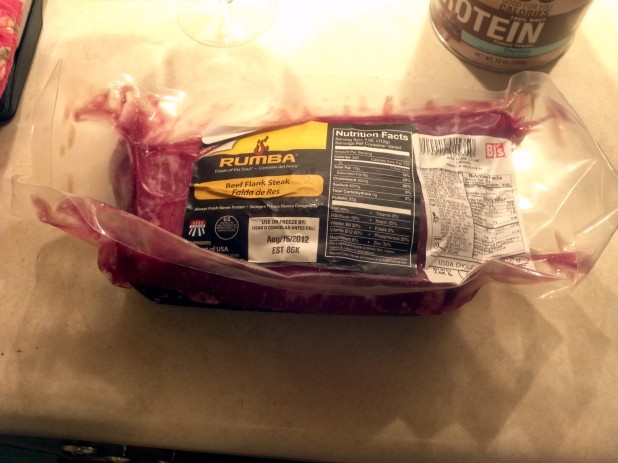 Start with a flank steak of your choosing.  I get these from BJ's.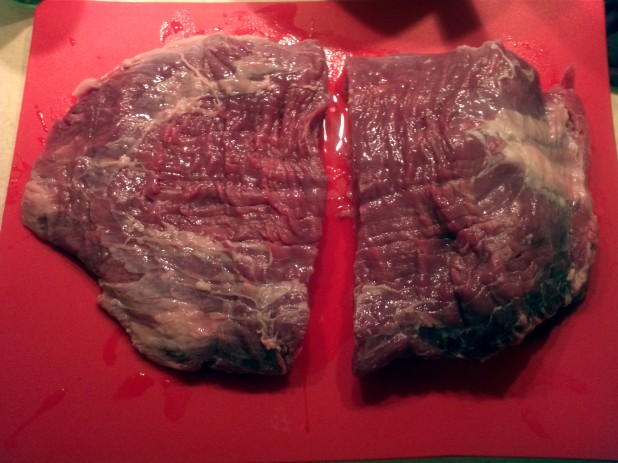 Unroll the steak and cut it in half.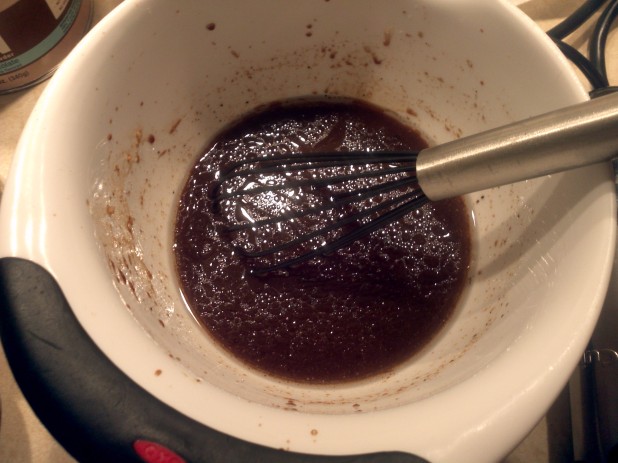 Next mix together the marinade.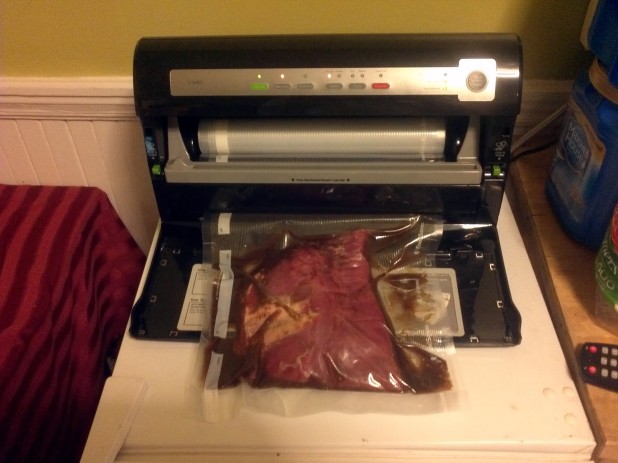 Sous Vide requires the meat to be vacuum sealed in a special bag. With my vacuum sealer you can make your own custom bag sizes via the roll of material above.  You measure out the size you need, cut it, then seal one size.  Then insert the meat and half of the marinade.  Then you insert the open end and it will vacuum out the air and help to infuse the marinade.  If you don't want to go all out on a vacuum sealer right away, they also sell Ziploc hand pump vacuum bags that you can start with.  In fact, if you can squeeze all of the air out, there is no reason you can't use regular ziplock bags.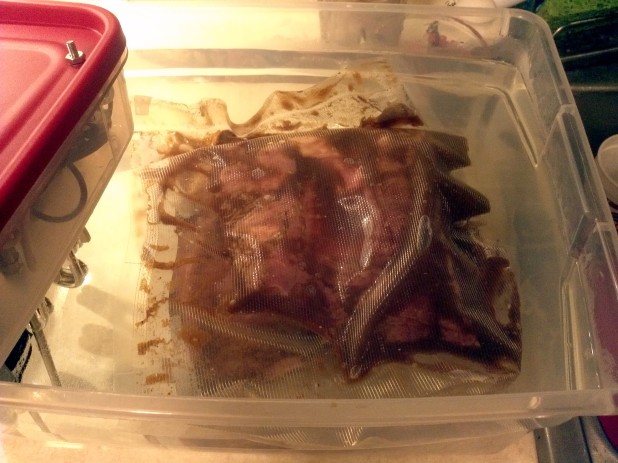 Here are the steaks in the Sous Vide machine.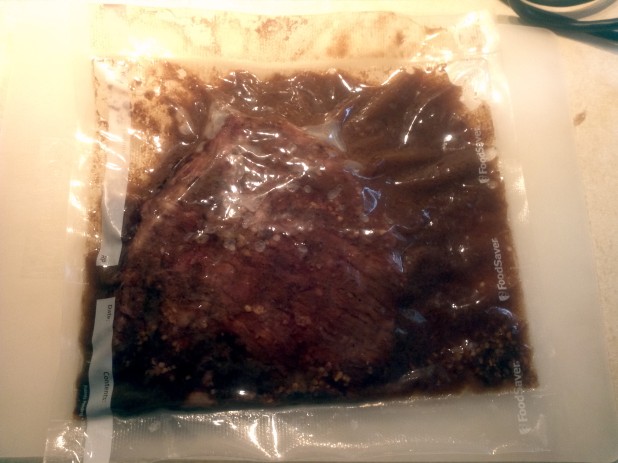 And its done!  In reality, Sous Vide is very simple.  The cooking time is long but the effort involved is pretty low.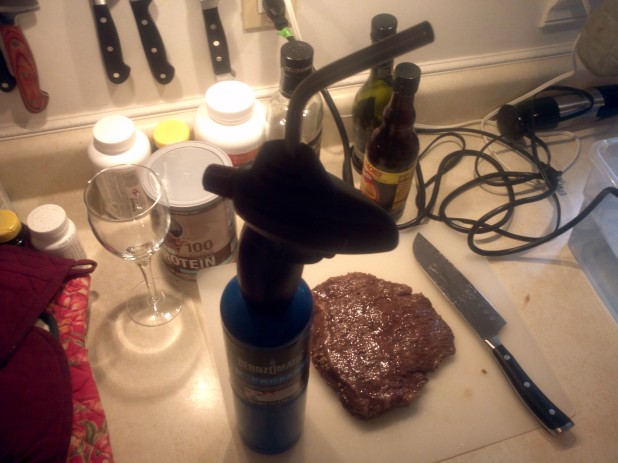 Now comes the fun part!  Yes, that is a plumbing blow torch … See the Sous Vide method perfectly cooks the meat but it doesn't brown the outside for the ever important Maillard reaction.  So torching the outside adds the required browning.  I used to use my little creme brulee torch but it wasn't as fast as I would have liked so I switched to this faster method 🙂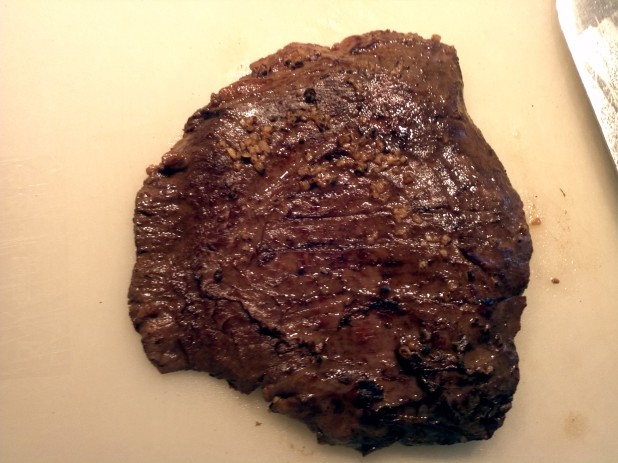 Mmmmm!  Here is the finished, charred flank steak!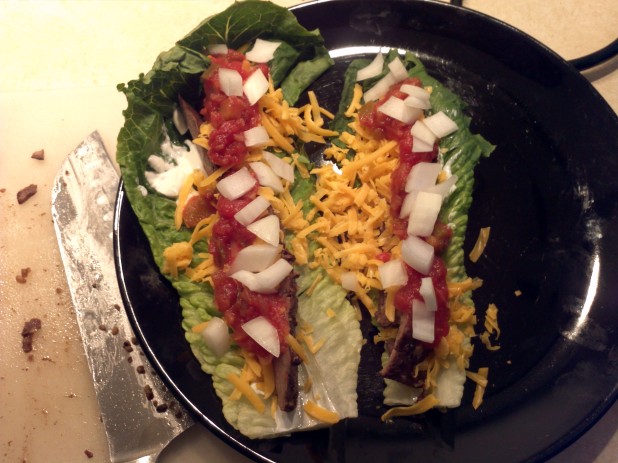 The first night we had flank steak tacos with Romaine lettuce, cheese, sour cream, salsa and onions.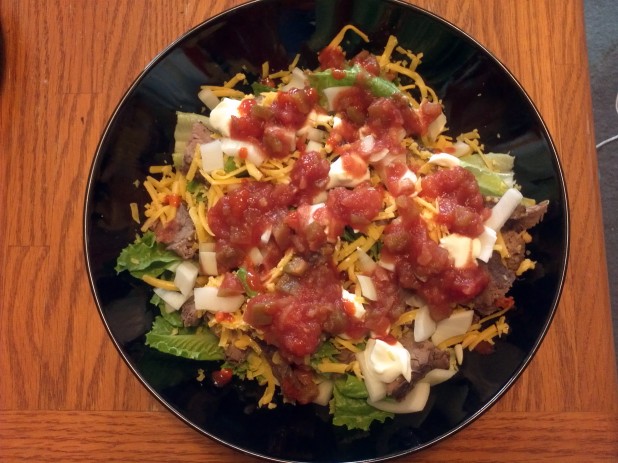 On the second night we got inspired and cut up the lettuce to make Flank Steak salad.  It turned out really well and was much easier to eat.

Sous Vide Flank Steak
Nutrition Information
Serving size:

⅙th

Calories:

547
Fat:

33

Carbohydrates:

4

Fiber:

0

Protein:

54
Prep time:
Cook time:
Total time: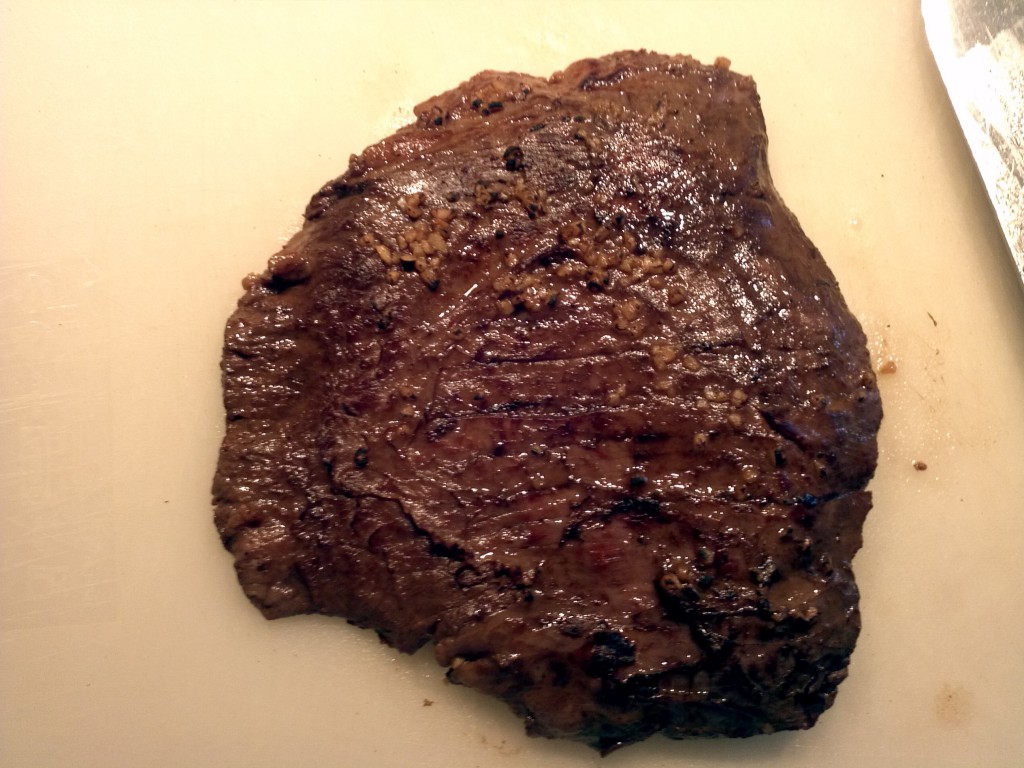 Ingredients
2.5 Lbs Flank Steak
½ Cup Bacon Grease ( or Vegetable Oil )
⅓ Cup Soy Sauce
2 Tbsp Balsamic Vinegar
2 Tbsp Lemon Juice
2 Tbsp Worcestershire Sauce
1 Tbsp Dijon Mustard
2 Tbsp Minced Garlic
1 tsp Black Pepper
Instructions
Set Sous Vide machine to 56.5C for medium rare or 60C for medium, make sure to use hot water to start for a quicker warmup
Cut thawed flank steak in half
Mix marinade and pour into a vacuum seal bag with the steak
Seal the bag and place into Sous Vide machine for 24 hours
When ready to eat, remove meat and sear with a blow torch
Then slice and serve!
Notes
I included all of the marinade but most of it gets thrown away. You can count it as you see fit.
Anova Sous Vide Cooker
Sous Vide was one of my first forays into extreme stunt cooking. I made my own DIY Sous Vide machine but you can skip all that trouble and just pick up a commercial model. The prices have dropped dramatically and its insane how nice cuts like prime rib cooked for 10 hours come out!
FoodSaver V3835 Vacuum Food Sealer
A Vacuum Sealer is more like an enabling technology in the CMK kitchen. Its necessary for a Sous Vide setup but once you get one you'll find yourself resealing half eaten bags of pork rinds, or buying bulk meats at BJs and freezing them in perfectly sealed, pre-portioned bags.
Thermapen
This probably shouldn't be the first thing you buy for your keto kitchen, but eventually, you'll end up buying this thermapen. It seams ridiculous to blow $80+ on a temperature probe but once you go through 5 other cheap ones, or burn your hand waiting for the temperature to stabilize, you'll wish you just picked one of these up. Its way faster and more accurate at reading temperature and I now almost exclusively cook meat to a done temperature rather than a specific time.
Save