Zoodles, or Zucchini noodles, are all the rage right now. I'm not quite sure why I've never made them before but now that I have, I've got to say I'm impressed. There are several ways to make the noodles, personally I opted to use my trusty mandoline with the julienne blade. A lot of people have also been reporting success with the Veggetti Spiral Slicer although this is more of a one trick pony when compared to a mandoline. However you slice 'em, you've got to try some Zoodles!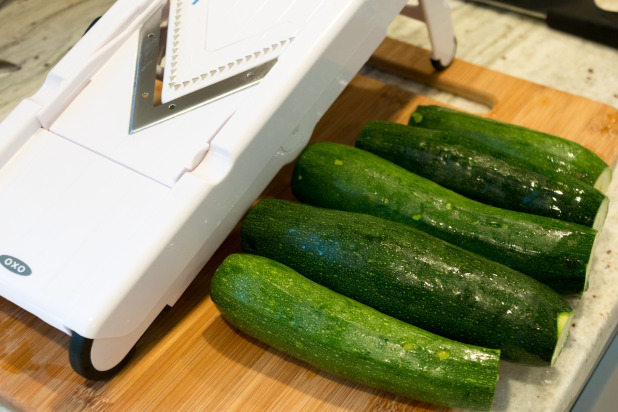 As I mentioned, start by setting up your mandoline with the julienne blade and thickness setting.  Cut the ends off of the Zucchini. I'm not going to lie, I used my hands to slice the Zucchini although it was a bit scary considering the super sharp blades on the julienne setting!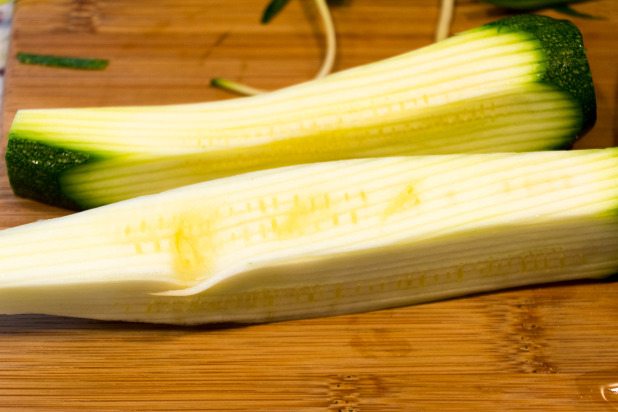 Another key, and I think something I messed up last time I tried Zoodles, is that you don't use the entire Zucchini.  You stop when you get to the seeds as shown.  The skin portions and the initial meat are the more solid portions that make good Zoodles.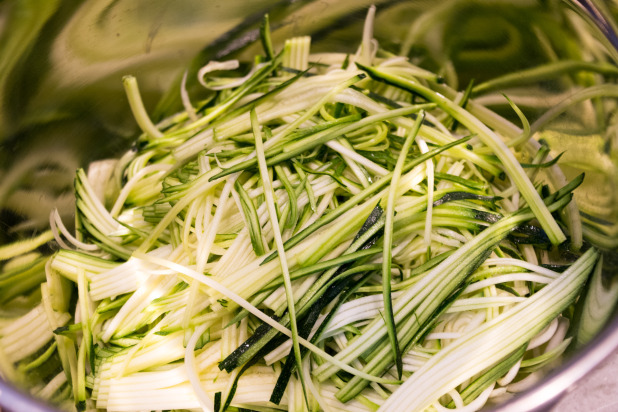 Here's the yield of the Zoodles.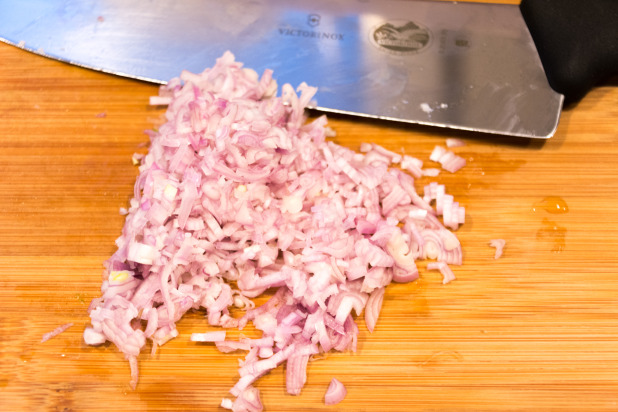 Next, I started working on the meatballs.  I happened to have some shallots on hand so I used them but you could sub a small onion.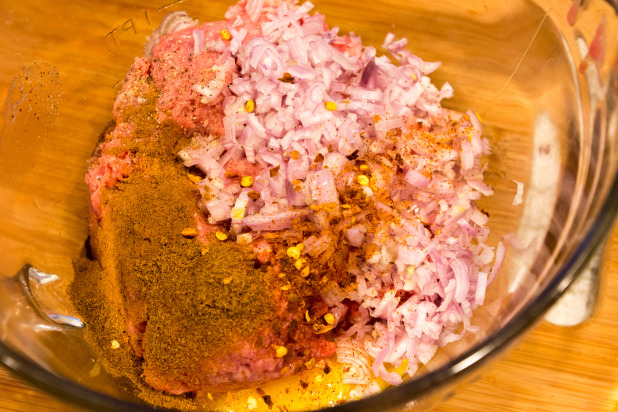 Combine the meat, spices and shallots in a bowl and mix together.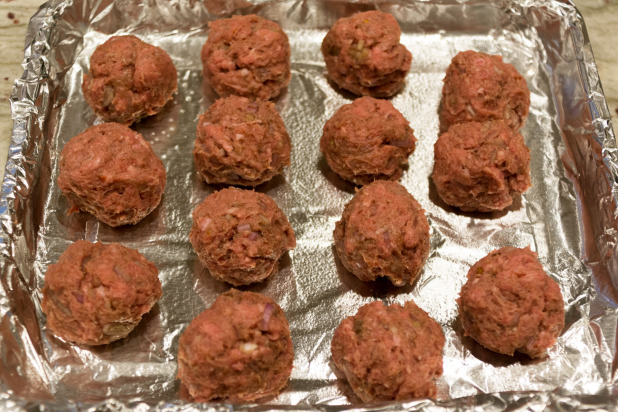 Form the meatballs in 1 Oz balls and place on a foil lined sheet. I always use my convection oven for stuff like this since its smaller, wastes less money and heats up super quick.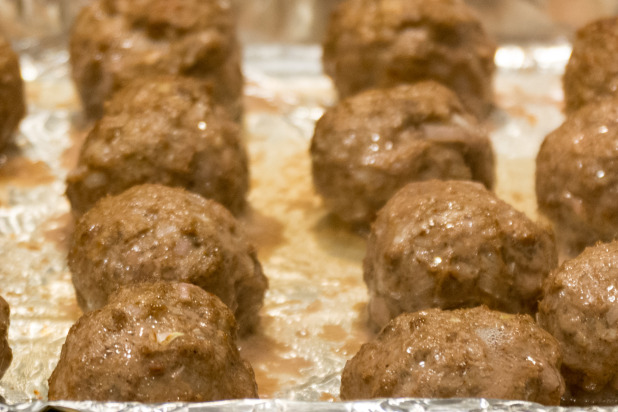 Here's the meat balls fresh out of the oven, mmmm!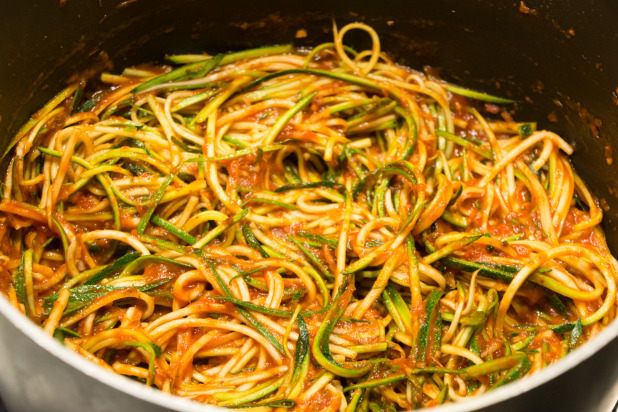 To "cook" the Zoodles, I just heated up some pasta sauce in a sauce pan, brought it to a bubble, added the Zoodles and cooked it for 3-4 minutes.  For pasta sauce, use the lowest carb version you can find.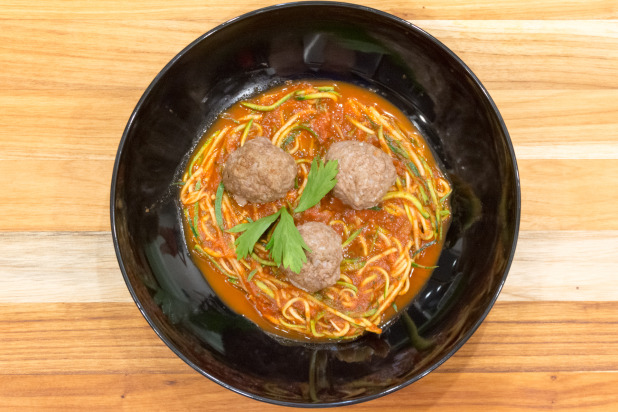 Here's the finished dish! I was super surprised how well they turned out and I think these are going to be a staple for me given how easy they were to make!  Way less temperamental than other faux pastas.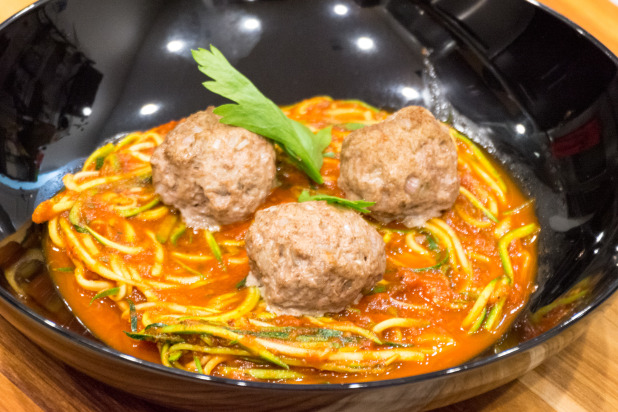 Here's a close up of the meatballs and Zoodles!

Zoodles with Lamb Meatballs
Nutrition Information
Serving size:

¼th

Calories:

426
Fat:

30g

Carbohydrates:

13g

Sodium:

424mg

Fiber:

3g

Protein:

23g

Cholesterol:

135mg
Prep time:
Cook time:
Total time: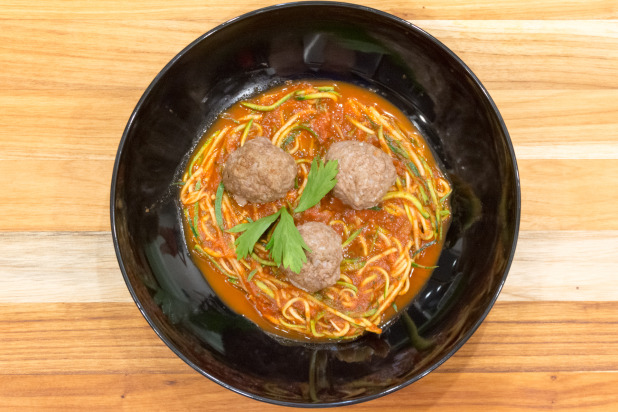 Ingredients
1 lb 2 oz Zoodles (started with 2 lb Zucchini)
16 Oz. Pasta Sauce
1 Lb Ground Lamb
2 Shallots
1 Yolk
1 tsp Cinnamon
1 tsp Cumin
Cayenne Pepper to taste
Salt and Pepper to taste
Red Pepper flakes to taste
Instructions
Preheat oven to 450 degrees
Using a mandoline with the julienne setting, slice the xucchini. Make sure to stop when you hit the seed portion, you only want the outer parts
Mix together the rest of the ingredients except for the pasta sauce and form 16 1 Oz Meatballs
Cook the meatballs for 12 minutes
Add the paste sauce and zoodles into a saucepan and cook for an additional 3-4 minutes
Mandoline
Mandolines, they're for slicing stuff thin in a hurry. This is one of the newer additions to the CMK kitchen and I plan on trying a lot of new stuff on it. So far I've just make some Goat Cheese Wraps by slicing some Zucchini super thing!
Black and Decker Convection Oven
My convection oven is my best friend. Whenever I am making a dinner for just one or two I always use this over my full sized oven. Meals like Lazy Keto Chicken were designed for this thing, the hot air cooks stuff super fast and uses less energy.
Veggetti Spiral Vegetable Slicer
Much like a mandoline, this device makes spaghetti out of any vegetable such as zucchini or squash. I haven't personally tried it yet but they're all the rage on reddit! Way less chance of slicing your fingers off than with a mandoline as well 🙂