Its simple, eat this; lose weight.  I feel like I've finally amassed enough recipes to create several simple keto meal plans.  AKA you print out a couple of recipes, hit the store, and you can know you'll be doing keto right. If you're not familiar with keto, its a low carb, high fat, medium protein diet designed to put your body into ketosis.  Once in ketosis, your body burns fat instead of sugar and you'll see accelerated weight loss as a result.  The ideal ratio of fat to protein to carbs is 65% / 30% / 5% and you also want to keep your maximum net carbs at less than 20g a day. Net carbs = carbs – fiber.
I tried to balance this keto meal plan for the proper ratio so you don't really have to worry too much to start. For more detailed information visit the keto ebooks section of the site. If you're just starting keto, check out Caveman Keto's Kitchen for useful kitchen gadgets. This is the first of what I hope to be several different guides.  Generally, I am assuming you are cooking for two people.  If not, either eat the same food longer or half the portions. I'm going to post the nutrition facts but I strongly believe that you should configure MFP (My Fitness Pal) yourself and track on your account as well.
For the purpose of this keto meal plan, you will be making food for Monday morning through Sunday night.  This should provide a full, 7 day comprehensive meal plan for you to follow. On Sunday you will make breakfast and lunch for the 5 day work week as well as the first dinner.  Then mid week you will make a second dinner.  The weekend is more of a free for all with less set parameters. This is the time to experiment and try new things. I am going under the assumption that you have more time to cook and prepare on the weekend and also that you might have leftover food from the week.  If your weekends are totally slammed, consider just premaking all 7 days of food by tweaking the quantities in the recipes.
I should note that I fully believe the key to success on a keto diet is to be prepared.  If you precook your meals, you are setting yourself up for success.  You are only choosing to do keto once a week when you prepare your food. If you have no keto food at your house and its 9 pm on a Wednesday, then you are just asking to revert back to something easy like chinese food or pizza.  However, if all you need to do is pull a premade meal out of the fridge and microwave it, you are much better off. Make sure to pick up some rugged, microwaveable containers to store your food. Now then, lets get started!
Sunday:
Make a shopping list, go to the store, buy those items
Prepare the breakfast for the week
Prepare the lunch for the week
Prepare crockpot dinner for Monday morning cooking time
Monday – Wednesday:
Turn on crockpot for chili (Monday)
Eat prepare food for breakfast, lunch and dinner!
Thursday – Friday:
Saturday:
Monday – Wednesday: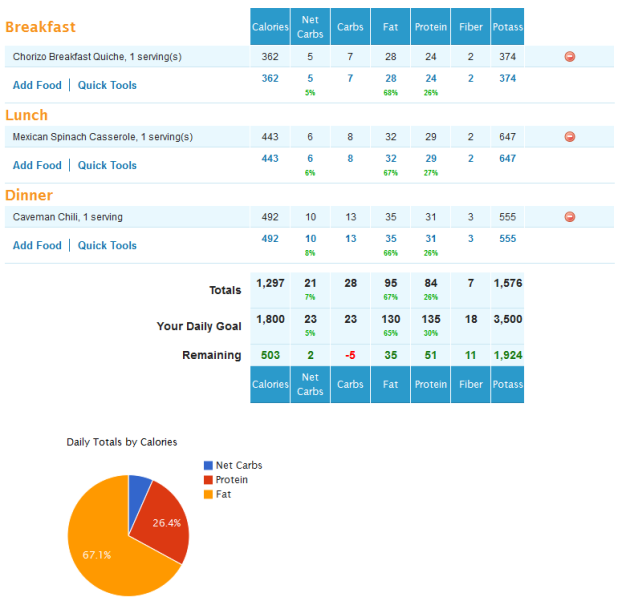 Thursday – Friday: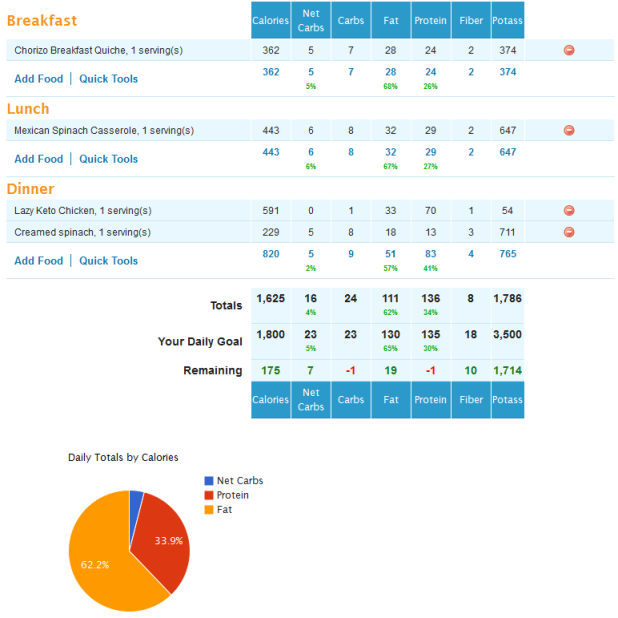 Saturday – Sunday:

1 lb Chorizo (sub jimmy dean's breakfast sausage if Chorizo not available)
3 Lbs Ground Pork (Sub Ground Beef if no pork)
4 Chicken Breasts
1.5 Lbs Ground Beef
Pepperoni Slices
3 Small Onions
5 Small Green Peppers
Romaine Lettuce
16 Oz Sour Cream
32 Oz Cream Cheese
2 cans Rotel
6 Oz Tomato Paste
1 Can Diced Tomatoes
Salsa
Pizza Sauce
1 Package McCormick Original Chili Seasoning
3.5 Lbs Bag Frozen Spinach
1 Quart Heavy Cream
2 Dozen eggs
3 Lb Block Cheddar
8 Oz Mozzarella Cheese
Taco Seasoning
2 Lbs bacon (at least 28 slices)
Optional:
Salt, pepper, garlic powder, onion powder
16 Oz Cherry Tomatoes
Jalapenos
Note: I do all of my food shopping at a bulk / warehouse store to get consistent low prices.  Specifically, I go to BJ's.  All of the above can be bought in bulk in one trip for not too much money.  Also, certain items last more than a week.  For example I normally buy 5 dozen eggs in one package which lasts multiple weeks.  Same with bacon, cream, etc. That's it folks!  Let me know what you think or if I forgot anything.  I'll try and post another one soon! Make sure to like Caveman Keto on Facebook for more updates.  If you try out this meal plan, take a pic of your prepared food and link it in the comments, here's mine: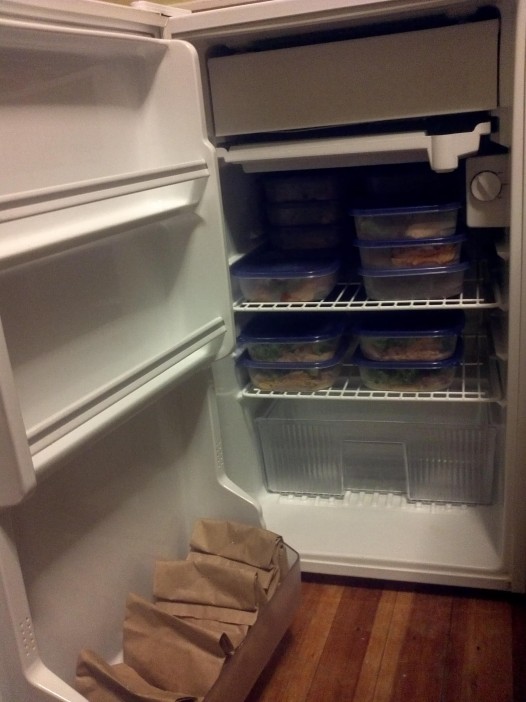 | | |
| --- | --- |
| Like what you see? Did this article help you out? | |