Cheese Tacos are one of those magical low carb creations that forgoes the need for bread entirely! As many of you might have noticed, I haven't posted in over two years!  Life has been very busy.  My wife and I had a kid who's now 2 (mmm, seems to be a correlation with the posting …) and we moved into a new house. I haven't stopped doing keto but I've mostly been just posting on Instagram. This recipe is one I posted recently that people were really interested in so I figured I'd jump back on the posting bandwagon. I'm filling this with Crockpot Pork Carnitas but you could use any meat.  You will need a well seasoned Cast Iron Skillet in order to melt the cheese and assure it doesn't stick to the pan.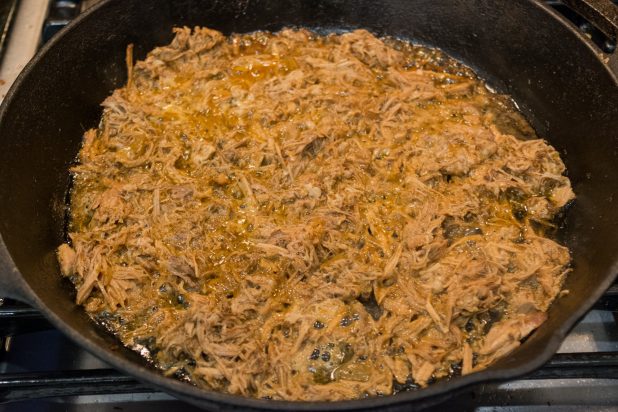 Start by heating the Pork Carnitas in a hot cast iron pan.  We want to reduce the amount of liquid and crisp the pork.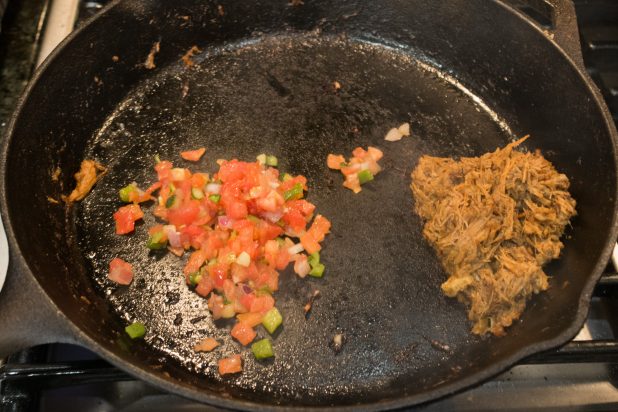 This step is optional but I added some chunky salsa to the pan to mix in with my meat.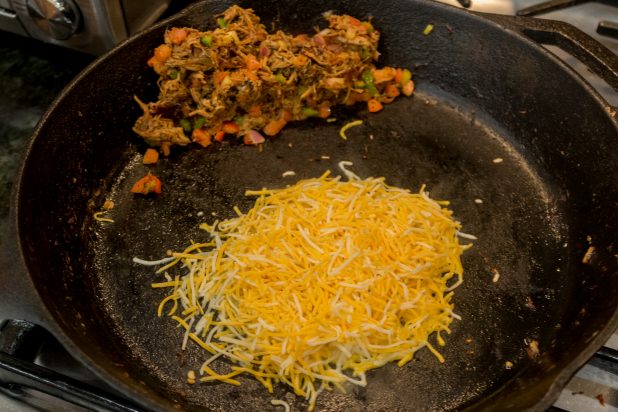 Start the cheese taco part by pushing the meat to the side and making a pile of cheese in the center.
You want to wait until the cheese has melted and starts to bubble.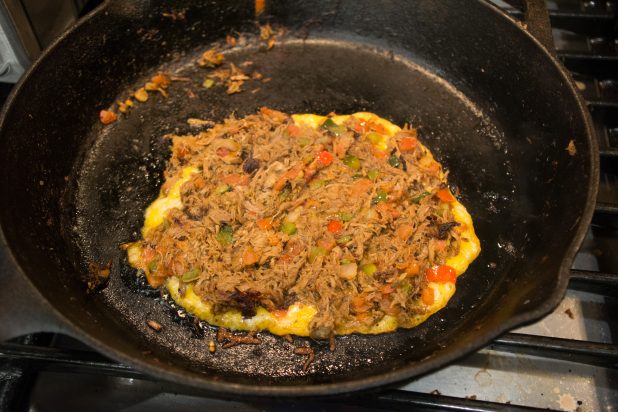 Next, use a spatula to place the meat onto the cheese.  Make sure to pat it down into the cheese.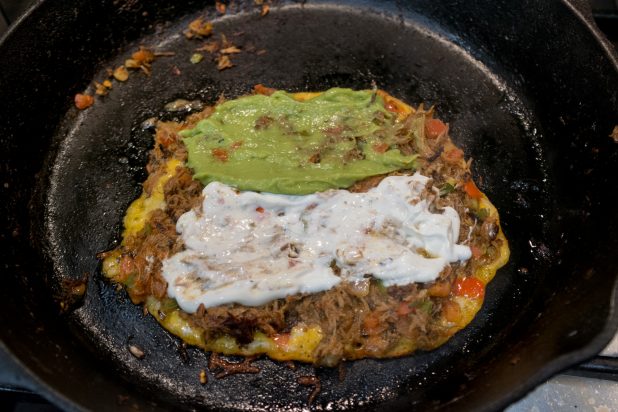 Put any additional fillings you want into the taco.  I used some guacamole and sour cream.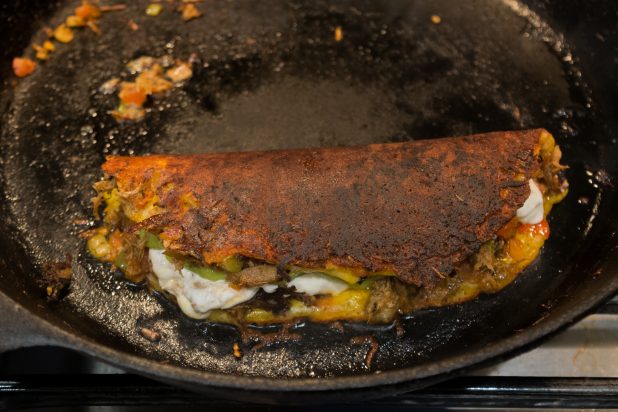 This next part takes a little bit of practice, you might break a few at first if you're not used to sensing when the cheese is done. Take a fish spatula and flip the edge of the cheese taco over.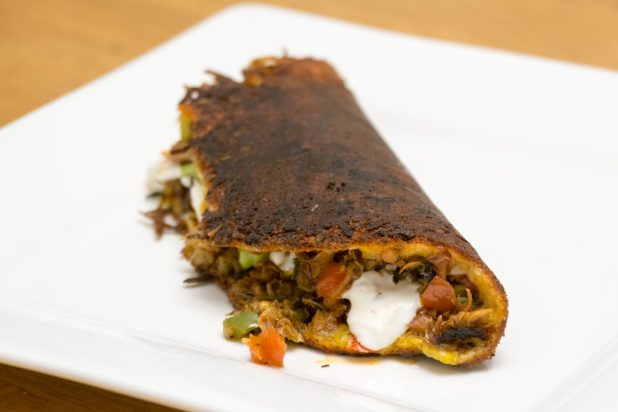 Behold the finished Cheese Taco stuffed with Pork Carnitas! This one is a little more done than I'd like cause I stopped to take pictures 🙂

Cheese Tacos stuffed with Pork Carnitas
Nutrition Information
Carbohydrates:

4g

Fiber:

1g

Protein:

41g
Prep time:
Cook time:
Total time: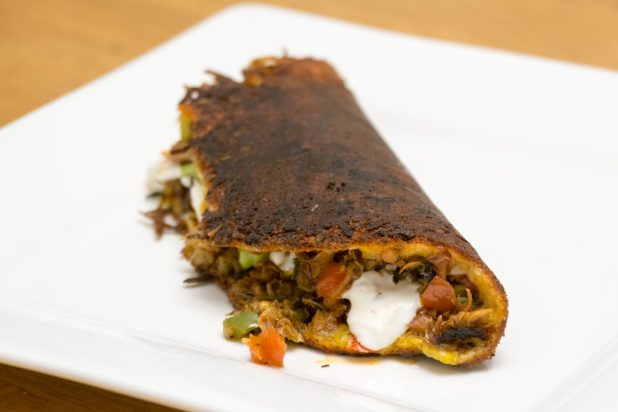 Ingredients
5.50 oz Pork Carnitas
1 fluid ounce, Guacamole
2 fluid ounce, Mexican Shredded Cheese
1 fl oz(s), Sour cream
2 fluid ounce, mild salsa
Instructions
Measure out around 5 Oz. of Pork Carnitas
Heat a cast iron skillet until smoking
Cook Pork Carnitas until liquid is gone and starting to brown
Add in salsa and mix with the Pork Carnitas
Move meat to the side and place cheese in Cast Iron in a large pile
When the cheese is bubbling, use a spatula to place the meat onto the pile of cheese
Add fillings, in this case I used sour cream and guacamole
When the cheese is hard, fold over, then carefully transfer to a plate
Notes
You can use any meat or filling. Also largest carb addition is salsa so leave it out for a lower total carb count.
Lodge 12-inch Cast Iron Skillet
The only pan you really need. Once properly seasoned, this pan can cook anything you can imagine! Lasts forever and never wears out.
OXO Fish Spatula
This is hands down, my favorite spatula. I don't even let it go in the dishwasher for fear I'll need to use it during the hour wash cycle. Its that amazing. The longevity and flexibility allows you to get under bacon weaves or complex egg structures with ease.
Cuisinart PSC-650 6-1/2-Quart Crockpot
Useful for set it and a forget it meals where you place all the items into the crockpot and let it rip! Most crockpots use a ceramic, dishwasher safe bowl that's heated from the outside to a low temperature which allows the ingredients to simmer for hours.