Today I'm going to show you how to make scrambled eggs at the push of a button! I've only had the Vitamix for a few weeks now but I am totally hooked!  I've been busy coming up with low carb, keto friendly Vitamix Recipes to test out with this thing. This week I wanted to try out one of the hotter features of the Vitamix which is it can actually cook food! It blends for so long that the friction causes the food to heat up.
If you follow me on Instagram, you know that the meal I like to play with the most is breakfast. I decided to try and see if I could make scrambled eggs in a blender, not just mixing them, but cooking them!  Read on to see how it went …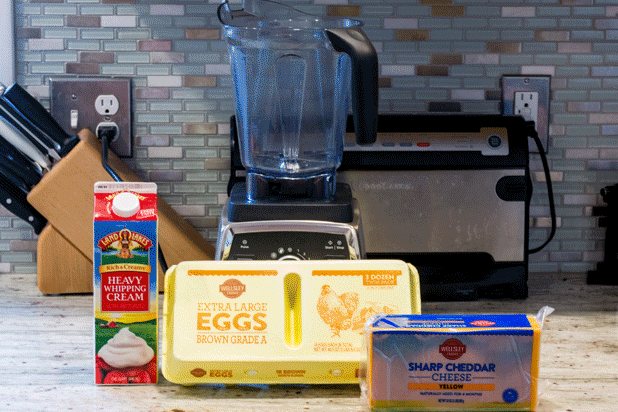 Today's recipe is in a fancy GIF format, let me know in the comments if you think its useful or whether its a waste of time 🙂 This recipe is super simple in that you just dump the ingredients in the blender and turn it on. Make sure to put the liquids in first, then the solids. If you put the solids in first, it will create an air gap around the blade and it won't mix properly. For the actual cooking of the eggs, you use the soup setting. If you're blender doesn't have the presets, slowly increase the speed until its at max and let it run for 5 minutes or until the eggs harden.
They ended up with a super smooth and fluffy consistency with almost no cleanup!  If you've got a Vitamix, try it out!

Scrambled Eggs - Vitamix Style!
Nutrition Information
Serving size:

2

Calories:

395
Fat:

30g

Carbohydrates:

3g

Fiber:

0g

Protein:

26g
Prep time:
Cook time:
Total time: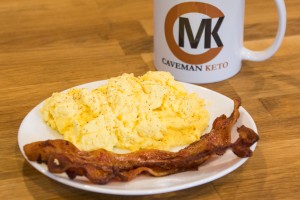 Ingredients
6 Eggs
30 ml Heavy Whipping Cream
1 Tbsp Minced Garlic
2 Oz. Cheddar Cheese
Salt and Pepper to taste
Instructions
Add the liquids into the Vitamix container (eggs and heavy cream)
Add the garlic and cheese
Blend using the soup setting on the Vitamix, it will actually cook the eggs! (If you're blender doesn't have a soup setting, cook on high for 5-6 minutes until it solidifies)
Serve and top with salt and pepper