Update: This recipe is now on the Caveman Keto YouTube Channel. Check out how to make Caveman Chili!
One of the most important things on the ketogenic diet is maintaining the ratio of 65% fats to 30% protein (by calories).  Last week I was off on some of my numbers and the main reason is that it is really hard to make up for a particularly protein heavy meal.  As a result, this week I am making it a goal to come up with recipes that individually meet the 65/30 ratio.  Then, they can be combined in any order and you will maintain the proper ratio.  So, this week I present to you, Caveman Chili!  My take on a relatively low carb chili cooked in a crockpot. Top it with some freshly grated cheese from your food processor and you've got yourself a meal!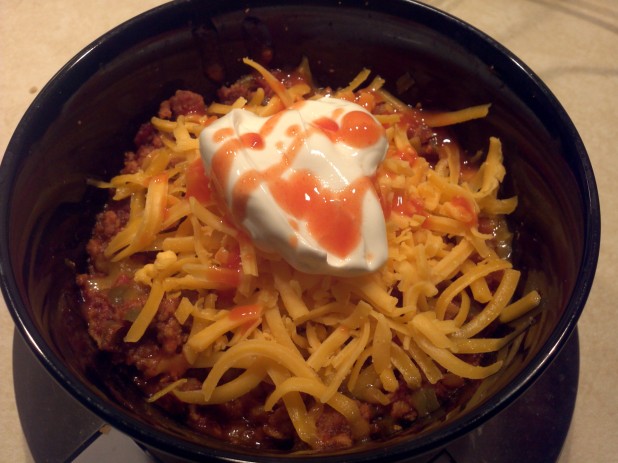 Here is the finished result, Caveman Chili with cheese, sour cream and frank's red hot as a topping.  Let's get cooking!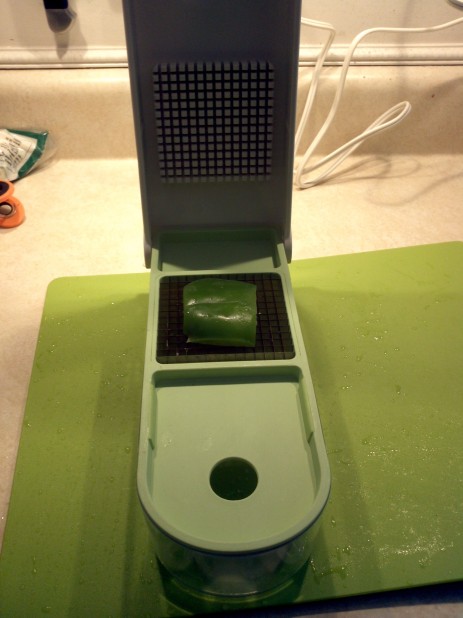 The first step is to prep the vegetables.  Normally I used to use a ton but to keep the carbs down, we're going to just add green peppers.  If you want more vegetables and you have the carb limit for it, add away!  To prep the peppers I use this device, which is a vidalia chop wizard.  The reason for this is two-fold.  First, it makes chopping the vegetables really fast.  Second, it makes all of the vegetables the identical, small size.  To use, just cut your green peppers into strips as shown, and close the lid.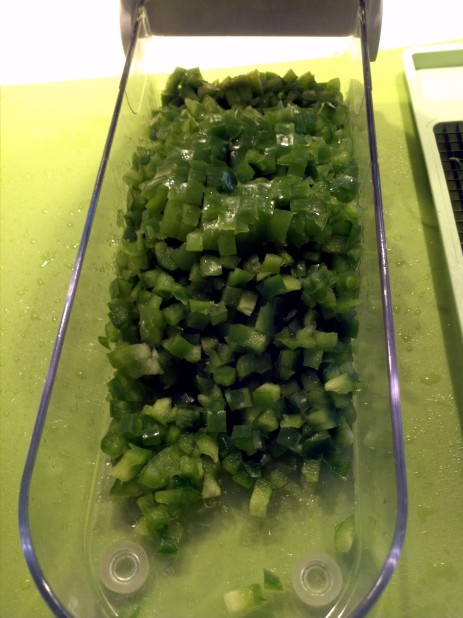 Here you can really see what I mean about uniform pieces.  In the past I used to use orange, red and green peppers and it would make a really pretty chili, now we will have to settle for cave style chili, but don't worry, we will keto it up.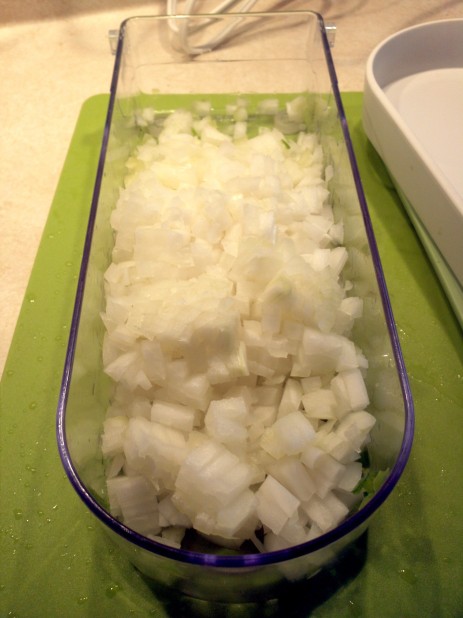 Do the same with the onions.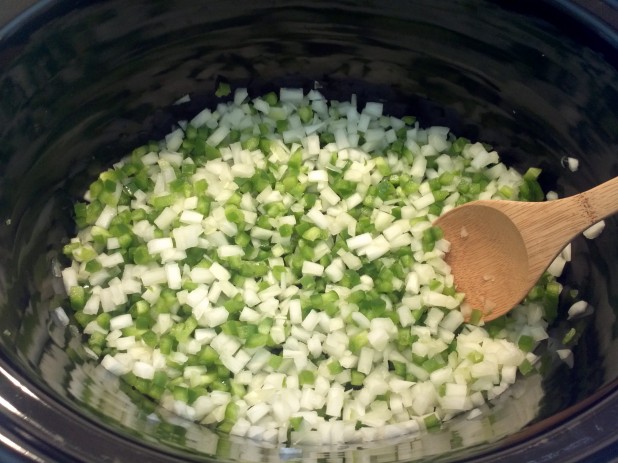 Here are the onions and peppers in the crock pot.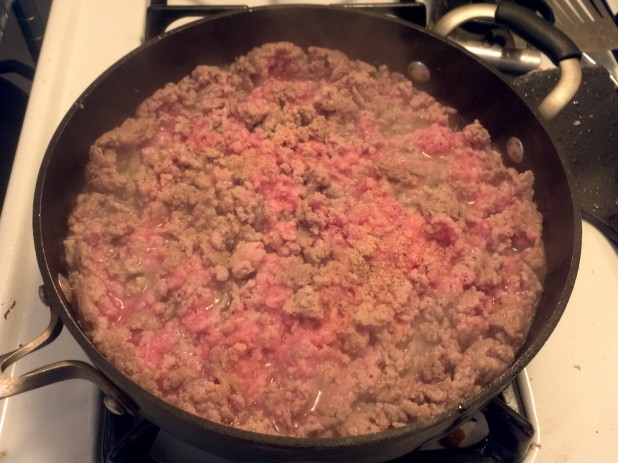 Start browning the meat!  For this recipe, I used ground pork.  This is a really tasty meat and also helps up the fat.  Beef could be used instead.  I also seasoned the meat at this point with salt, pepper, onion powder and garlic.  When cooking the meat, keep breaking it up and mixing it until the red is all gone.  Then drain the meat and let cool a little bit.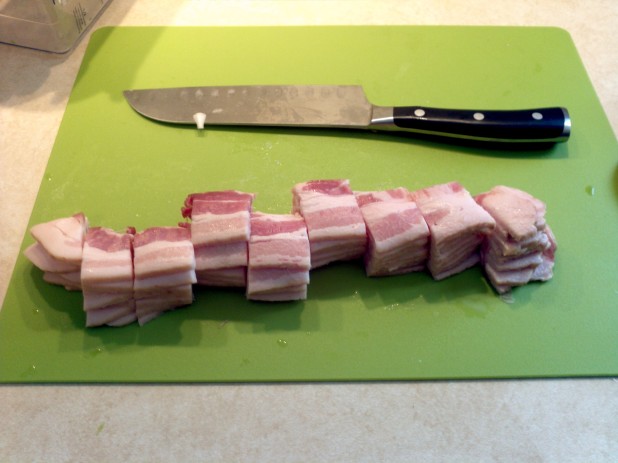 Chop up some bacon into bite sized pieces.  Yes this chili is going to have bacon!!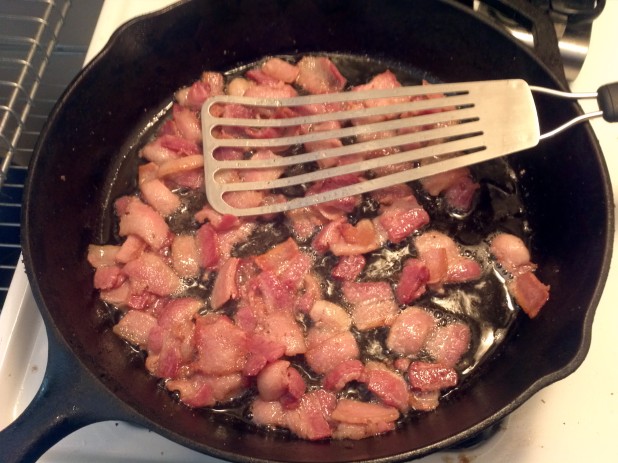 Fry that bacon up!  Make sure to save the grease for future use.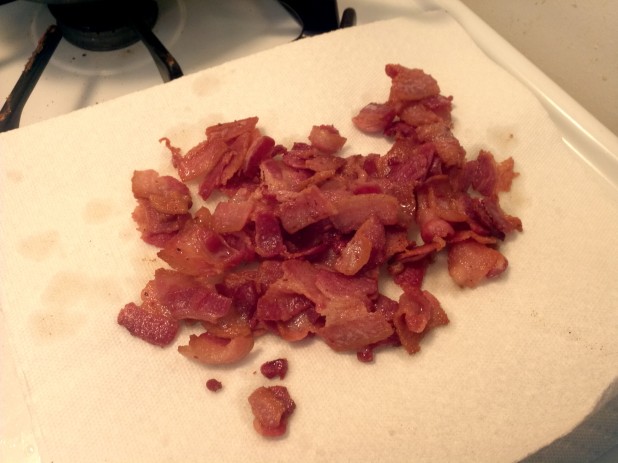 Let it cool on a paper towel.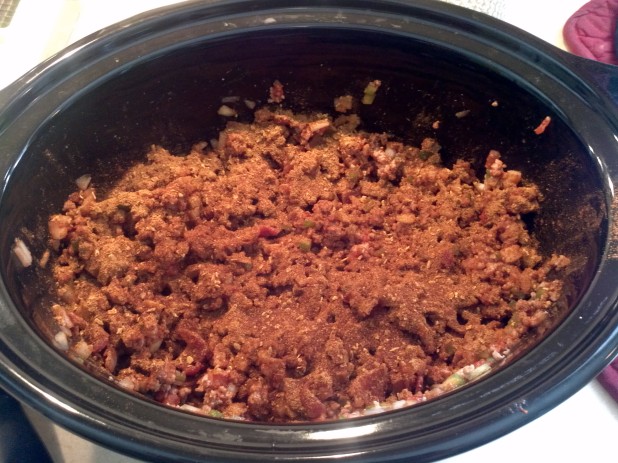 Put all the meat into the crockpot.  Then add spices.  I put a spice pack into the chili because that's what I've always done, however, I think you might be able to save some carbs if you made your own.  I also add chili powder and some dashes of cayenne pepper to taste.
Here is the Caveman Chili right before its going into the crockpot.  I cooked this for 6 hours on low. As I've mentioned before I use this programmable crockpot that you can set to 6 hours and then it switches to warm so it doesn't burn.  Either use something like this or let it cook a little longer if you can't be home.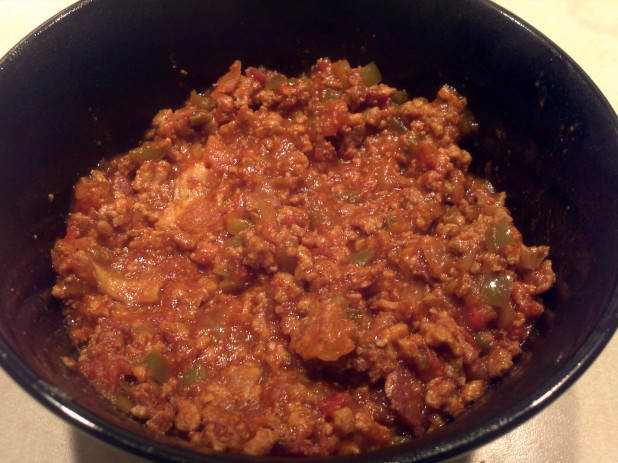 And here is the finished result!  Either eat plain, with toppings, or use it as a burger or hotdog topping.

Caveman Chili
Nutrition Information
Serving size:

1 (200g)

Calories:

492
Fat:

35

Carbohydrates:

13

Fiber:

4

Protein:

31
Prep time:
Cook time:
Total time: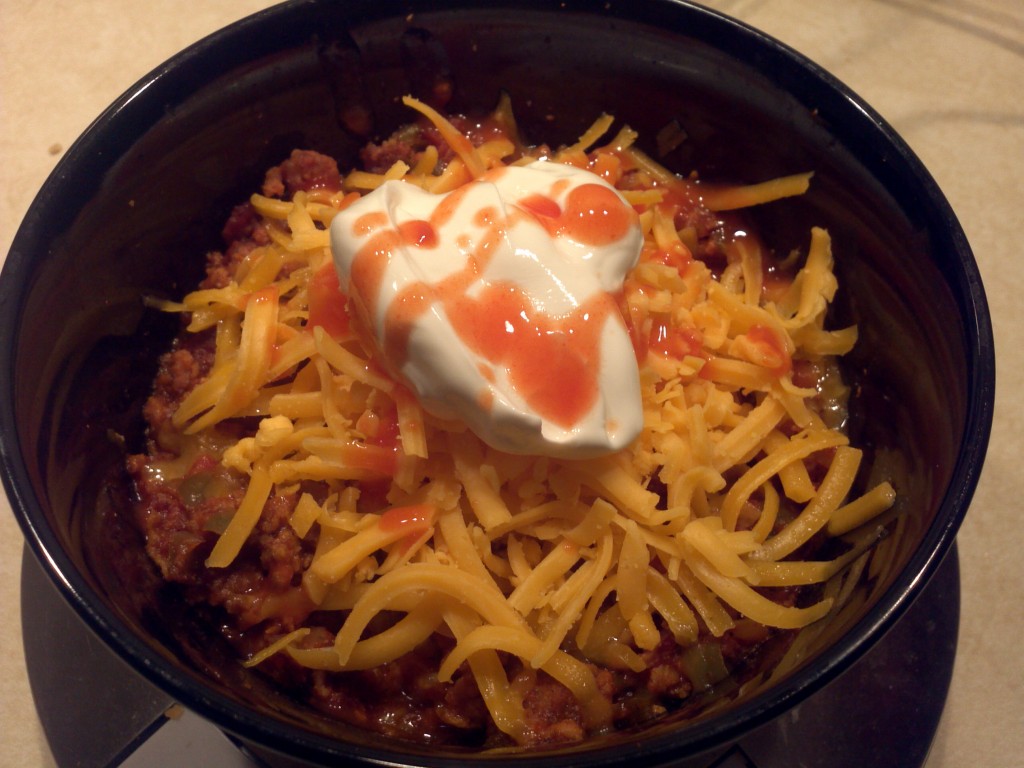 Ingredients
8 Thick cut bacon
2 lbs (32 oz) Ground Pork
300 g Yellow Onion (1 medium onion)
300 g Green Pepper (3 small peppers)
6 oz Tomato Paste
1 can Diced Tomatoes, drained
1 pack McCormick Original Chili Seasoning
To taste Salt, pepper and garlic powder, onion powder, cayenne pepper
Instructions
Chop onions and peppers and place in crockpot
Brown pork, add salt and pepper, drain, cool and put in crockpot
Cut bacon into small pieces, cook, drain, cool, and put in crockpot
Drain tomatoes and add to the crockpot
Add the tomato paste
Add seasoning packet to chili
Cook for 6 hours on low
Note:
If I were to make it again, I would probably use 200g of peppers and onions and 1.5 the meat to make it less carbs.  Also, I might consider adding spices individually to reduce the carbs.  If you aren't heavily concerned with carbs, feel free to add even more vegetables. Also, if your just making it for yourself, add as much cayenne pepper as you wish.  In my case I make it medium and then add more heat so my wife still eats it 🙂
Cuisinart PSC-650 6-1/2-Quart Crockpot
Useful for set it and a forget it meals where you place all the items into the crockpot and let it rip! Most crockpots use a ceramic, dishwasher safe bowl that's heated from the outside to a low temperature which allows the ingredients to simmer for hours.
Vidalia Chop Wizard
The Vidalia Chop Wizard allows you to cut a lot of veggies fast and consistently. I use it for Caveman Chili so that all of the pieces of onion and pepper are identically sized. Perfect for anyone OCD in your family.
Lodge 12-inch Cast Iron Skillet
The only pan you really need. Once properly seasoned, this pan can cook anything you can imagine! Lasts forever and never wears out.