People are always asking for more crockpot recipes, and honestly, I don't blame them. Its so simple, you just break out your trusty crockpot, throw in the ingredients, and magically you've got dinner! Today I'm going to make a tasty and creamy chicken based soup that's sure to please the whole family.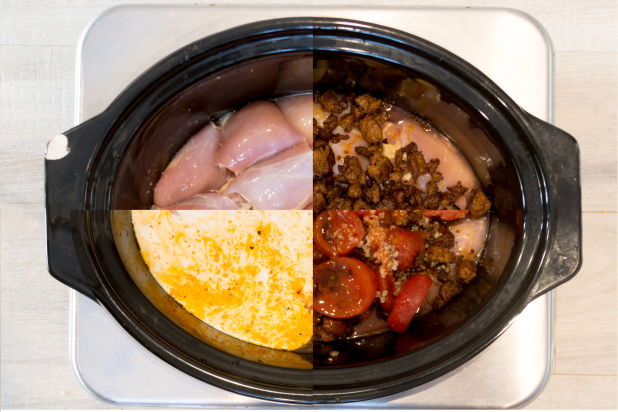 This week I wanted to get fancy and attempted to show the whole recipe in one picture!  Starting from the top left, you add in the raw chicken thighs.  Then you top with browned chorizo, add the tomatoes, garlic, hot sauce and Worcestershire. Finally you throw in the cream and chicken stock. Set it for 3 hours on high and walk away!  You could also cook it for 6-8 hours on low but I didn't test this.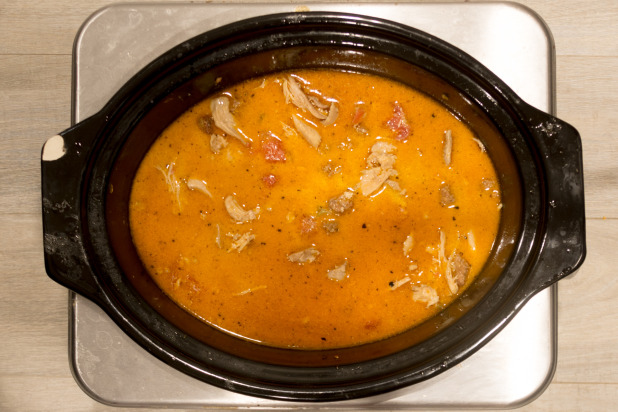 Here's the finished soup!  I took the chicken out and broke it up and let it cook on low for a few minutes.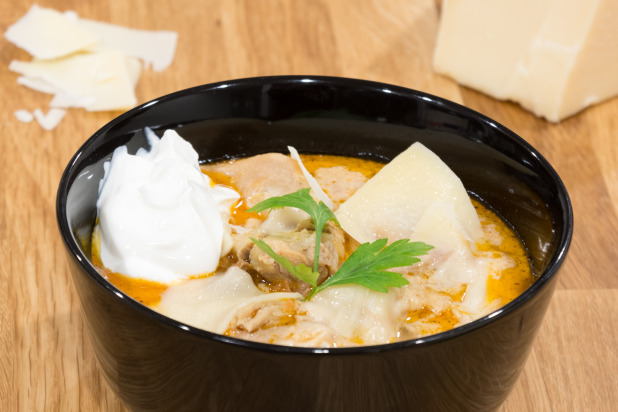 Top it with shaved Parmesan and Sour cream for an awesome, creamy soup!  Just in time to beat the winter blues.

Crockpot Chorizo and Chicken Soup
Nutrition Information
Serving size:

⅛th

Calories:

659
Fat:

47

Carbohydrates:

6

Fiber:

1

Protein:

52
Prep time:
Cook time:
Total time: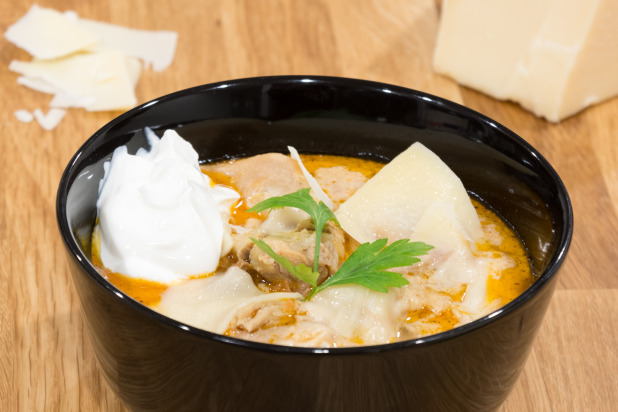 Ingredients
4 Lbs Boneless Skinless Chicken Thighs
1 Lb Chorizo
4 Cups Chicken Stock
1 Cup Heavy Cream
1 Can Stewed Tomatoes
2 Tbsp Minced Garlic
2 Tbsp Worcestershire Sauce
2 Tbsp Frank's Red Hot Sauce
Garnish with Shaved Parmesan and Sour Cream
Instructions
Brown chorizo in a skillet
Layer the ingredients into the crockpot starting with the Chicken Thighs (raw), Chorizo then the remaining ingredients
Cook on high for 3 hours
Remove the thighs, break apart, and return to the crockpot
Cook for 30 more minutes on low
Garnish with Shaved Parmesan and Sour Cream!
Cuisinart PSC-650 6-1/2-Quart Crockpot
Useful for set it and a forget it meals where you place all the items into the crockpot and let it rip! Most crockpots use a ceramic, dishwasher safe bowl that's heated from the outside to a low temperature which allows the ingredients to simmer for hours.
Victorinox Fibrox 8″ Chef's Knife
You really only need one good knife. This one is it. America's Test Kitchen rated it the number one budget knife!

Non-slip Cutting Board
Let's face it, keto involves a lot of prep. You've got to slice all those vegetables, cut up all that meat and not just any old board will do. Make sure to grab yourself a nice non-slip one for the kitchen!