Update: This recipe is now on the Caveman Keto YouTube Channel.  Check out how to make Almond Buns!
I've done it.  I've found the holy grail, the perfect bun. This has been a long journey.  First we tried Oopsies and we knew it was possible.  We tried peanut butter bread and we were closer. The minute muffin hinted that something better was possible.  The flax bun was really close.  I now present to you, the Almond Bun!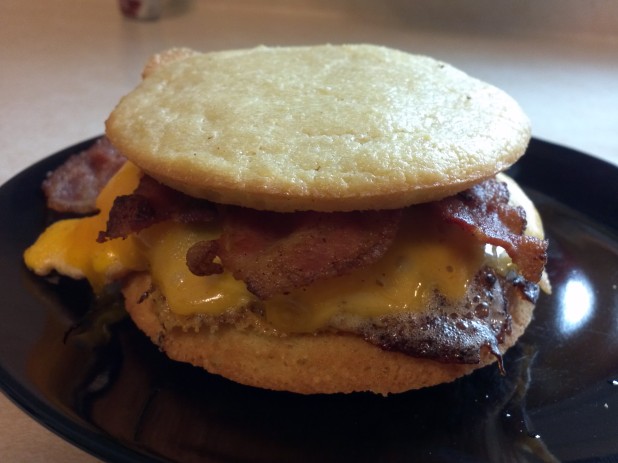 Here is the finished product in breakfast sandwich form.  I took all of the feedback from the flax bun and made some improvements in the recipe.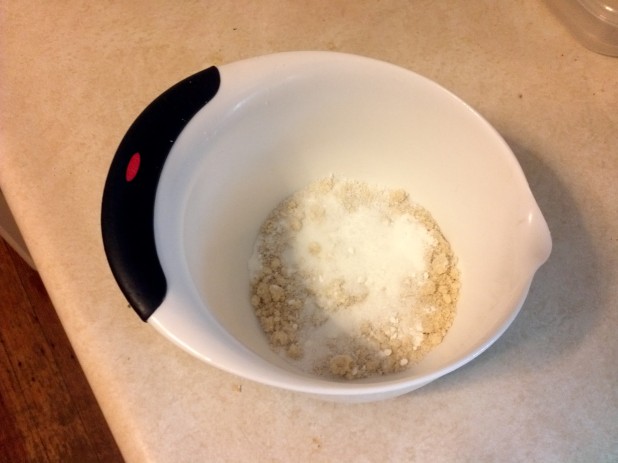 Mix all of the dry ingredients together.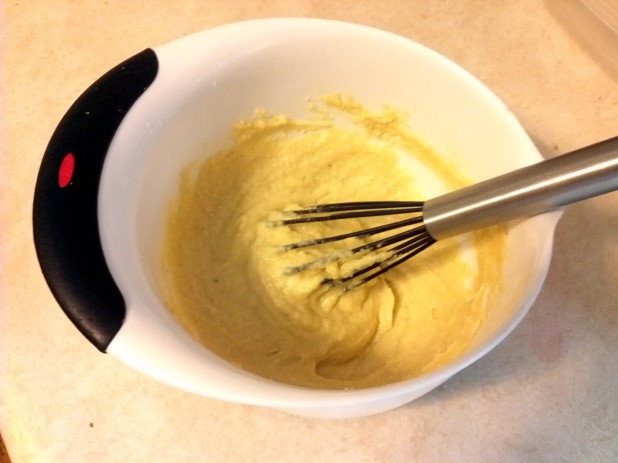 Add the wet ingredients and whisk.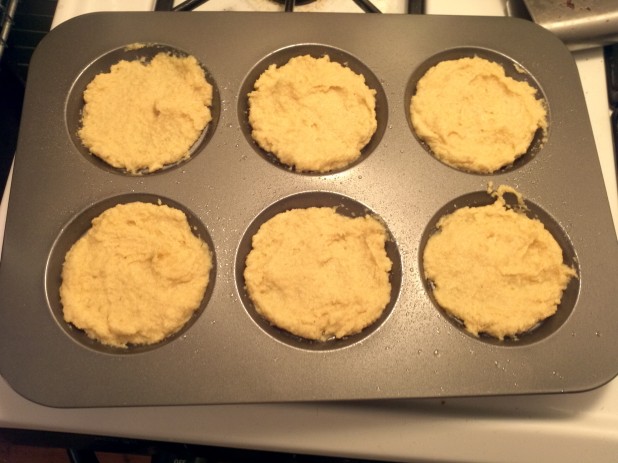 Distribute the batter equally into the muffin top pan. This pan is one of  the secrets to making really good buns.  It makes sure that the buns are all of a very even and flat so that it is easy to use for breakfast sandwiches, burgers, etc.  If you just make 6 piles this size the edges will be weaker and the form of the bread will be closer to a cookie than a muffin and it will not hold.  The dough for this recipe is more dense so it takes some effort to spread it evenly.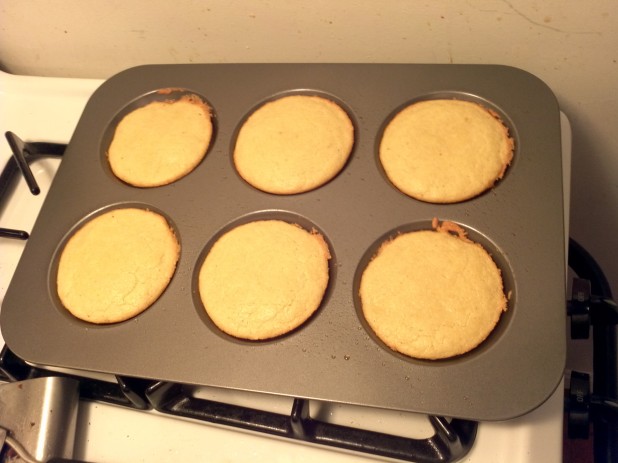 Here are the completed buns.  You want to cook them until the edges just start turning brown.  This will vary from oven to oven considering these are pretty flat.  I would keep an eye on them the first time and then remember the amount of time it takes.
Here is the final product again, this time served as an open sandwich.
Summary:
In the end, I think all of these different faux breads have different advantages and disadvantages. They are all useful to have in your cookbook.  The Almond Buns are my favorite in terms of taste and texture.  However, there are some advantages to the Flax Buns as well.  First, Almond Meal is expensive, coming in at around $9.63 per pound compared to Flax Meal at $3.61 per pound. Also, the almond buns come in at 373 calories and 4 net carbs per bun where the flax meal version was 251 calories and 1 net carb.  Both would be really healthy if used as an open sandwich.  Neither of these are too high for calorie intake or net carbs but I tried to minimize the calories in the flax buns because my wife was trying to stay under 400 calories for breakfast.  Personally, I would use these buns as a treat, maybe for weekend breakfasts or to bring to a restaurant as a bun replacement when eating out with friends.

Almond Buns
Nutrition Information
Serving size:

2

Calories:

373
Fat:

35

Carbohydrates:

7

Fiber:

3

Protein:

10
Prep time:
Cook time:
Total time: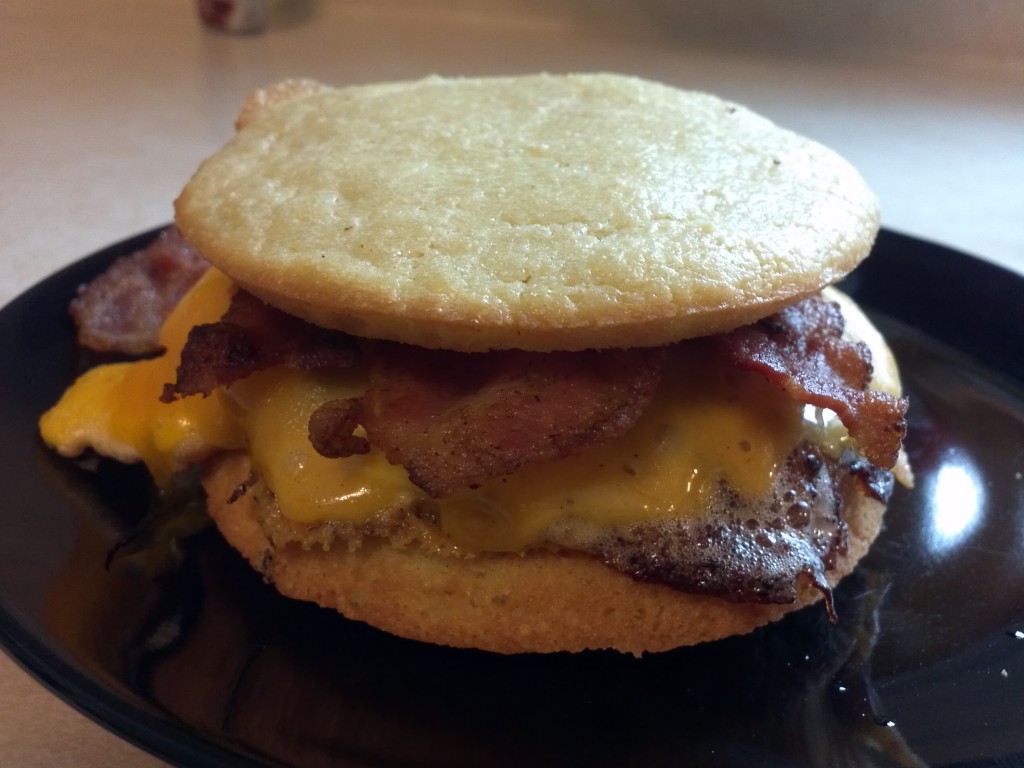 Almond buns - perfect for breakfast sandwiches, open faced sandwiches or as a burger bun.
Ingredients
¾ Cup Bob's Red Mill Almond Flour
2 Large Eggs
5 Tbsp Unsalted Butter
1.5 tsp Splenda (optional)
1.5 tsp Baking Powder
Instructions
Combine the dry ingredients in a bowl
Whisk in the eggs
Melt butter, add to mixture and whisk
Divide mixture equally into 6 parts, place into a Muffin Top pan or equivalent
Bake for 12-17 minutes at 350 degrees (varies by oven, watch the first time)
Let cool on a wire rack.
Any other faux breads I should try?  Leave a comment either here or on reddit and I'll give it a whirl and let you know the results!
Chicago Metallic Muffin Top Pan
Ahh, the muffin top pan. It took me weeks to find this beloved device but after I had it in my grasps, the most amazing thing happened, I created the Holy Grail Almond Buns! This is far and away the most popular recipe on the website. The curved yet right angled slop and flat bottom of this pan create the perfect keto bun.
Bob's Red Mill Almond Flour
Almond flour is the go to flour on keto. Its the base for stuff like almond buns and I use it as a filler anytime I want a flour substitute. I'd check your local grocery store first, but if you can't find it locally, buy it online. By me, it varies between $8-$12 per lb.
EZ-Sweetz
EZ-Sweetz is liquid sucralose. In case you weren't aware, powdered splenda contains carbs as binding agents to get it to look and act like sugar. If you're making something like a chocolate mousse or a Low Carb Cheesecake, this stuff is perfect. I've never seen it in a store before so I stock up on it online. You can get liquid stevia or truvia at somewhere like Whole Paycheck but I like this stuff better.