I've been really hesitant to post dessert recipes on my blog because I started out doing keto as a short term solution and wanted to be as hardcore as possible.  I still maintain all of my proper ratios but the longer I am on the diet, the more it becomes a lifestyle.  As such, there are times that desserts are needed and since I think desserts could help others stick to the diet in the long term, I've decided to start posting them.  The first in a series of desserts is none other than Ice Cream!  Its surprisingly easy to make ice cream and a lot more keto friendly to make it yourself rather than buy a highly engineered corporate version.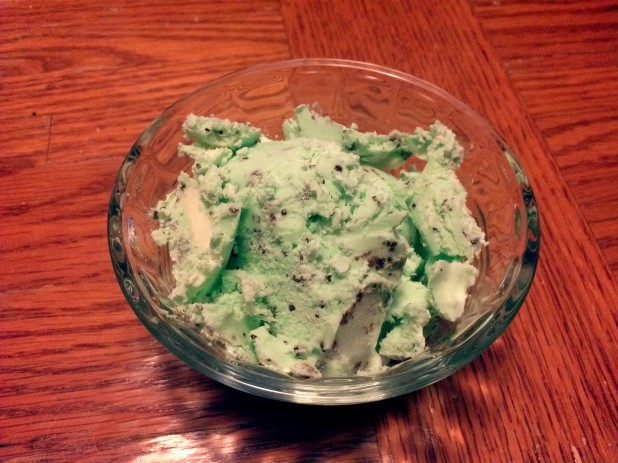 And here is the finished product!  I think it turned out quite nice, definitely hit the spot. It was pretty hard and I wonder whether the sugar that's normally in ice cream does something to the structure but it still tasted like ice cream!  Let's see how to make it.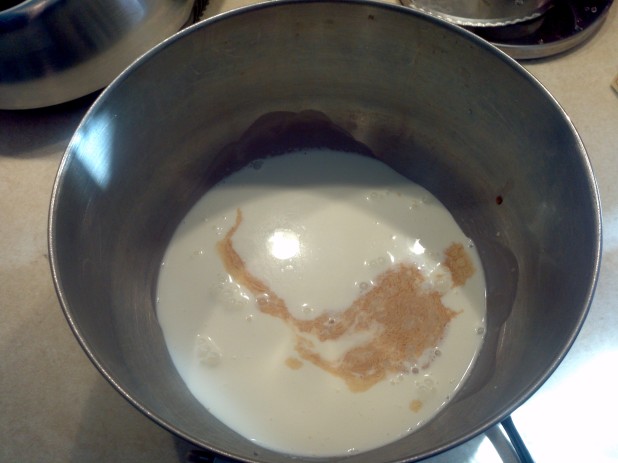 The key in making ice cream is for everything to be really cold.  I use a medium or large metal bowl and I start with all of the ingredients cold. I then add in the heavy and light cream as well as the liquid sweetener, peppermint extract and vanilla. I should note at this point that you can make any sort of ice cream at this point; you can can leave the peppermint out but I think its an easy way to flavor it up.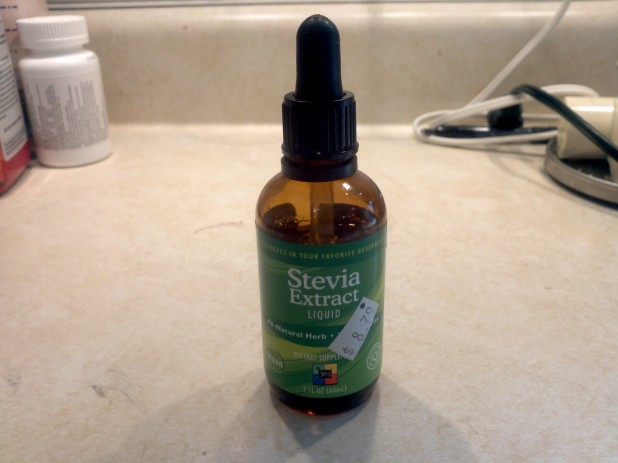 For the sweetener on this ice cream I used liquid Stevia extract. It is expensive but you need very little to sweeten and it has no carbs.  I think I will be experimenting in the future with several other options.  I was thinking of trying either liquid sucralose or granulated splenda.  What do you guys use?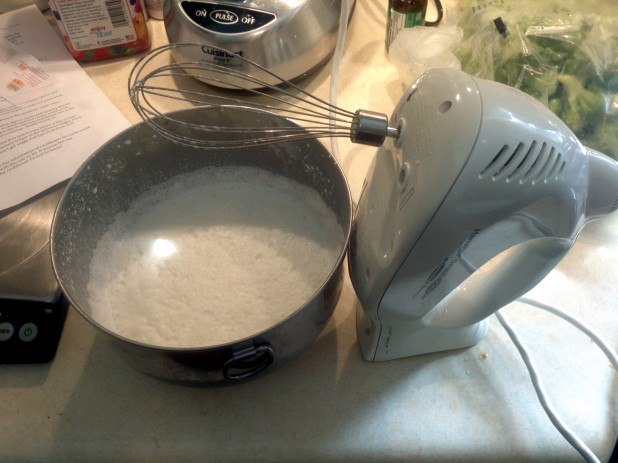 The next step is to lightly whisk the ingredients together.  I use my hand mixer with the whisking attachment shown above. Don't ask me why I seem to have 10 mixers, for some reason, they all have one thing they do better than the others.  This one has a really low setting that is ideal for whisking liquids. My stick blender has a whisk but it doesn't have different power levels so it spews liquid everywhere.  After whisking, I put it back in the freezer for 5 minutes to counter the heating effects of whisking it.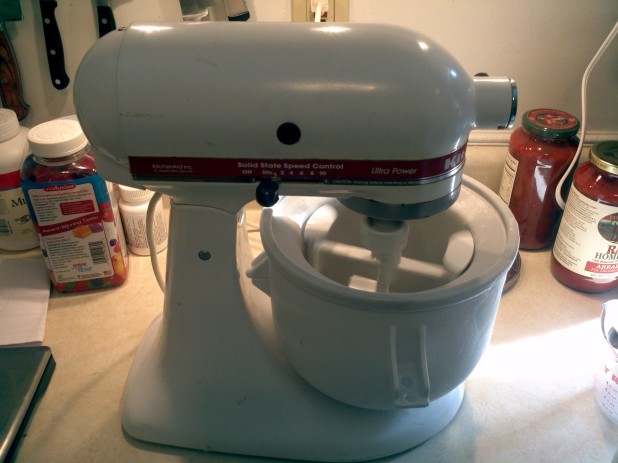 Here is the ice cream maker! If you already have a KitchenAid mixer this is the way to go.  It fits right into the existing system and is a really great extension.  However, if you don't have a KitchenAid, the Cuisinart ICE-20 is the defacto standard ice cream maker. We sold our old one when we got the above ice cream maker as a wedding present, but if you're going to buy new, I'd buy this one.  The bowl of your ice cream maker needs to sit in the freezer until it is completely frozen, I normally put it in the night before.  Then you simply pour the liquid into the mixer.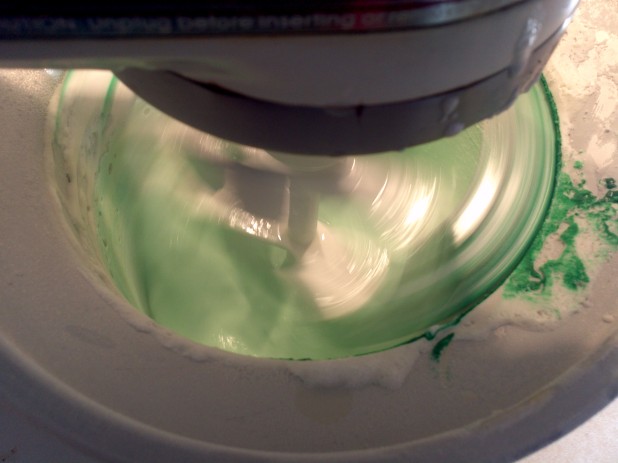 Here is the mixer in action.  I added green food coloring cause I like mint ice cream to be green.  This is of course purely optional.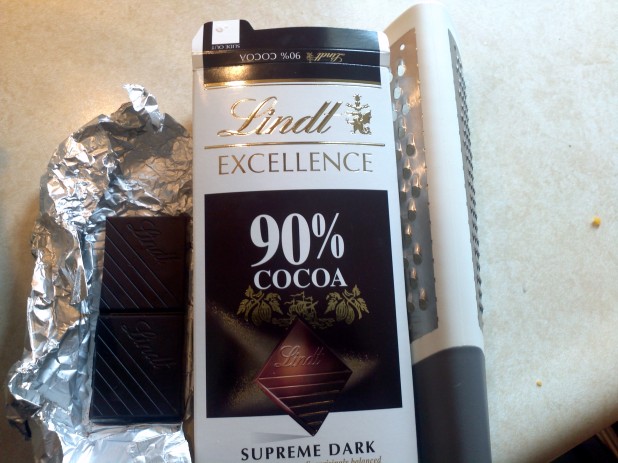 This is another optional ingredient but I think it adds good texture. I wanted the taste and texture of chocolate chips but not the carbs.  So, I took one of the two squares shown and used a hand grater to shred the chocolate into the mix.  Each square is something like 3 carbs total so it is pretty negligible over the whole dish.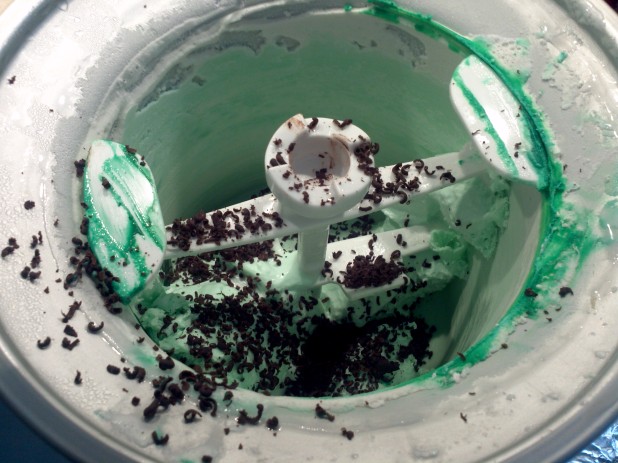 Here is a picture of the "Chocolate Chips".  I just grated the square straight into the bowl.  You want to do this when the mixer has 3-5 minutes left of mixing so it can integrate but not get destroyed.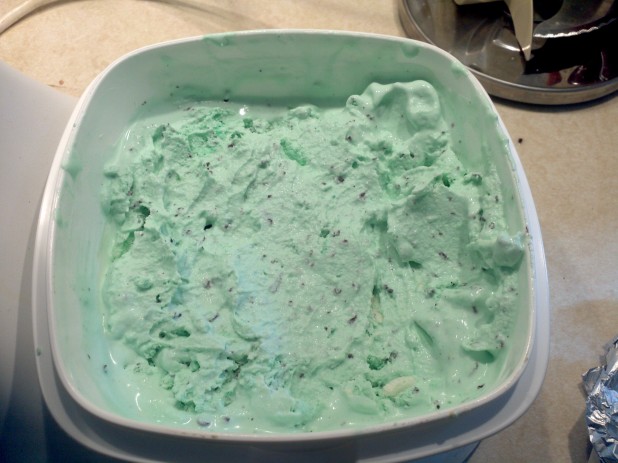 Here is the finished Mint Chocolate Chip Ice Cream!  Now put it back in the freezer to let it set.  I should note that this was more of a test run so I would normally double the amounts in the recipe below.  The above was 4 servings.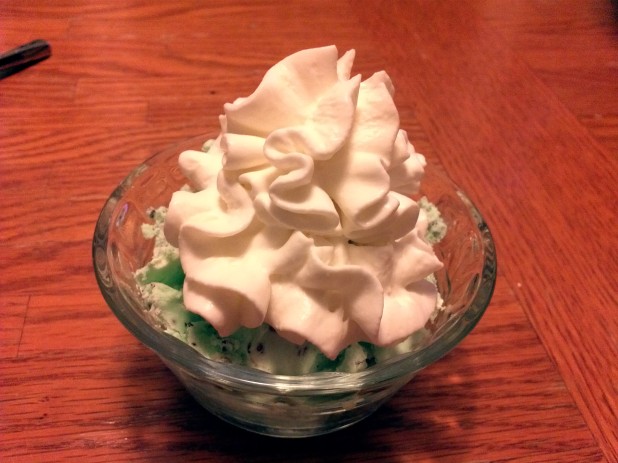 Feel free to embellish with whipped cream!

Keto Mint Chocolate Chip Ice Cream
Nutrition Information
Serving size:

1

Calories:

295
Fat:

31.125

Carbohydrates:

3.5

Fiber:

0

Protein:

2.25
Prep time:
Cook time:
Total time: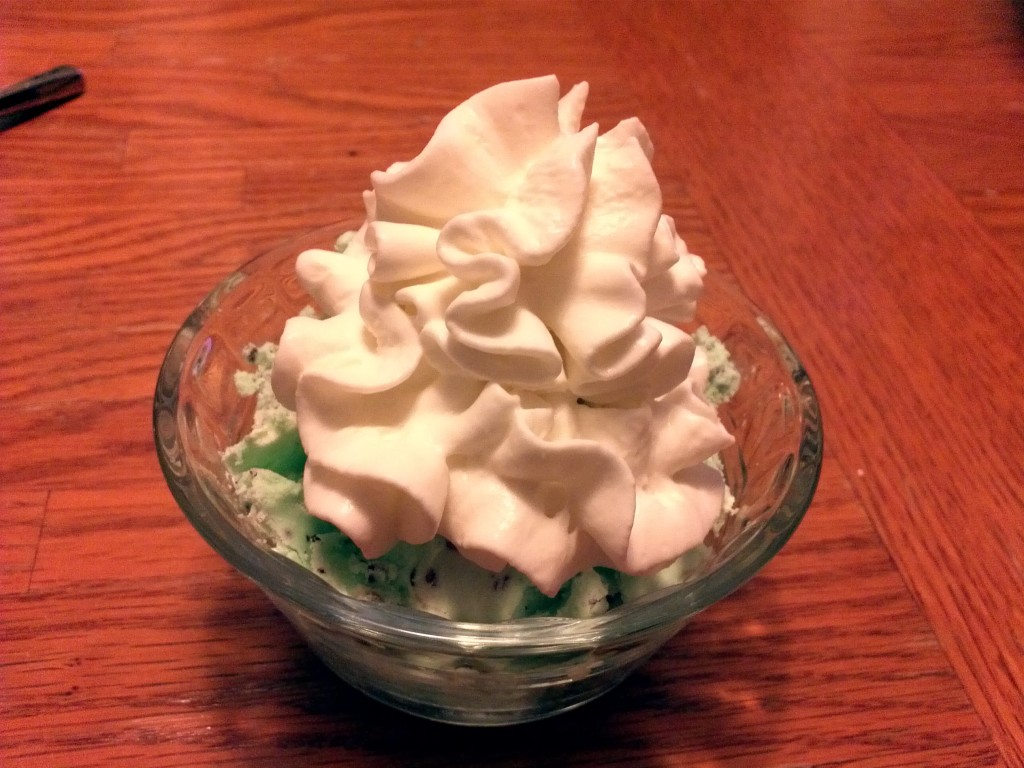 Ingredients
1 Cup Heavy Cream
½ Cup Light Cream
½ tsp Liquid Stevia Extract
½ tsp Vanilla (Optional)
Several Drops Peppermint Extract (Optional)
1 Square Dark Chocolate (Optional)
Several Drops Green food coloring (Optional)
Instructions
Place ice cream bowl in freezer per ice cream maker instructions (typically 4-12 hours ahead of time)
Put all ingredients minus chocolate in metal bowl
Whisk
Put back in freezer for 5 minutes
Setup ice cream maker and add liquid
A few minutes before the ice cream is set, add chocolate shavings
Store in an air tight container and put back in the freezer