Ice cream on keto?! What is this sorcery? The Vitamix of course 😉 In the latest edition of my Vitamix Recipes series I'm going to show you how to make low carb ice cream in under a minute! There aren't that many dessert recipes on my site (its mostly bacon) but once and a while its nice to bring some low carb sweets into the mix. Read on to learn how to make a keto friendly strawberry ice cream with a blender!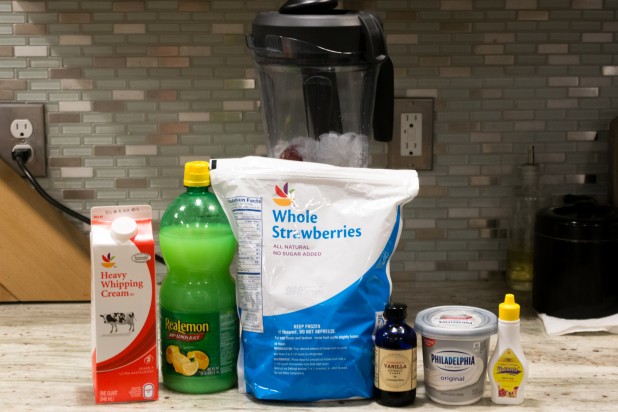 Here's the laydown of the ingredients.  Most of these are in every ketoers fridge anyway.  You have your very own Caveman Keto Vanilla, right? You might wonder why strawberries. Well it turns out they are one of the lowest carb fruits, especially since a small amount will add a lot of strawberry flavor. 100 grams has 7.68 grams of carbs and 2g of fiber for net 5.68 carbs.  So each serving is getting a very small amount of carbs. For the sweetness, I use EZ-Sweetz which is liquid sucralose.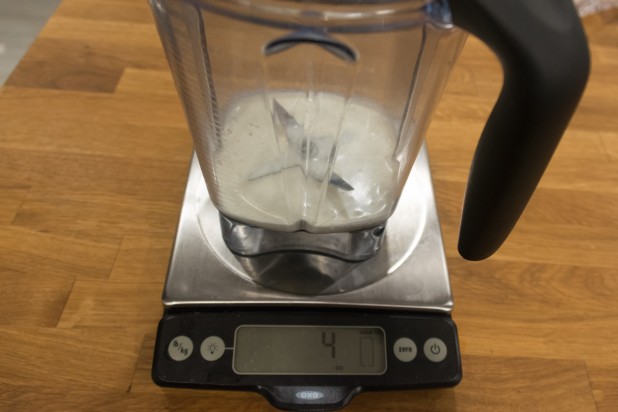 Start with the liquids so the blades have something to catch.  I build all of these recipes right in the blender on top of my scale and just zero if after each ingredient.
Here's all the ingredients in the Vitamix.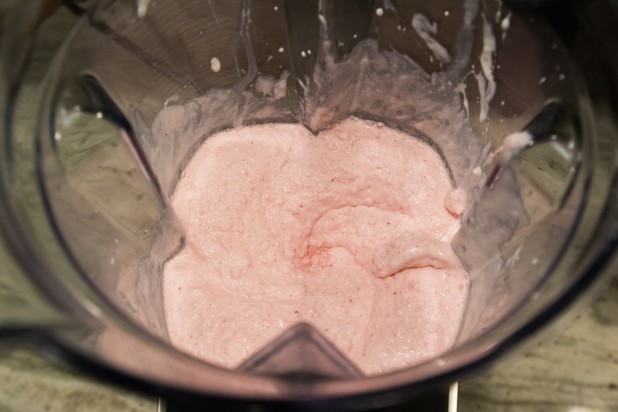 Mmm, ice cream in a blender!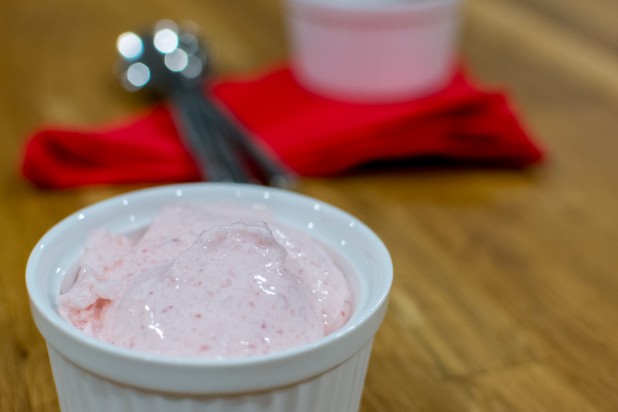 I have to admit, I was pretty skeptical that I could get ice cream out of a blender but its really good! For a harder consistency, freeze for 30-60 minutes before scooping. If you freeze some, microwave it for 27 seconds the next day before scooping to get it soft again.

Low Carb Ice Cream | Vitamix Recipes
Nutrition Information
Serving size:

¼th (120g)

Calories:

179
Fat:

16g

Carbohydrates:

5g

Fiber:

1g

Protein:

4g
Prep time:
Cook time:
Total time: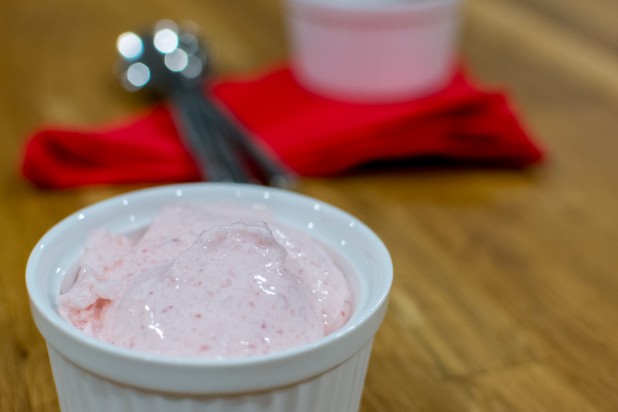 Ingredients
½ cup Heavy Cream
16 drops EZ-Sweetz (1/3 cup sweetener equivalent)
1 Tbsp Lemon Juice
¼ tsp Vanilla Extract
3 Oz Cream Cheese
8 strawberries (100g)
Around ¾ cup ice (194 g)
Instructions
Place the ingredients in the Vitamix in the order listed
Using the variable speed section, start on 1 until the solids have been pulverized then slowly rotate to 10 while using the tamper to push the ingredients into the blades; blend for 30-60 seconds until mounds form
Vitamix Pro 750
This is the crème de la crème of blenders. I know what you're thinking, why would I possibly need this? What could I make? Wonder no more! Check out all the Vitamix Recipes where you can make low carb smoothies, soups, nut butters, keto desserts and more!
EZ-Sweetz
EZ-Sweetz is liquid sucralose. In case you weren't aware, powdered splenda contains carbs as binding agents to get it to look and act like sugar. If you're making something like a chocolate mousse or a Low Carb Cheesecake, this stuff is perfect. I've never seen it in a store before so I stock up on it online. You can get liquid stevia or truvia at somewhere like Whole Paycheck but I like this stuff better.
OXO Kitchen Scale
To really count calories on keto a good scale is essential. This one is the best. Period. It measures down to 0.1g, can handle up to 11 lbs and has a pull out display so you can put large items on it! Check out my MFP guide for more info on tracking calories.