Beef. Its what's for dinner, tonight at least! Steak is one of my go to meals because its really easy to just grab some from the grocery store, pop in a cast iron skillet, and have dinner ready in a matter of minutes. I also think that by using the method below, its easy to control the final temperature, something that I always struggle with on the grill.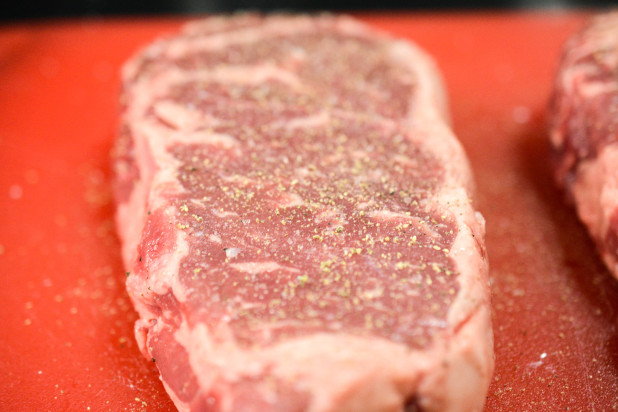 Start with a nice cut of Ribeye and apply salt and pepper to both sides.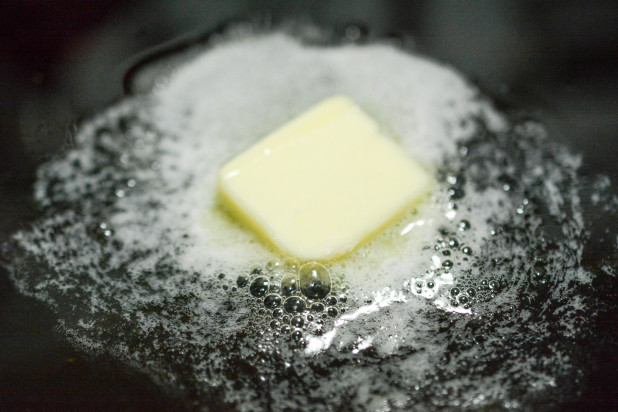 Then melt some butter into a cast iron skillet.  Note that we are going to finish this in the oven so it really does have to be a cast iron skillet. Also, I'm using butter here as opposed to my normal bacon grease because it gives a nice crust to the meat.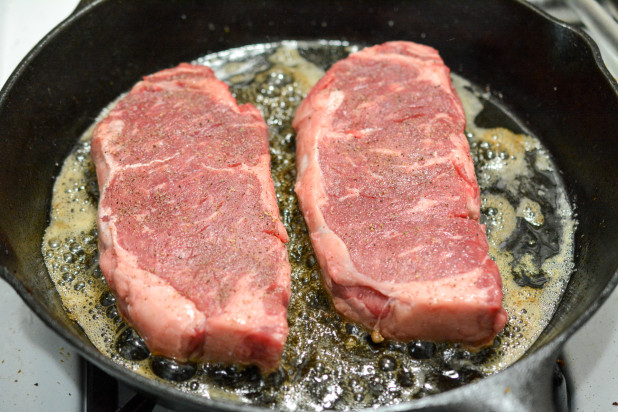 Get the pan nice and hot before slapping down the beef. During this stage our goal is to seal in the juices by searing the meat and also to develop a nice crust.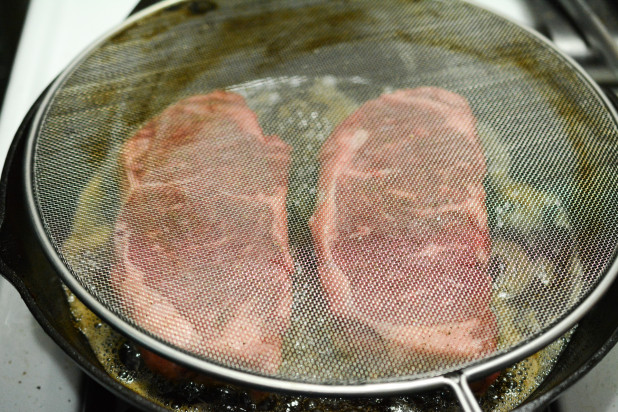 Make sure to use a splatter shield as it will splatter a lot at this temperature.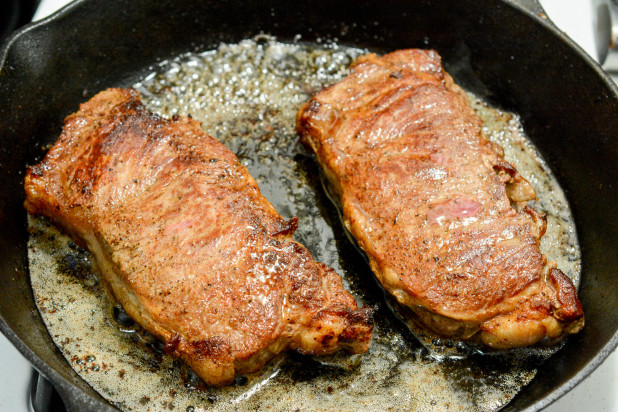 After 2 minutes, flip the steak over and sear the other side.  You can see the nice crust that developed from the sear. After this step, throw the steaks in a 450F oven for how ever many minutes are necessary to get it to 5 degrees less than the desired finish temperature. So for medium rare, I'd take it out at 130 and after it sits, it will continue cooking and finish at 135. I use a thermapen to measure the temperature.  For the steaks shown, this was 12 additional minutes and I flipped it once.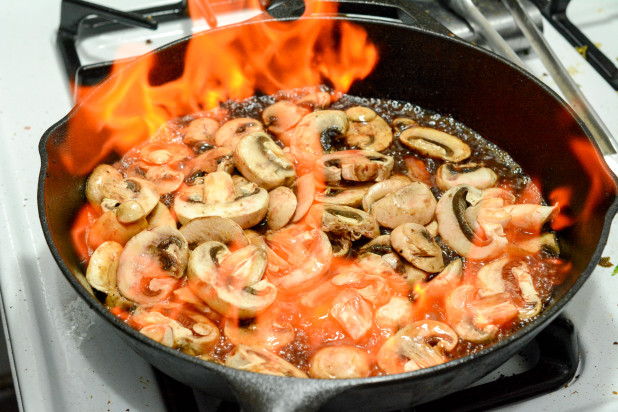 Now the fun part! Set the steaks aside and cover with foil so they can rest and then add the port wine and mushrooms to the pan. If using a gas stove, tilt the pan till it kisses the flame and it should like the port on fire! It will go out by itself in a matter of seconds, then add the cream and continue to reduce the sauce.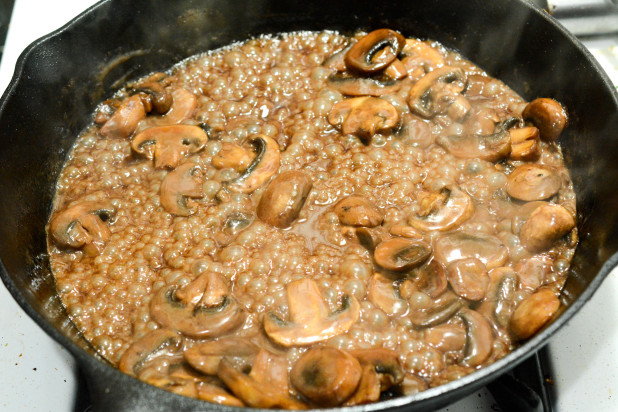 Eventually, when the sauce and bubbles look like this, the sauce is done.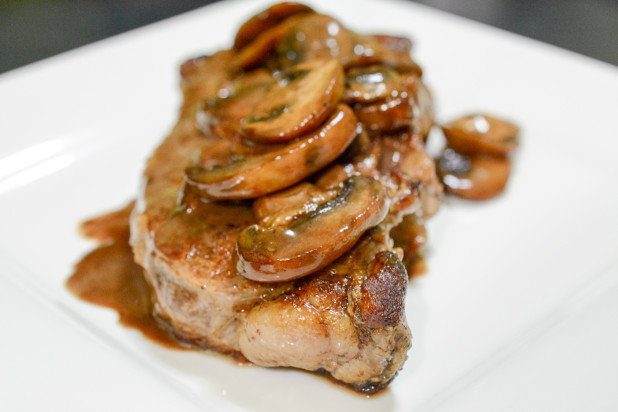 Finish the dish by pouring the sauce over the steak and topping with the mushrooms.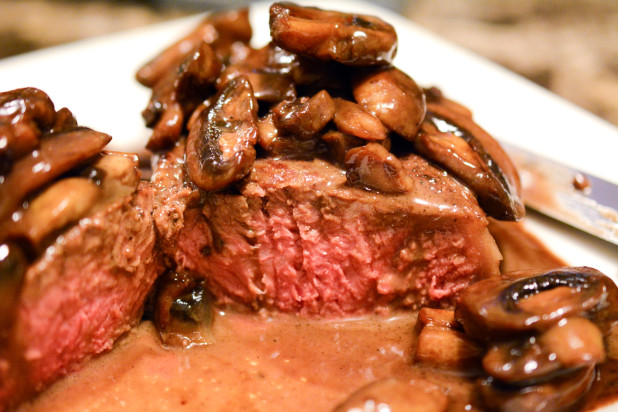 Sooo good!

Steak with Mushroom Port Sauce
Nutrition Information
Serving size:

1 Steak

Calories:

984
Fat:

62g

Carbohydrates:

6g

Sodium:

501mg

Fiber:

3g

Protein:

102g

Cholesterol:

322mg
Prep time:
Cook time:
Total time: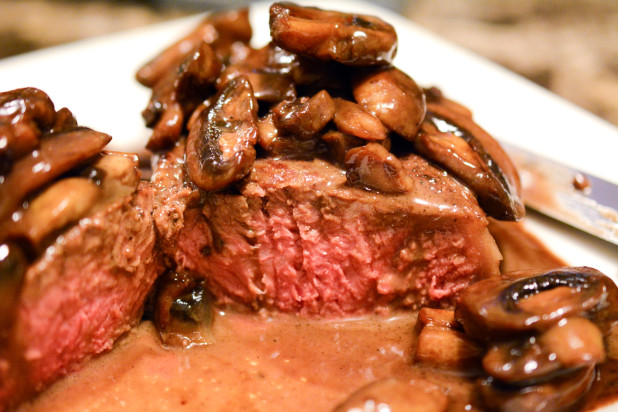 Ingredients
2 Lb Ribeye Steak
10 Oz. Mushrooms
2 Oz. Heavy Cream
4 Oz. Port Wine
1 Tbsp Butter
Salt and Pepper to taste
Instructions
Preheat oven to 450F
Salt and Pepper both sides of the steaks
Heat a cast iron skillet on high
Melt butter until bubbly
Cook the steak for 2 minutes per side then transfer to the oven for finishing
Cook in the oven until internal temperature reaches desired level (135 for medium rare)
For these steaks, it was 12 minutes, flipping at 6 minutes
Once steaks are done, set aside and cover with foil
Add port to the pan to deglaze and scrap the good bits of burnt stuff off the bottom
Add mushrooms and cream, then light on fire
Once the sauce has thickened, pour over the steak and serve!
Notes
Make sure the pan you use is oven proof to 450 degrees. I recommend cast iron and make sure to remove any handle holders you may have on it.
Lodge 12-inch Cast Iron Skillet
The only pan you really need. Once properly seasoned, this pan can cook anything you can imagine! Lasts forever and never wears out.
Thermapen
This probably shouldn't be the first thing you buy for your keto kitchen, but eventually, you'll end up buying this thermapen. It seams ridiculous to blow $80+ on a temperature probe but once you go through 5 other cheap ones, or burn your hand waiting for the temperature to stabilize, you'll wish you just picked one of these up. Its way faster and more accurate at reading temperature and I now almost exclusively cook meat to a done temperature rather than a specific time.
Splatter Shield
This is the same concept as the microwave cover but for your pans on the stove. Bacon grease splatters. A lot. Like an insane amount! Every time you make a dish like Blackened Pork Chops you're going to get grease all over the stove, all over the floor, and all over the walls. Avoid that and get a splatter shield.