Last weekend was my wife and my anniversary and I really wanted to come up with something special.  So, whats more special than bacon? Ok, so we eat bacon pretty much every day so its not THAT special but still, bacon hash is pretty awesome.  I was hoping that they would fry into hard patties but they pretty much fell apart after flipping.  However, they were still melt in your mouth good and I think they may become our new breakfast staple.
Here's the finished result!  The taste was absolutely amazing, something about the broken down fat that melts in your mouth ….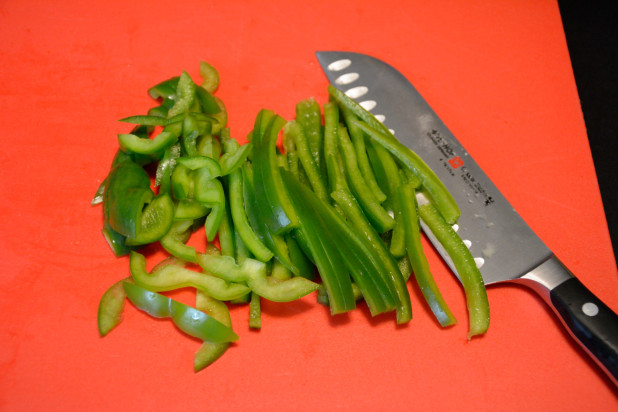 First I prepped and cooked all of the vegetables.  I knew I wanted vegetables in my hash but I didn't want to cook them at the same time since the cooking times would vary too much.  I like to cut my pepper into thin strips as shown so they get stringy when fried.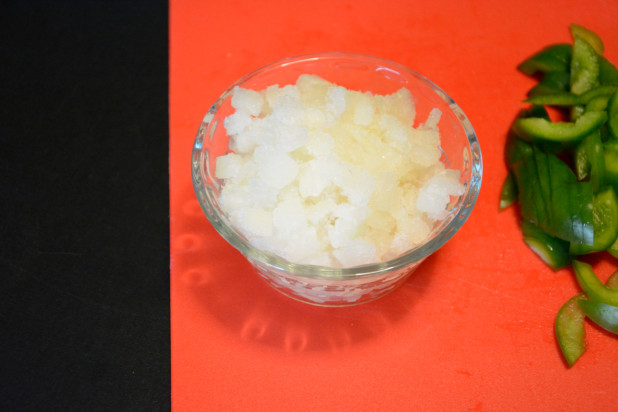 Next, I didn't have any fresh onions so I used frozen.  Sue me.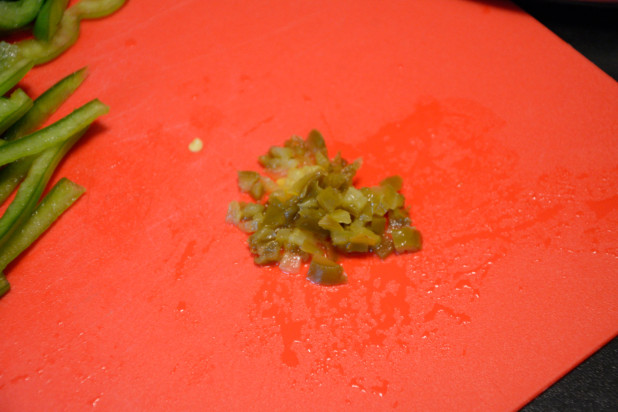 To add a little kick, I chopped up a few slices of jalapenos.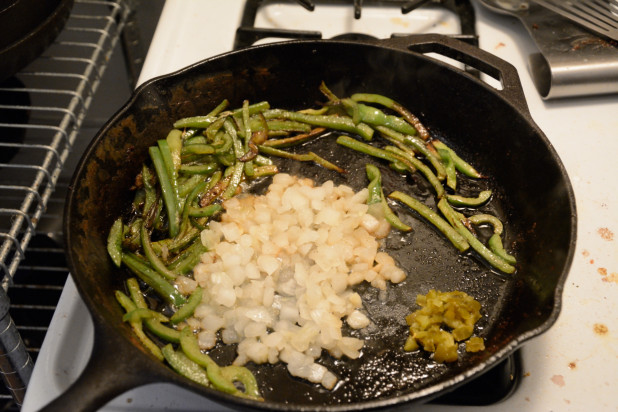 Start by frying the various vegetables. Since the onions were not fresh, I fried the green peppers for a bit and then added the rest of the vegetables.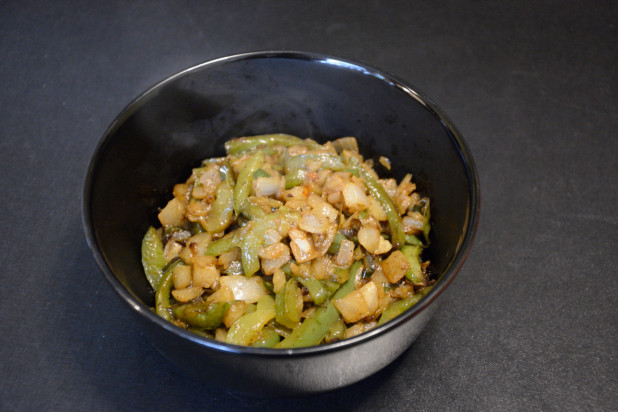 Once the vegetables were all cooked, aka translucent and browning, I transferred them to a bowl and started to prep the rest of the bacon hash.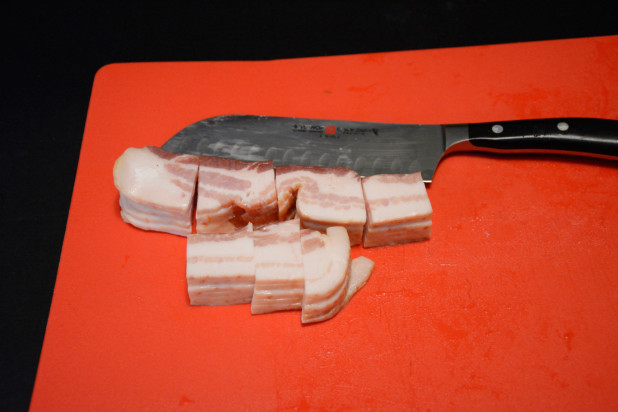 To make the base of the bacon hash, I chopped up 6 pieces of bacon into 1-2 inch chunks.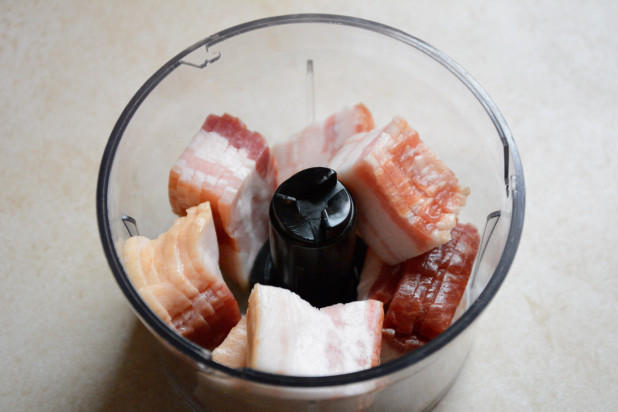 Then I threw them the food processor from my immersion blender and let 'er rip!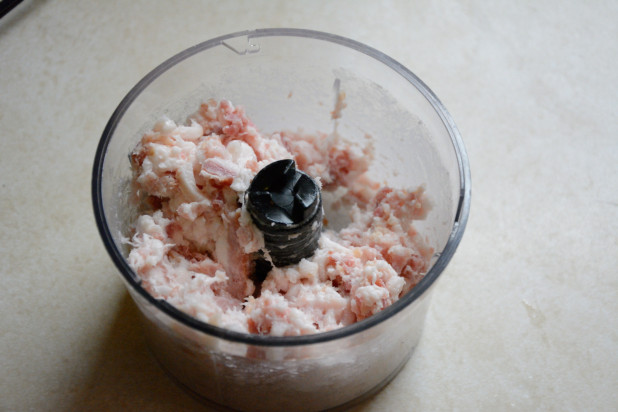 The mixture turned out really well.  The blending broke down some of the fat and gave it some texture.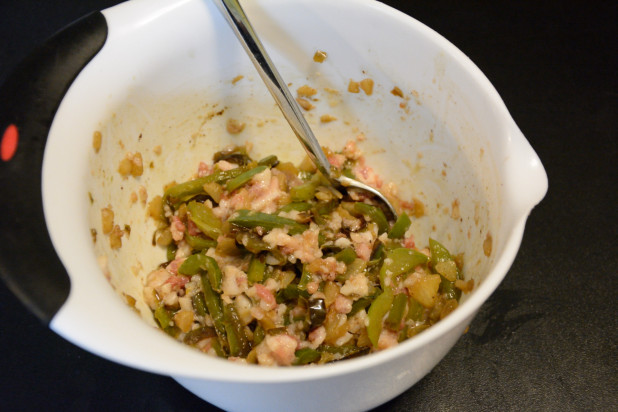 Next, I combined all of the ingredients in a bowl to make the hash.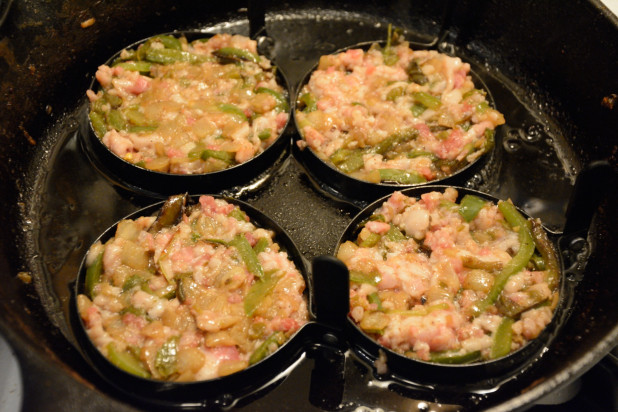 I tried to form them into patties using egg rings. It did help to cook them evenly on the bottom.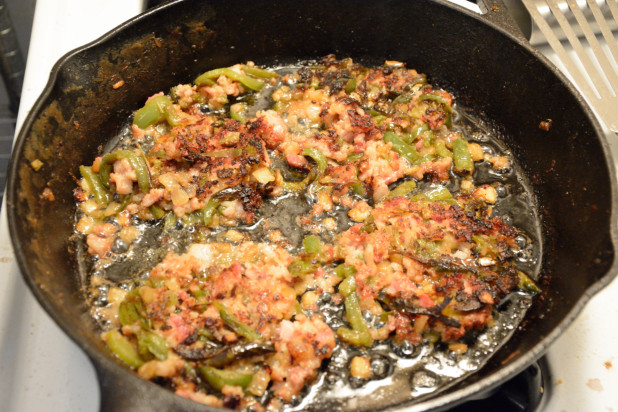 However when I tried to flip the patties they all fell apart 🙁  It still turned out well and from this point forward I just scrambled the hash.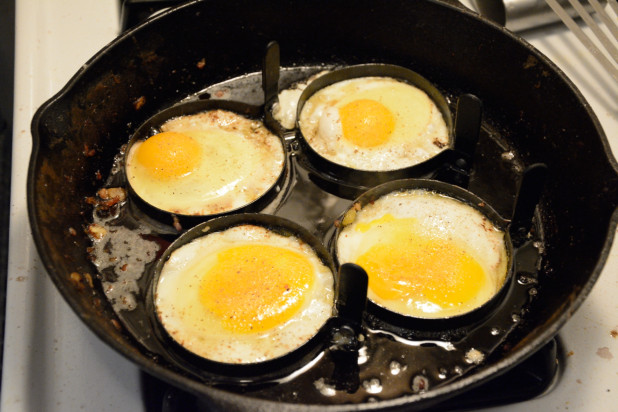 I reused the same rings to fry the eggs.  Of course you can just fry an egg on its own but these things make a nice shape and all you food stacks well.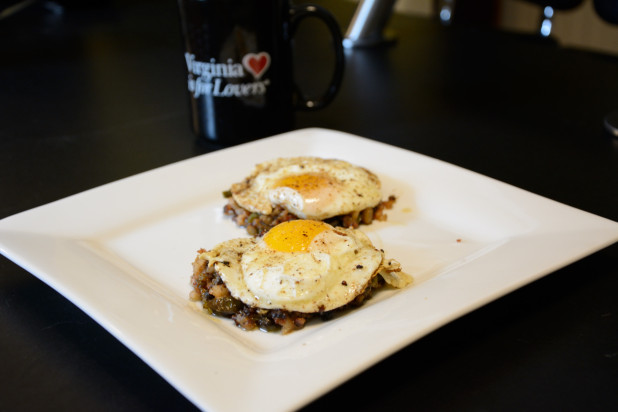 And there you have it, bacon hash!  In case you're wondering, I used the egg rings as a mold to place the hash on the plate so it lined up well with the eggs.

Bacon Hash
Nutrition Information
Serving size:

2 eggs

Calories:

366
Fat:

24

Carbohydrates:

11

Fiber:

2

Protein:

23
Prep time:
Cook time:
Total time:
Ingredients
1 Small Pepper (159 g)
1 Small Onion (101 g)
Several slices of Jalapenos
6 Slices Bacon
4 Eggs
Instructions
Slice the pepper and onions into thin strips
Dice the jalapeno slices as small as possible
Fry the vegetables in a cast iron pan
Remove when the veggies are translucent and browning
Chop the bacon in a food processor until it breaks into chunks, you don't want to overdo it and end up with a paste
Mix all the ingredients together
Cook the hash until the bacon is approaching crisp
Arrange on a plate and top with a fried egg!
Notes
To reduce the number of carbs, half the amount of both peppers and onions.