This is another simple recipe that can yield an entire weeks worth of keto friendly breakfasts.  Its very simple and can be customized as many ways as you can imagine.  Its basically a full keto breakfast on the go in muffin form.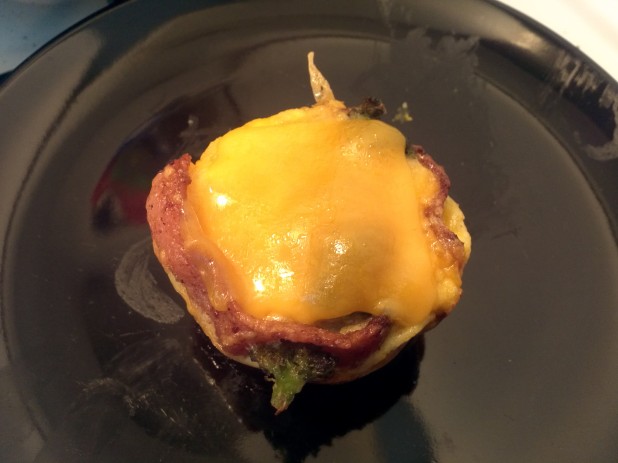 Here is the finished product.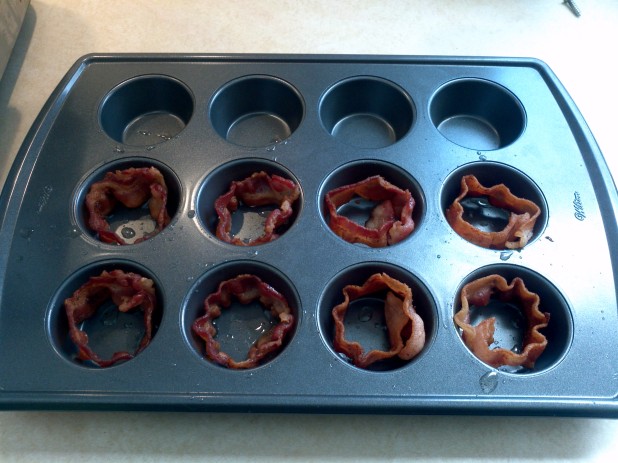 The first step is to cook some bacon up and put it around the ring of the muffin pan.  Make sure to be quick about it because the bacon will harden pretty quickly.  You'll note that I only filled 8, my wife likes hers with crumbled bacon instead of around the edges. One thing to note is the quality of your muffin tin. The previous week I made a batch with my old pan and they stuck to the sides pretty bad. So I ordered a new muffin pan. The difference was huge.  Even with muffin cups the old pan on the still stuck with the muffins.  I didn't even grease the pan shown above (well, other than a slice of bacon of course 🙂 ).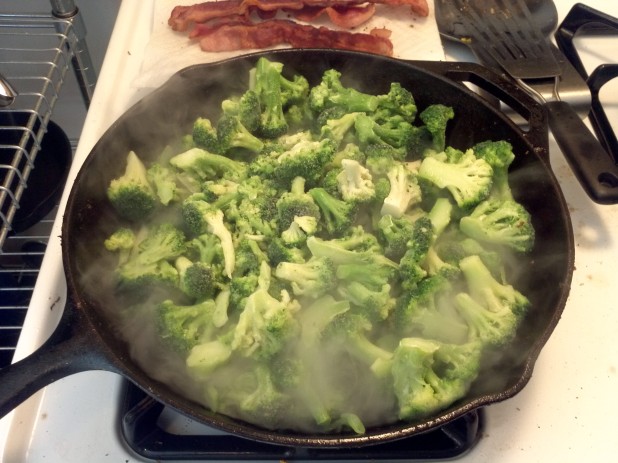 Cook some broccoli up in the left over bacon grease.  When they are cooked, distribute them throughout the tins.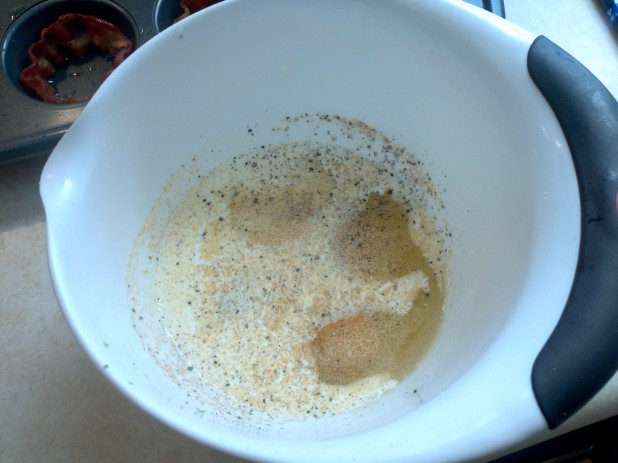 Mix together the eggs, cream and spices.  Make sure to whisk it good until bubbles form.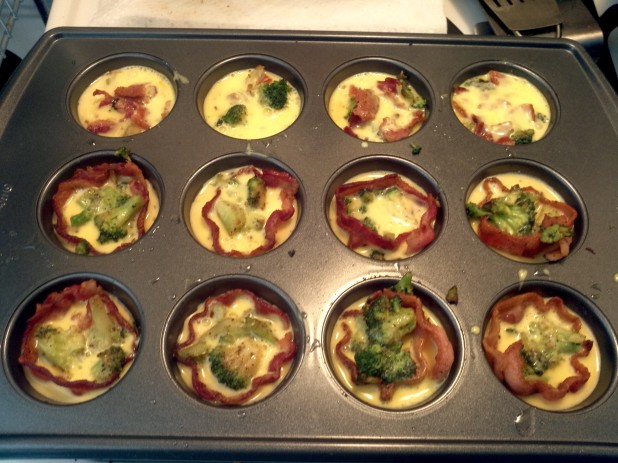 Here is the mixture after the eggs / cream have been added. There are several different variations you can do.  For my wife's I crumbled the bacon instead of wrapping it.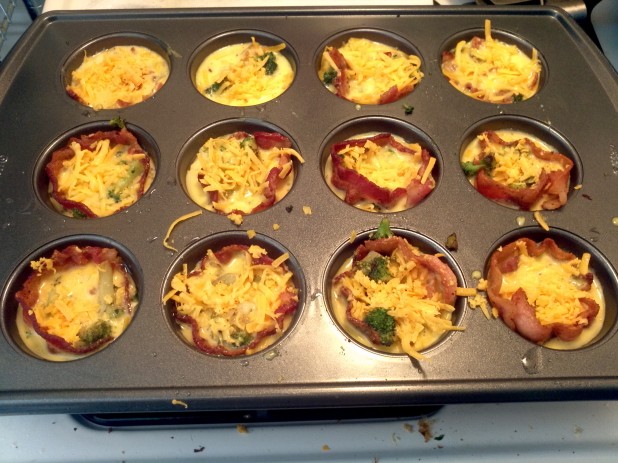 Add Cheddar cheese to tins.  Push it into the muffin, now they are ready for the oven!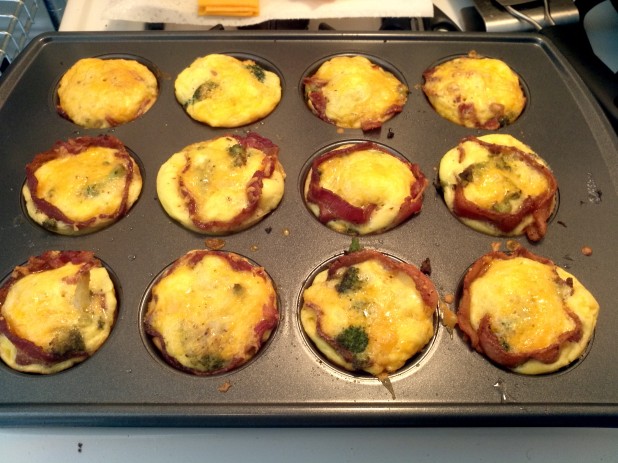 Here are the muffins after baking.  But don't stop now, they are not done!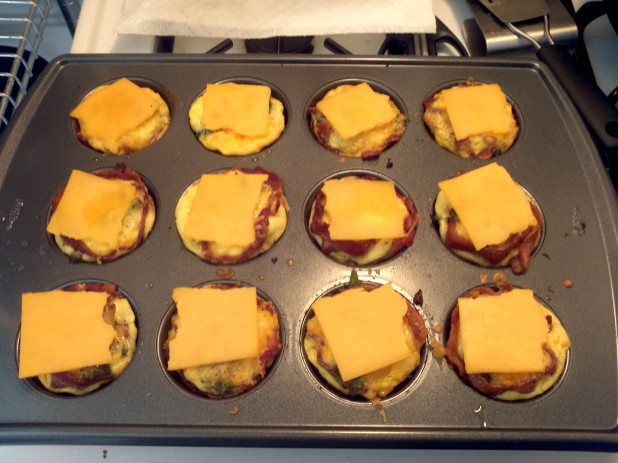 Take a slice of cheddar cheese and break it into four, put 1/4 on each slice.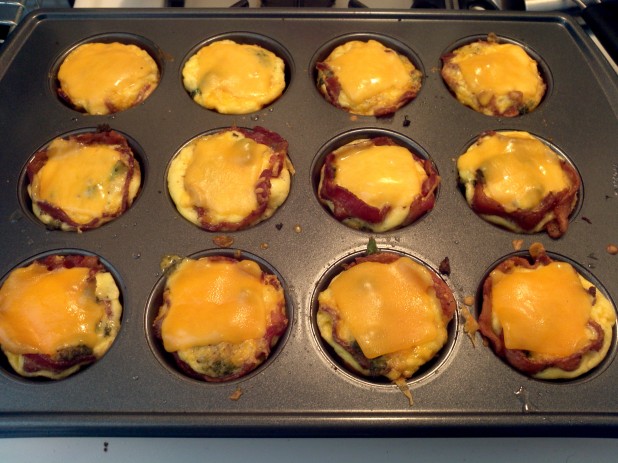 Here are the complete muffins!  Now you're ready to conquer the week!!

Bacon Breakfast Muffins
Nutrition Information
Serving size:

1-2

Calories:

162
Fat:

13

Carbohydrates:

2

Fiber:

1

Protein:

10
Prep time:
Cook time:
Total time: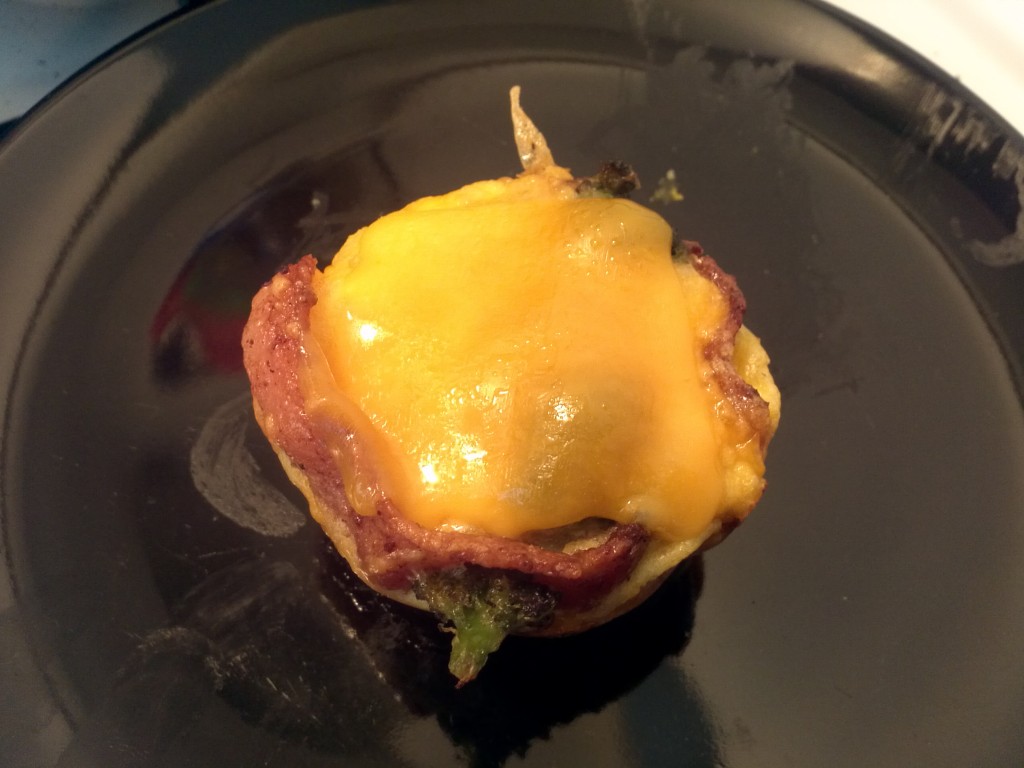 Bacon Breakfast Muffins
Ingredients
6 Eggs
6 oz Heavy Cream
300 g Broccoli
58 g cheddar cheese, shredded
12 slices Bacon
To Taste Salt, pepper, garlic powder
3 slices Cheddar Cheese
Instructions
Cooked the bacon until close to done but not crispy, try to keep it flat and straight, might be easier to bake it.
Place one piece of bacon in each tin, wrapping it around the outside, depending on how non stick your pan is, you might want to pam it first
Fry the broccoli in the bacon grease from above bacon, cutting the broccoli down once it is softer with the spatula
Distribute the broccoli into the muffin pans equally
Whisk cream, eggs and spices, pour into each muffin, leave some room for expansion
Cook for 20 minutes @ 350 degrees, the top should start browning and the inside should be firm
When they are mostly done, aka browning a little, add ¼ of a slice of cheese to the top of each muffin. Remove and let cool after the cheese melts