So this week I was feeling lazy so instead of a bunch of small meals, I would just cook a huge chunk of meat!  I decided to make a pot roast.  I looked to one of the best low carb websites: Linda's.  Here is the recipe I roughly based it off of: http://genaw.com/lowcarb/laredo_bbq_pot_roast.html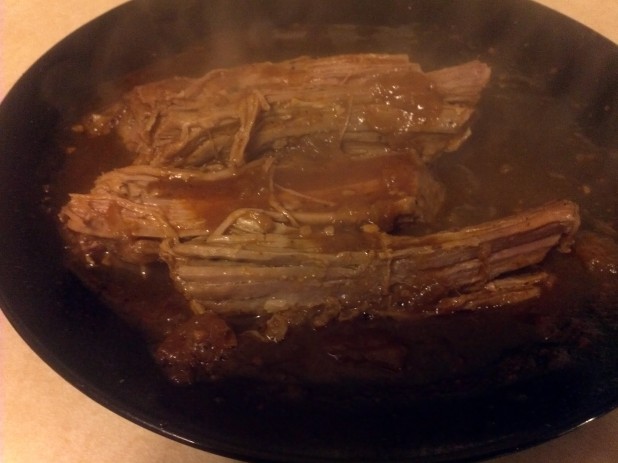 Here is the finished, juicy results 🙂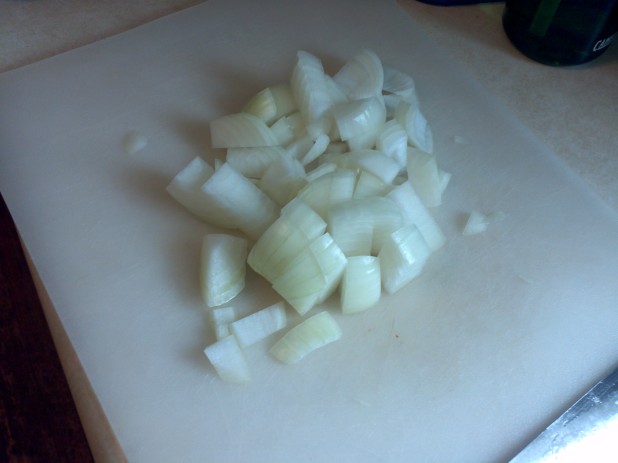 Rough chop one regular sized yellow onion.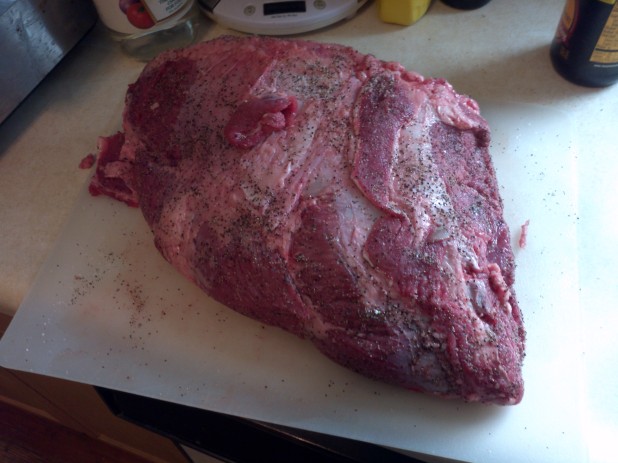 For this roast, I used an 8.2 lb Beef Chuck Shoulder Roast!  I salted and peppered the whole thing.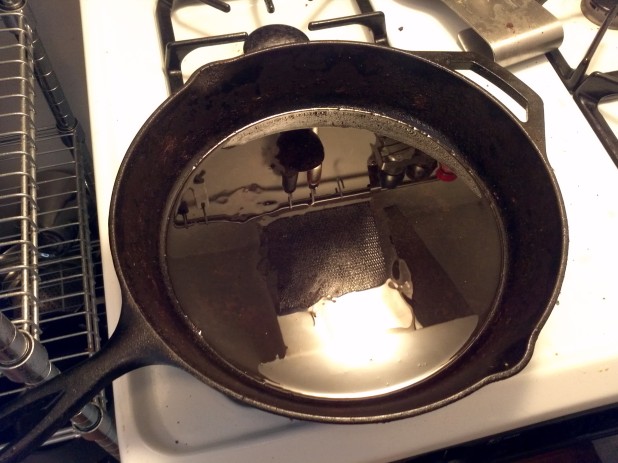 The next step is going to involve searing the meat.  To do this, I put bacon grease I'd stored into the pan and heated it up.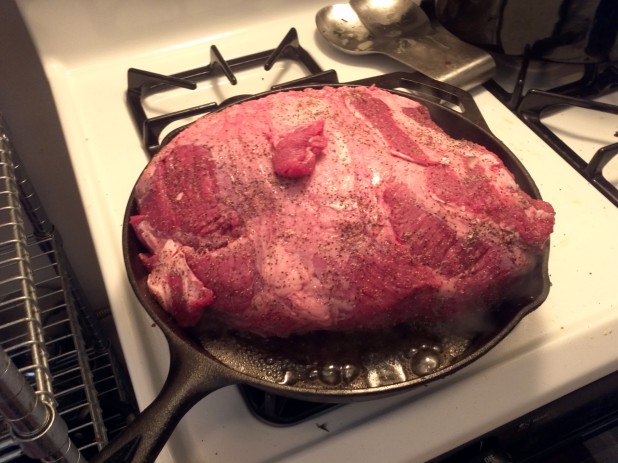 It almost didn't fit but damn did it smell good 🙂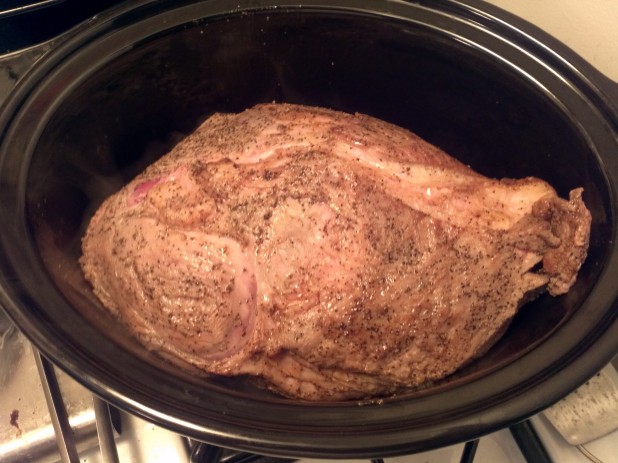 Here is the meat in the crockpot.  It almost didn't fit!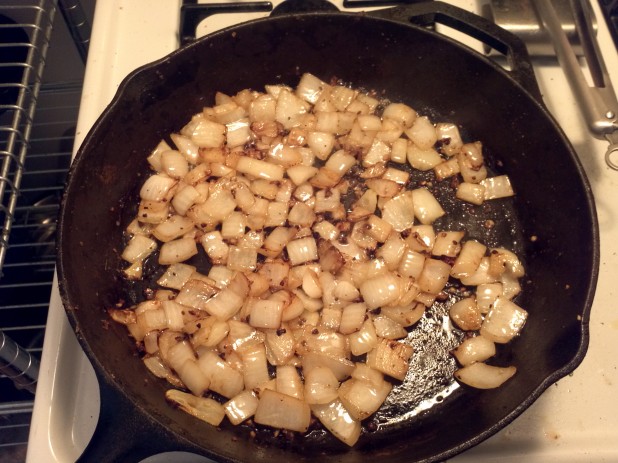 Fry the onions in the pan with the drippings from the searing.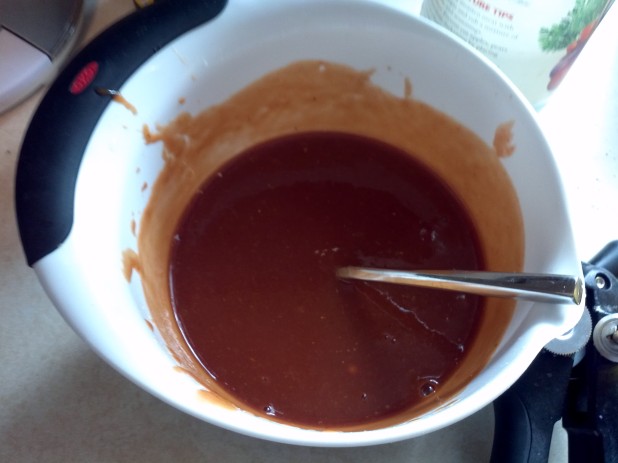 Mix up the BBQ sauce mixture, using low carb ingredients instead of store bought BBQ sauce.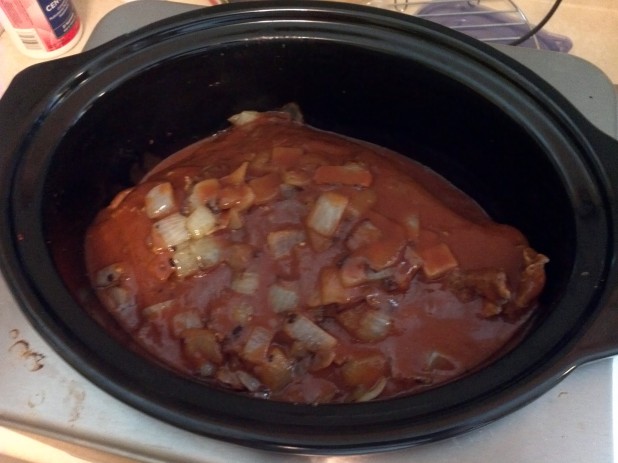 Here it is, ready to go!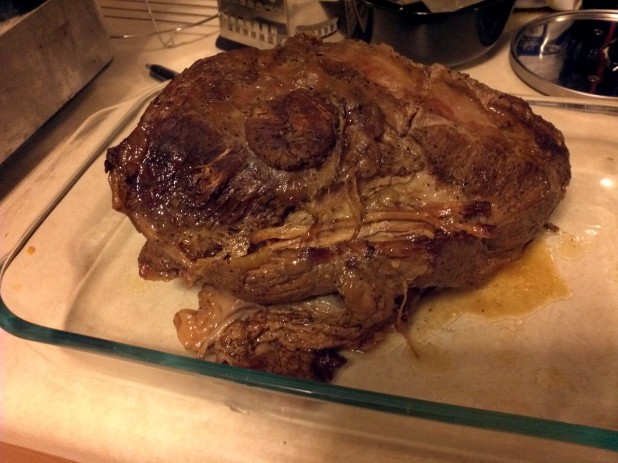 Pull the meat out and let it sit before separating.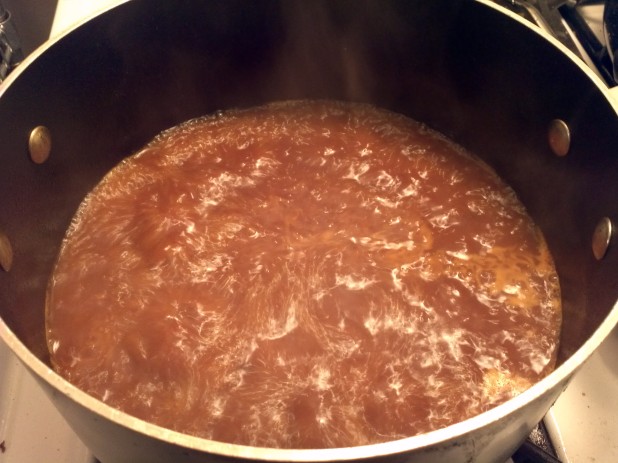 Pour the sauce into a pan and reduce by half via boiling.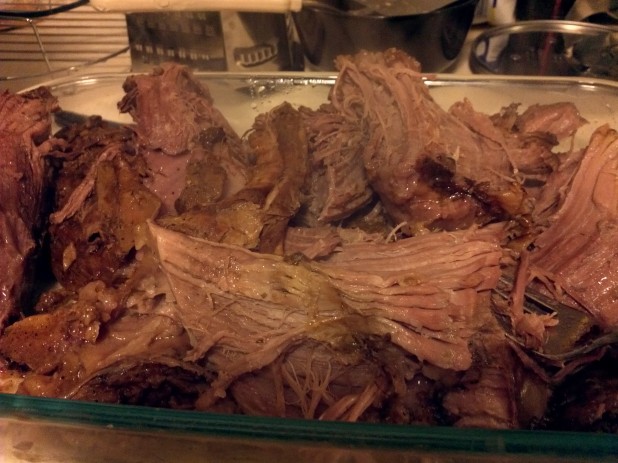 Here is the finished, pulled meat, yum! I pulled it into dinner sized portions.

BBQ Pot Roast
Nutrition Information
Fat:

22

Carbohydrates:

4

Fiber:

0

Protein:

75
Prep time:
Cook time:
Total time: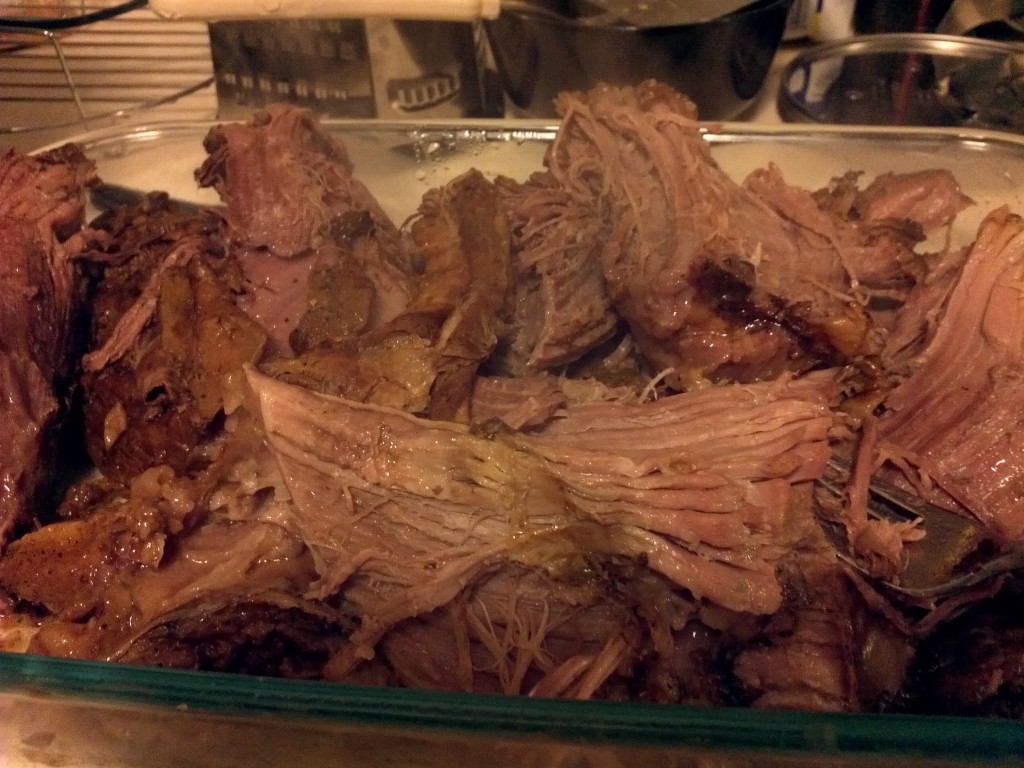 Ingredients
8 lb Beef Chuck Shoulder Roast
1 Yellow Onion
5 tsp Minced Garlic
3 T Bacon Grease (can use butter)
2 T Worcestershire Sauce
4 T Vinegar
1 T Yellow Mustard
4 T Splenda
1 tsp Liquid Smoke
To Taste Salt and pepper
Instructions
Rough chop an onion and set aside
Coat the roast with salt and pepper
Heat up bacon fat in a frying pan and sear the roast on all sides, 1 to 1:30 minutes on each side
Place the meat in the crockpot
Fry onions in the leftover grease, pour over meat
Mix Mustard, Garlic, Worcestershire, Vinegar, Spenda and Liquid smoke
Pour sauce over the meat
Cook in crockpot on low, 1 to 1 hour 15 minutes per lb of roast. I cooked this one 9 hours.
Remove meat from crockpot, separate into dinner sized portions
Move liquid to a pan and reduce by half. Serve with the meat.
Cuisinart PSC-650 6-1/2-Quart Crockpot
Useful for set it and a forget it meals where you place all the items into the crockpot and let it rip! Most crockpots use a ceramic, dishwasher safe bowl that's heated from the outside to a low temperature which allows the ingredients to simmer for hours.
Lodge 12-inch Cast Iron Skillet
The only pan you really need. Once properly seasoned, this pan can cook anything you can imagine! Lasts forever and never wears out.
4.8 Quart Casserole Dish
Great for cooking those gigantic, week long casseroles! I call them 5day meals on the website. Normal casserole dishes are 10×13 but this one is gigantic and can easily be divided into ten portions.