Ever since I started using my deep fryer I knew I wanted to fry bacon.  Sure, I had fried bacon in the first intro to deep frying article but it twisted, turned and wasn't very useful for anything but bacon bits. I knew there had to be a way but I wasn't sure how to go about it. Then, as I was walking through an asian grocery store, I saw this grill basket.  I got inspired and realized I could shape a standard grill basket into a custom press that could hold foods while frying.  This way I could get that perfect, bacon weave shape but in the deep fryer.  So, today on my Fry-day series I'll show you how to make a bacon weave frying basket!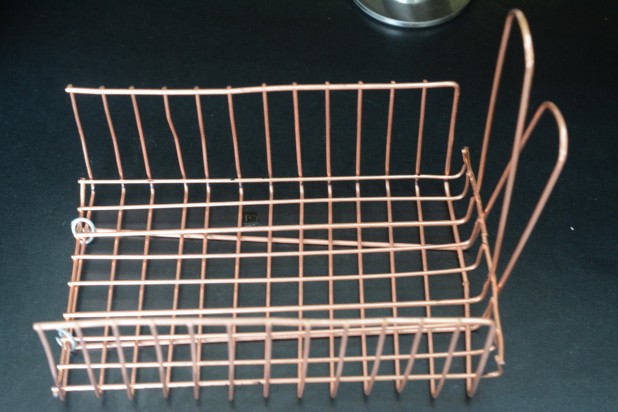 Here's the finished product.  Basically I created a basket with a lid that you can clamp down on food to hold it in the oil.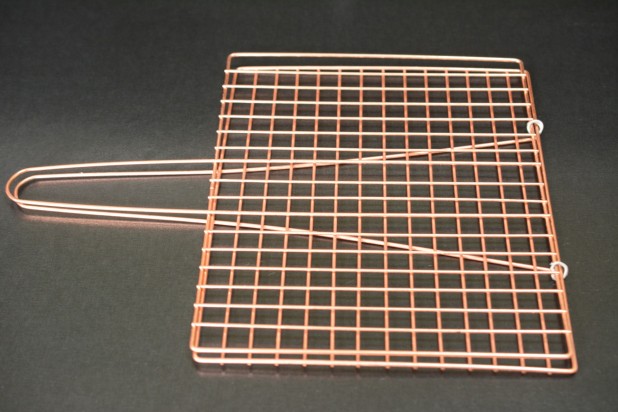 Start with a grill basket like this one.  The benefit of using a grill basket as opposed to raw materials from home depot is that this device is already designed and certified to work with food.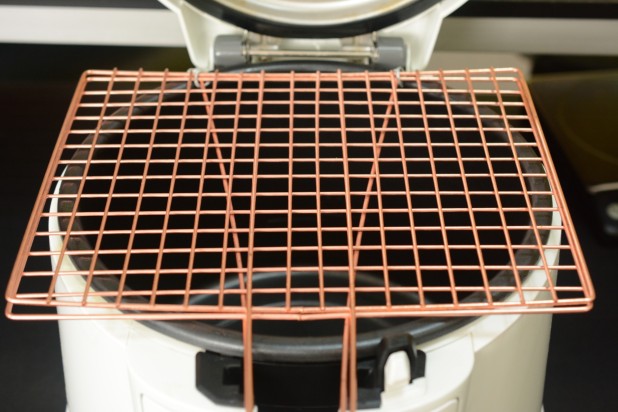 So this picture shows the problem.  My fryer, and many like it, are round.  Even the larger ones are rectangular and this shape won't do.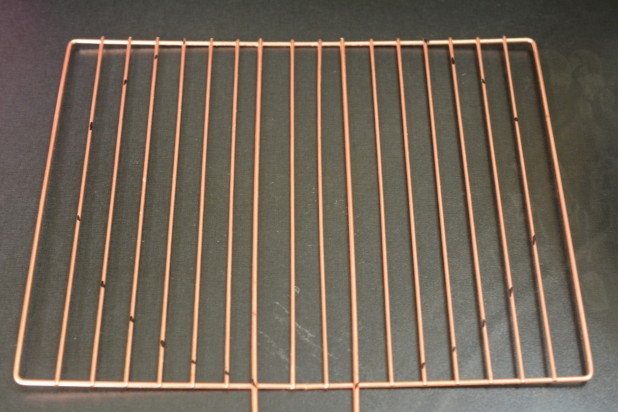 So, I traced out the outer dimensions onto the basket.  Originally I thought I was going to make a round bend basket but I ended up with a rectangle for engineering reasons.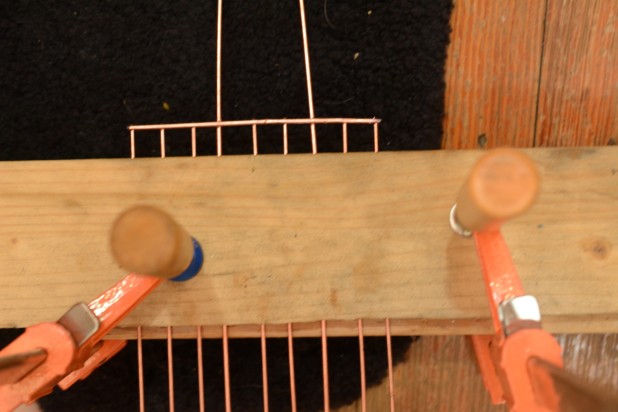 So the first step was to cut down the grill basket to a dimension that will fit in the fryer.  Then I used some bar clamps and two pieces of wood to hold the metal grate down.  Then I used a combination of bending by hand and hitting it with a hammer to bend the clamp into a right angle.  This is so that it will fit in the basket and also so you have a handle to pull the device out of the fryer.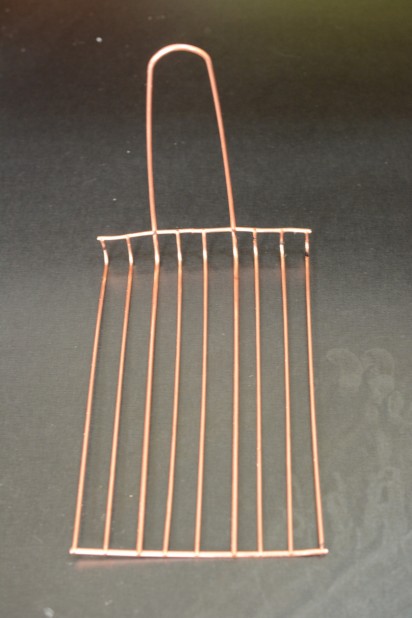 Now as you can see we have the base of the fry basket.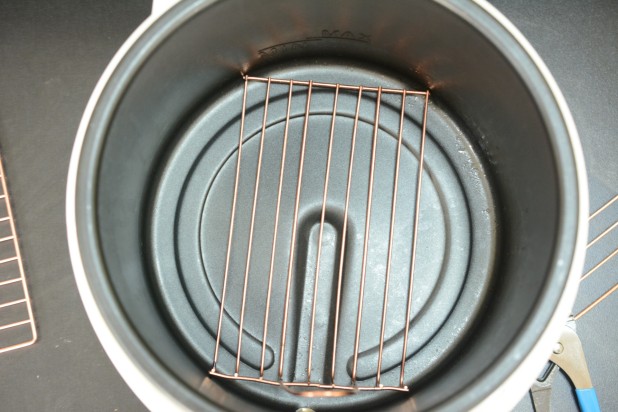 And, as you can see, it fits in the fryer.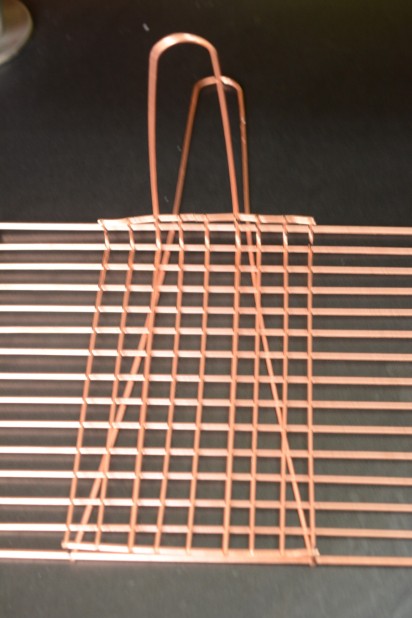 Now I got to work on the second section.  With this model grill basket, one section runs horizontal while the other one runs vertical.  So, I couldn't cut the horizontal piece, but rather I had to bend it.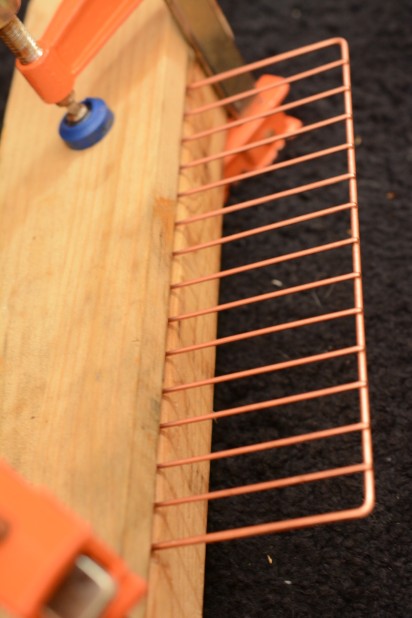 I again clamped the piece between two boards and banged away with a hammer.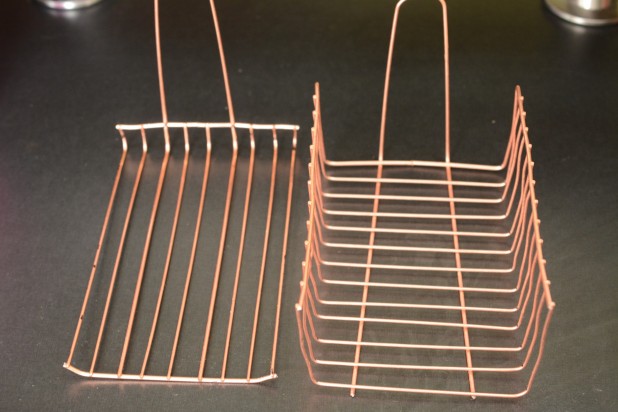 Now I had the flat bottom piece with the vertical runs and a second piece with the horizontal runs.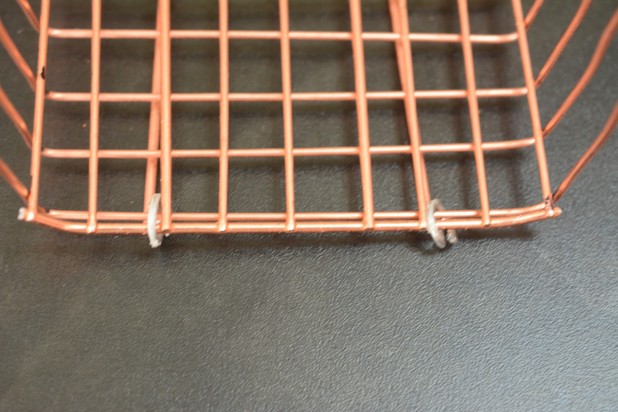 I reattached the two pieces together with the clips.  These came with it, I just used some pliers to get them apart and I reattached them with it.
For the bacon weave, take some thick bacon and cut it in half.  For more information on making a bacon weave, check out the original article or the video on YouTube.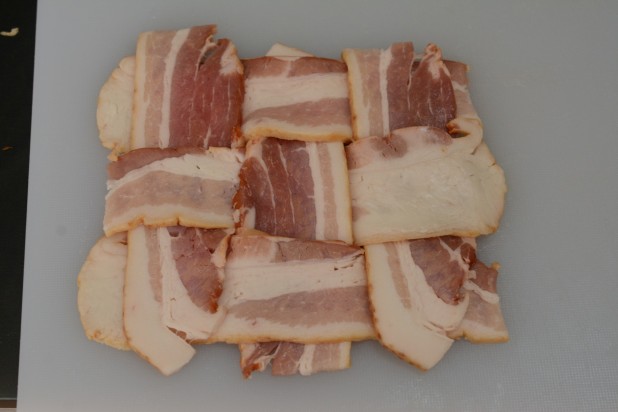 Form a cross pattern with the bacon.  This is a 3×3 but you could make any configuration from 2×2 to 6×6 or even 3×4's, etc.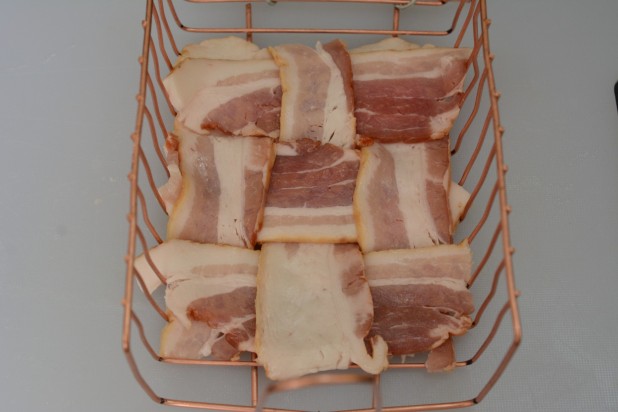 The bacon weave fits perfectly into the bacon weave frying basket.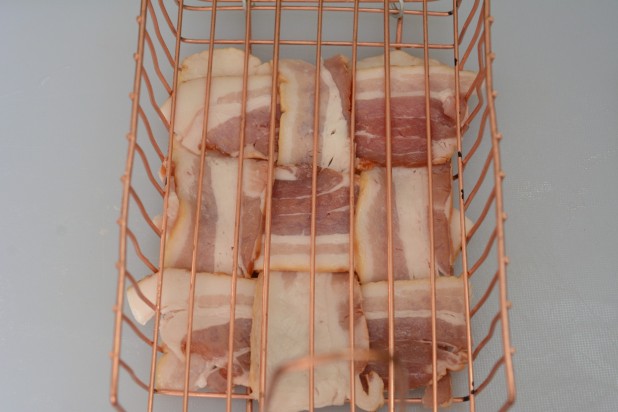 Then close the top to secure the bacon weave!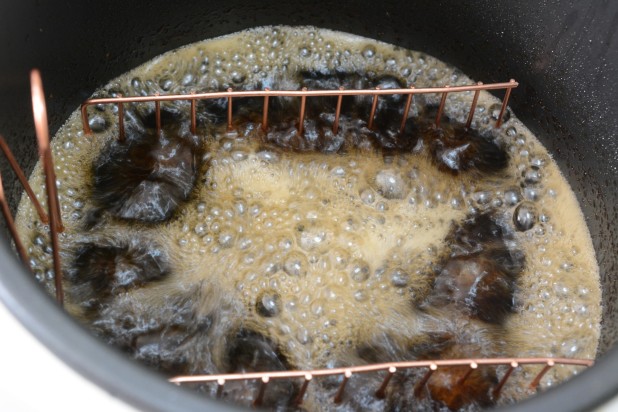 Throw it in the 375 degree oil for about 5-7 minutes or until crispy.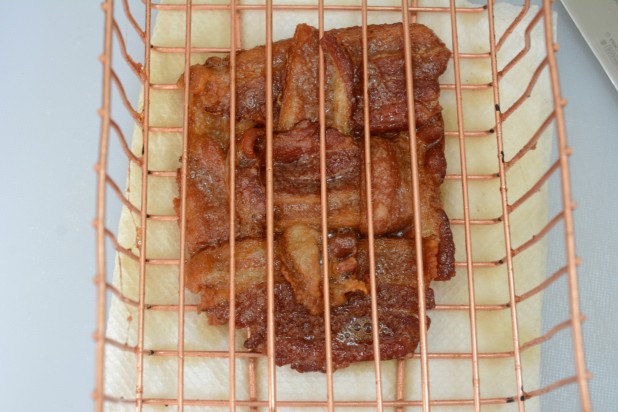 Here's the bacon weave after frying.  As you can see the basket did a pretty good job of holding it down.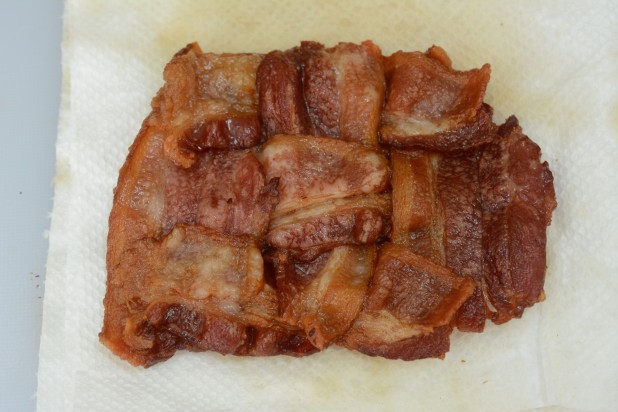 Here's the finished product!  Its a great topper for a burger or as a bread substitute!
I hope you enjoyed this installment of my Fry-day series.  Leave a comment on what you think I should fry next!
DeLonghi Deep Fryer
If you follow the blog, you know that I've gotten a little obsessed lately with my Deep Fryer to the point where I post a weekly Fry-day article. I had one of these in college and it always made me feel guilty using it. I feel so liberated that there are all sorts of keto friendly fried foods like nuggets, wings and brussels sprouts!
Cone Filters, 50 Pack
To keep your frying oil clean, you really need to filter it on a regular basis. Fryers will come with one or two filters in the kit but they run out fast. This 50 pack will keep you going for well over a year
Filter Stand
Use this stand in conjunction with standard cone filters to easily filter your oil. This system is in place of the filtering method that comes with your fryer.