This Valentine's day, give your keto sweetheart what they really want, Chocolate!  These low carb, keto friendly "fat bombs" are packed with flavor without all the sugar. I used Almond Butter for a filling to emulate the taste and texture of a Reese's Peanut Butter Cup and a heart-shaped silicon mold to add a Valentine's day touch!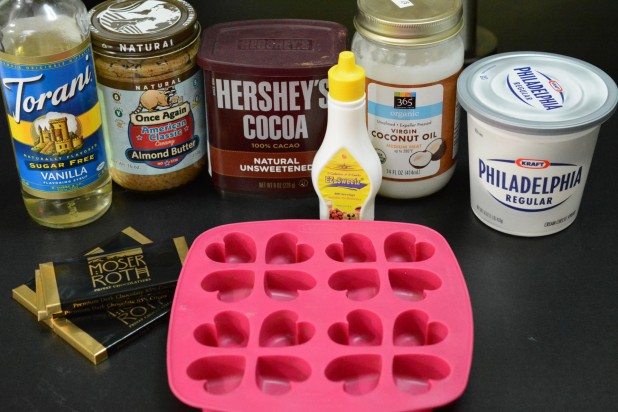 Here's all the ingredients you're going to need.  Some of these might be harder to find items like Almond Butter, Super Dark Chocolate, Torani Sugar Free Vanilla Syrup, and Coconut Oil.  All of them should be available from a specialty store like Whole Foods or Trader Joe's. You'll also need some sort of mold. In the spirit of Valentine's Day I used a heart mold but you can use any chocolate mold and I've even used a mini whoopie pie pan!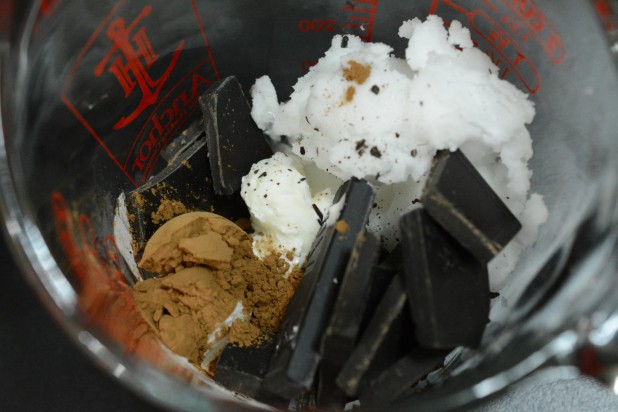 Add all of the ingredients except for the Almond Butter into a microwaveable measuring cup.  Its easier to just do this in a measuring cup since you're going to pour it later anyway.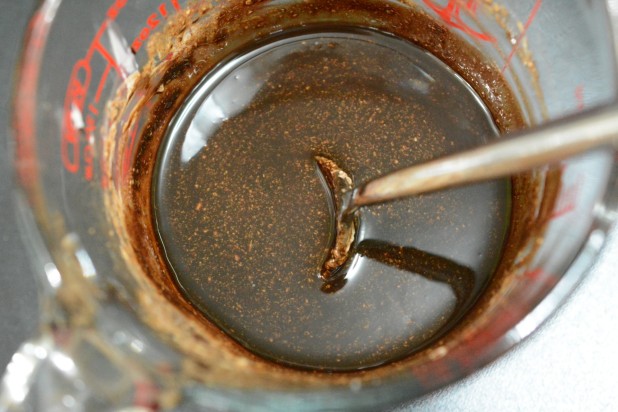 Once its microwaved, it should be liquid and look like the above.  The whitish chunks are from the coconut oil.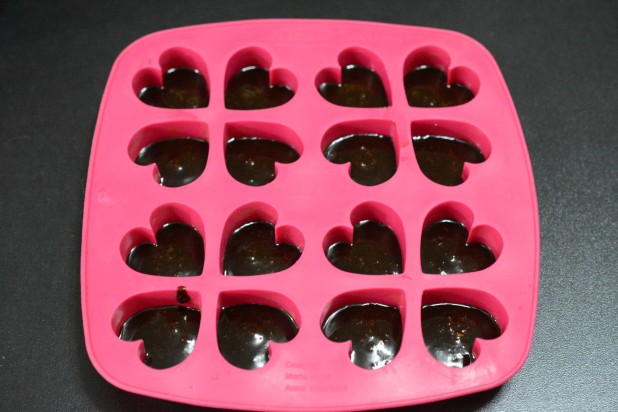 Add a layer of chocolate to the bottom of the mold.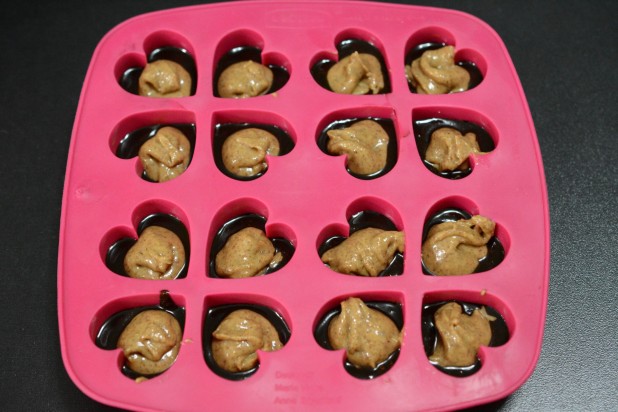 Then use a spoon to drop a dollop of Almond Butter in the center of each chocolate.  It doesn't have to be perfect but you should try and keep it off the sides.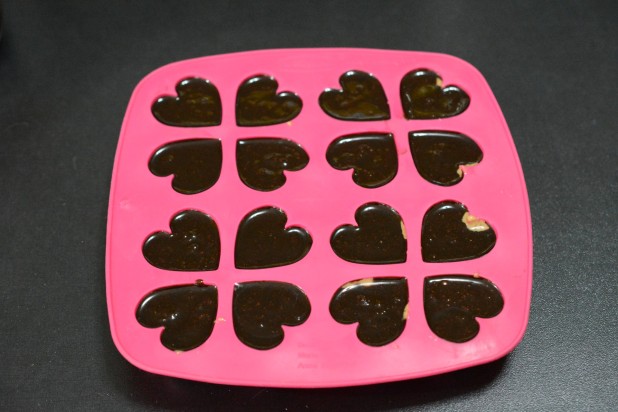 Then fill the mold the rest of the way.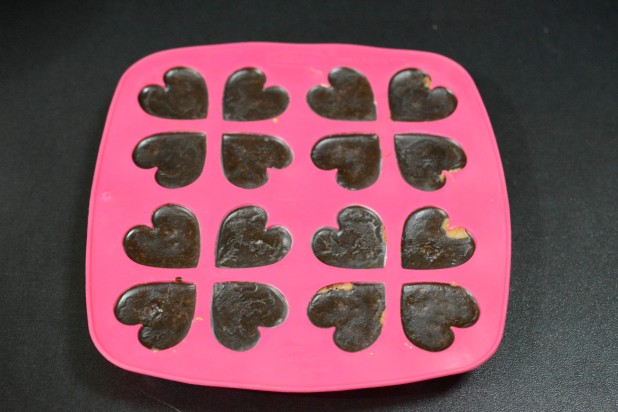 Next throw these in the freezer until they harden, approximately 30 minutes to an hour.  When they're done, you can pop them  out by pushing on the bottom of the mold.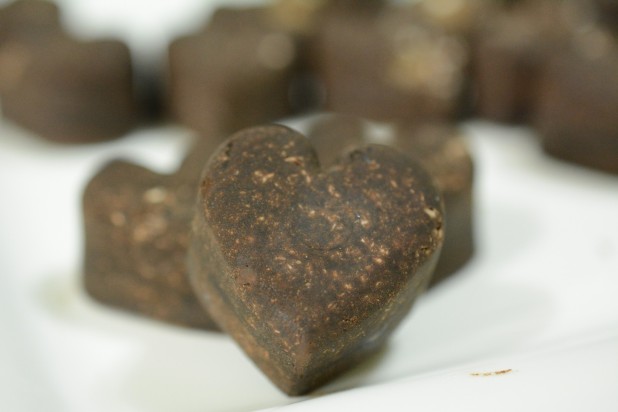 Here's the finished Valentine's Day Keto Fat Bombs!  They turned out ridiculously well. I even brought them to a Wine and Chocolate party and people couldn't even tell they were Keto!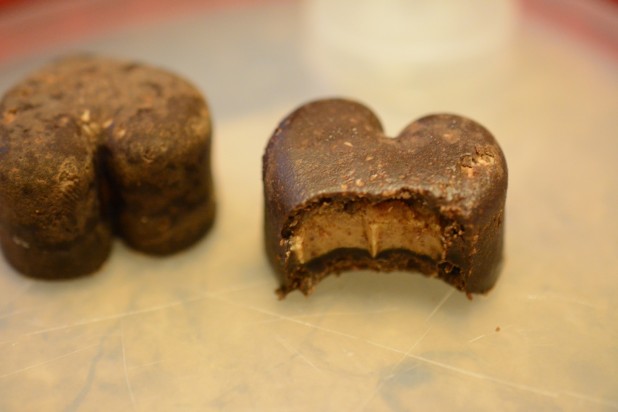 Here's an action shot of the almond butter filling.  I couldn't believe they actually formed this well, just like almond Reese's cups! I should note that if you wanted you could just mix the Almond Butter in to make the process easier.

You're the (fat) bomb! Keto V-day Treats
Nutrition Information
Serving size:

4 Pieces

Calories:

297
Fat:

30

Carbohydrates:

7

Fiber:

3

Protein:

5
Prep time:
Cook time:
Total time: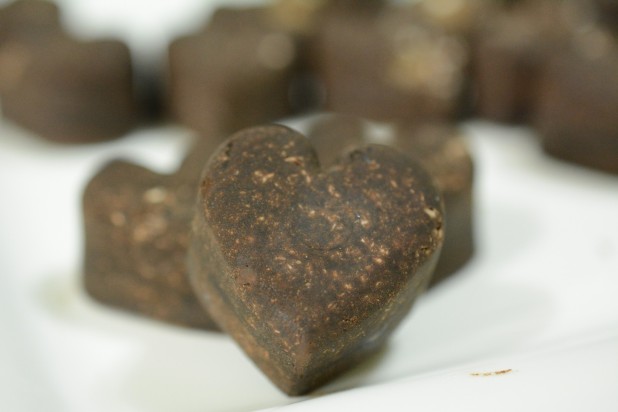 Ingredients
2 Oz. Coconut Oil
1 Oz. Cream Cheese
½ Oz. Torani Sugar Free Vanilla Syrup
1 teaspoon Cocoa Powder
2 Oz Dark Chocolate (I Used 85%)
8 Drops EZ-Sweetz
2 Oz. Almond Butter
Instructions
Combine all the items except the almond butter and microwave for 30 seconds
Stir the ingredients, if the chocolate is not fully melted, microwave again and continue stirring
Pour a base layer into the mold you're using
Then using a spoon and place a dollop of Almond Butter in the center
Fill the rest of the mold to the top
Freeze until the chocolate hardens, when hard push them out of the mold
Store in the fridge
Notes
If you want to make it faster / easier, you can mix the almond butter into the batter. Also, you can use a mini whoopie pie pan instead of a candy mold.
Torani Sugar Free Syrup
Sugar Free Syrups are great if you want to create a special keto cocktail or spice up your coffee. Since these things are so specific, they are rarely found in stores and have to be bought online.
EZ-Sweetz
EZ-Sweetz is liquid sucralose. In case you weren't aware, powdered splenda contains carbs as binding agents to get it to look and act like sugar. If you're making something like a chocolate mousse or a Low Carb Cheesecake, this stuff is perfect. I've never seen it in a store before so I stock up on it online. You can get liquid stevia or truvia at somewhere like Whole Paycheck but I like this stuff better.
Wilton Whoopie Pie Pan
Not to be out done, the Whoopie Pie Pan is the bastard cousin of the muffin top pan. Instead of 6 buns, it packs 12 into the same space. The edges are more round than the muffin top pan and so it creates a smaller, more cookie like shape. Its good for making tapas sized buns or for holding together keto cookies.