I was looking for something quick and easy for dinner so I thought I'd make some sort of pork chops.  I had some left over Parmesan cheese that I figured I should use up so off I went to fry some pork chops!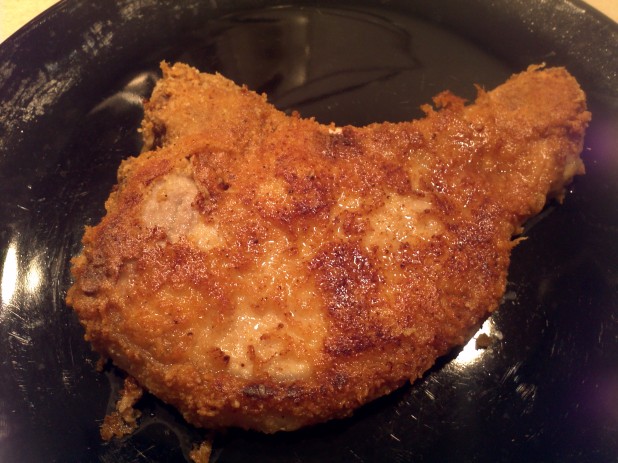 They turned out pretty well, the pan wasn't hot enough at first so a little bit of the crust stuck to the pan …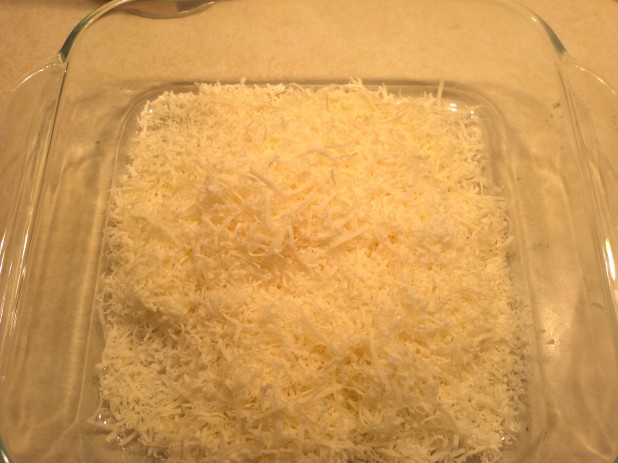 I grated about 6 ounces of Parmesan cheese using my multi-sided cheese grater.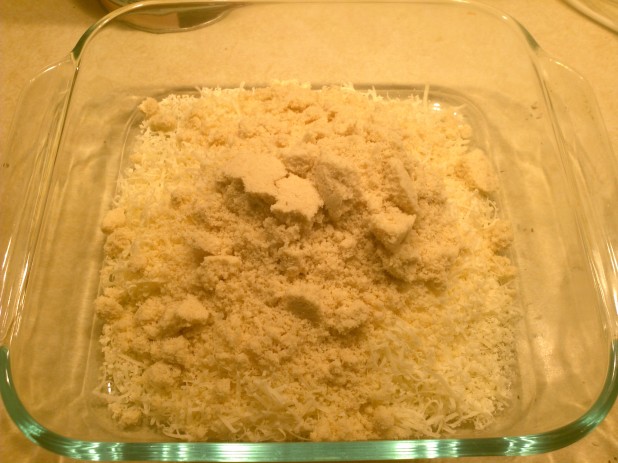 Added 3/4 cup of almond flour along with some salt and pepper.  Mix this all together.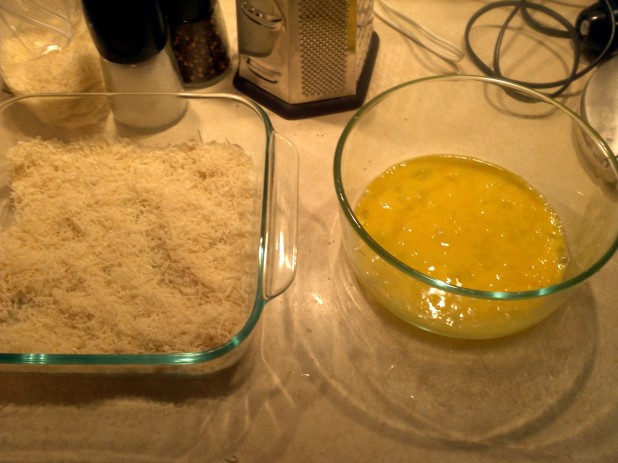 Whisk two eggs into a shallow bowl.  Setup your dipping stations!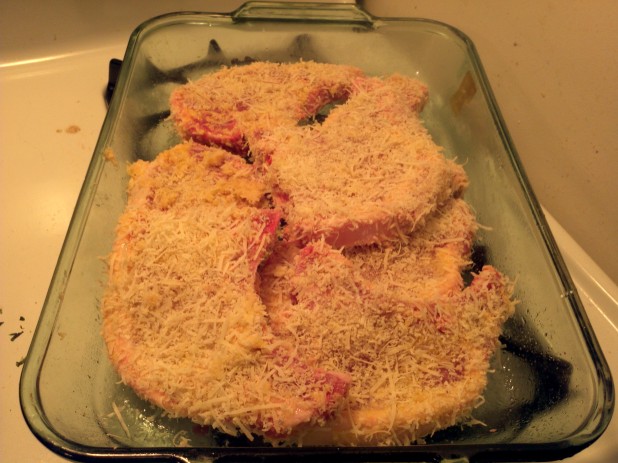 Here are some of the dipped chops.  I had a whole large pack from BJ's, something like 13 or 14 of them and I cooked them all up at once for the week.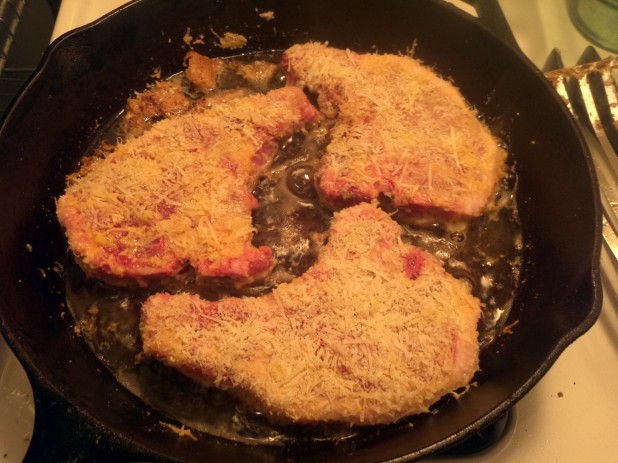 I had to fry the chops in batches of three.  I put some bacon fat in the bottom of the pan and sizzled away!  Make sure to get the pan pretty hot or else it will stick.  I pan fried these for one minute each side and then put them in a pan in the oven until complete.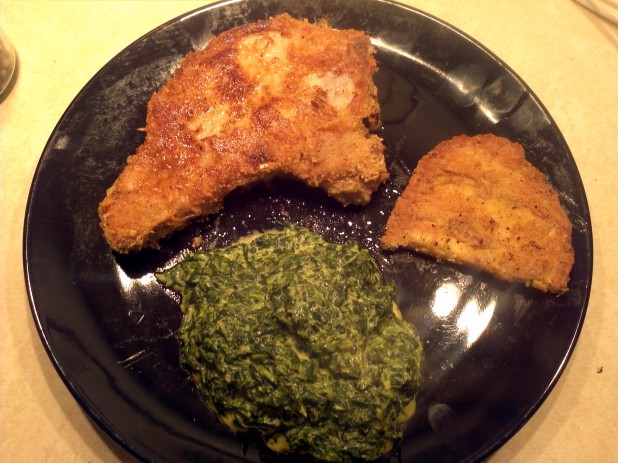 Here is the finished, plated meal.  I served it with Creamy Cheesy Spinach. There was a little bit of egg left over and some cheese / almond mix left over so I combined them and fried it in the same pan.  It yielded the "thing" on the right and I think I may have accidentally discovered a pretty amazing creation.  It was like moist fried cheese!  Note that you can adjust this for less meat, just use one egg, 3 oz of cheese and 3/8 almond flour.  If there is left over just combine the eggs and cheese and fry!

Parmesan Encrusted Pork Chops
Nutrition Information
Serving size:

1 Chop

Calories:

454
Fat:

34

Carbohydrates:

4

Fiber:

1

Protein:

33
Prep time:
Cook time:
Total time: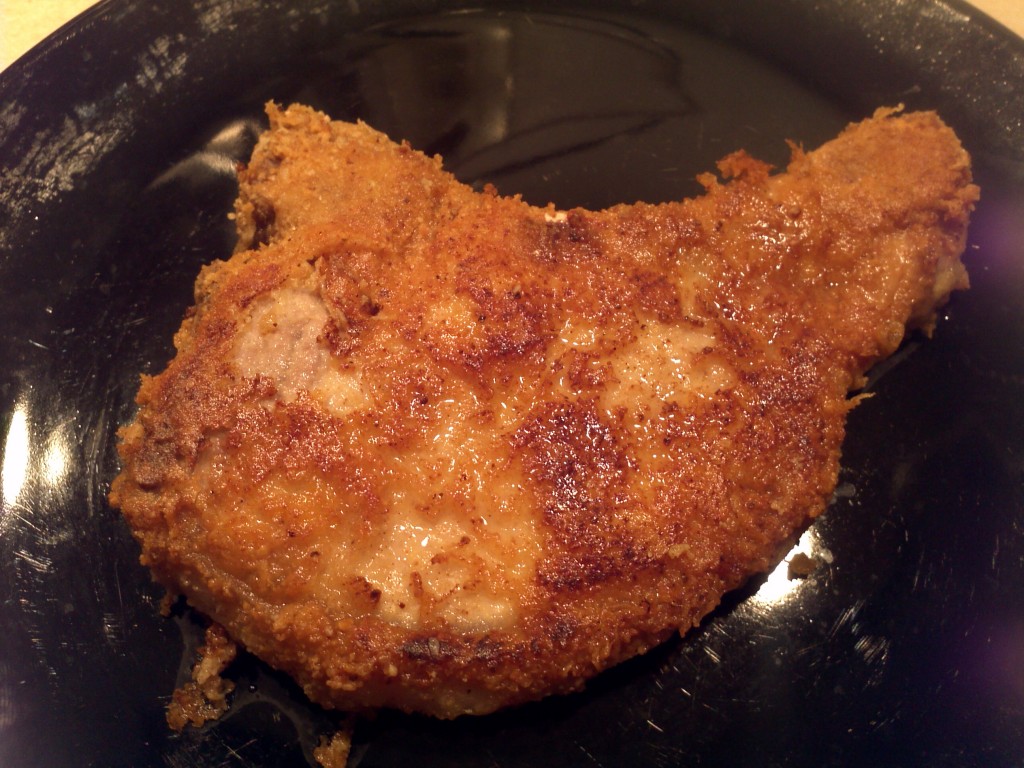 Ingredients
14 Pork Chops (I used bone-in)
¾ Cup Almond Flour
2 Large Eggs
To Taste Salt, Pepper
6 oz Parmesan cheese
Instructions
Grate Parmesan cheese and combine with spices and almond flour
Whisk the eggs and place in a shallow container
Dip the pork chops in the eggs and then coat with the Parmesan mix, you might need to sort of place the mixture on the pork chops depending on how the coating goes
Fry in bacon grease in a pan for 1 minute per side
Cook in oven at 400 until at desired temperature (will vary by thickness of chops but probably 10 minutes)