Breakfast muffins are one of my core meals on keto.  The original version was one of the very first things I ever made. Sure, if you follow me on Instagram you'll see me posting all sorts of frou-frou breakfasts that look like they took hours to make and use all sorts of exotic ingredients. In fact, its a common problem with keto blogs these days that everyone is posting ever more complicated recipes with exotic ingredients that don't actually help the every day man (or woman). This recipe is none of that.  Its cheap, easy, and designed to get you in and out of your meal prep breakfast as possible. Read on to learn the methods I've developed over the years to increase my speed and efficiency.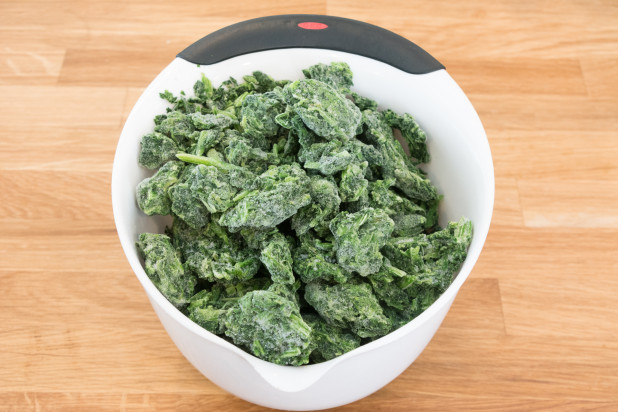 Frozen Spinach. Ain't no body got time to wilt 20 ounces of spinach!  Also, the key to the speed game is to do as much as possible in parallel.  That means you pop this sucker in the microwave as the very first step.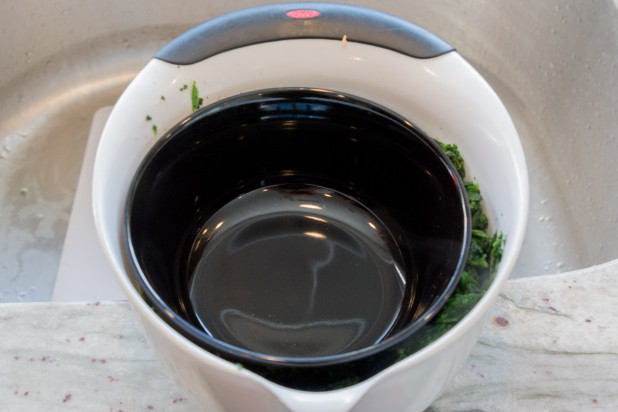 The down side to frozen spinach is the water.  I use a bowl to squeeze the excess moisture out of the spinach.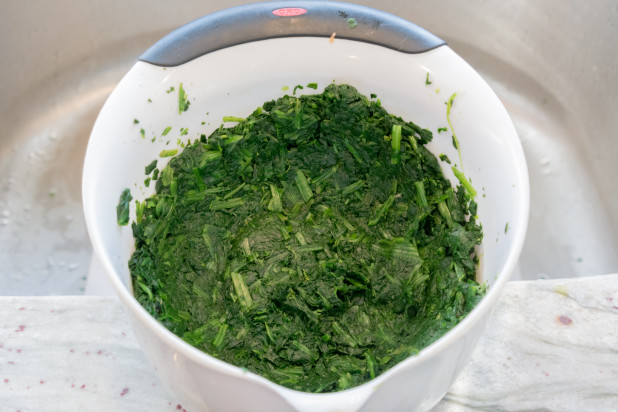 As you can see, we're left with just the thawed spinach.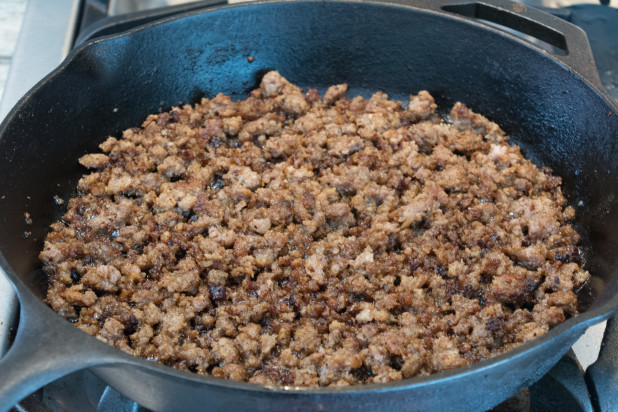 Next, brown some breakfast sausage.  I throw this on early as well while the spinach is in the oven and while I'm prepping veggies … I think you get the point.  Also, physically cook them to the point of browning. Don't just stop at the greyish cooked level.  It will add a lot more flavor if you brown them and get little black bits as shown above. Additionally, you can't crowd the pan too much. When I first started I would jam the cast iron full and it would take twice as long with mediocre results.  Invest in a HUGE cast iron.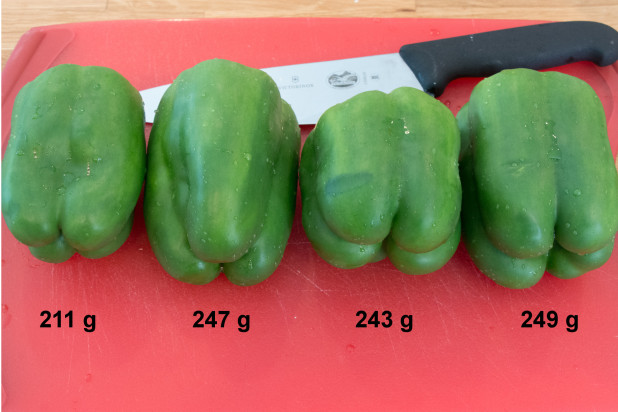 Now a word about veggies.  In case you've never done this experiment before, take a bunch of "identical" veggies and weigh them.  You do have a scale, right? As you can see in the image above, the size of a "green pepper" varies tremendously.  If you really want to accurately measure your intake on keto, you've got to measure.  But using 150g of green peppers would be a waste, right?  Read on for the solution.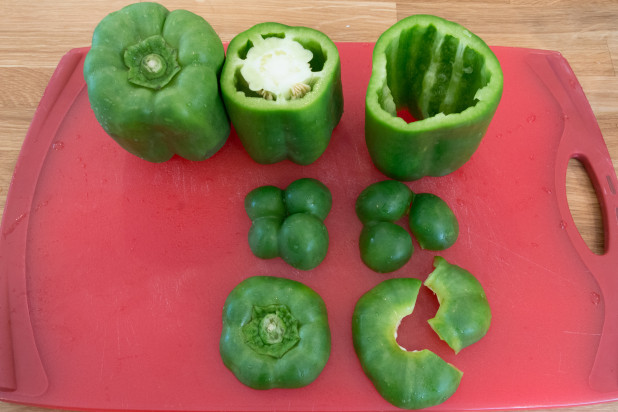 What I do now is buy an entire bag of green peppers at BJs.  Then I use a food processor to slice them ALL AT ONCE. Then when a recipe calls for 150g, I use exactly 150g.  Then I know exactly how many carbs are in that meal.  To effectively process the green peppers, start with a whole green pepper, chop off the top and bottom, then throw away the middle and the stem.  You should be left with the right side of the picture.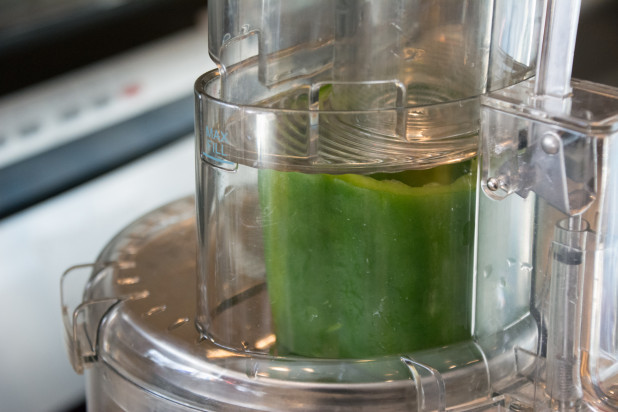 Then take the entire shell of the green pepper and shove it in the food processor as shown above. When it gets to the top and bottom, throw them through the chute and they'll get sliced as well.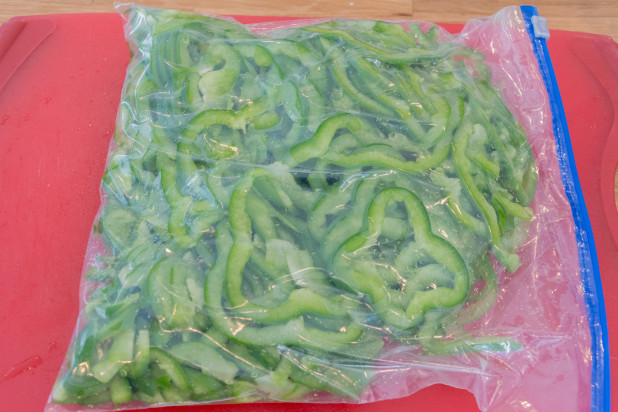 The result is a freezer bag full of green peppers.  This way, you can use exactly the amount you want without waste.  Also, you only need to buy peppers once every 4-5 meals.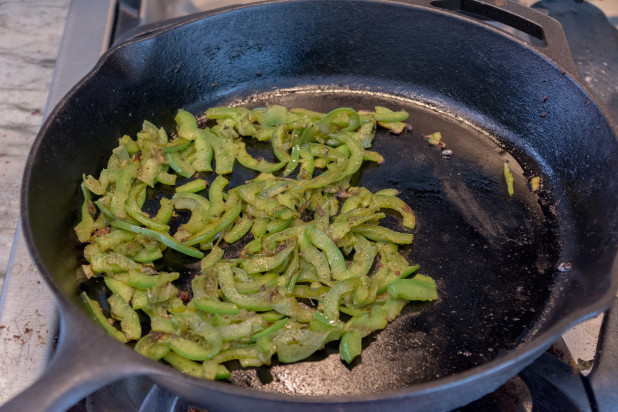 Fry them up in a cast iron!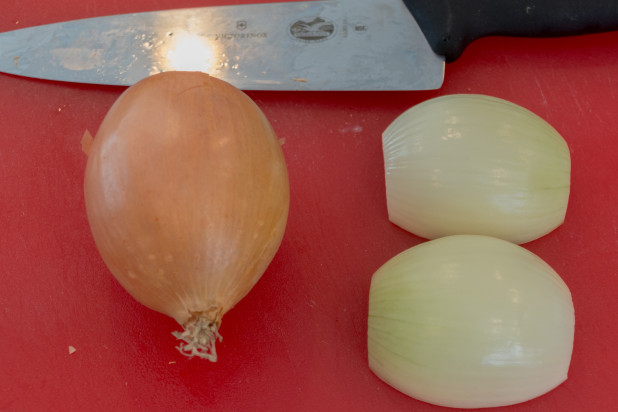 What do I do with onions? You guessed it! I slice them as shown and throw them into the same food processor!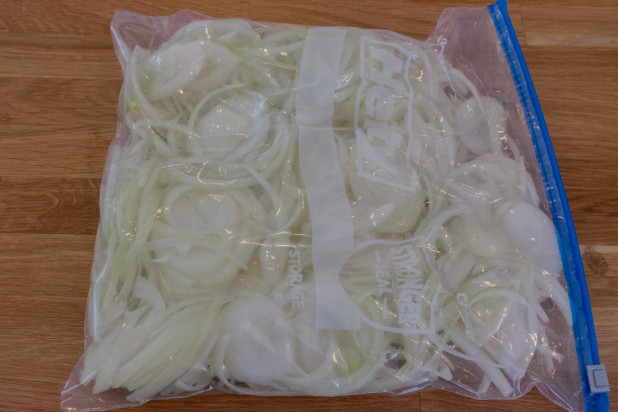 The result again is a huge bag of onions you can freeze.  Then you only need to take out the number you need!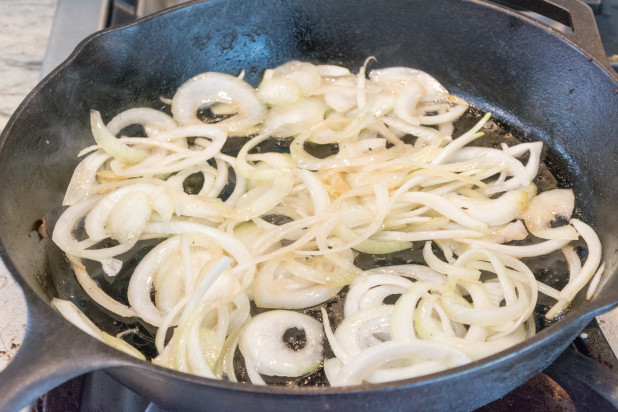 Fry time again.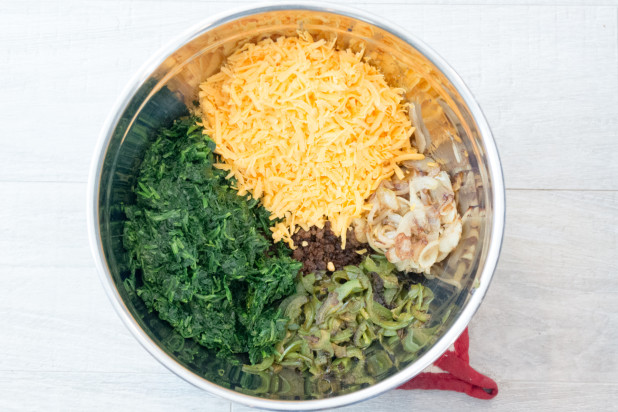 Now its time to assemble. If you're going to stick with keto, I recommend you get the right tools.  You want to think like a line chef at a restaurant.  We're making breakfast for 10 servings here!  I use these huge, 7.5 quart bowls to mix everything. Here we've got the sausage on the bottom, then the spinach, peppers, onions and cheese. Also, if you couldn't guess I buy 2 lb blocks of cheddar and shred them in the food processor as well.  Not only is it cheaper and less carby, but I only end up having to shred cheese every other week.  The blocks can be frozen and stay good for a long time.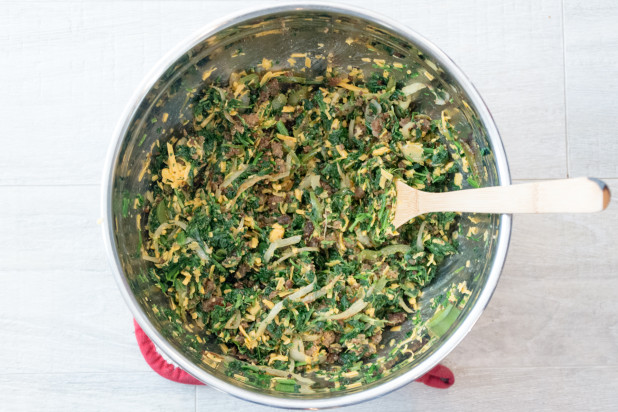 I mix all of the non liquid ingredients first to make sure they're evenly distributed.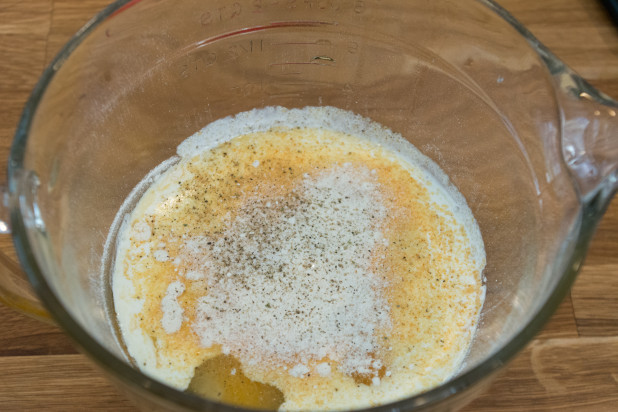 Now its time for the liquid.  I use eggs, some heavy cream and some spices.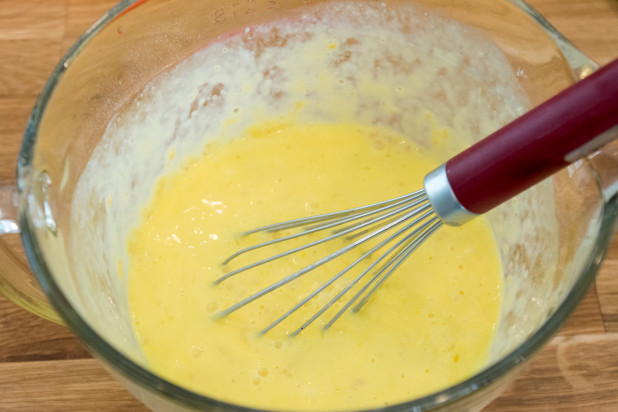 Whisk the mixture together.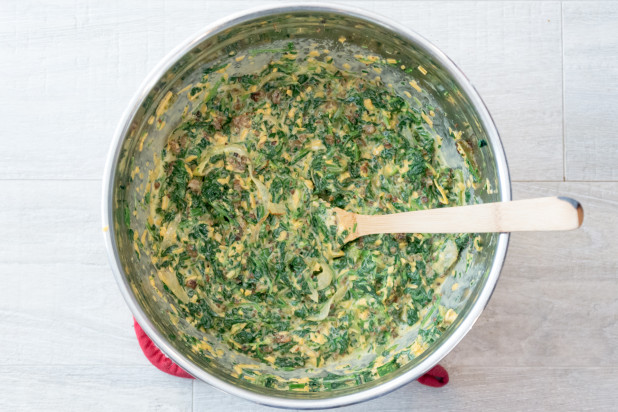 Then pour it into the bowl and mix.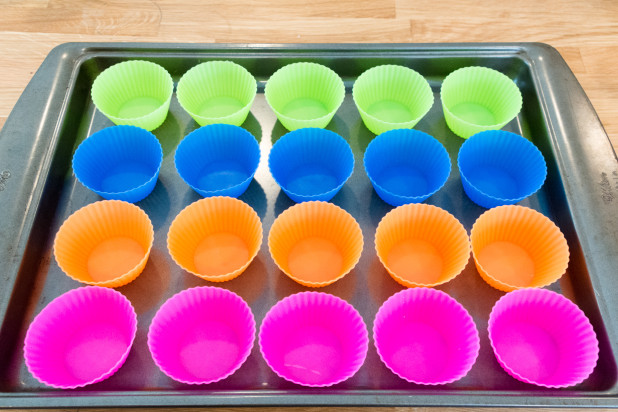 Now, given this is muffins, you would have guessed I'd use a muffin tin, right?  Wrong!  I used muffin tins for the longest time and let me tell you, they are the biggest pain in the @$$! Not only do you need two of them, one half full, to make 20 muffins, but they all have those little lips that are physically impossible to remove the eggs from. Also, they are only non stick for the first couple rounds and then, forget about it!  I've switched to using silicon cupcake molds. You can fit all 20 on one pan, no need for cooking spray, and even if it does spill over, the cleanup is super easy.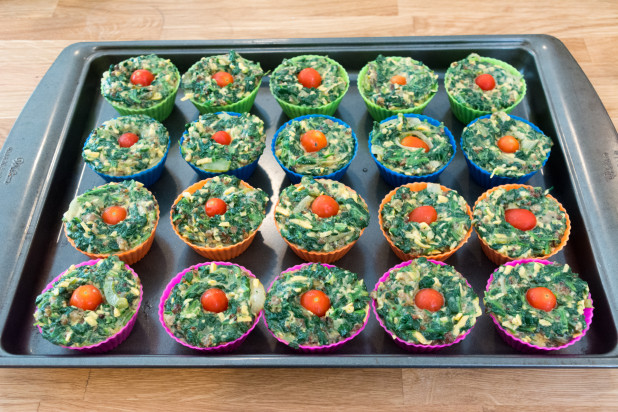 Optionally, add a cherry tomato to the center of each muffin. Don't e-mail me to let me know that tomatoes are bad for keto. Or about onions or peppers for that matter. Yes, in large quantities all of these things are bad. But two cherry tomatoes add 1 net carb and I urge you to enter all of this stuff into My Fitness Pal yourself.  If the peppers and onions are too much, reduce the amount you add!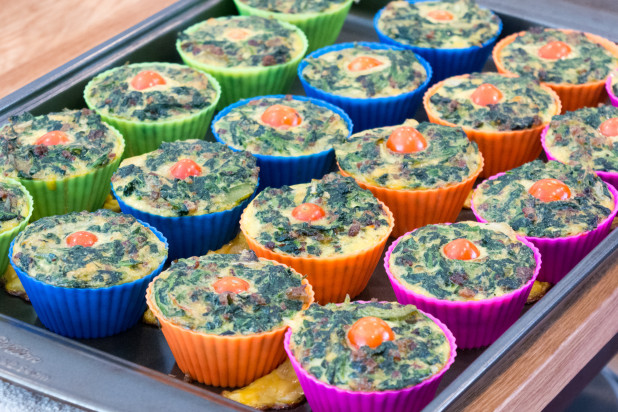 Here's a shot of the finished muffins!  They pop right out of the molds!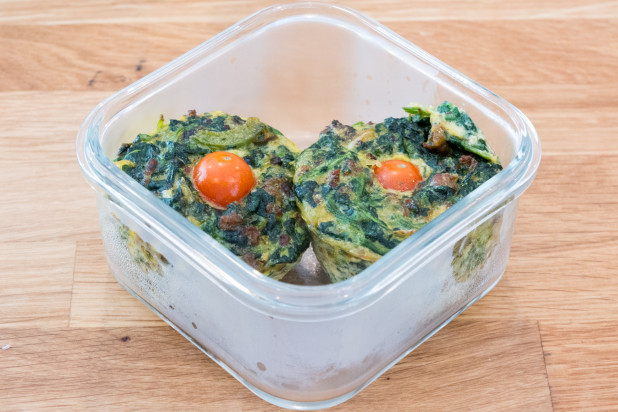 Here's a closing shot of two muffins packed in a container and ready for breakfast! These days, I bring both my breakfast and lunch in a cooler to work and eat there, it helps get me out of the house super fast and I don't have to worry about making anything.  Also, I'll let you in on a secret … I generally make double batches of everything these days and freeze the second one for a weekend when I don't feel like cooking.  In the case of breakfast, I cook the veggies and meat and freeze that part.  Then to make the breakfast I thaw the package, add cheese, eggs and cream and can whip up a weeks worth of breakfast in about 35 minutes!

Keto Breakfast Muffins
Nutrition Information
Serving size:

2 Muffins

Calories:

371
Fat:

28

Carbohydrates:

8

Fiber:

2

Protein:

22
Prep time:
Cook time:
Total time: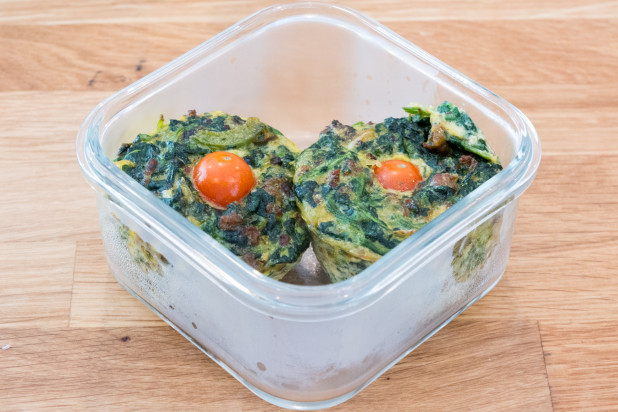 Ingredients
20.00 oz(s), Spinach - Raw
16.00 oz(s), Ground Pork Sausage
150.00 g, Peppers - Sweet, green, raw
150.00 g, Onions - Raw
8.00 oz, New York Sharp Cheddar
10.00 large, Eggs - Whole, raw
100.00 ml(s), Cream - Heavy whipping (whipped)
1.00 tsp(s), Spices - Garlic powder
1.00 tsp(s), Spices - Onion powder
1.00 tsp(s), Spices - Pepper, black
1.00 tsp(s), Spices - Salt, table
13.00 Cherry Tomatoes
Instructions
Preheat oven to 350 degrees
Add 20 ounces of frozen spinach to a microwave safe bowl and microwave on the vegetable setting
Brown 16 Oz of pork sausage, add to large bowl
Slice and cook 1 pepper and 1 onion until translucent, add to large bowl
Add cheese to large bowl and mix together
In a separate bowl, whisk 10 eggs, 100ml of cream and spices
Add eggs to the rest of the ingredients and mix together
Split into 20 muffins
(Optional) Add a cherry tomato to each muffin
Bake for 30 minutes or until firm when pushed on with a finger
Lodge 12-inch Cast Iron Skillet
The only pan you really need. Once properly seasoned, this pan can cook anything you can imagine! Lasts forever and never wears out.
OXO Kitchen Scale
To really count calories on keto a good scale is essential. This one is the best. Period. It measures down to 0.1g, can handle up to 11 lbs and has a pull out display so you can put large items on it! Check out my MFP guide for more info on tracking calories.
Cuisinart 9-Cup Food Processor
I first got this food processor as a wedding gift and I wasn't sure how I felt about it. Well, let me tell you, its been a godsend on keto! I shred cheese, slice brussels sprouts, and rice cauliflower like a boss!
Tovolo 7.5 Quart Mixing Bowl
Most of my large 5day recipes and casseroles are all mixed together before being baked. You really need a giant bowl to hold all the ingredients and this one fits the bill!

Silicon Baking Cups
These non-stick, no mess silicon baking cups are the perfect replacement to a traditional muffin tin. They don't wear out like a non stick pan and make cleanup a cinch! Also, use as many or as few as you want!

GlassLock 17 Oz. Square Food Container
These are my new favorite food storage container! They are good for the refrigerator, microwave and freezer. Additionally, the gasket makes it so they never leak and the lids are super secure.