I used to love making lasagna back when I ate carbs. Its so easy to layer it up and it makes a super hearty meal. I've tried making it with eggplant before but it just wasn't the same. However, I was in the grocery store the other day and got the bright idea to make lasagna out of Spaghetti Squash! I'm always looking for new lunch ideas so I thought I'd make this one into a 5-day recipe, meaning it will make lunch for the entire week for my wife and I. It turned out amazing and I think this might be one of my favorite meals!!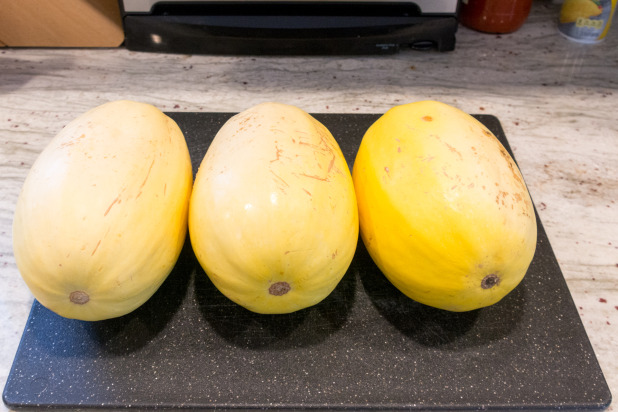 I'm showing three Spaghetti Squash but after cooking it all up, I think you'd only need two.  In case you're wondering, the above is 4.241 kg of raw Spaghetti Squash which yielded 2.303 kg of cooked Spaghetti Squash.  In general you get about half the weight of the Squash in terms of a yield.  I ended up using 1.224 kg of Spaghetti Squash for the this recipe which is 2.25kg of raw Spaghetti Squash if you want to just buy that at the store.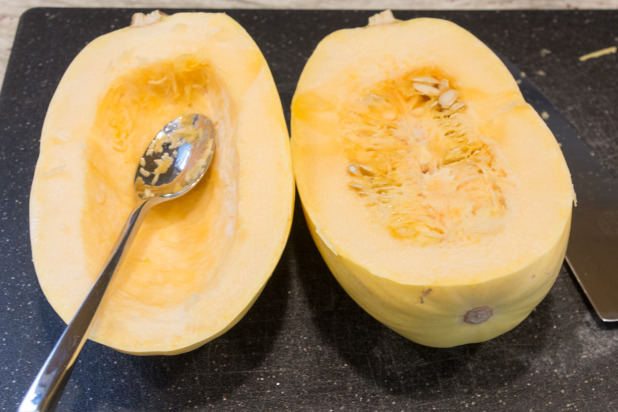 Start by carefully cutting the Spaghetti Squash in half and reaming the insides out much like a pumpkin.
Then place the Spaghetti Squash cut side down in a baking dish with water covering the meat part. Cook for 45 minutes at 375 degrees.  If you have a different, favorite way to prepare Spaghetti Squash, go for it!  It doesn't matter as long as you've got the correct amount in the end.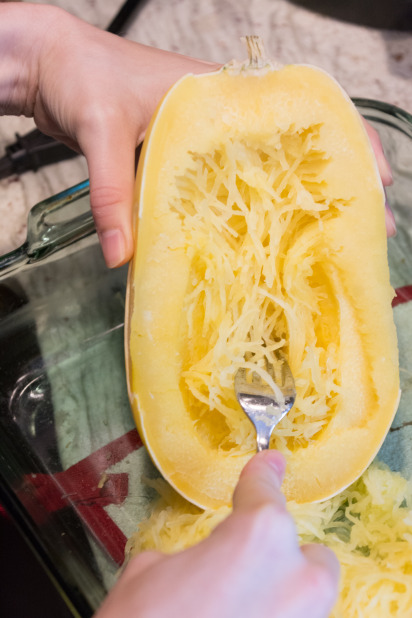 This stuff is magic. Its called Spaghetti Squash because, as you can see, when you scrap at it with a fork it breaks apart and looks almost exactly like Spaghetti! Note: these things are really hot out of the oven, I normally use an Ove Glove to hold it but my wife has hands of steel 🙂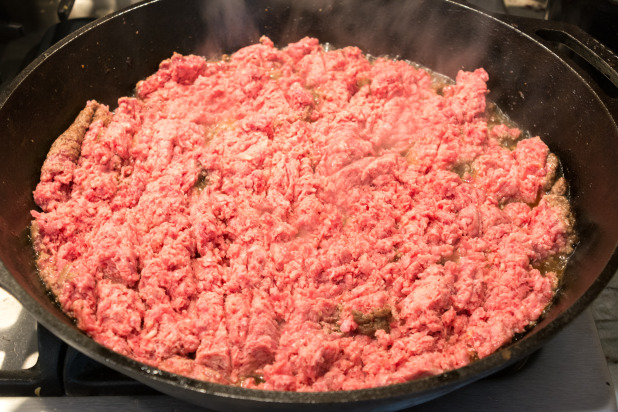 While the Spaghetti Squash is in the oven, we can work on the sauce.  For this recipe, I used 3 Lbs of 75% ground beef. I have a huge 15″ skillet that I use or you can break it into two batches.  Next time I wouldn't go with 75% beef though, it just cooked out and it didn't add much compared to the 85%.
Here's the browned beef.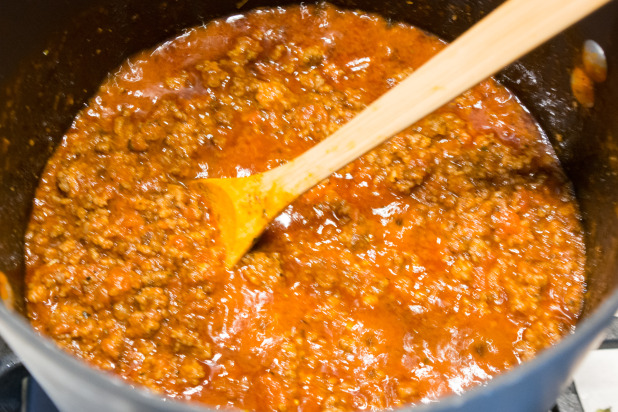 Transfer the beef to a pot and add the Marinara Sauce. You're just combining them here so you can cook it for about 5 minutes and then shut it off until you are ready for assembly.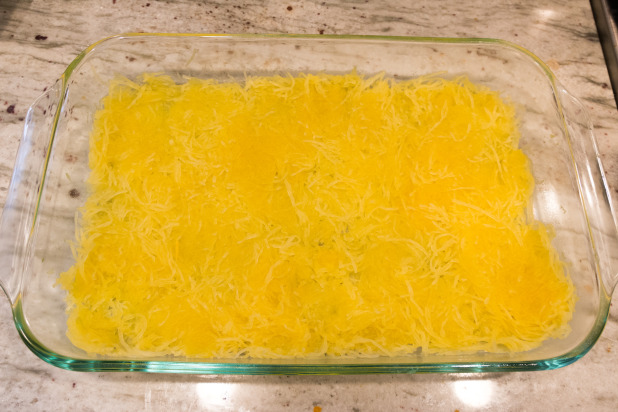 Now, take a large baking dish and start the assembly process. The first layer is going to be the noodles.  My thoughts were that you want the liquid to seep down so I started with the noodles. Make it as thin as possible so you can fit more layers.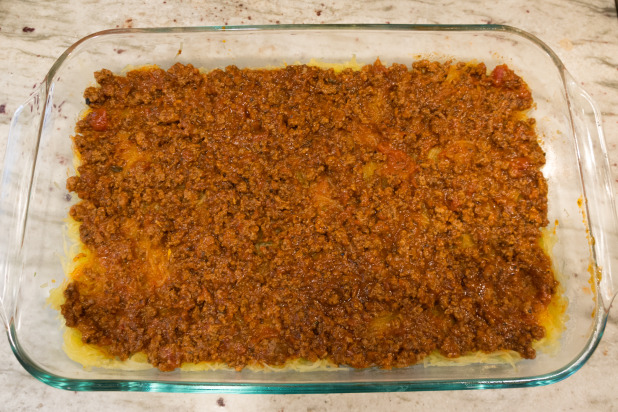 Next, carefully add a layer of the meat sauce.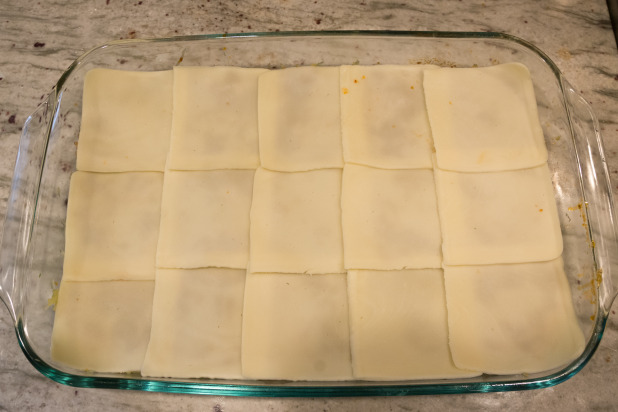 Then add 15 slices of cheese.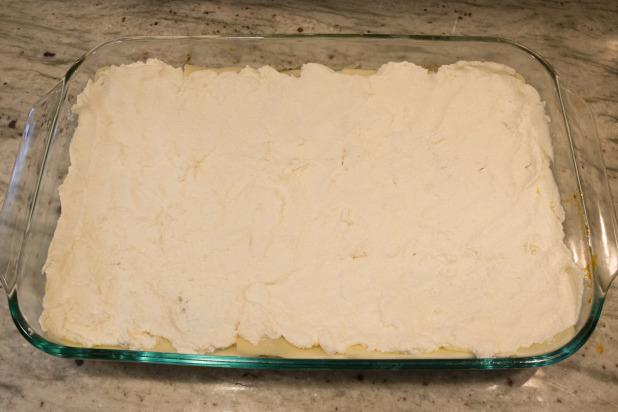 Then spread the Ricotta over the cheese. After this, repeat for another layer! I was only able to fit two full layers but it went right to the top.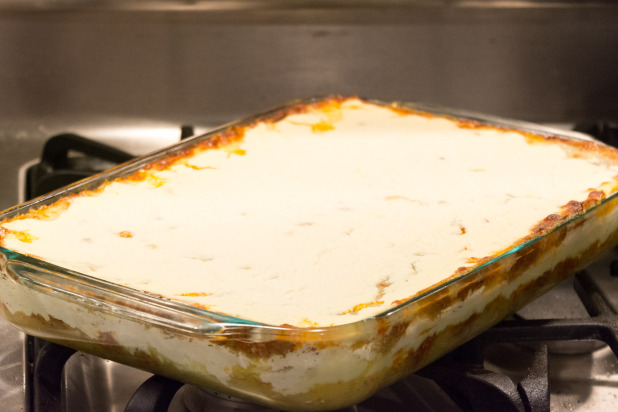 Here's a pic of the finished casserole and as you can see, it has a nice golden brown crust on the cheese and the ingredients have melded together.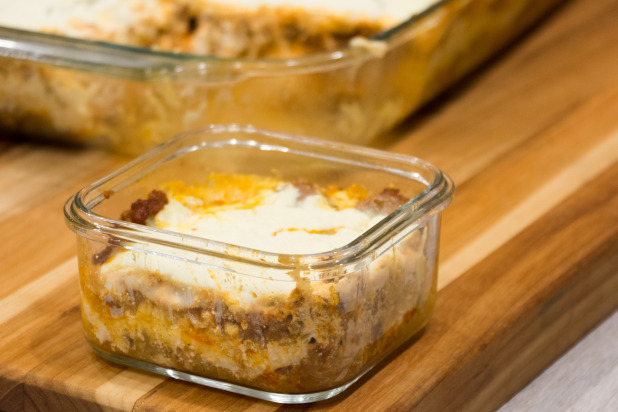 Here's a shot of the finished product packaged up and ready for lunch! I recommend letting the casserole cool down a bit before breaking up and storing so that it comes out whole.

Spaghetti Squash Lasagna
Nutrition Information
Serving size:

1/12

Calories:

711
Fat:

59

Carbohydrates:

15

Fiber:

2

Protein:

43
Prep time:
Cook time:
Total time: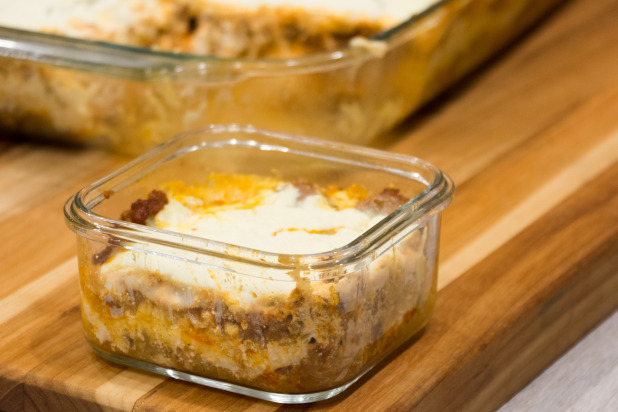 Ingredients
30 Slices Mozzarella Cheese
1 large jar (40 Oz) Rao's Marinara sauce
32 Oz Whole Milk Ricotta Cheese
1.25 kg Spaghetti Squash, cooked (2 large Spaghetti Squash)
3 Lbs Ground Beef
Instructions
Preheat oven to 375
Carefully split the Spaghetti Squash and lay face down into large glass dish and fill with water until the meat portion of the squash is covered
Bake for 45 minutes or until the skin can easily be forked
While the Spaghetti Squash is cooking, start by browning the meat
Add the meat to a large saucepan and add the marinara sauce, set aside when hot and combined
When the Spaghetti Squash is done, use a fork and gloves, scrap the meat of the squash to from spaghetti
Assembly the lasagna in a large greased pan, start with a layer of Spaghetti Squash, then the meat sauce, then slices of mozzarella, then ricotta, then repeat until ingredients are exhausted
Bake for an additional 35 minutes or until the liquids are bubbling and the top layer of cheese is browning
Ove Glove
Made from advanced space materials, this hot mat gives you the flexibility to handle any situation with ease. Don't get burned, get ove gloved!
Lodge 12-inch Cast Iron Skillet
The only pan you really need. Once properly seasoned, this pan can cook anything you can imagine! Lasts forever and never wears out.
Rao's Homemade Marinara Sauce
One of the lowest carb pasta sauces. Works well with any of the faux pasta sauces or for use in a keto pizza!
4.8 Quart Casserole Dish
Great for cooking those gigantic, week long casseroles! I call them 5day meals on the website. Normal casserole dishes are 10×13 but this one is gigantic and can easily be divided into ten portions.
Glasslock Lunch Containers
The easiest way to conquer keto is to premake your lunches. I used to use Ikea 365+ containers but they started to leak after a while. These glasslock containers are by far the nicest I've ever seen.
Tovolo 7.5 Quart Mixing Bowl
Most of my large 5day recipes and casseroles are all mixed together before being baked. You really need a giant bowl to hold all the ingredients and this one fits the bill!