Sometimes, you just want pasta. Even though the traditional wheat based pastas are out on keto, that doesn't mean you have to forgo the experience! There are a lot of great alternatives popping up and I've got a whole section labelled Faux Pastas for you to explore! Today's version uses a vegetable called the Spaghetti Squash to emulate pasta.  Once cooked, the vegetable can be flaked, similar to pulled pork.  It ends up looking almost identical to Spaghetti and can be paired with all sorts of sauces!  Today I'm going to show you how to prepare the vegetable and then make a meat sauce to go with it!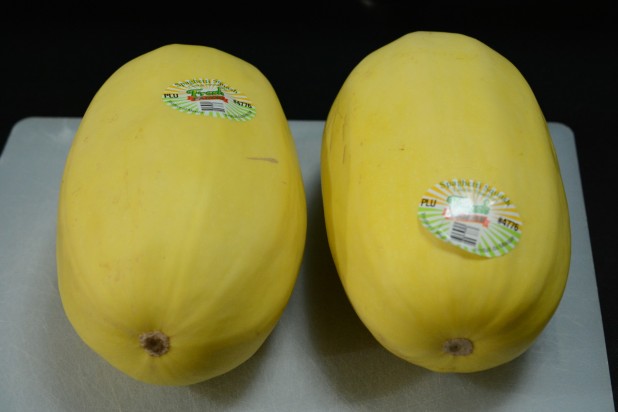 Here's the Spaghetti Squash.  Note, this isn't just a yellow squash, it is a very specific squash that will be labelled "Spaghetti Squash".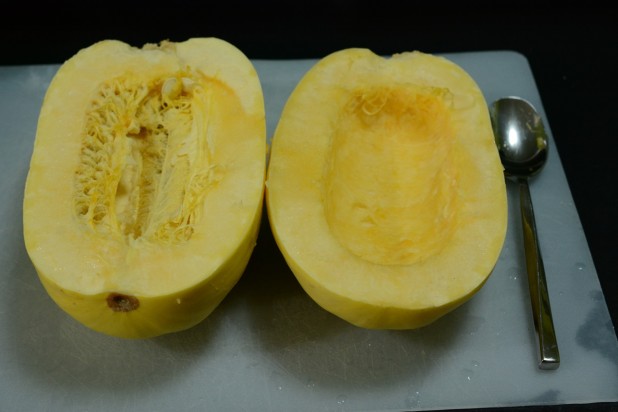 The first step is to cut the Spaghetti Squash open and ream out the interior.  Be VERY CAREFUL when you cut open the Spaghetti Squash.  It has a very thick skin and you could easily cut yourself if you are not careful.  I recommend stabbing it, then working your way around with a large knife. Once you have it open, it looks like a pumpkin. Just use a spoon to scrap out the insides.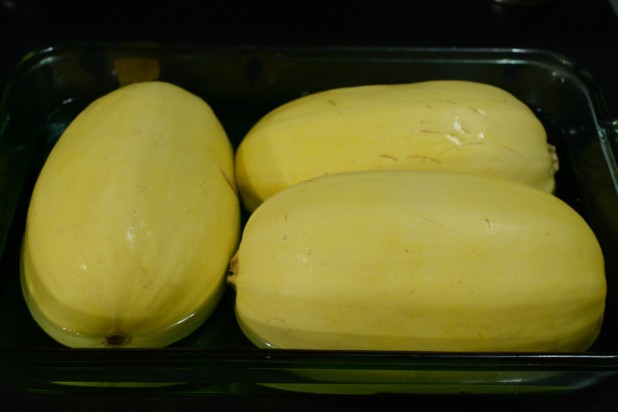 Next, lay the Spaghetti Squash face down in a large Pyrex dish.  You want to cover it as shown a little bit higher than the cut line.  This way it steams the insides and gives it that Spaghetti structure we're going for.  Cook for 45 minutes at 375 degrees.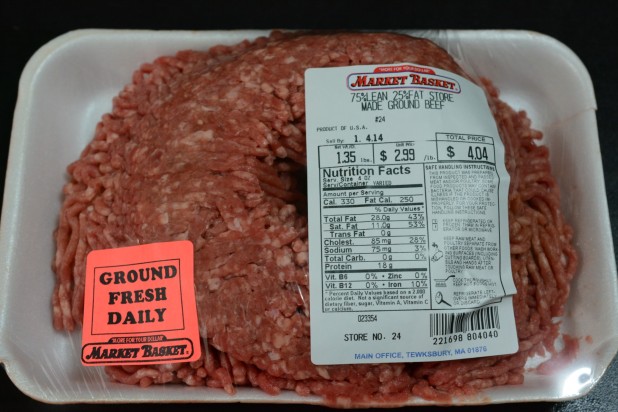 While the Spaghetti Squash is cooking, we can prepare our meat sauce.  This part just starts with some ground beef.  Remember that Keto is all about the fat so feel free to buy the cheap meat like this 75 / 25 meat!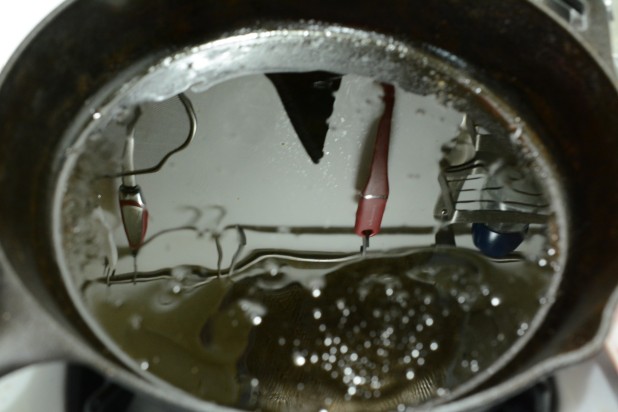 Add some oil to your cast iron skillet and get ready to brown some meat!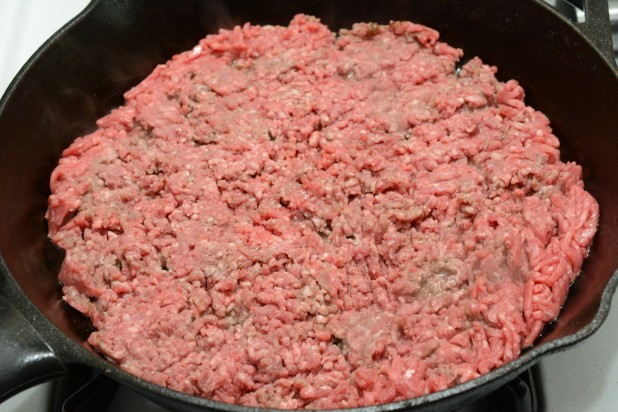 Speaking of meat, I've never actually showed my method of cooking meat.  Basically I start by spreading it all out evenly and letting it cook for a few minutes.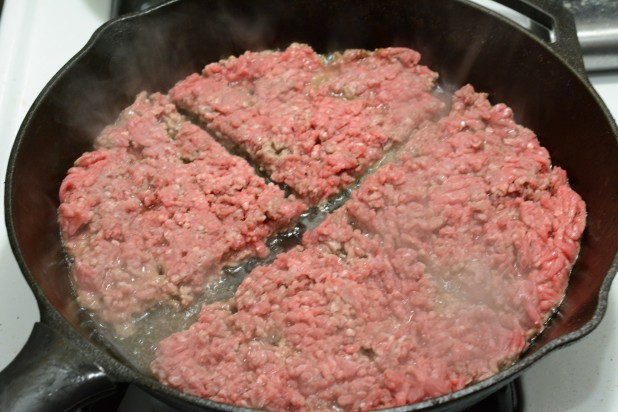 Then, once juices form and it appears to be browning on the bottom, I use my fish spatula to break the meat into four different sections.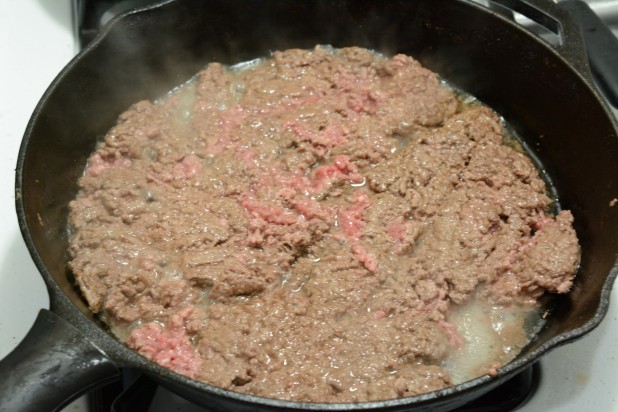 Then I flip the four sections as well as I can and let it cook some more.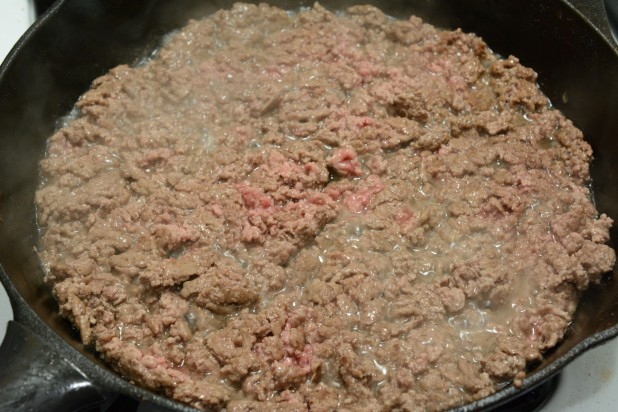 Once the bottom has had a chance to cook a little, I use the spatula to slice both horizontally and vertically across the meat to break it up.  At this point most of the meat is no longer pink and its mostly cooked.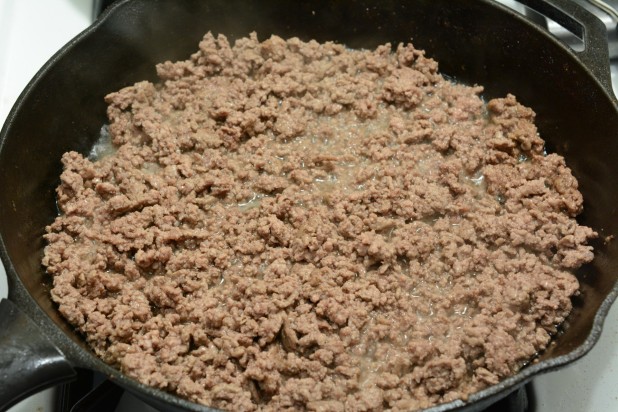 Then finally I move it all around and it forms into small bits.  I believe this to be a fairly efficient way to cook the beef while also not turning it into a large hamburger 🙂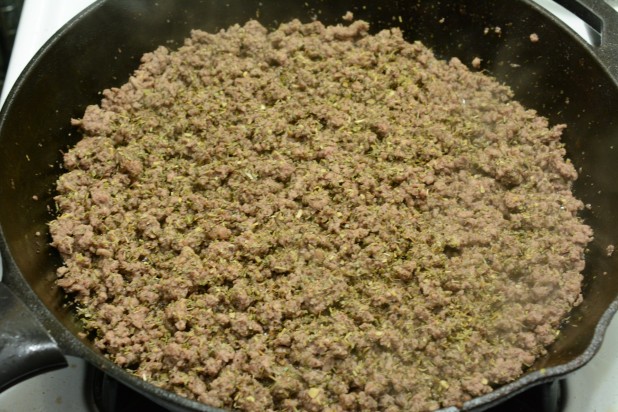 Once its all cooked, add the italian seasoning and mix it around!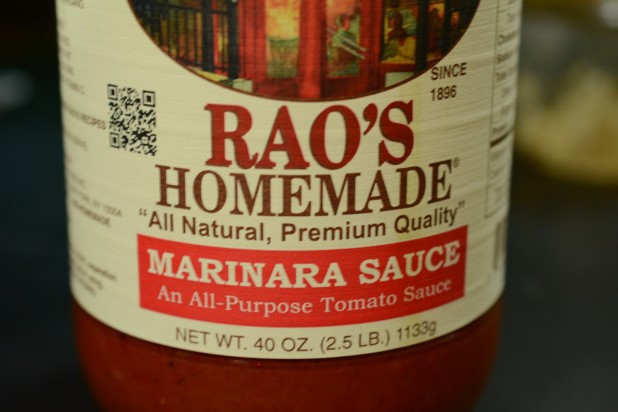 Now to the sauce.  You have to be VERY CAREFUL in selecting a pasta sauce.  Most have a ton of carbs.  Rao's Homemade line of sauces are all very low carb.  Note this one is from BJs so I didn't use the whole jar since this one is 40 Oz.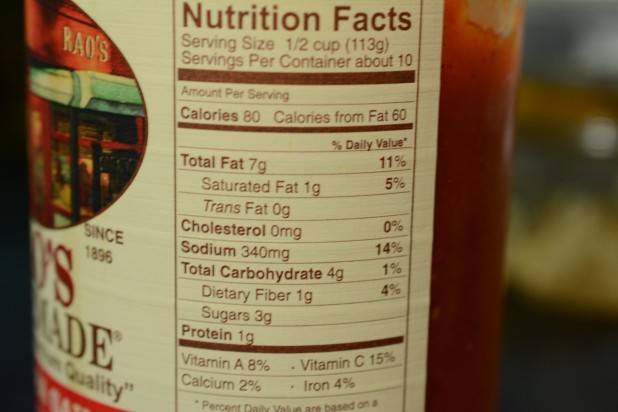 As you can see its 3g net carbs per 1/2 cup which is the lowest I've ever seen.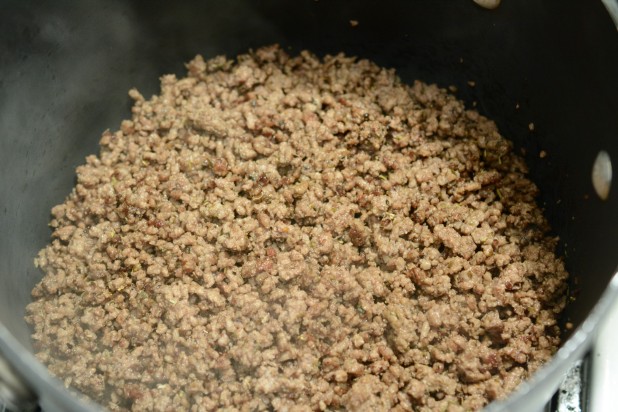 For the sauce, I transferred it to a sauce pan so I wouldn't gum up the cast iron.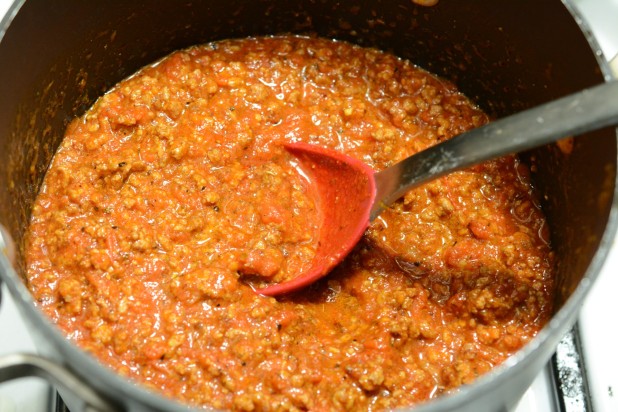 Then I added the sauce to the meat, added the garlic and heated it up!  At this point you can taste it and add more spices if you want.  You could add some Oregano, Basil, Thyme, etc.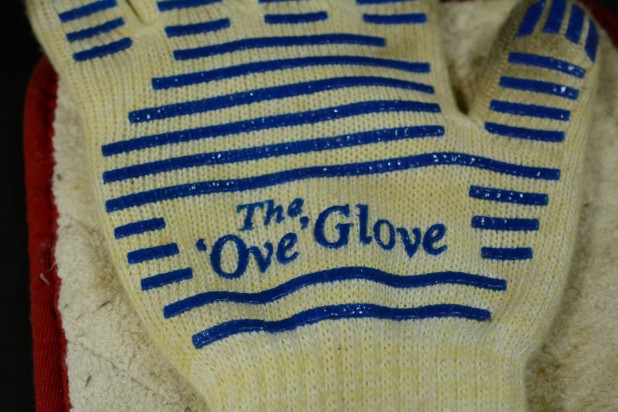 At this point, the Spaghetti Squash should be done.  Now, the Squash has been cooking for 45 minutes so it will be very hot.  However, you don't really want to let it cool before stripping it.  So, I recommend using something called the 'Ove' Glove which is basically an oven mitt in glove form.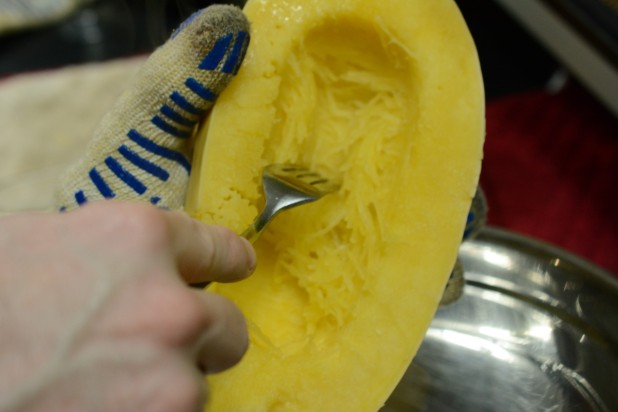 Grab the Spaghetti Squash half with the 'Ove' Glove and take a fork and scrap downward as shown in the picture.  It might sound complex but as soon as you dip the fork in this thing it will become obvious why it is called a Spaghetti Squash.  It is very easy to strip, don't think this is complicated to do just because of all the pictures.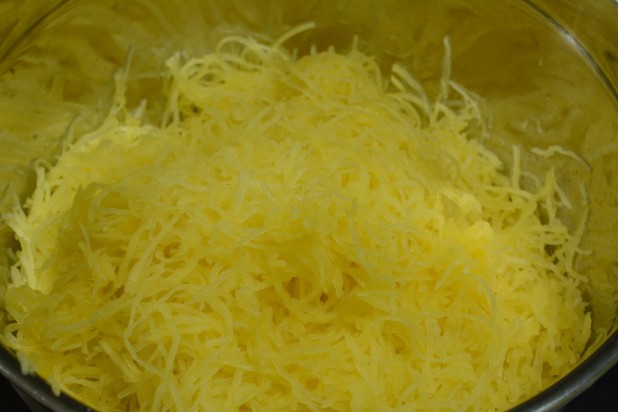 At the end, you should end up with a ton of Spaghetti Squash.  I weighed them before and after and it was 3064 grams of Spaghetti Squash raw which yielded 1707 grams of cooked spaghetti squash.  So you can expect approximately a 50% yield.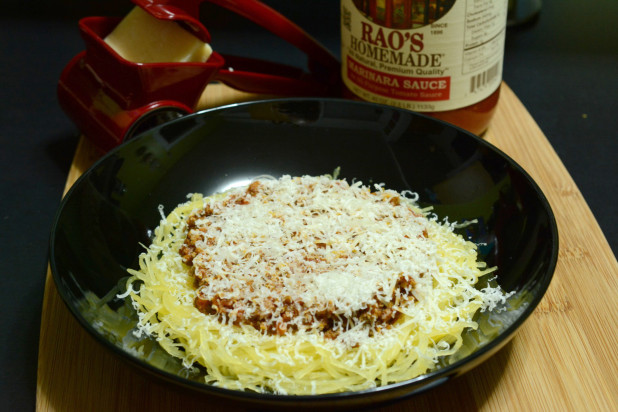 Well there you have it folks!  Lay a bed of Spaghetti Squash down, top it with the meat sauce, and cover it with some fresh grated Parmesan Cheese!

Spaghetti (Squash) with Meat Sauce
Nutrition Information
Serving size:

170g Spaghetti and 170g sauce

Calories:

216
Fat:

15

Carbohydrates:

12

Fiber:

3

Protein:

10
Prep time:
Cook time:
Total time: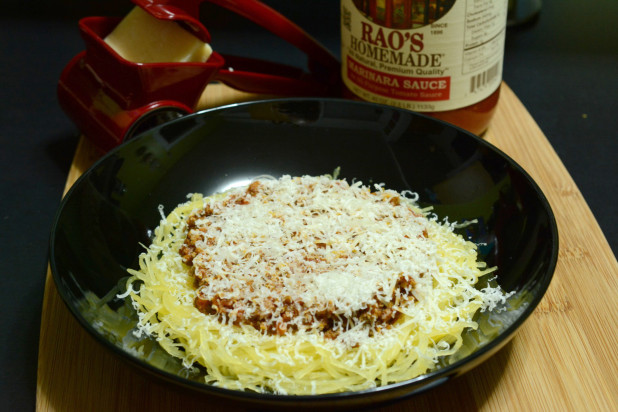 Ingredients
2 Spaghetti Squashes (around 1.5 Kg each)
1.35 Lb Ground Beef
32 Oz Spaghetti Sauce
1 Tablespoon Minced Garlic
1 Tablespoon Italian Seasoning
Parmesan Cheese to taste
Instructions
Cut Spaghetti Squash in half and scrape out the inside
Place face down in a glass container and add water until it goes over the cut portion
Cook at 375 degrees for 45 minutes or until soft when forked
While the spaghetti squash is cooking, brown some beef on the stove
Add seasoning and mix
Transfer to a pot and add spaghetti sauce
Once the Spaghetti Squash is cooked, carefully remove from the oven and use a fork to create the spaghetti
Serve the Spaghetti Squash with the sauce and garnish with Parmesan Cheese
Lodge 12-inch Cast Iron Skillet
The only pan you really need. Once properly seasoned, this pan can cook anything you can imagine! Lasts forever and never wears out.
OXO Fish Spatula
This is hands down, my favorite spatula. I don't even let it go in the dishwasher for fear I'll need to use it during the hour wash cycle. Its that amazing. The longevity and flexibility allows you to get under bacon weaves or complex egg structures with ease.
Ove Glove
Made from advanced space materials, this hot mat gives you the flexibility to handle any situation with ease. Don't get burned, get ove gloved!