Earlier this week I made some Spaghetti Squash with Meat Sauce and it was amazing!  It got me thinking, what else could I do with Spaghetti Squash?  Its very stringy and it reminded me a lot of my previous experiments with faux potatoes.  Particularly, the turnip hash browns I've made in the past. With that as inspiration I decided to make some Spaghetti Squash Pancakes!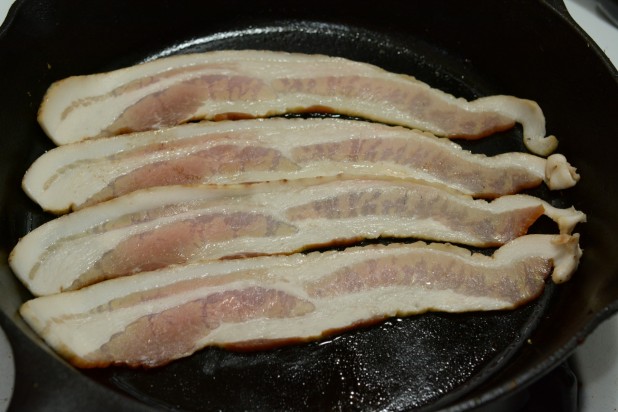 Like every good keto recipe, this one starts with bacon!  Get out your cast iron skillet and get frying!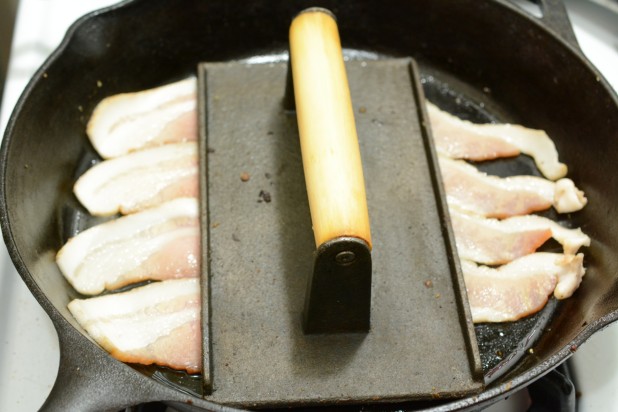 I like my bacon flat so I always use a bacon press for more even cooking.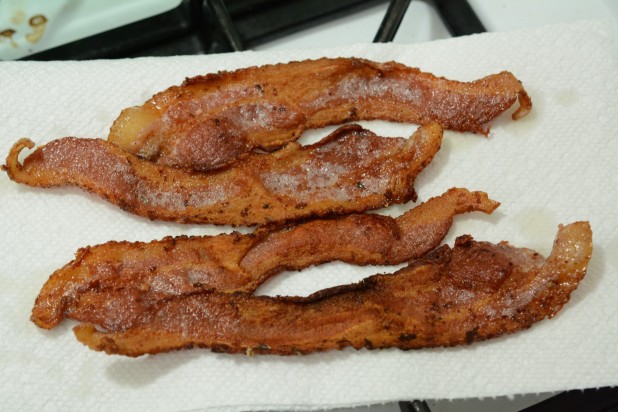 Here's the finished bacon, YUM!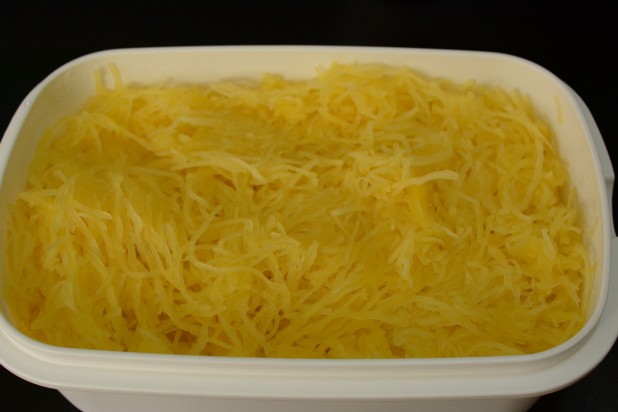 I made Spaghett Squash the other night for my Spaghetti Squash with Meat Sauce recipe.  If you don't already have some in your fridge, prepare it via this recipes.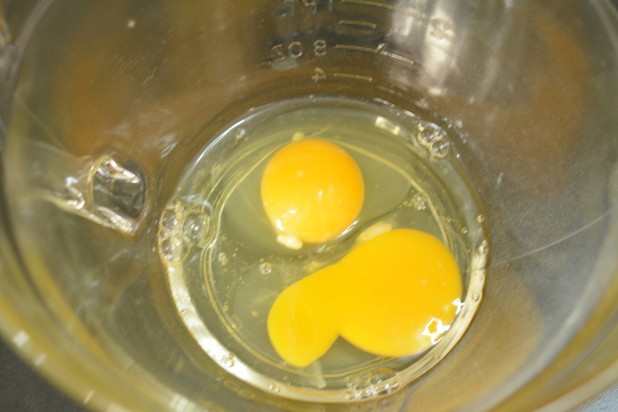 Start with two eggs in a bowl.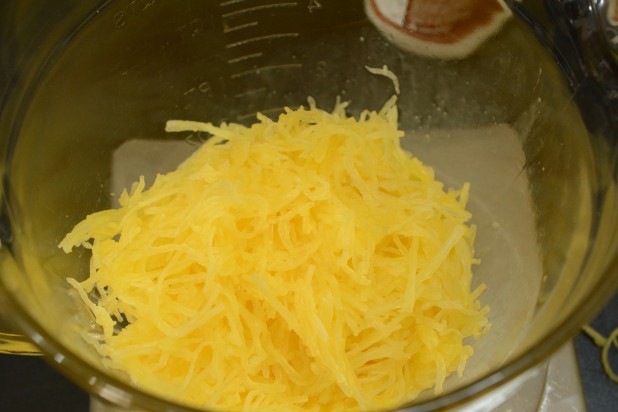 Then add the Spaghetti Squash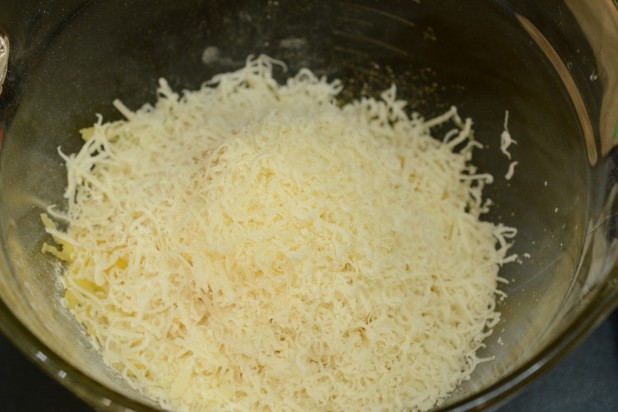 Throw the rest of the spices and the cheese into the mixture.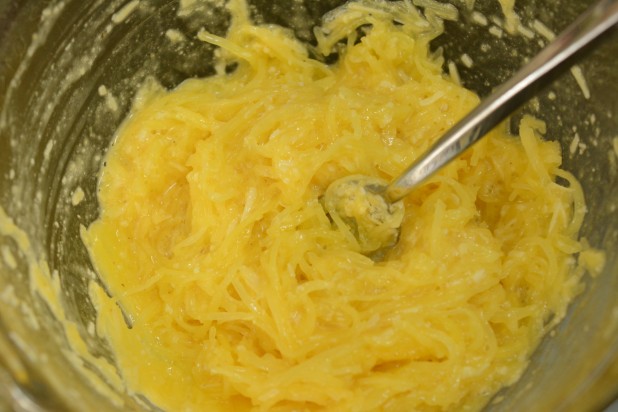 Mix it all up!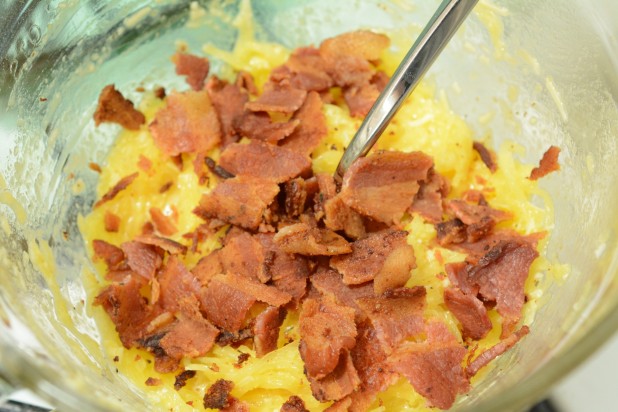 Now crumble the bacon into the mixture.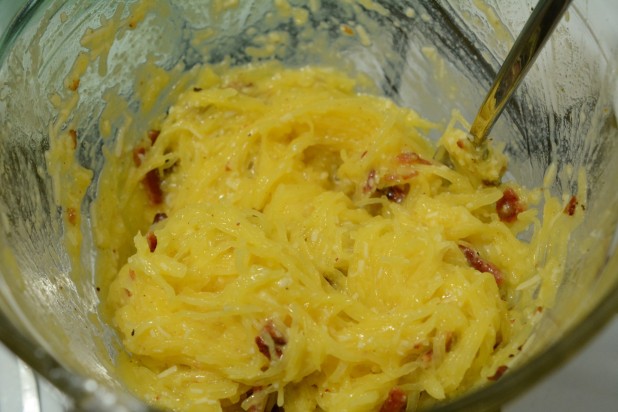 Here's the final mixture.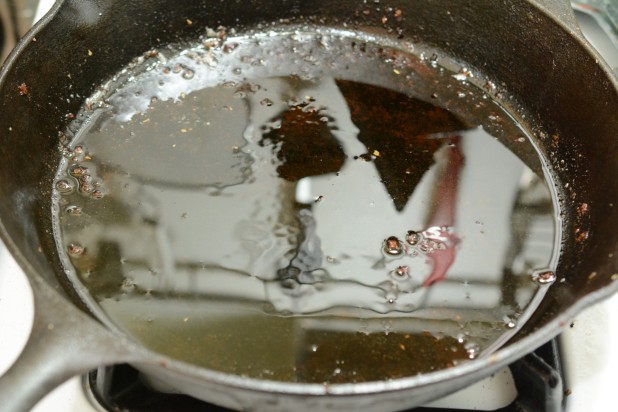 Now add some bacon grease into the cast iron skillet and get it really hot!  Ideally you just cooked the bacon in this pan so you probably won't have to add any additional grease.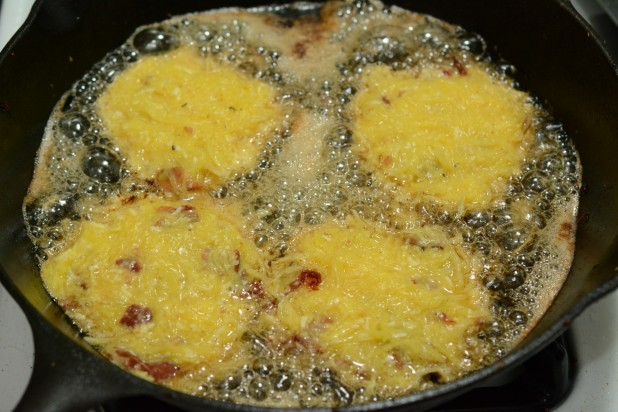 Split the mixture into four sections and spoon it into the pan.  Use something like a fish spatula to push down on the piles to make them flat like pancakes. Now at this point, it is very important that you DON'T touch the mixture.  You need the bottom to set.  The amount of time required on one side isn't totally set, but the edges will start to get brown and you'll notice that the pancake feels like it can be flipped with the spatula.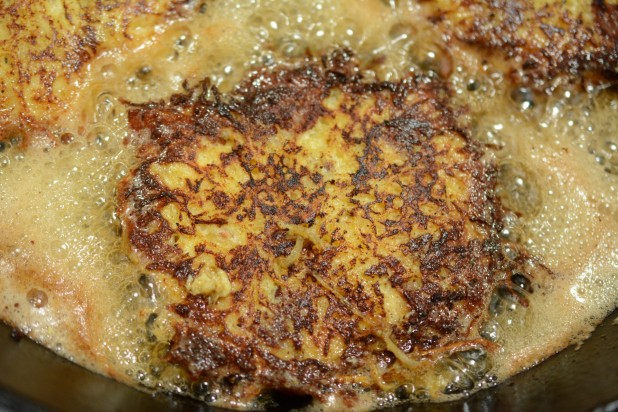 Flip it when it looks like this!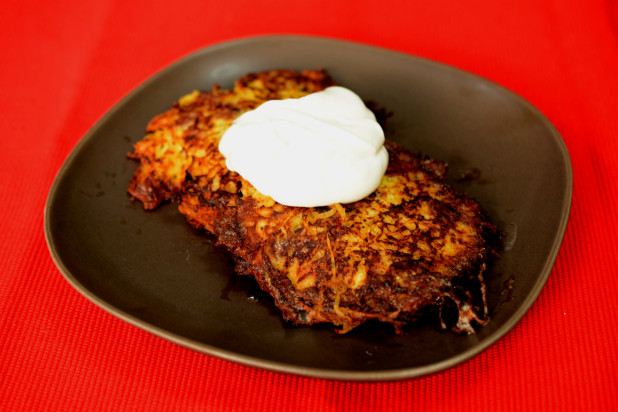 Top with some sour cream and you've got one scrumptious breakfast!  I think Spaghetti Squash might make an even better pancake than potatoes in this format!

Spaghetti Squash Pancakes
Nutrition Information
Serving size:

2 pancakes

Calories:

287
Fat:

18

Carbohydrates:

10

Fiber:

2

Protein:

19
Prep time:
Cook time:
Total time: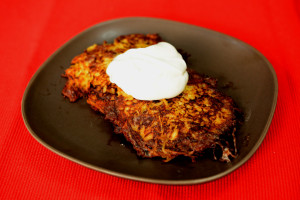 Ingredients
4 Slices Thick Cut Bacon
2 Eggs
284g (10 Oz) Cooked Spaghetti Squash
1 teaspoon Garlic Powder
1 teaspoon Salt
1 teaspoon Pepper
1 teaspoon Onion Powder
30 g (1 Oz) Parmesan Cheese
Instructions
Prepare the Spaghetti Squash per this post
Cook the bacon until crisp
Add the eggs, Spaghetti Squash, spices and cheese to a bowl and mix
Crumble the bacon and add to the mixture
Heat some bacon grease in a skillet until shimmering
Scoop the mixture into the bacon grease into four piles and use a spatula to compress the piles flat
After the bottoms begin to brown, flip
Optionally, serve with a dollop of sour cream and / or some chives!
Lodge 12-inch Cast Iron Skillet
The only pan you really need. Once properly seasoned, this pan can cook anything you can imagine! Lasts forever and never wears out.
Bacon Press
The Bacon Press is mandatory for anyone calling themselves a keto cook. Its such a simple but useful tool. You place it on top of your bacon to hold it down. That is it. But it yields perfectly flat bacon and is the only way to get a perfect bacon weave!
OXO Fish Spatula
This is hands down, my favorite spatula. I don't even let it go in the dishwasher for fear I'll need to use it during the hour wash cycle. Its that amazing. The longevity and flexibility allows you to get under bacon weaves or complex egg structures with ease.