In my ever expanding quest to find new sides, I decided to venture away from my old standby sides and try something new.  I've gotten tired of eating spinach and brussels sprouts are just too much work. Instead, I wanted something relatively simple, easy to cook, and not green 🙂  Enter Spicy Bacon Cauliflower (not actually that spicy).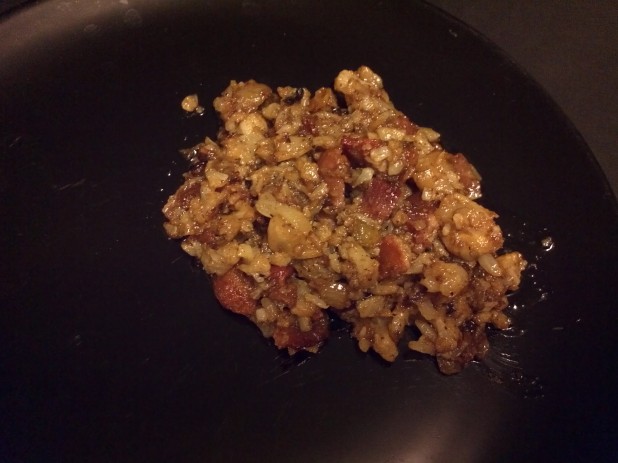 As with all keto sides, it looks like greasy mush, but in reality that is a sign of a solid keto ratio as well as awesome taste 🙂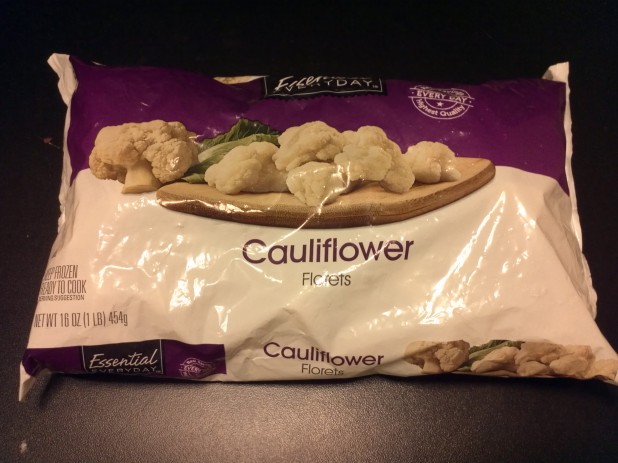 In an effort to make things simpler (and cheaper), this recipe starts with frozen cauliflower.  With a decent sale we're talking $1.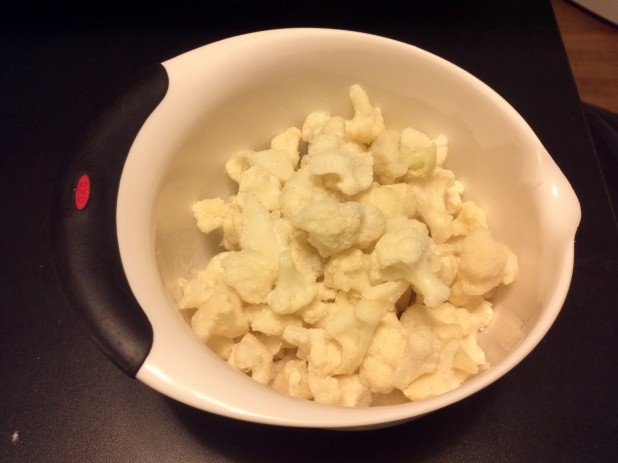 Unload the cauliflower into a plastic mixing bowl.  If your microwave is like mine, you can just hit the frozen vegetable button and off it goes.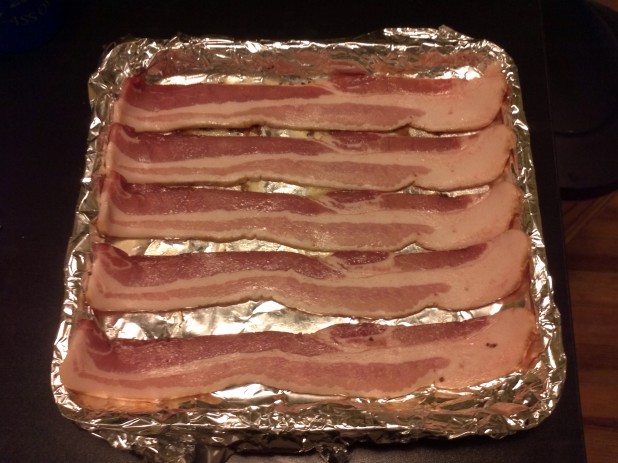 While the vegetables are cooking, we need to make the bacon.  I'm all for frying my bacon on the cast iron skillet, but unfortunately the most efficient way is in the oven.  In fact, the absolute most efficient is in a convection toaster oven as the extra air flow crisps the bacon super fast.  I just lay out 5 slices, pop it in cold, and set it to 450 with convection.  Its normally done in 10-15 minutes.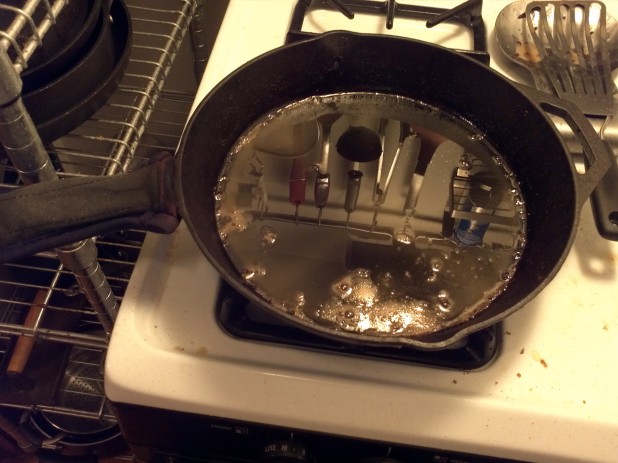 Pretty soon the microwave should beep with the conclusion of the cauliflower cooking. Get the skillet ready with some bacon grease. Also, I recommend getting a skillet handle so you don't burn the crap out of your hand.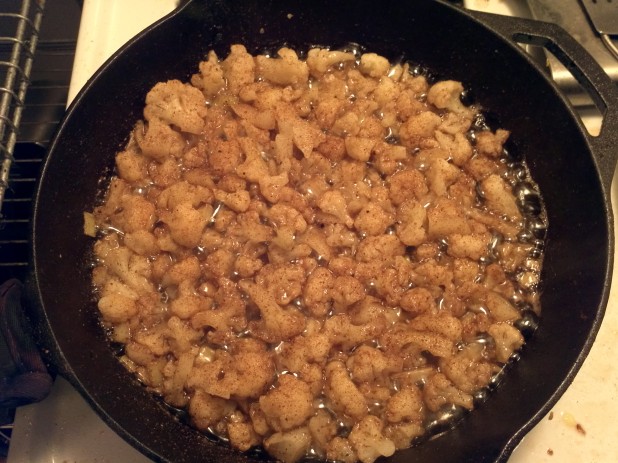 Now for the good part, throw in the cauliflower and add the secret weapon.  Believe it or not, for this we're going to use Old Bay.  For some reason it goes really well with this dish.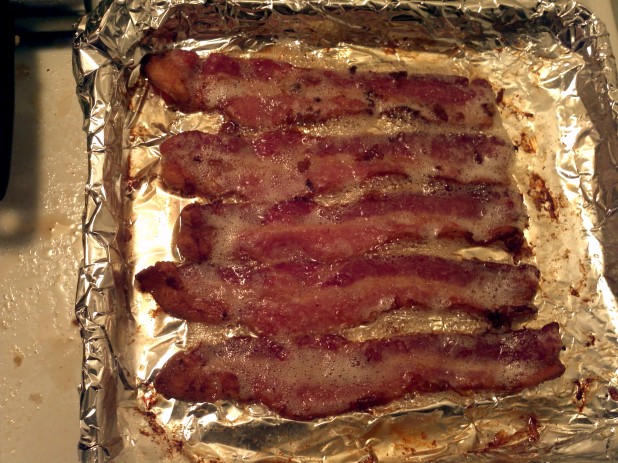 Make sure to check on your bacon every once and a while.  When it looks like this, its done!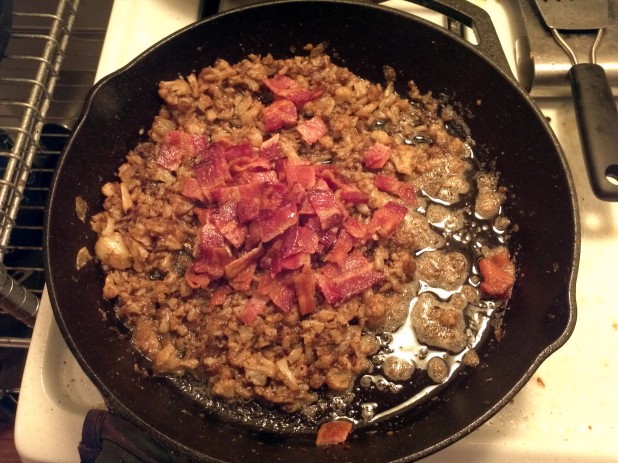 Cut up the bacon with some kitchen shears and add it to the cauliflower.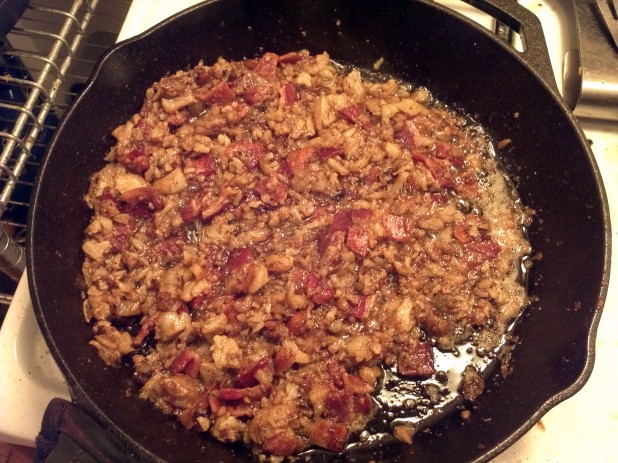 Once it looks like this, you're done!

Spicy Bacon Cauliflower
Nutrition Information
Serving size:

4

Calories:

100
Fat:

6

Carbohydrates:

5

Fiber:

3

Protein:

6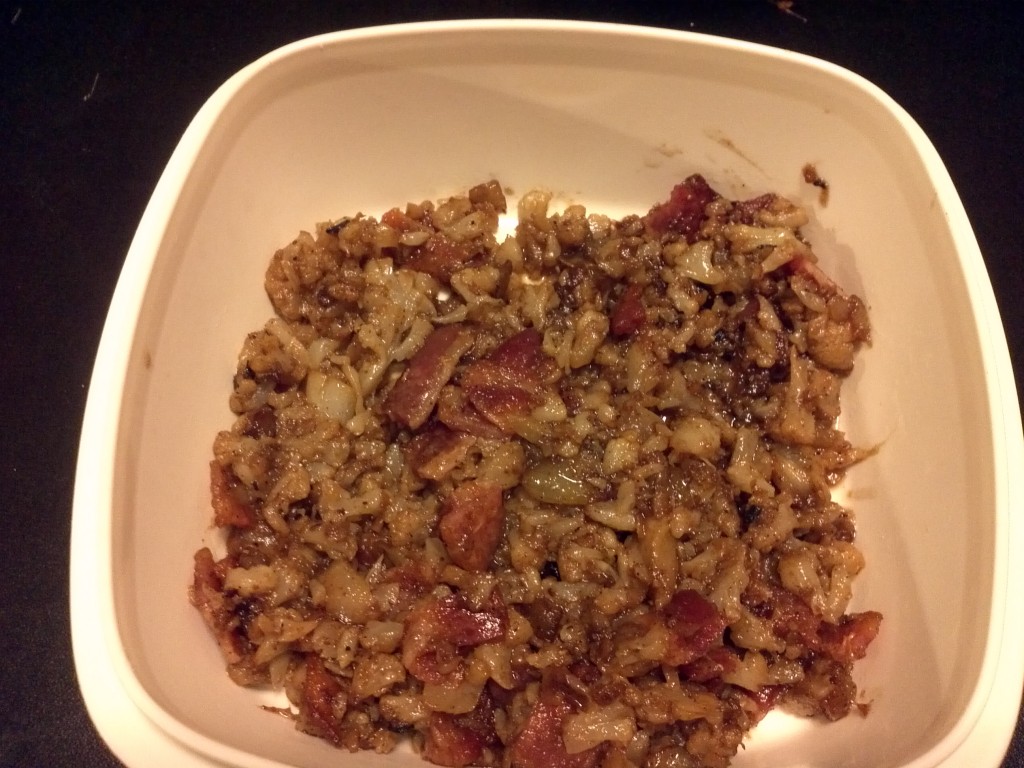 Ingredients
16 oz Frozen Cauliflower
5 slices thick cut Bacon
Old Bay to Taste
Instructions
Microwave the whole bag of cauliflower
Cook the bacon until crisp in the oven at 450 degrees starting cold
Heat some bacon grease in a skillet
Add the cooked cauliflower to the grease and heavily cover with old bay
Saute, mixing around, for maybe 5 minutes
Now reapply Old Bay
Keep mixing until the cauliflower is broken up and well cooked
Bacon should be done by now, take out of the oven and cut into pieces and add to mixture
Once combined, the dish is done!