Now that it's officially spring, the outdoor barbeque / picnic / get together season begins. But what do you do if you're on keto? Chips are out and all of those sides everyone loves seem to stuffed with carbs. Well, you make your own keto version! Today I'll be making a keto spin on the classic, 7-layer bean dip. Of course this version won't have beans at all and I hate olives, so this version is only 5 layers 😉 As a bonus, I deep fried some cut up low carb pita as a chip!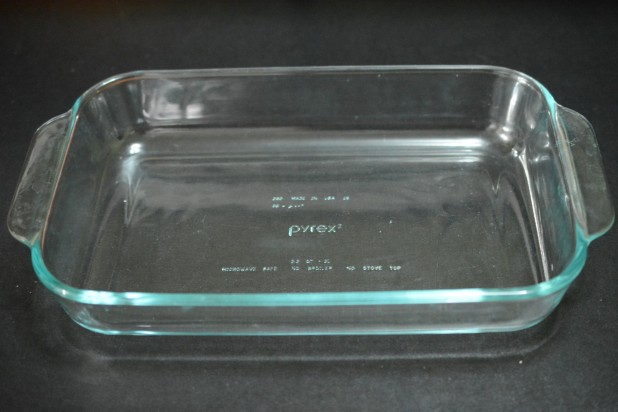 Start with a Pyrex oblong casserole dish.  I like this set because they come with lids so when I'm done I don't need to waste tin foil or cling wrap.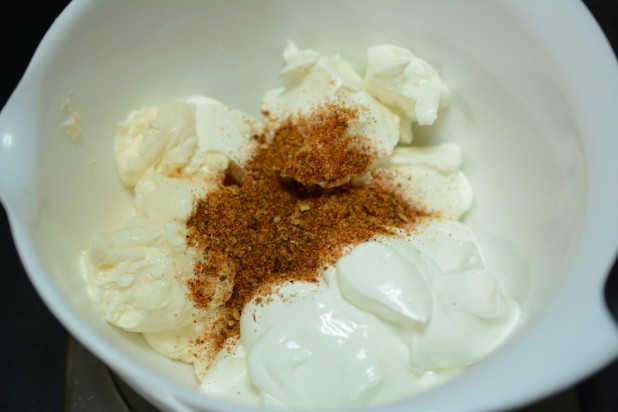 Start by preparing all of the fillings.  First we'll make the sour cream mix.  Its  a combo of sour cream, cream cheese, mayo and taco seasoning.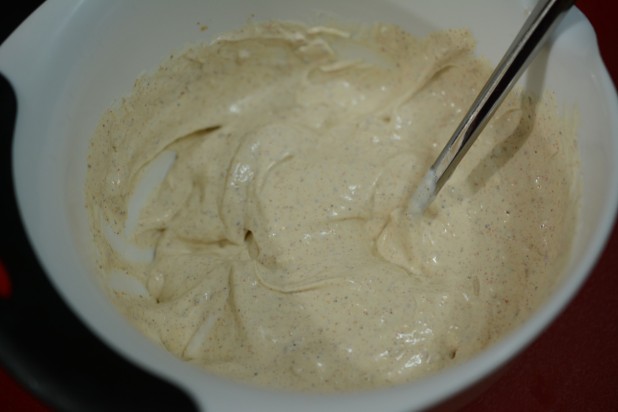 Mix the sour cream filling until the lumps are out and its smooth as shown above.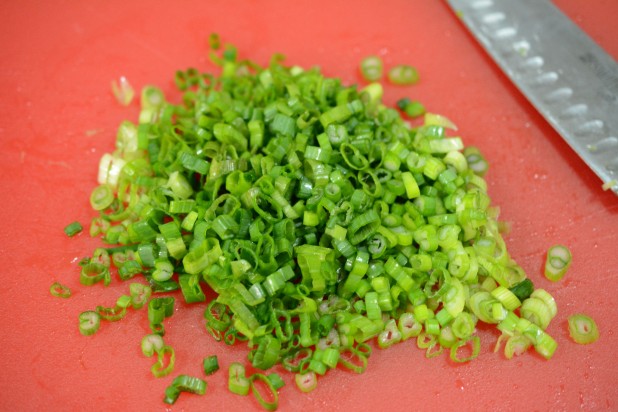 Next, chop up 4 Oz, about 1 bunch, of green onions.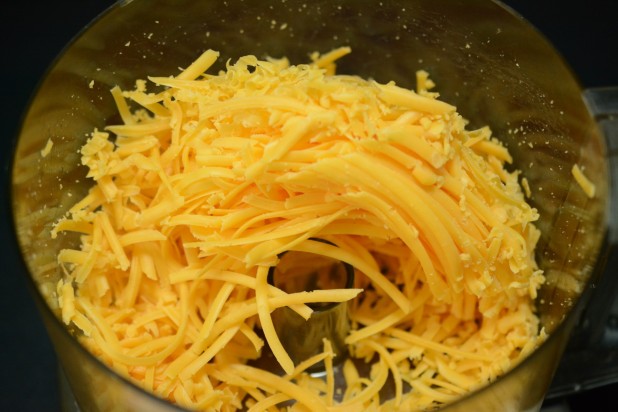 Whip out your food processor and grate some cheddar cheese.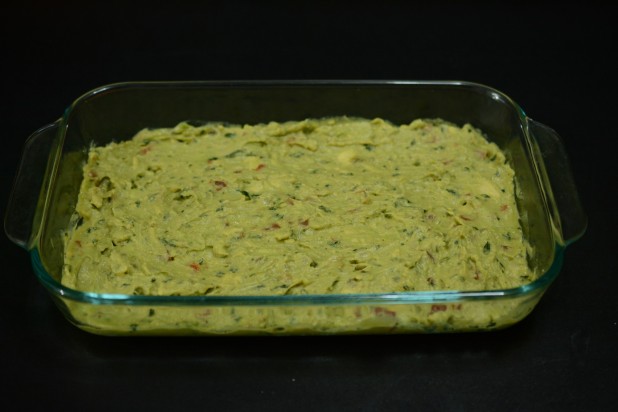 Now we're ready for the assembly phase.  The first layer is the guacamole.  Put some effort into making sure this layer is flat and evenly spread out.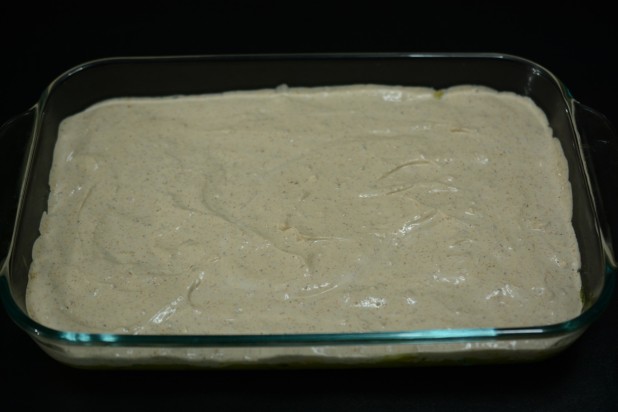 Now, add the cream cheese layer.  This one will be more work to apply since the guac is already down.  I recommend using a large spoon and doing it section by section, making sure not to spread the mixture too thin.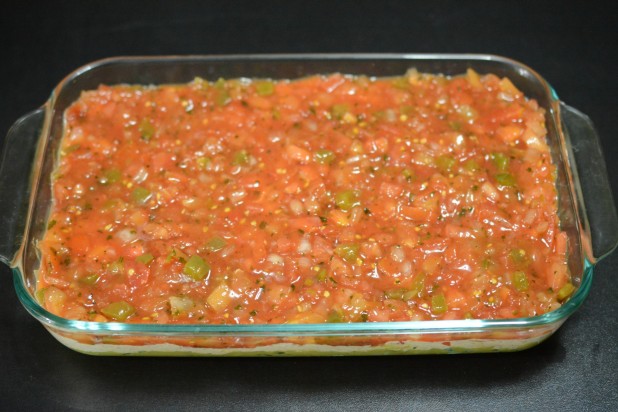 Then do the same for the salsa.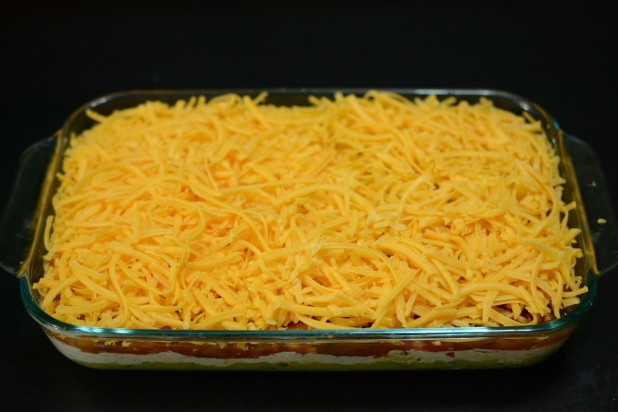 And add the cheese!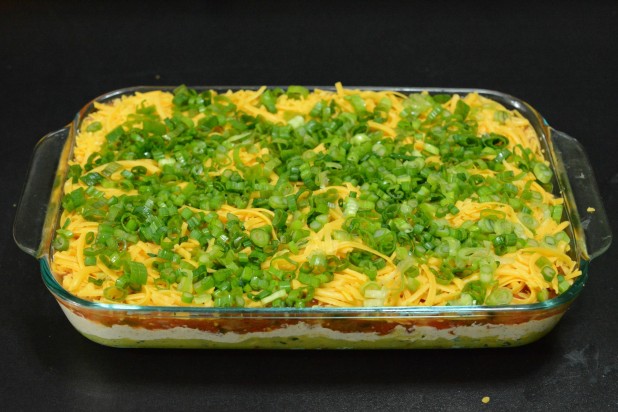 Sprinkle the top with green onions.  At this point, the dip is done.  Sometimes I like to press down lightly with my hands to compress the mixture and get any air bubbles out.  Also, it tastes even better after it has had a chance to set.  This is the perfect thing to make ahead of time and take out just before the party.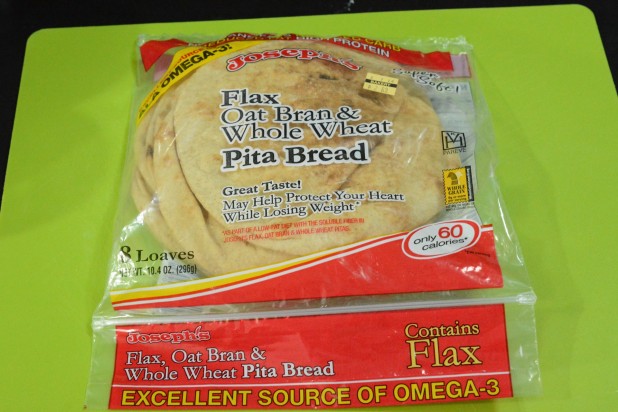 For an added bonus, I decided to try and make pita chips.  I used 1 low carb pita from Joseph's.  These are about 4 net carbs per pita so pretty reasonable.
I split the pita in half and then cut it into wedges so I got at least 16+ chips out of the one pita.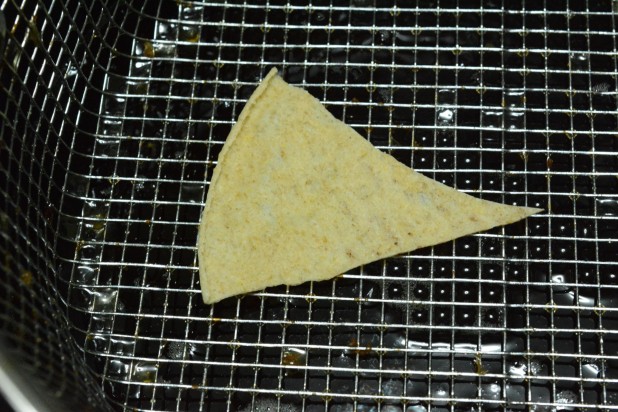 Then I placed them in the deep fryer basket.
Here's a picture of the fried chip.  Let me tell you, these turned out way better than I could have ever imagined! They were super crisp and held up well to the dip!!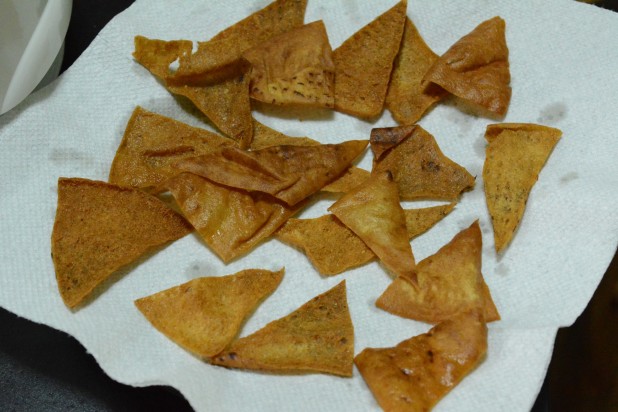 As you can see, just one pita yields a decent amount of chips.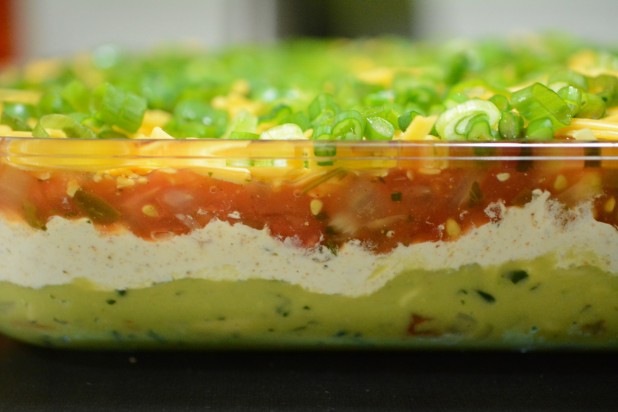 Here's a side shot of the 5-layer keto dip.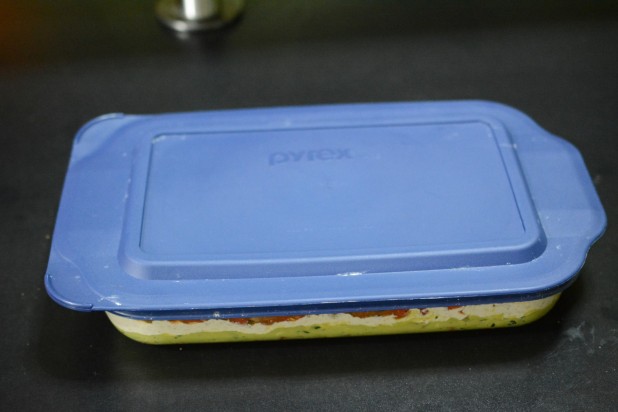 And as I mentioned before, this Pyrex set comes with lids so when you're done just pop one on and throw it in the refrigerator.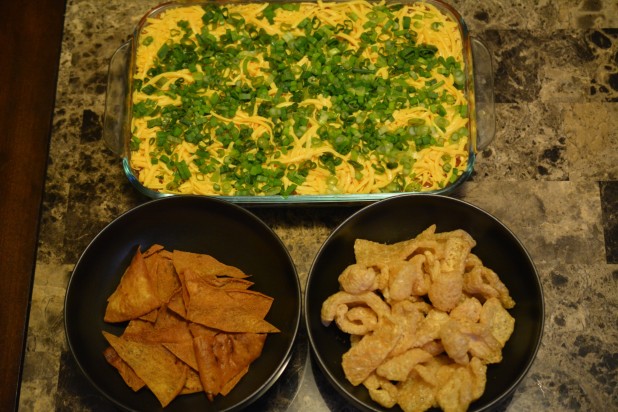 I served the dip with both pork rinds and pita chips.  They both work really well as keto chip replacements.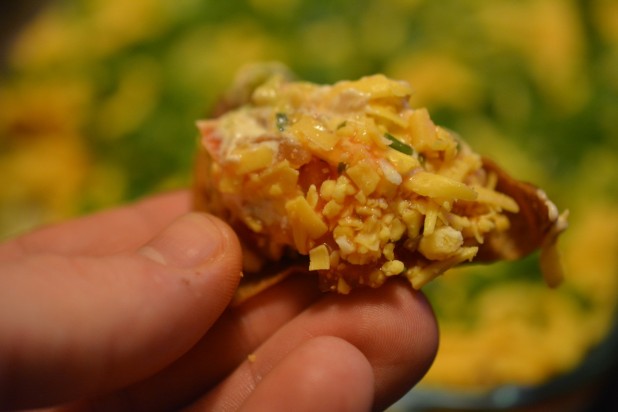 Mmmm!   Here's a fully loaded chip of 5-layer keto dip!!

5-layer Keto Dip
Nutrition Information
Serving size:

1/10th

Calories:

343
Fat:

29g

Saturated fat:

14g

Unsaturated fat:

8g

Trans fat:

0g

Carbohydrates:

11g

Sugar:

6g

Sodium:

1036mg

Fiber:

3g

Protein:

10g

Cholesterol:

61g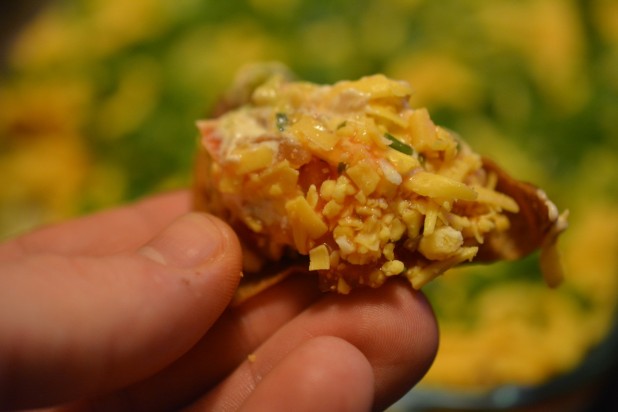 Ingredients
20 Oz Guacamole
4 Oz Cream cheese
4 Oz Mayonnaise
8 Oz Sour Cream
2 Tablespoons Taco Seasoning
16 Oz Salsa
10 Oz Cheddar Cheese, Shredded
4 Oz Green Onions, Diced
Instructions
Start by combining the cream cheese, mayo, sour cream and seasoning
Mix until smooth
Chop up the green onions
(Layer 1) Using a medium sized casserole dish, start by spreading out the guacamole on the bottom
(Layer 2) Then carefully spread the sour cream mixture over top of the guac
(Layer 3) Now spread the salsa over the sour cream mixture
(Layer 4) Add the cheese
(Layer 5) Top with green onions
This is best if you let it sit in the refrigerator for at least an hour and up to 24 for the flavors to intermingle
Notes
I used store bought guacamole and salsa but you can make your own as well. Also, try experimenting with additional layers like slices black olives!
DeLonghi Deep Fryer
If you follow the blog, you know that I've gotten a little obsessed lately with my Deep Fryer to the point where I post a weekly Fry-day article. I had one of these in college and it always made me feel guilty using it. I feel so liberated that there are all sorts of keto friendly fried foods like nuggets, wings and brussels sprouts!
Cuisinart 9-Cup Food Processor
I first got this food processor as a wedding gift and I wasn't sure how I felt about it. Well, let me tell you, its been a godsend on keto! I shred cheese, slice brussels sprouts, and rice cauliflower like a boss!
4.8 Quart Casserole Dish
Great for cooking those gigantic, week long casseroles! I call them 5day meals on the website. Normal casserole dishes are 10×13 but this one is gigantic and can easily be divided into ten portions.