Growing up our Thanksgiving table always had some Pillsbury Grands biscuits to soak up gravy and for impromptu turkey sandwiches. Traditional wheat based recipes are out for keto but that doesn't mean we can't make a good biscuit!  As you know, I've been experimenting with Carbquik recently with recipes like my Bacon Keto Pancakes. Today I decided to try another Carbquik recipe for Cheddar Biscuits! The results were shockingly good and I'm definitely going to make these for the big day next week!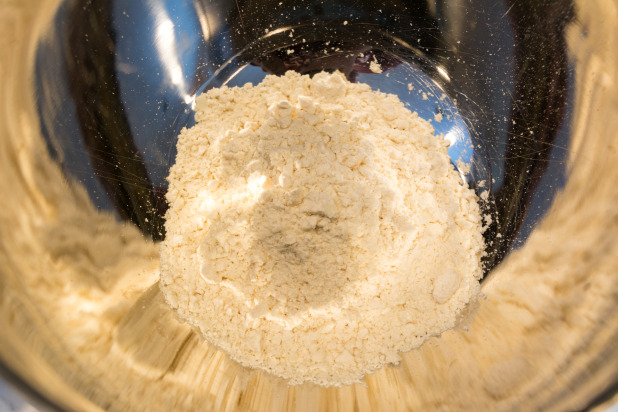 Start by measuring out the Carbquik into a large bowl.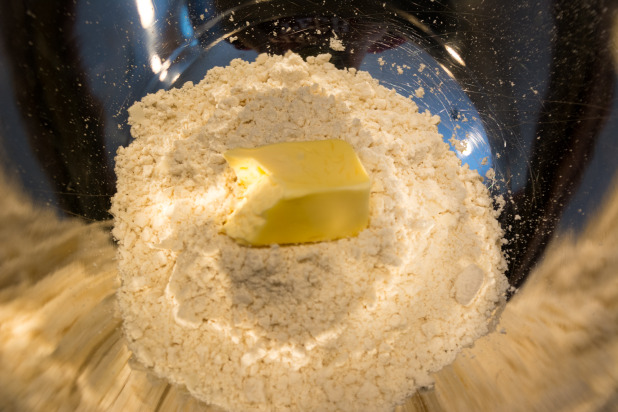 Then add the cold, unsalted butter.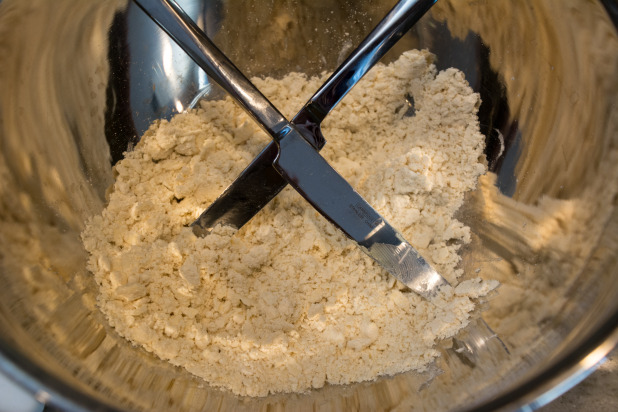 The recipe calls for the butter to be cut into the Carbquik until it forms a coarse meal.  The easiest way to accomplish this is with two knives and you crisscross them and cut the butter until the chunks of butter get smaller and smaller and coarse groupings form.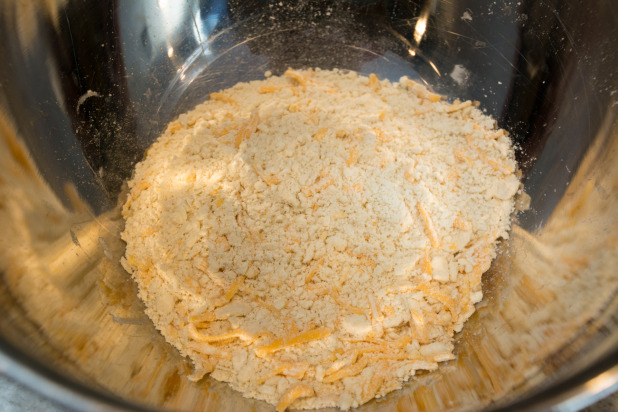 Now add in the garlic powder, salt and cheddar cheese.  Mix it all together.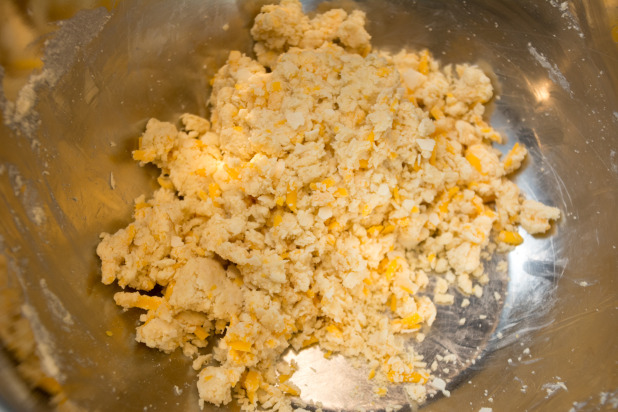 Add the liquid ingredients and mix it all together until a dough forms like above.  It wasn't a particularly doughy dough, a little crumbly.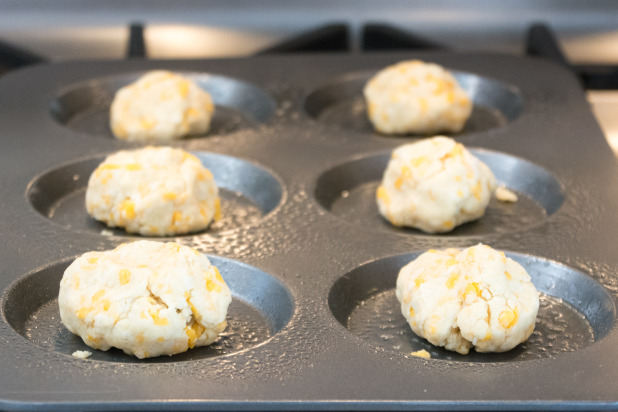 Now form the dough into equal size balls and bake!  I put them in a muffin top pan because I didn't know how much they would expand.  As it turns out they kept almost the same size as the original balls.  Also, the original recipe says this makes 10 biscuits but there is no way.  Its more like 6 small biscuits or 4 large ones.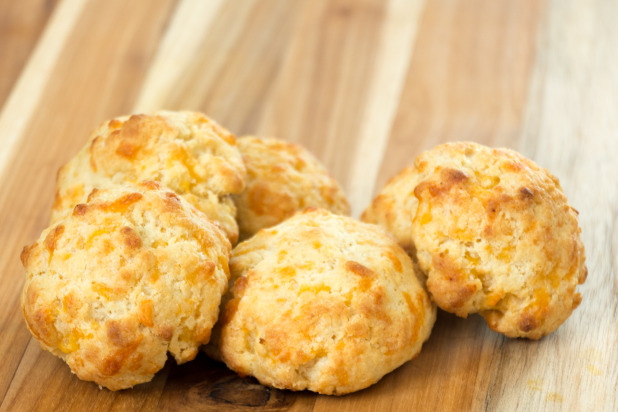 As you can see, they turned out incredibly well! A nice golden brown outside and a warm and crumbly inside.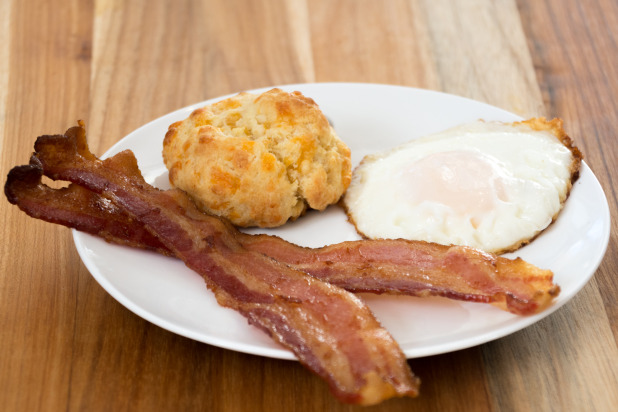 The first day I served them as a side with some bacon and eggs.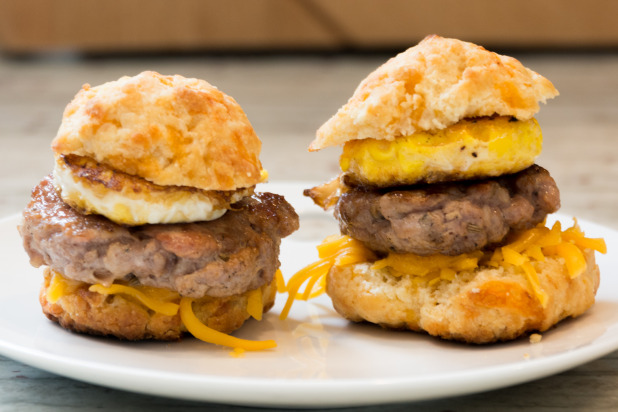 The second day I made breakfast sliders with some sausage, eggs and cheese! These will definitely make the table this year at Thanksgiving!

Cheddar Carbquik Biscuits
Nutrition Information
Serving size:

1 Biscuit

Calories:

266
Fat:

23g

Carbohydrates:

16g

Fiber:

14g

Protein:

11g
Prep time:
Cook time:
Total time: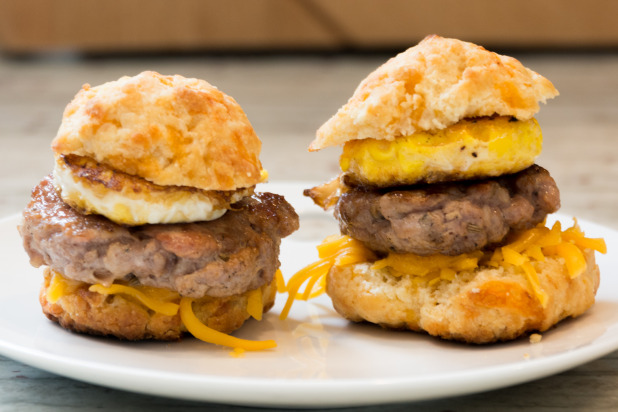 Ingredients
2 Cups Carbquik
2 Oz. Unsalted Butter, Cold
4 Oz. Cheddar Cheese, Shredded
½ Tsp. Garlic Powder
½ Tsp. Salt
¼ Cup Heavy Cream
¼ Cup Water
Instructions
Preheat oven to 450 degrees
Add Carbquik to a large bowl
Add cold butter and use two knives to cut int the butter until coarse dough balls have formed
Add in the cheese, garlic powder and salt; mix together
Add in the liquid ingredients and mix until dough forms
Break into 6 equal sized balls and place on a greased sheet
Bake for 8-10 minutes or until golden brown
Carbquik Baking Mix
Not sure I 100% believe this product, but it claims to be independently tested for accurate low carb numbers. It performs almost exactly like Bisquick and is the only low carb baking mix I've ever come across. Give it a try and let me know what you think!
Chicago Metallic Muffin Top Pan
Ahh, the muffin top pan. It took me weeks to find this beloved device but after I had it in my grasps, the most amazing thing happened, I created the Holy Grail Almond Buns! This is far and away the most popular recipe on the website. The curved yet right angled slop and flat bottom of this pan create the perfect keto bun.
Tovolo 7.5 Quart Mixing Bowl
Most of my large 5day recipes and casseroles are all mixed together before being baked. You really need a giant bowl to hold all the ingredients and this one fits the bill!