The hardest meal to think of innovative options for is lunch.  For breakfast there are many different egg and bacon concepts.  For dinner you can make steaks, side dishes, etc.  For lunch, the entire meal needs to fit in a tiny container and generally everything in the container needs to be microwave safe and quick.  My wife wanted to switch it up so we tried Chicken Cordon Bleu.  The inspiration for this was a post on LCF: http://www.lowcarbfriends.com/bbs/lowcarb-recipe-help-suggestions/725313-chicken-cordon-bleu-casserole.html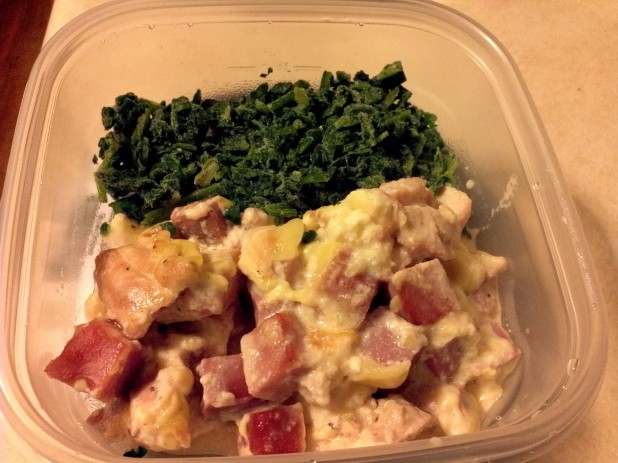 Here is the finished product with some spinach for greens.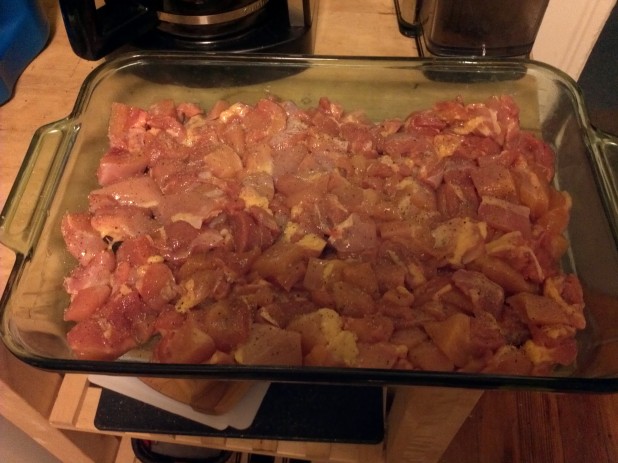 For this meal, I used chicken thighs.  The reason for this is I made half Chicken Thighs with Spinach and half this.  So I was able to get by just getting one meat product. The original recipe calls for chicken tenders.  However, I think if I were to make it again I would just use chicken breasts  The first step is to rough chop the chicken as shown and apply salt and pepper.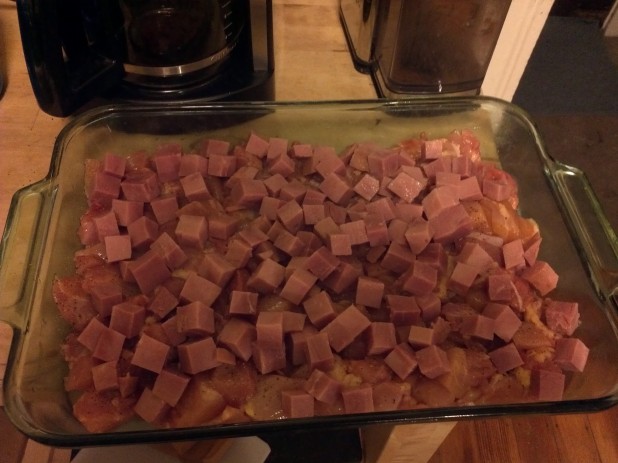 Add cubed ham.  I used ham steak and cut it up.  WARNING: I just bought any other ham steak and to my dismay, when I got home I discovered this has sugar in it.  Make sure to buy one without sugar. I used it anyway but I was really close to just pitching it because I eat a lot of vegetables and I really don't want empty carbs.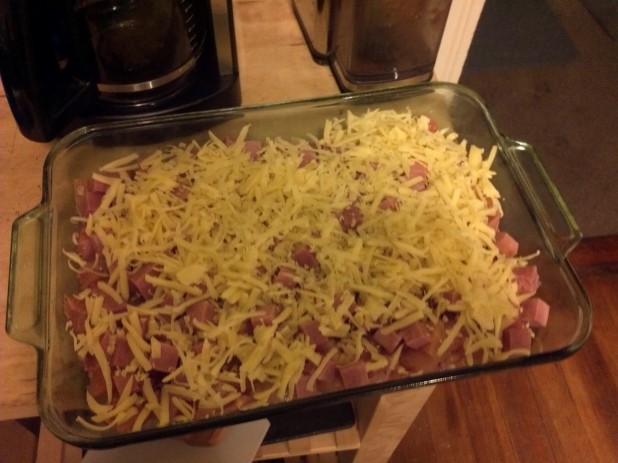 Sprinkle with swiss cheese.  Again, the original recipe called for cubed swiss, but I find that grated melts better.  I hand grated it with a regular table top grater.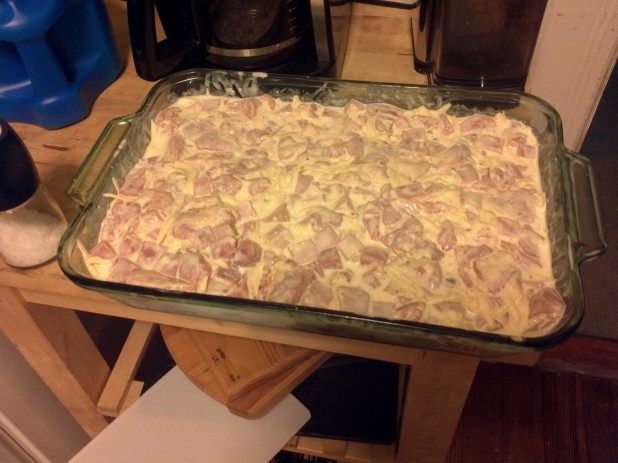 Here is the final result before baking. When you add the liquid over top, give it a stir to combine everything together.  One note, for these massive, all week meals, I don't use a standard 9×13 pan.  The one shown is actually a 15″ x 10″ casserole dish.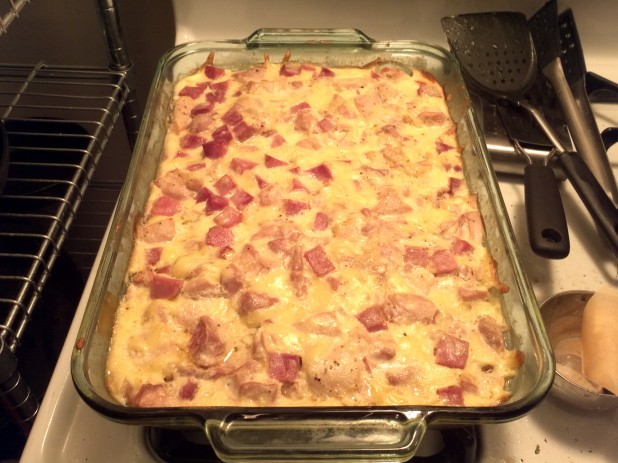 And here is the final product!  This made 10 servings.
Chicken Cordon Bleu Casserole
Nutrition Information
Serving size:

1

Calories:

486
Fat:

30

Carbohydrates:

4

Fiber:

0

Protein:

38
Prep time:
Cook time:
Total time: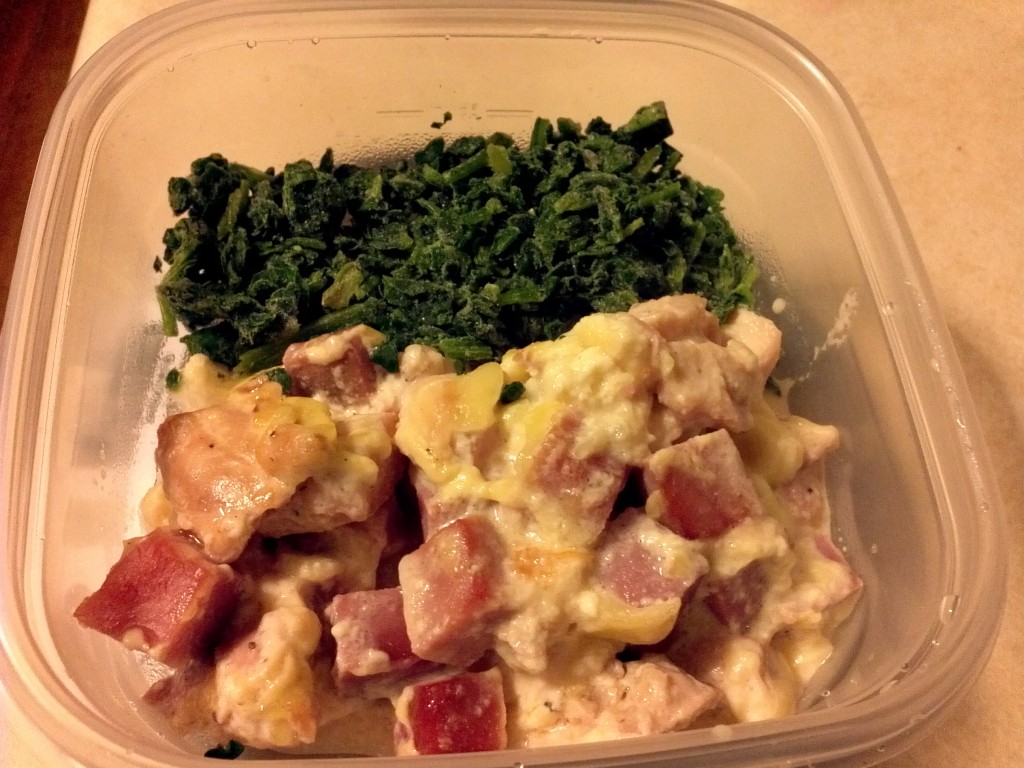 Ingredients
53 oz Chicken (breast or tender or thighs)
300 g Ham Steak
11 oz Jarlsberg Swiss Cheese
1 Cup Heavy Whipping Cream
To Taste Salt, Pepper, Garlic Powder
1 cup Cream Cheese
Instructions
Cut up chicken into 1" cubes, spread on bottom of pan
Salt, pepper, garlic powder the chicken
Cut up the ham into ½" cubes and sprinkle on top of chicken
Shred Swiss cheese and spread over mixtures
Heat the cream cheese in the microwave, then add the cream and mix, pour over casserole
Mix the dish up
Bake @ 350 degrees for 40 minutes.
Makes 10 portions. Half the recipe for 5 or a smaller pan.