In case you couldn't tell, I'm now obsessed with my grill! Last time I made Beer Can Burgers so I figured the next logical step was to make Beer Can Chicken! If you've never heard of it before, the idea is to cook the chicken slowly over indirect heat on top of an aluminum can of beer. The beer steams the chicken from the inside as it cooks! Note that you can use any beer, this particular one someone left at my house so this seemed to be a good way to get rid of it.  It would also work with a lower carb beer like Michelob ultra or Miller 64.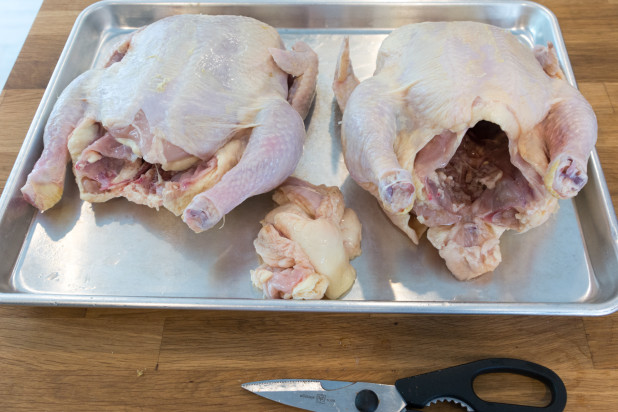 This recipe starts with a whole, thawed chicken.  Remove any gizzards and plastic that it may come with.  Make sure to check the front and the back.  Then use kitchen shears to cut away any excess parts left over from the processing of the chicken. You should now have a nice opening the size of a beer can as shown on the right.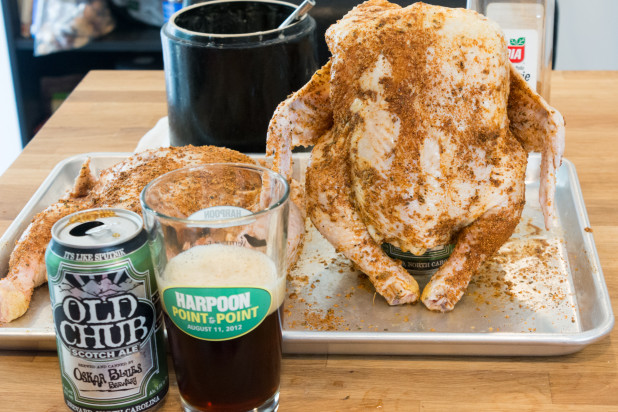 Now for the fun part! Make sure the chicken is dry and then rub down with some oil.  I used some bacon fat out of my reserve. Then I rubbed it down inside and out with a generic Rotisserie chicken seasoning. Pour out half, or a little more than half, of the beer and then set the chicken on it!
Now, preheat the grill to medium high heat and setup for indirect cooking. I used the outer two burners to heat the grill and left the middle one off. Then you just set the chickens on the grill!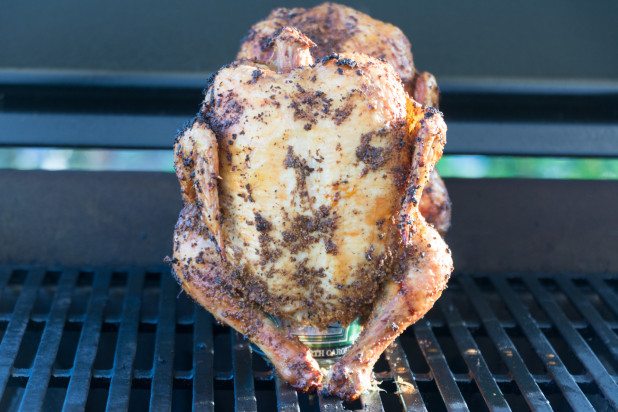 After about an hour you've got a perfectly cooked, crispy chicken that's been steamed from the inside! Make sure to check the temperature and verify its reached at least 165 degrees in the breast and 180 in the thigh.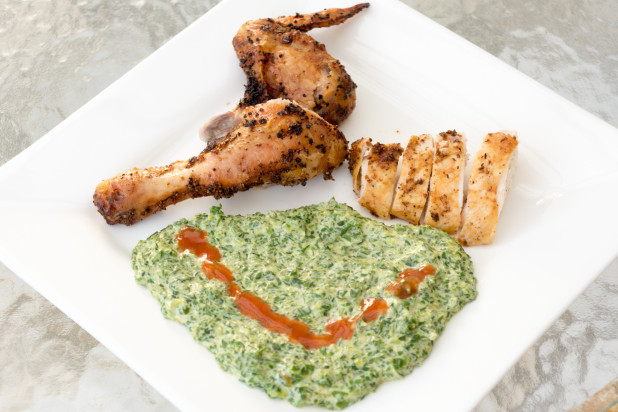 For the first meal my wife and I split a breast and I grabbed a leg and a wing along with a side of creamy cheesy spinach!

Beer Can Chicken
Prep time:
Cook time:
Total time: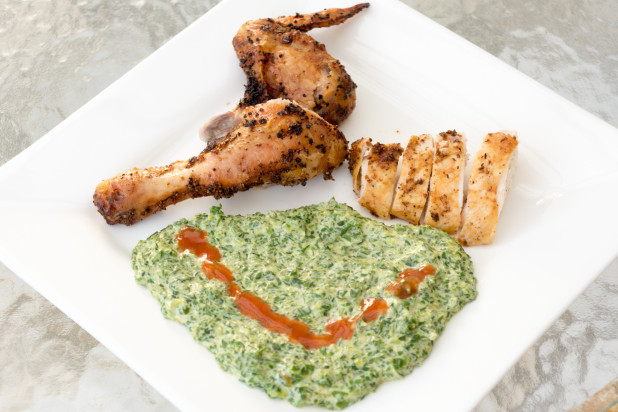 Ingredients
1 Whole Chicken
1 can Beer (Aluminum)
1 Tbsp Bacon Fat
Rotisserie Seasoning
Instructions
Preheat the grill to medium high heat, setup for indirect grilling (no heat under the bird)
Make sure the chicken is completely thawed if frozen
Remove and discard gizzards
Cut away any loose skin or chicken parts from the breast cavity opening
Dry inside and out
Apply the bacon fat or oil to the exterior of the bird
Rub in Rotisserie seasoning on inside and out
Remove a little more than half of the beer from the can and set the bird on the can
Grill for around 1 hour or until the breast meat reads 165 and the thighs read 180
Allow to sit for 5-10 minutes before slicing
Weber Spirit E320 Grill
Sure, you can cook just about anything in a cast iron pan, but sometimes you just want those seared grill marks on your meat. A grill is the perfect addition to any keto kitchen.
Thermapen
This probably shouldn't be the first thing you buy for your keto kitchen, but eventually, you'll end up buying this thermapen. It seams ridiculous to blow $80+ on a temperature probe but once you go through 5 other cheap ones, or burn your hand waiting for the temperature to stabilize, you'll wish you just picked one of these up. Its way faster and more accurate at reading temperature and I now almost exclusively cook meat to a done temperature rather than a specific time.
Grill Tool Set
This 4-piece stainless steel barbecue tool set includes everything you need for your cookout. The set includes a set of locking tongs, a long handle slotted spatula, a great dual-sided, dual-head cleaning brush, and barbecue fork!