Today's meal is all about leftovers. I made a ton of Spaghetti Squash the other night and it was just sitting in the refrigerator. I had also executed the laziest but tasty keto option of just getting a rotisserie chicken at the store the previous night. I decided to combine these two leftovers for a delicious spin on the classic Chicken Alfredo.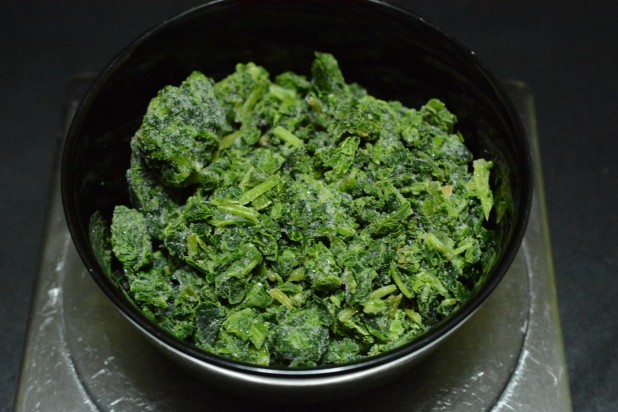 Start by taking some frozen spinach and thawing / draining it in the microwave.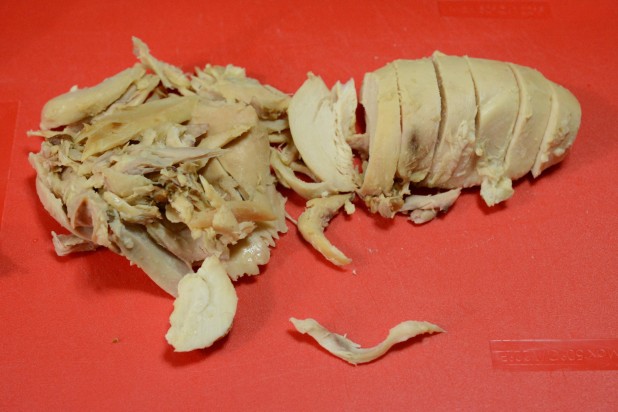 Then chop up the remaining chicken from the rotisserie.  Generally I buy a whole chicken and eat one side of it the first night and then pick off and separate the meat for the second half.  I then use the leftovers as premade chicken.  This is super cheap and efficient since you don't have to cook it and rotisserie chickens are dirt cheap at the store.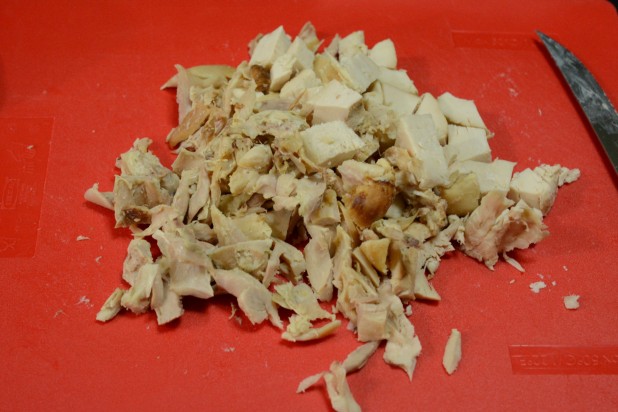 Here's a picture of the chopped up half of a chicken.  Mostly the breast, thigh and other pickings from the chicken.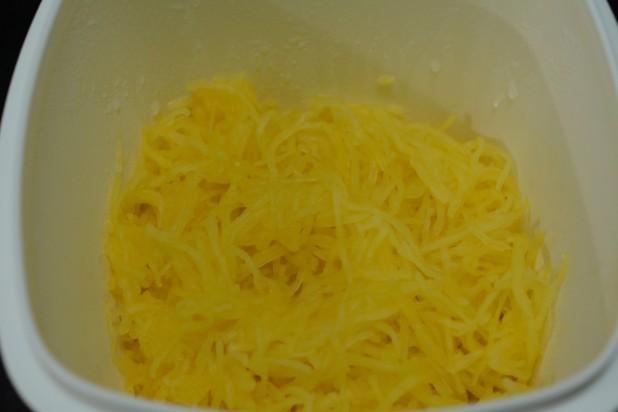 As I mentioned, I had already made a ton of Spaghetti Squash a previous night.  I'm not going to detail how to prepare it but you can reference one of the other articles that go into greater detail.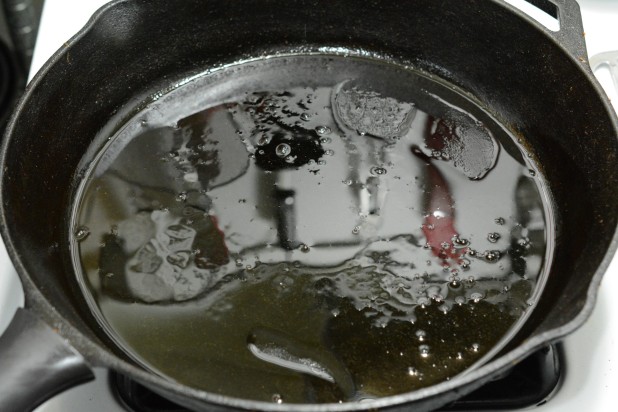 Get out your cast iron skillet and heat up some bacon fat.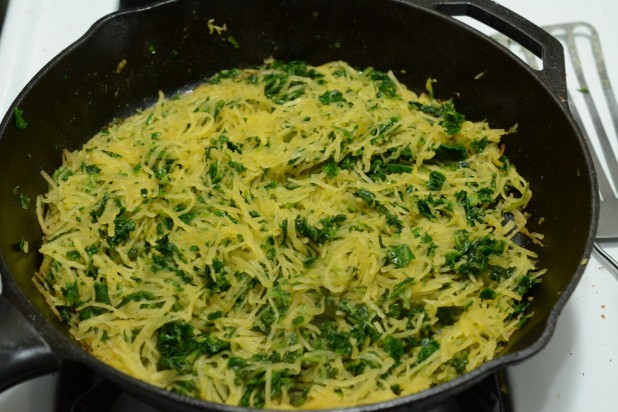 Once the spinach is thawed and drained, throw it into the bacon fat along with the spaghetti squash.  The goal here is to cook off most of the moisture and combine the two vegetables.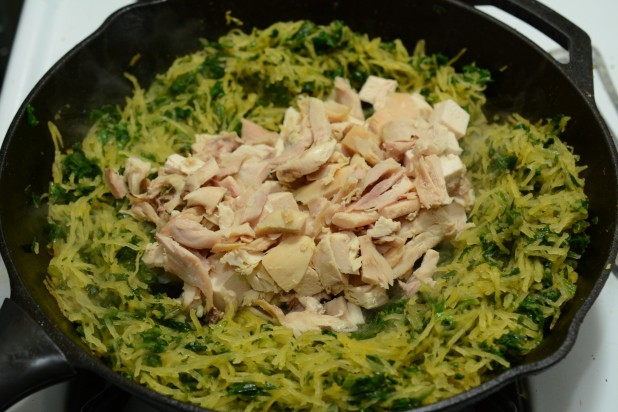 Next, throw the chicken into the mixture and cook some more.  You want to make sure all of the ingredients are hot again.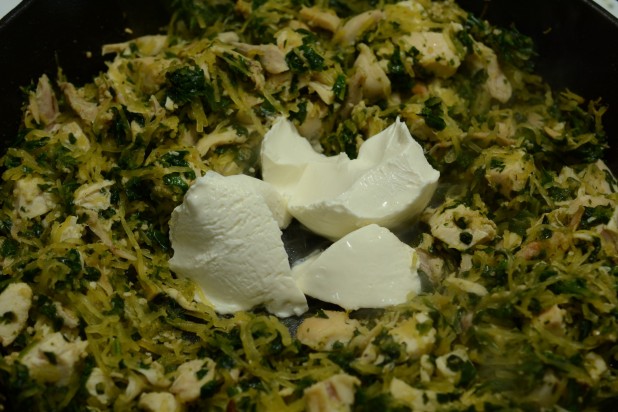 Then we're going to make a really simple white sauce.  Simply add in some cream cheese and stir to combine.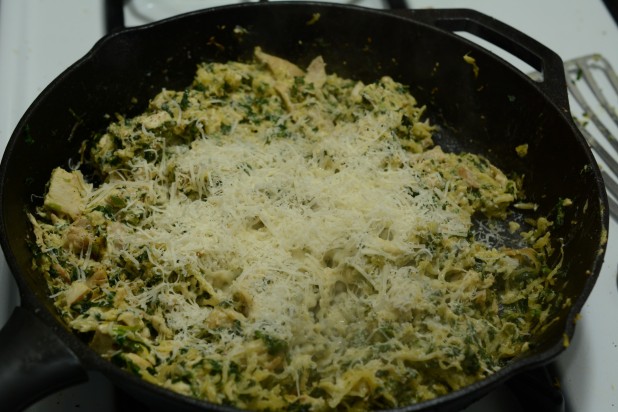 Then throw in the Parmesan cheese and garlic.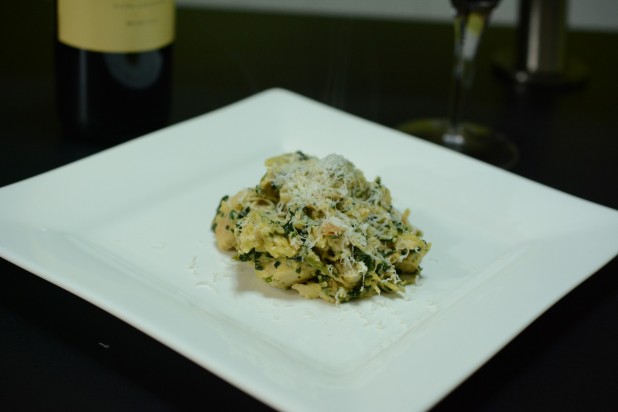 Here's the finished dish!

Creamy Chicken with Spaghetti Squash
Nutrition Information
Serving size:

¼th

Calories:

308
Fat:

15 g

Saturated fat:

8 g

Unsaturated fat:

5 g

Trans fat:

0 g

Carbohydrates:

9 g

Sugar:

0 g

Sodium:

536 mg

Fiber:

2 g

Protein:

33 g

Cholesterol:

110 g
Prep time:
Cook time:
Total time: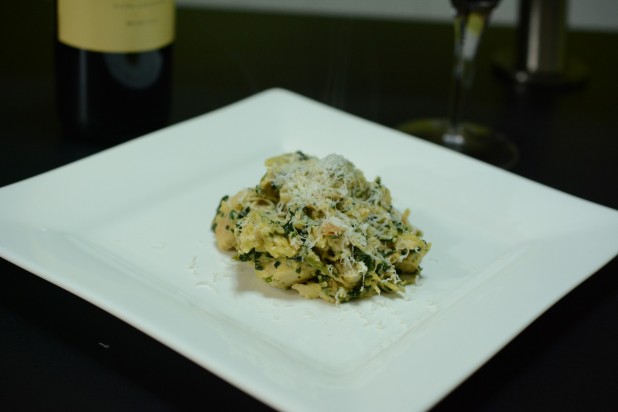 Ingredients
5 Oz Spinach
12 Oz Chicken (Half of left over rotisserie chicken)
14 Oz Spaghetti Squash
1 Tablespoon Garlic, Minced
4 Oz. Cream Cheese
1 Oz. Parmesan Cheese, Grated
Instructions
If using left over rotisserie chicken, chop up chicken, otherwise dice and cook 12 Oz Chicken
Microwave the 5 Oz of spinach until thawed, drain
Reheat the Spaghetti Squash
Heat some bacon grease in a cast iron skillet
Add the Spaghetti Squash and the spinach and saute
Add in the chicken and continue to cook
Add the cream cheese and Parmesan cheese and mix
Top with additional Parmesan cheese and serve!
Lodge 12-inch Cast Iron Skillet
The only pan you really need. Once properly seasoned, this pan can cook anything you can imagine! Lasts forever and never wears out.
RSVP Stoneware Grease Keeper
Never throw away bacon fat. Ever! This thing is the coolest invention. It's a little ceramic container that has a built-in filter that stores your bacon grease. You simply pour the grease into it when you're done frying some bacon and its ready to spoon back into the pan next time you're frying some veggies!
Ove Glove
Made from advanced space materials, this hot mat gives you the flexibility to handle any situation with ease. Don't get burned, get ove gloved!