I'm always looking for good dinner recipes.  I've got breakfast and dinner pretty much down pat but its the couple of servings dinner meals I always struggle with. I was at a party the other weekend and the hosts were serving Spinach and Artichoke dip.  I couldn't partake in their dip vessels but I did spoon some onto my plate and eat it.  Then I got the idea, why don't I use this as a meat stuffing?  So, I made a batch of my Spinach and Artichoke dip, and got stuffing!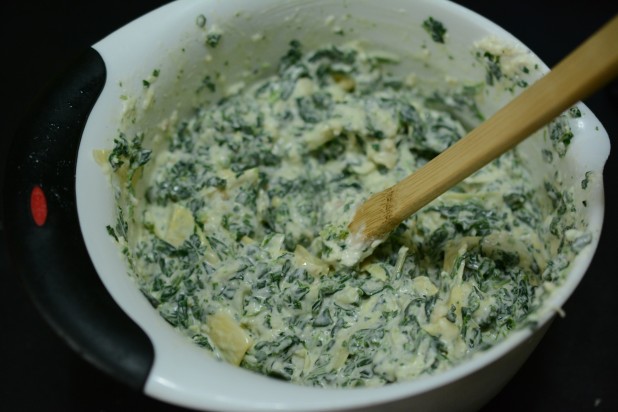 This recipe starts by making one full batch of Spinach and Artichoke dip.  Optionally, you could just buy some premade dip.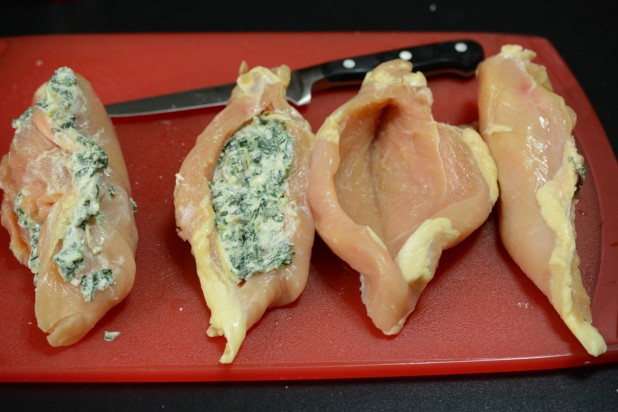 Next stuff the chicken as shown above.  First lay it on its side.  Then use a sharp knife to cut a slit into the chicken.  Stuff the chicken with the artichoke dip.  Finally, secure the slit with a toothpick.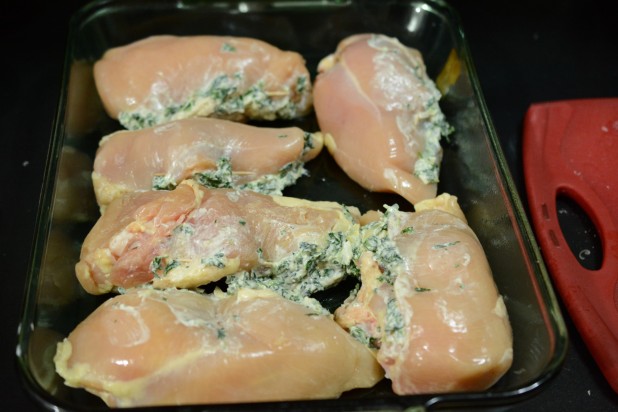 After they've been stuffed, place them in a greased casserole dish.
You'll use about half the mixture in the filling of the chicken.  With the other half, chop some cherry tomatoes in half and fold them into the mixture.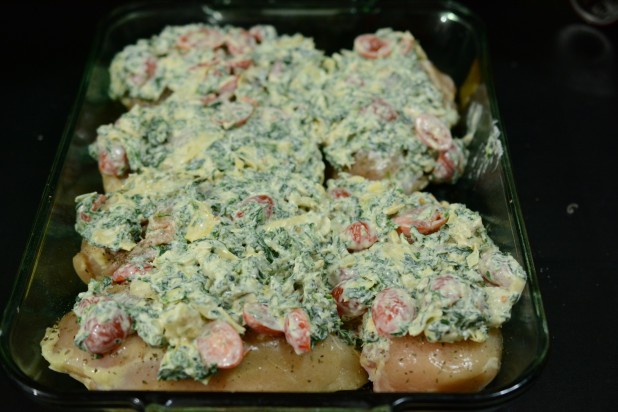 Then place the remaining Spinach and Artichoke dip on top of the chicken.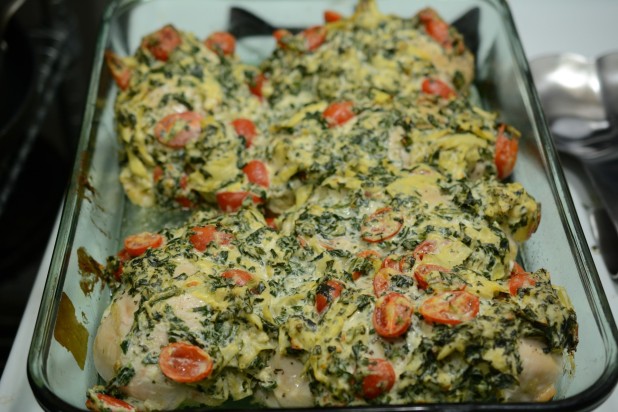 Now bake for 35 minutes at 400 degrees.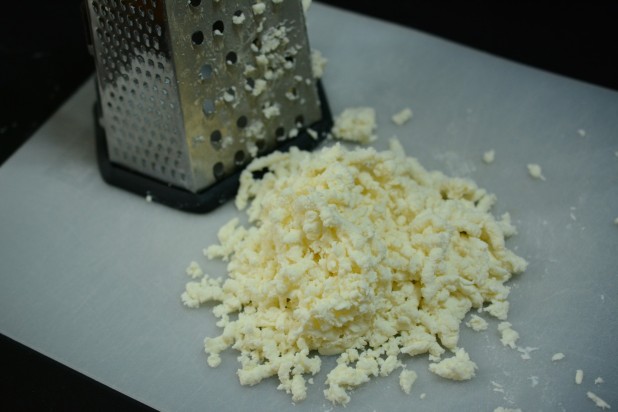 Shred some Mozzarella cheese on a box grater.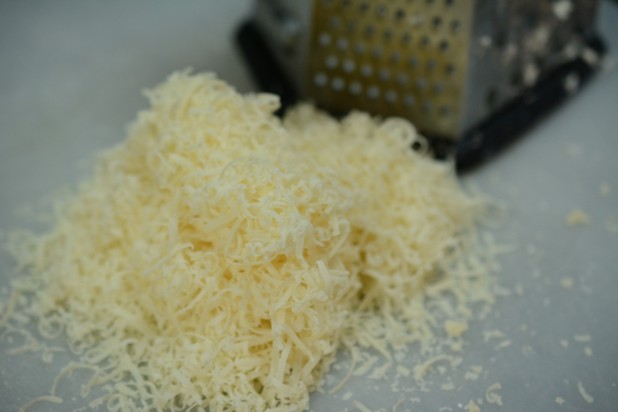 Do the same with some Parmesan Cheese.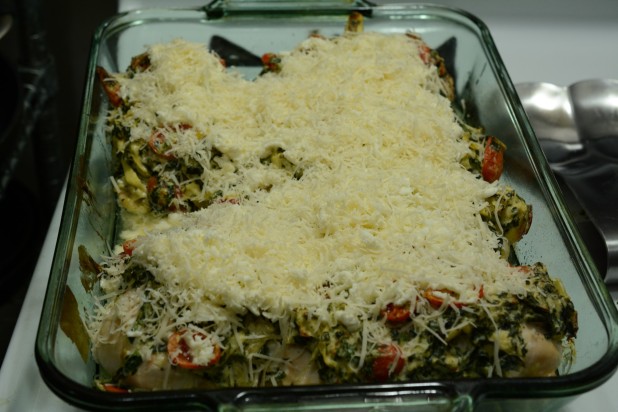 Top the entire thing with the cheese.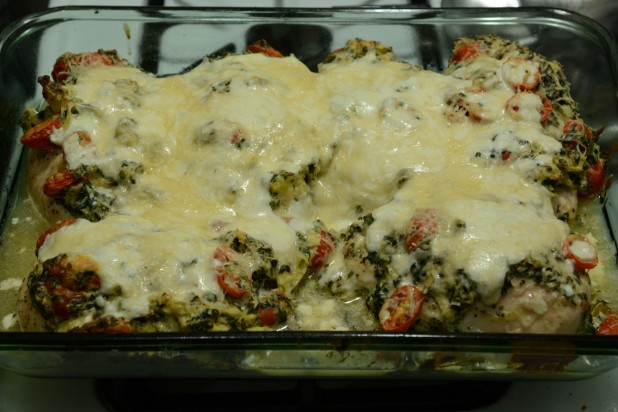 Bake for 15 more minutes, or until the cheese is melted, and you're done!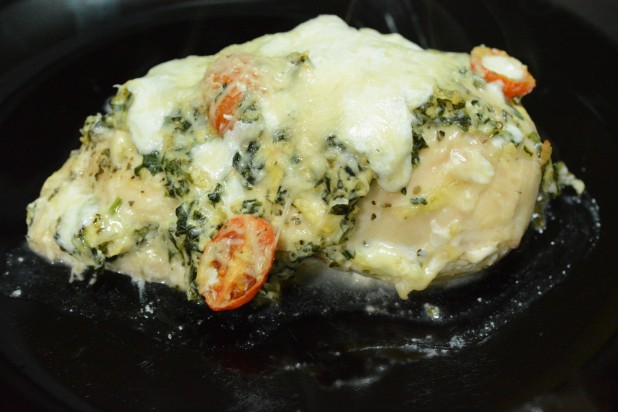 It turned out really well!  The dip complemented the chicken and made it super juicy!

Chicken stuffed and topped with Spinach Artichoke Dip
Nutrition Information
Serving size:

1 Stuffed Breast

Calories:

563
Fat:

36

Carbohydrates:

8

Fiber:

2

Protein:

48
Prep time:
Cook time:
Total time: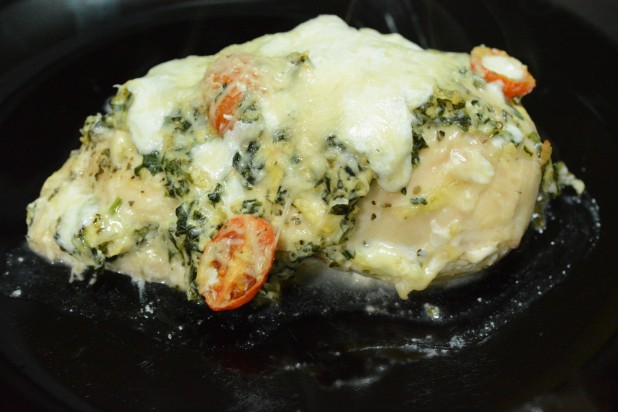 Ingredients
Spinach and Artichoke Dip
8 oz Cream Cheese
¼ Cup Mayo
4 oz Shredded Parmesan
1 Tbsp Minced Garlic
1 Tsp Crushed Basil
1 can Artichoke Hearts (14 oz)
255 g Spinach
To Taste Salt and pepper
Additional Ingredients
6 Chicken breasts
8 Oz Mozzarella Cheese
2 Oz Parmesan Cheese
10 Oz Cherry Tomatoes
Instructions
Prepare the Spinach and Artichoke dip per the original instructions
Make a slit in the chicken breasts and stuff with dip
Close the chicken with a toothpick
Place in a greased casserole dish
Chop the cherry tomatoes in half and combine with the remaining dip
Cover the chicken with the remaining dip
Cook for 35 minutes at 400 degrees
Shred the Mozzarella and Parmesan cheese, then cover the dish with the cheese
Bake for another 15 minutes at 400 degrees until the cheese is melted
Victorinox Fibrox 8″ Chef's Knife
You really only need one good knife. This one is it. America's Test Kitchen rated it the number one budget knife!
4.8 Quart Casserole Dish
Great for cooking those gigantic, week long casseroles! I call them 5day meals on the website. Normal casserole dishes are 10×13 but this one is gigantic and can easily be divided into ten portions.
Sur La Table Grater / Shaker
This little guy is super convenient to grate hard cheeses like Parmesan and bring to the table to serve. It's less messy than a rotary cheese grater and it even has measurement marks on it!