This is one of my main lunch dishes. It is super easy to make, relatively cheap, and filling.  The original idea for this came from AreYouReadyToReddit's Google docs page here: AreYouReadyToReddit Google Doc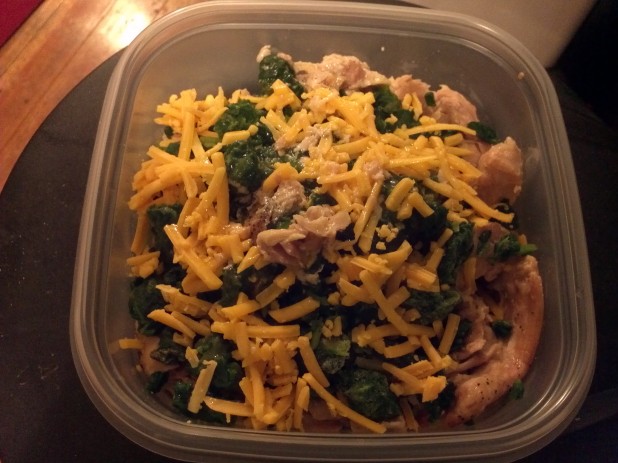 Here is the finished product.  It is dead simple to make and is really easy to take to work.  You just pop this in the microwave, it steams the frozen vegetables and heats up the meat.  One thing to note, MAKE SURE TO GET GOOD CONTAINERS! Here is a link to something similar to my current containers. I bought them because they were cheap but now that I'm into the fifth week, the lids have already started to go. The only ones I can truly recommend are the Ikea 365+ Food Storage Containers.  Unfortunately they don't sell them online but if you find another brand that has a really solid seal and a vent, I would get those instead.  While it might seem like a lot of money upfront, its better than having spilled food.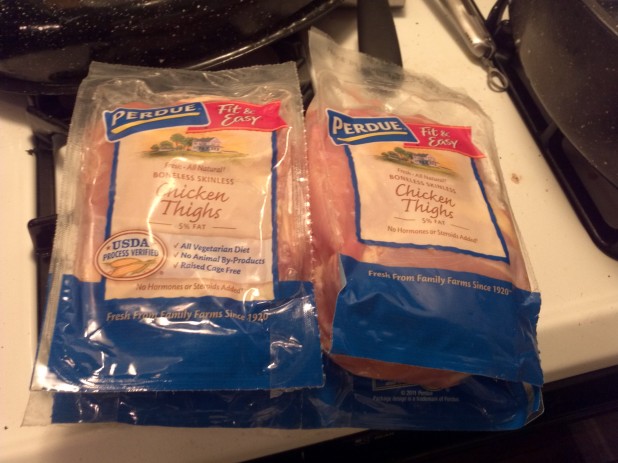 Here are the thighs. BJ's sells a 6 pack, where each one has 4 boneless, skinless chicken thighs. So each pack is 24 thighs.  You can also get bone in with the skin thighs for half the cost.  At my store its $10 for 24 bone in with skin and $20 for the above. The bones pretty much fall off after the cooking process so this might be worth it if you want to save some money.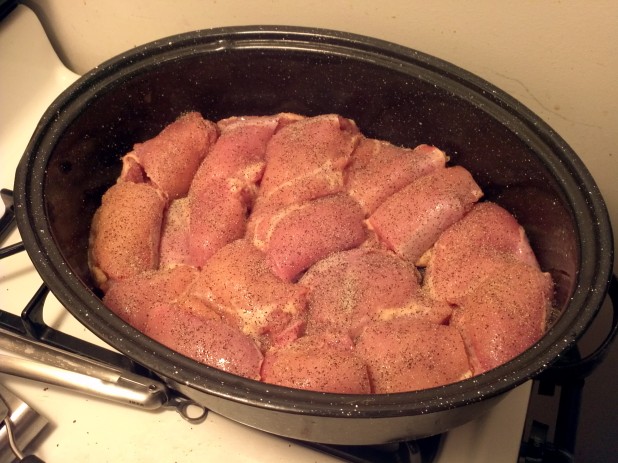 Take the chicken thighs out of the packages and fold them over, packing them into the pan.  The nice thing about this recipe is that you can make as many or as few as possible. There are two thighs in each lunch so the entire pack can make 12 lunches.  The above is 16 thighs.  Season the thighs with salt, pepper and garlic. Fill the bottom of the pan.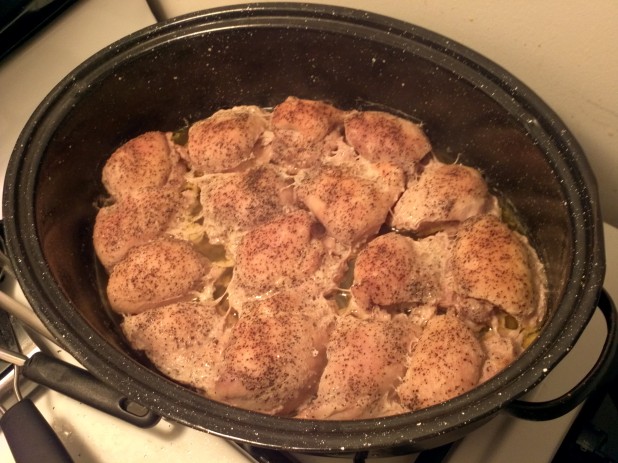 Here are the finished thighs!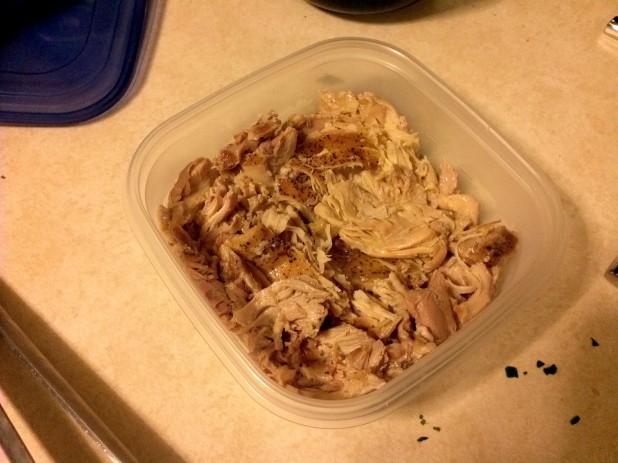 Take two of the thighs after they have cooled and place them in a resealable container.  Break the thighs up so it is easier to eat for lunch.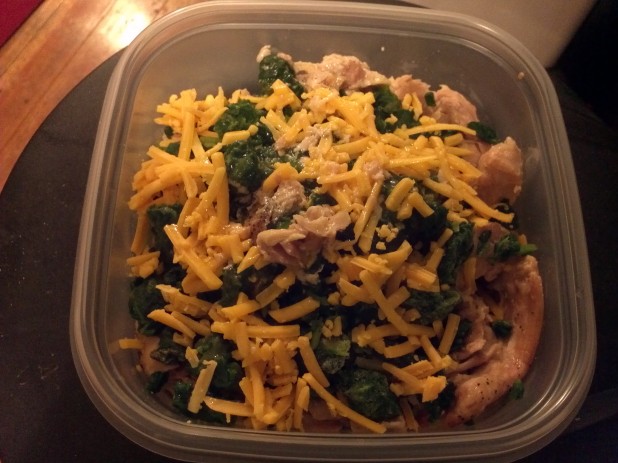 Here is the finished product.  Add any frozen vegetable.  In this case I used spinach.  Add cheese on top and equally distribute the juices from the baking. This is an important step because the juices help steam the vegetables when you microwave it.  To prepare, crack the lid and microwave it for 1-2 minutes.  This will depend on your microwave.  At work it takes 2, at home it takes 1.25 for me so it definitely varies.  You might also want to stir it part way into the microwaving.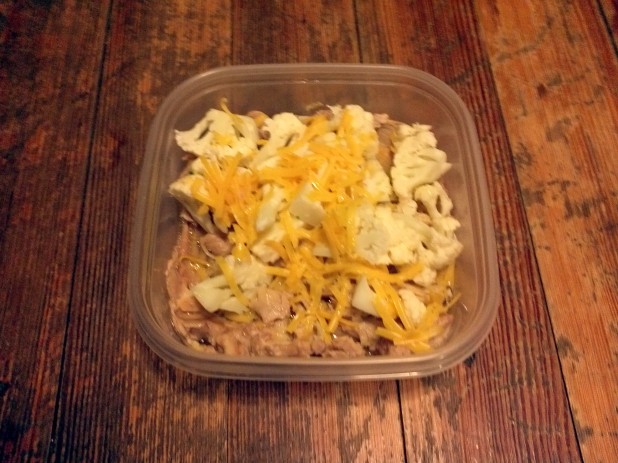 Here is the same meal with cauliflower that I made in a previous week.  You could even use different vegetables on different days to switch it up a little bit.

Chicken Thighs and Spinach
Nutrition Information
Serving size:

1

Calories:

390
Fat:

23

Carbohydrates:

3

Fiber:

2

Protein:

45
Prep time:
Cook time:
Total time: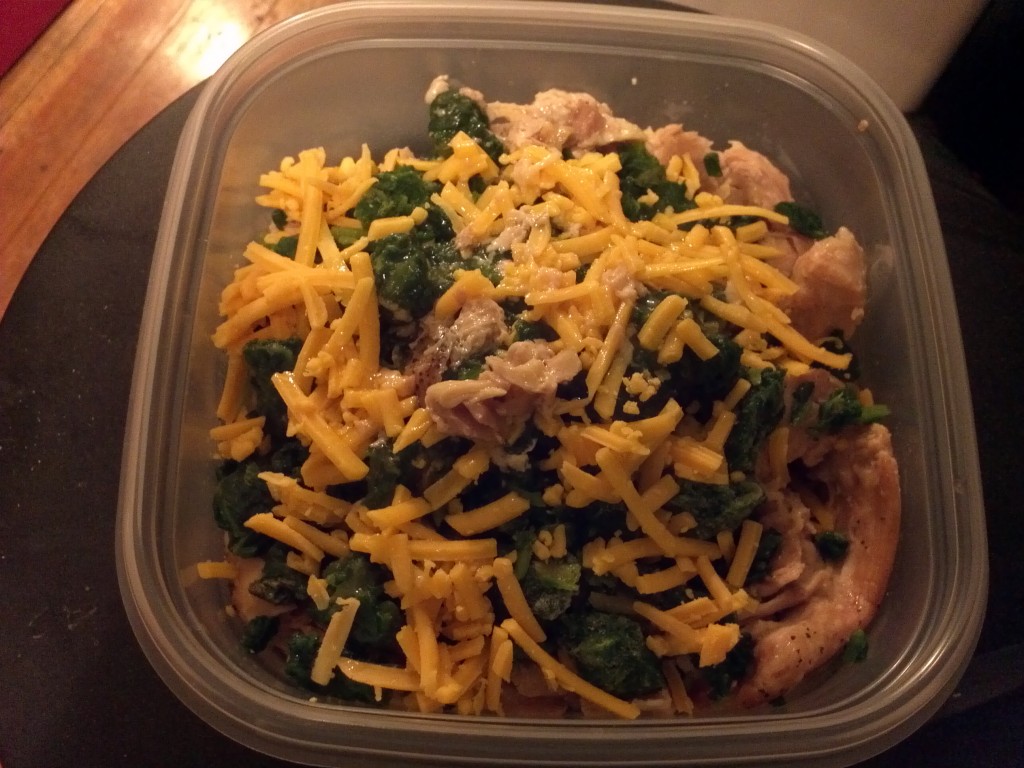 Ingredients
16 Boneless Skinless Chicken Thighs
2 Cups Water
To Taste Salt, Pepper, garlic
224 g cheddar cheese, shredded (28g or 2T per)
680 g Spinach (85g or ¾c per)
Instructions
Place 16 chicken thighs in a roaster pan (or any pan with a lid)
Bake for 2 hours at 350 degrees
Remove from oven and let cool
Get 8 resealable containers, put two thighs in each
Breakup the thighs, put vegetables and cheese on each
Distribute the juices over the meals