This St. Patrick's Day, skip the green beer and indulge in some keto friendly meat and vegetables! Corned beef and cabbage are super cheap at every grocery store right now and you might as well take advantage.  Just pop the ingredients in the crockpot and come home to some awesome Irish food!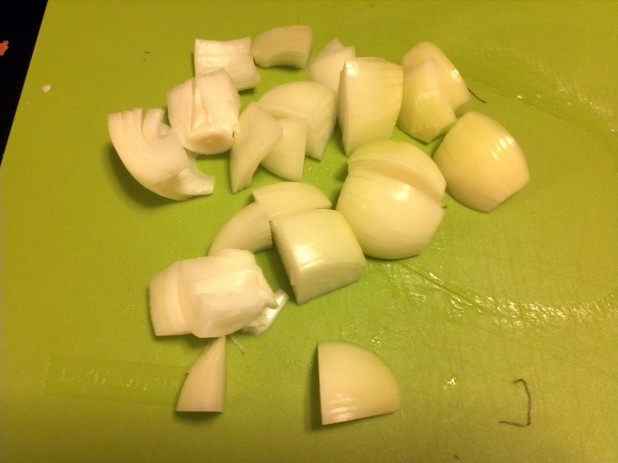 Start by coarse chopping a small onion.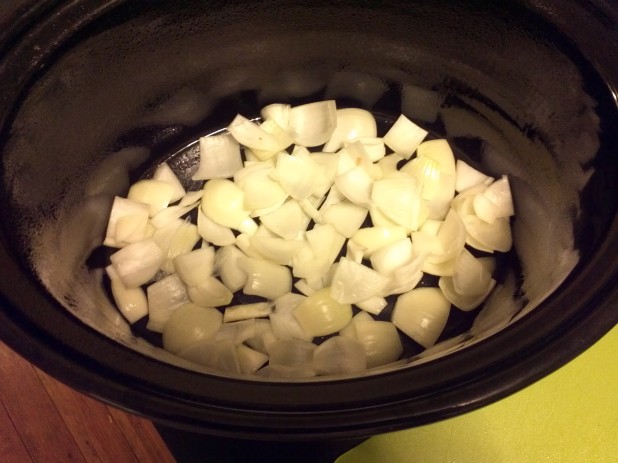 Line the bottom of the crock pot with the onions.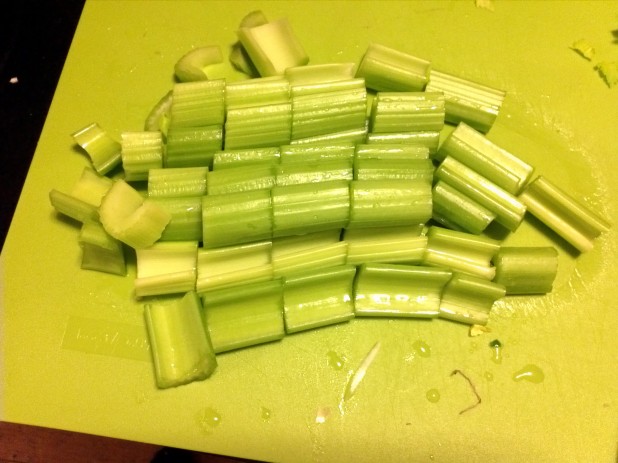 Next chop up some celery.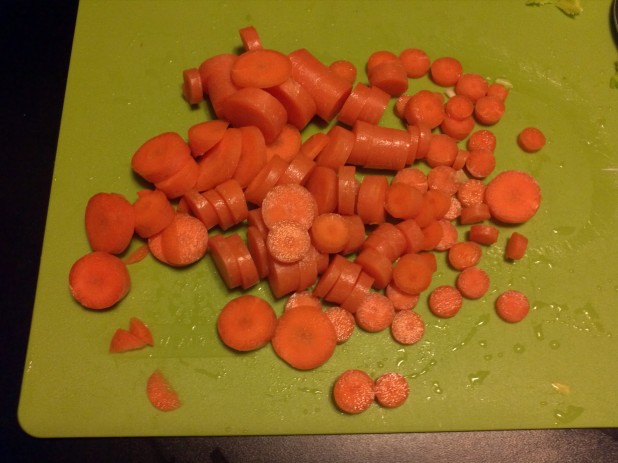 And some carrots.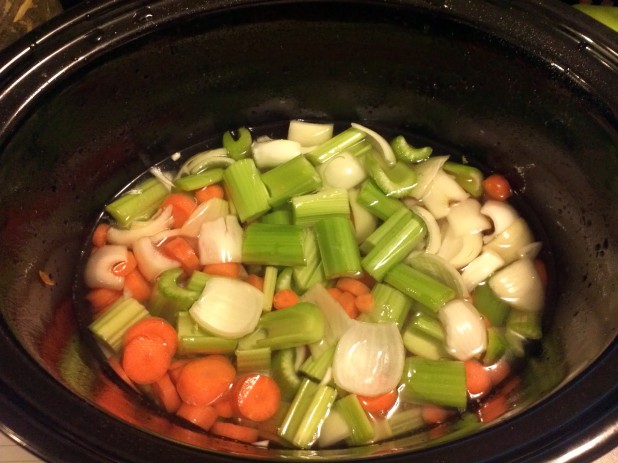 Place them all on the bottom of the crockpot and cover with 4 cups of water.  We're making a bed for the corned beef.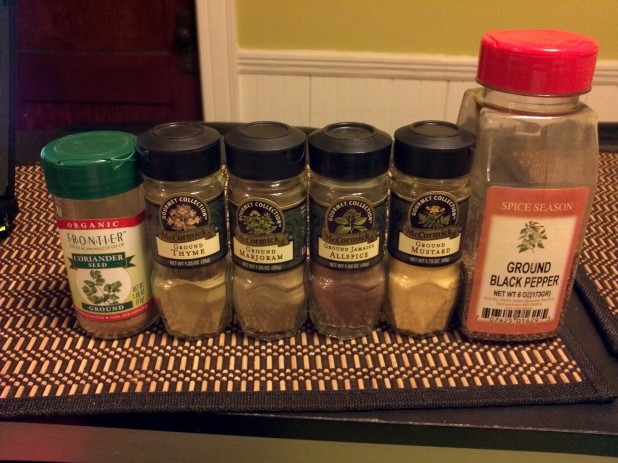 Now we need to prepare the spice mixture to apply to the corned beef.  Above are all the spices I used.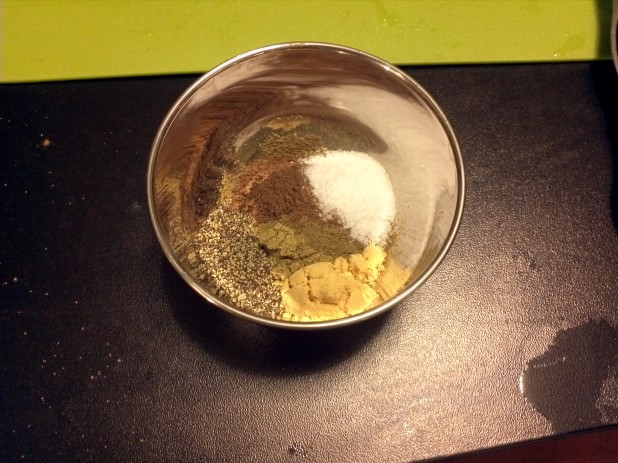 Don't they look pretty?  Make sure to mix them all up before using.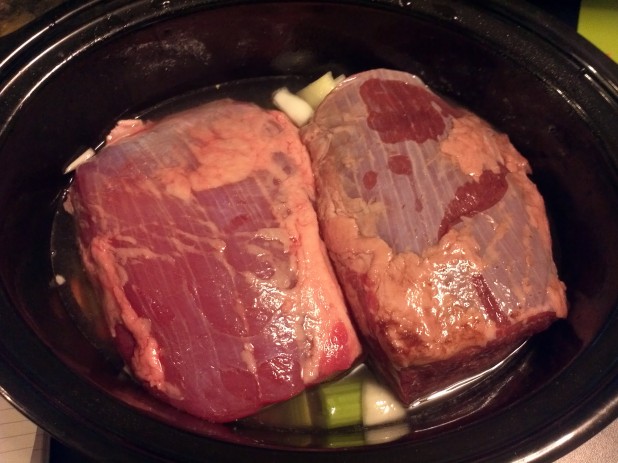 Place the corned beef over the vegetables. Note that I wanted to have a lot of left over corned beef for other purposes so you could definitely just cook one roast if you wanted.  However I figured while I was firing up the crockpot I might as well cook both of them!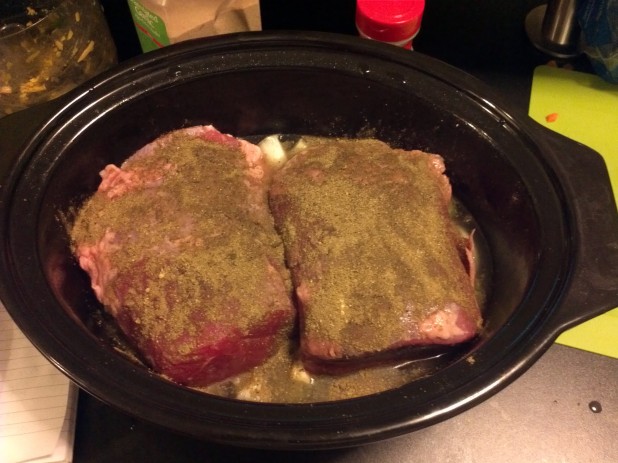 Cover both sides of the corned beef with the spice mixture.  Add any extra spice directly to the liquid.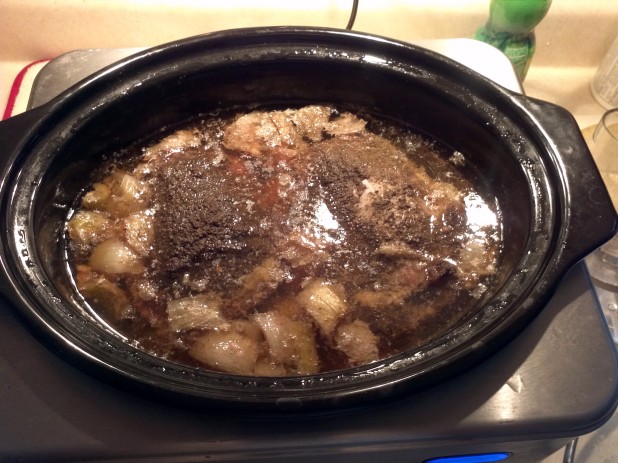 Next, cook the corned beef on low for 7 hours. I use a programmable crockpot so I set it for 7 hours on low, and then it switches automatically to warm until I get home.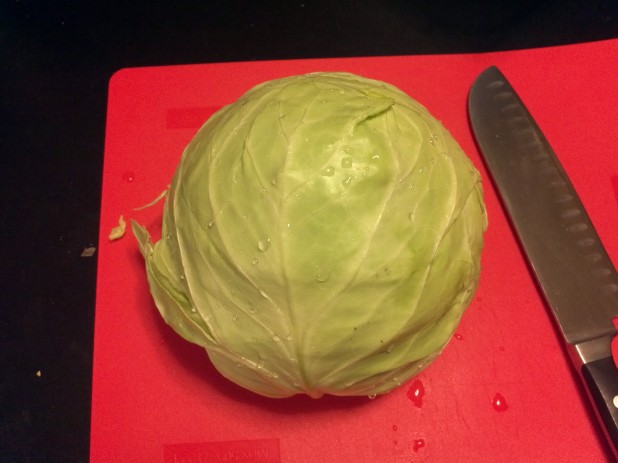 Next comes the cabbage!  Remove the outer layer and wash the cabbage.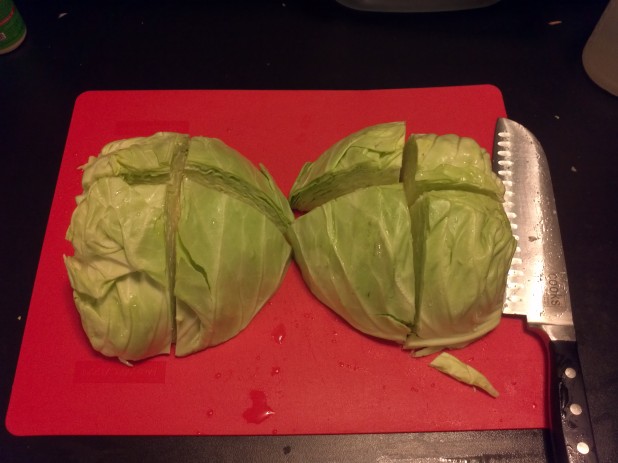 Then cut it into pieces.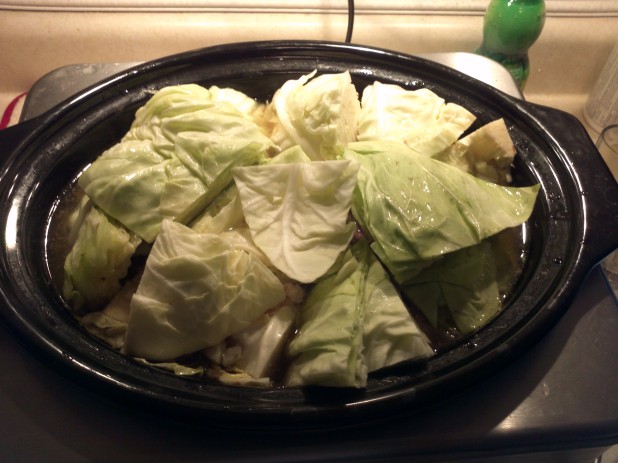 Now try and stuff all the cabbage into the crockpot and cook for an additional hour on low.  The reason we are adding the cabbage later in the process is so that it doesn't turn to absolute mush.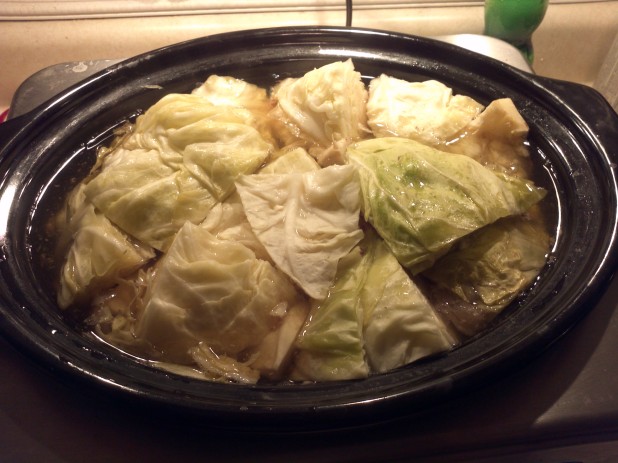 And it's done!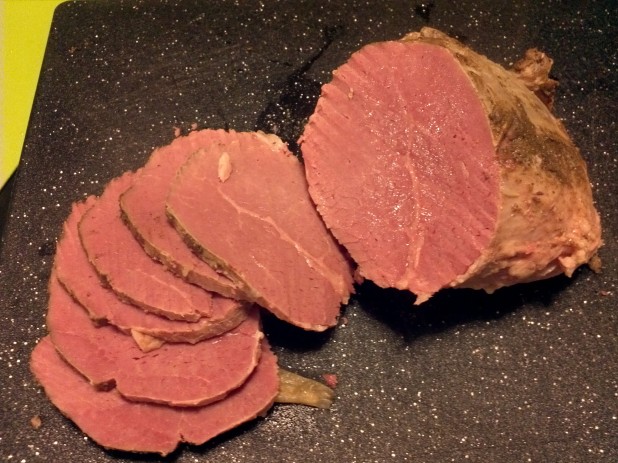 Pull the corned beef out and slice it into thin pieces.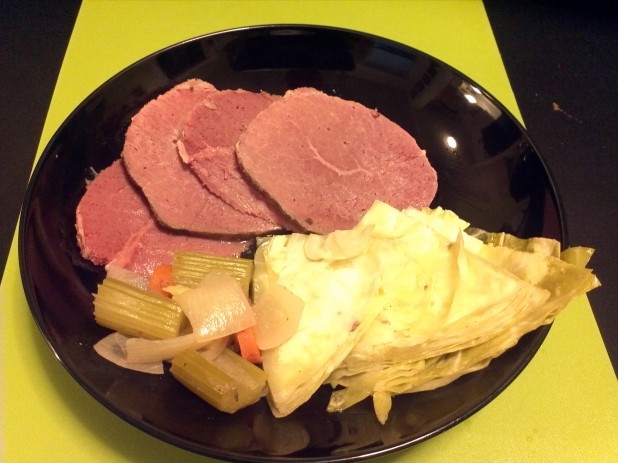 Plate it with an assortment of vegetables and juice!

Crockpot Corned Beef and Cabbage
Nutrition Information
Serving size:

1/10th

Calories:

583
Fat:

40

Carbohydrates:

13

Fiber:

5

Protein:

42
Prep time:
Cook time:
Total time: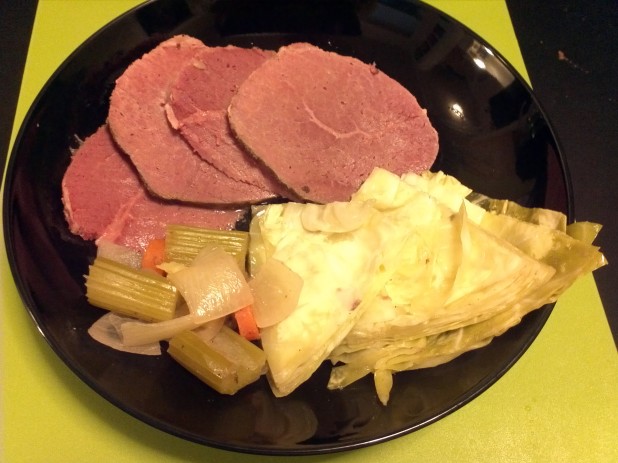 Ingredients
1 Small Onion (173 g)
1 Celery bunch (327 g)
4 Carrots (245 g)
4 Cups Water
½ tsp Ground Coriander
½ tsp Ground Mustard
½ tsp Black Pepper
½ tsp Salt
½ tsp Allspice
½ tsp Ground Marjoram
½ tsp Ground Thyme
5.88 lb Corned Beef
1 Large Head Cabbage (1.33 kg)
Instructions
Cut up the onions, celery and carrots
Line the bottom of the crockpot with the above vegetables
Add 4 cups of water
Mix together all the spices
Rub both sides of the corned beef with the spices and place on top of the vegetables
Cover and cook in the crockpot for 7 hours on low
Discard the top layer of the cabbage, wash, and quarter (I did this ahead of time and had it in the fridge ready for later)
Place the cabbage in the crockpot and cook for an additional 1 hour on low
Plate and serve!
Notes
You can adjust the vegetables to your desired audience. If people are eating hardcore keto, don't serve them the carrots or onions. If you're eating with non keto people, add potatoes but don't eat them yourself.
Cuisinart PSC-650 6-1/2-Quart Crockpot
Useful for set it and a forget it meals where you place all the items into the crockpot and let it rip! Most crockpots use a ceramic, dishwasher safe bowl that's heated from the outside to a low temperature which allows the ingredients to simmer for hours.
Victorinox Fibrox 8″ Chef's Knife
You really only need one good knife. This one is it. America's Test Kitchen rated it the number one budget knife!

Non-slip Cutting Board
Let's face it, keto involves a lot of prep. You've got to slice all those vegetables, cut up all that meat and not just any old board will do. Make sure to grab yourself a nice non-slip one for the kitchen!