Time to spice up the weekend breakfast! I've been wanting to make this for a while and I finally remembered at the same time that breakfast was ready to be made. Its been made many different ways by lots of different people. A fellow blogger on reddit makes a mean eggs in a cloud with a latin twist. This one is more good old keto bacon and cheese!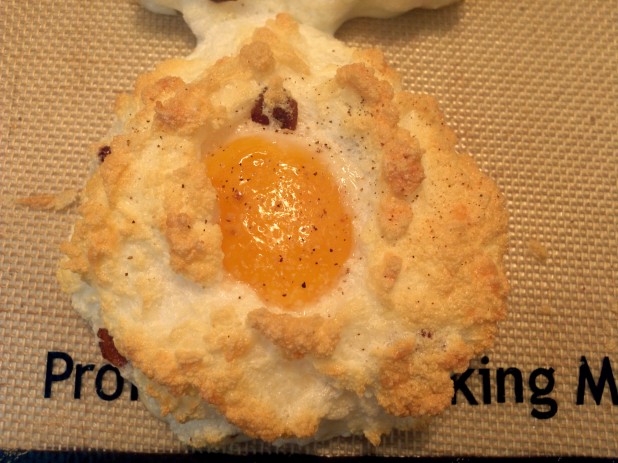 Here is the finished product.  It turned out better than i could have hoped for.  Perfect yolk and eggs.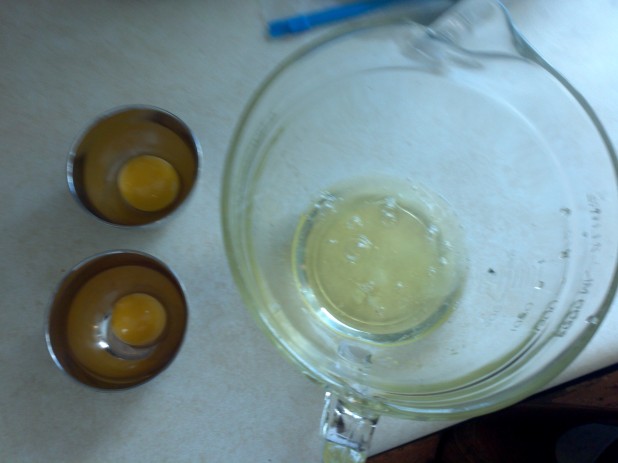 Split the egg yolks between the egg whites and the yolk.  Put the yolks into prep cups for later.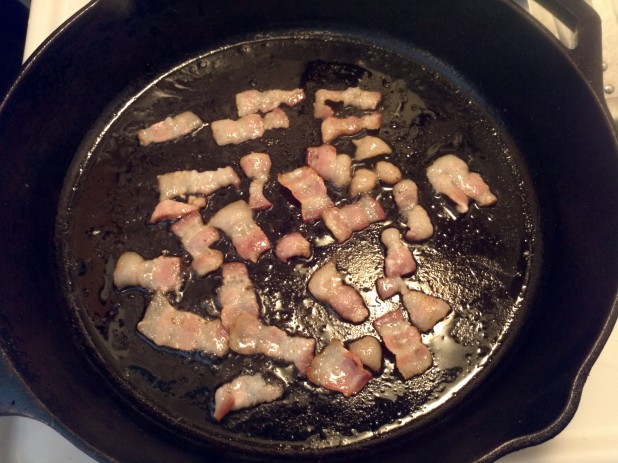 Brown some bacon bits. When they are done, transfer them to a paper towel and let the bacon grease drain off and let them cool.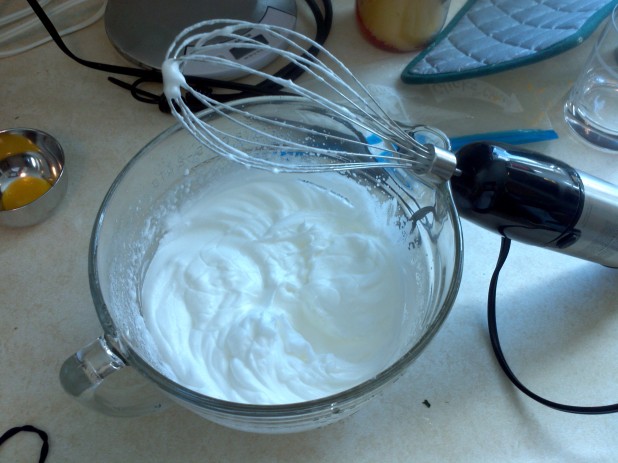 Whip the eggs until they are stiff.  I use my immersion blender which has a whipping attachment, immersion blender and a mini chopping attachment.  Make sure these are really stiff, not just foamy, but very stiff.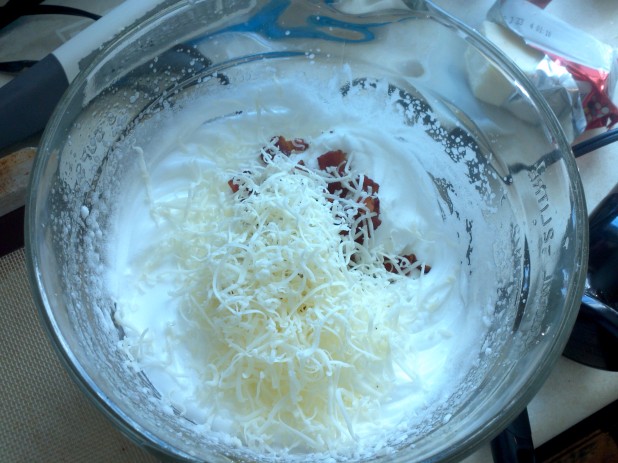 I grated in some fresh Parmesan and threw in the bacon bits I cooked. Make sure the bacon bits are no longer hot or it will collapse the egg whites.  Dry the bits off with paper towels before adding.  Fold the ingredients together.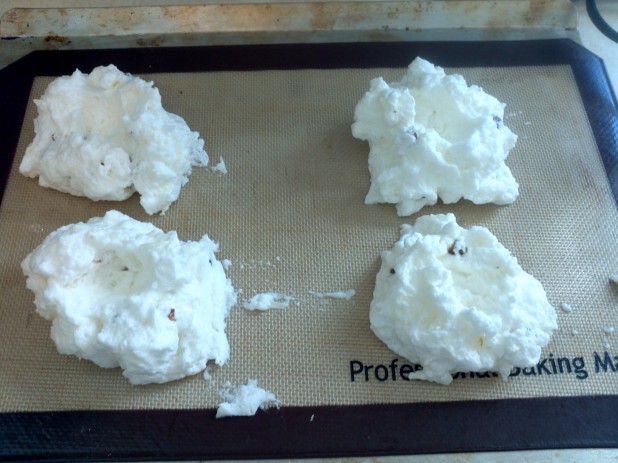 Once the ingredients are put together, form four mounds on the either a non stick silicon mat or parchment paper.  Make a divot in the middle of the mounds.  Bake at 350 degrees for 5 minutes until they have set.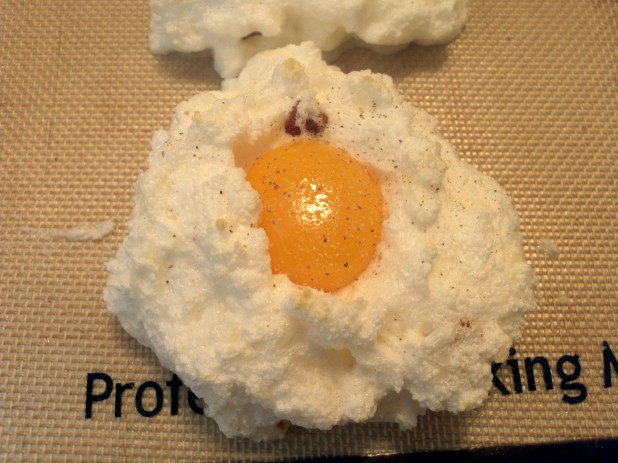 Put a yolk in each mount.  Top with salt and pepper.  Bake until brown.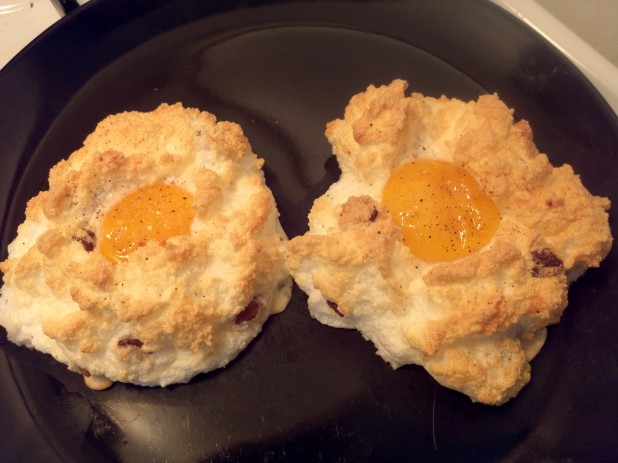 Finished Eggs in a Cloud!  They were pretty damn good.

Eggs in a Cloud
Nutrition Information
Serving size:

1

Calories:

98
Fat:

7

Carbohydrates:

1

Fiber:

0

Protein:

6
Prep time:
Cook time:
Total time: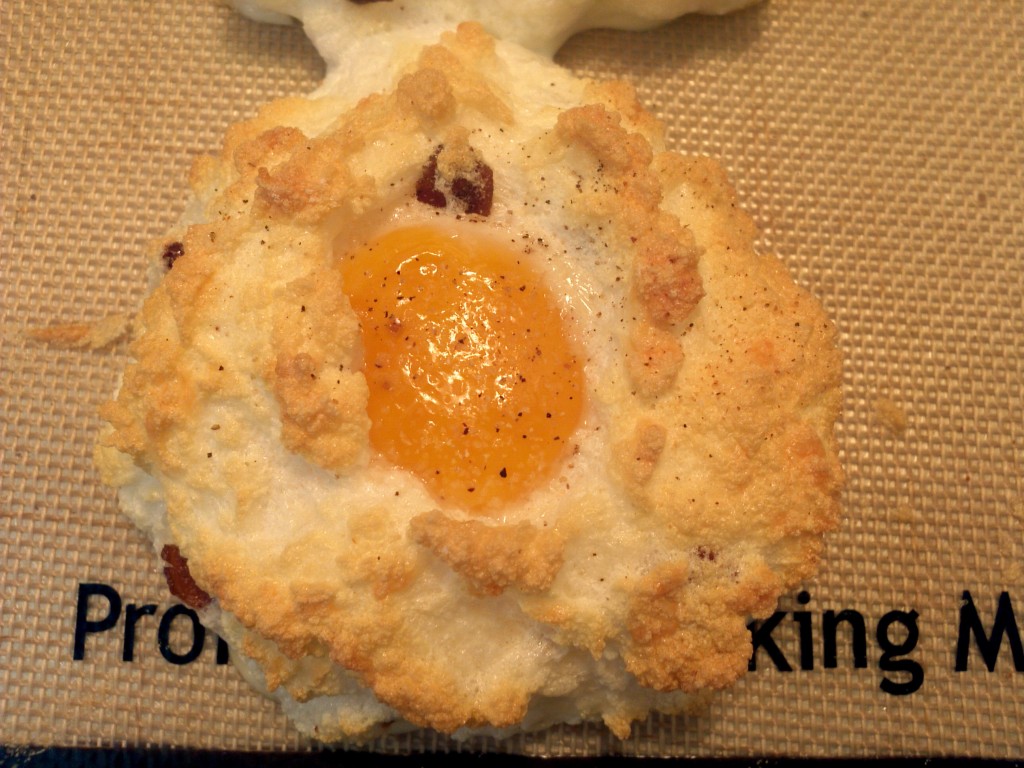 Ingredients
4 Large Eggs
2 Slices Bacon
To Taste Salt, Pepper, Onion Powder, Garlic Powder
2 Tbsp Parmesan Cheese
Instructions
Split the egg yolks from the egg whites
Cut up some bacon and cook for bacon bits
Put the egg whites into a bowl and whip them until stiff
Shred some Parmesan cheese into the egg whites and add the bacon bits
Form the egg whites into four mounds on a silicon mat or parchment paper
Bake the egg whites at 350 degrees until set, around 5 minutes
Put an egg yolk in each mound
Bake until the egg whites are brown
Silpat Non-Stick Baking Mat These mats are great for working with sticky materials and for quick cleanup. Basically a reusable parchment paper that protects your regular baking sheets! Used in recipes such as eggs in a cloud.
Cuisinart Immersion Blender
The Immersion Blender is another one of those items I thought would be completely worthless when I first got it. I knew you could make soups with it but I never imagined that you could whip up a chocolate mousse or even use its mini food processor to make homemade dressing!
Sur La Table Grater / Shaker
This little guy is super convenient to grate hard cheeses like Parmesan and bring to the table to serve. It's less messy than a rotary cheese grater and it even has measurement marks on it!