The other weekend our friends introduced us to Spaghetti Squash as a pasta replacement. As soon as I saw how simple and noodle like it was, I knew I'd have to try it out in my faux pasta quest.  Last time I used Cabbage as a pasta replacement and it worked out pretty well.  For this recipe you cook the Squash and shred it with a fork and it creates a very noodle like substance.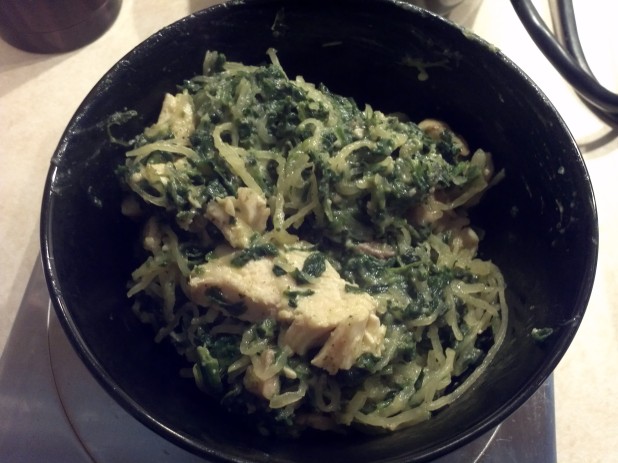 Here is the finished dish.  It tasted just like Chicken Fettuccine Alfredo!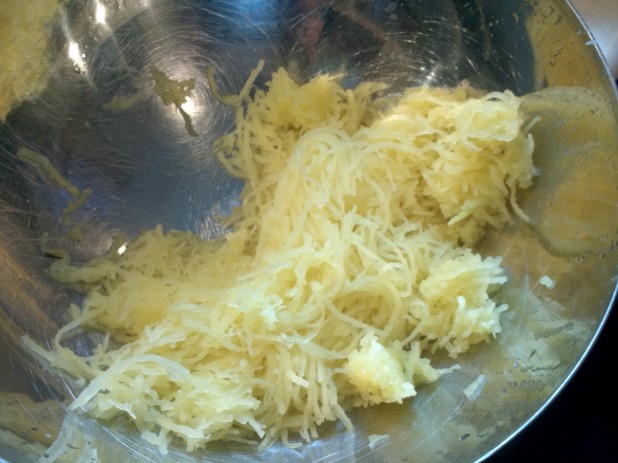 Here is what the cooked pasta looks like after shredding. To prepare the squash, cut it in half and lay it in a rectangular baking dish with about an inch of water in the bottom and cook for 30-45 minutes at 400 degrees.  Then shred the squash much like you were shredding pork for pulled pork.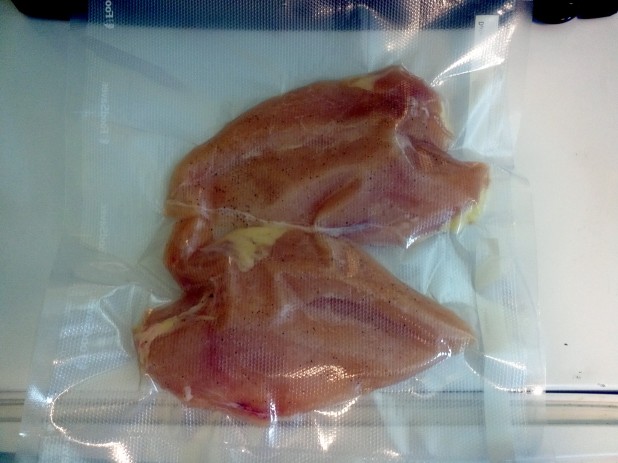 Fair warning: I just built a Sous Vide machine so I will probably be cooking every meat imaginable using this technique even if it makes absolutely no sense 🙂 If your not familiar, Sous Vide is the process of cooking food in a hot water bath a the desired done temperature for long periods of time.  You generally vacuum seal the food  before cooking.  I just picked up a vacuum sealer last week for this purpose. Salt and pepper the chicken, put it in the bag, and cook at 140F for 2 hours.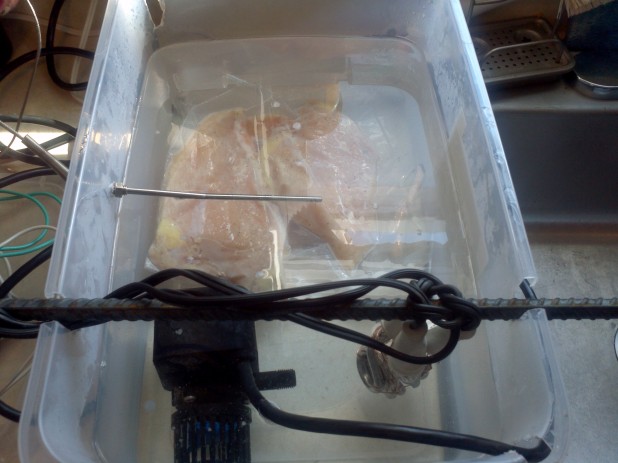 Here is a picture of the initial setup.  Basically its just a pump, some heating coils, and a controller to keep the temperature steady.  Once I get all the bugs worked out I'll post a separate article on how to build one yourself.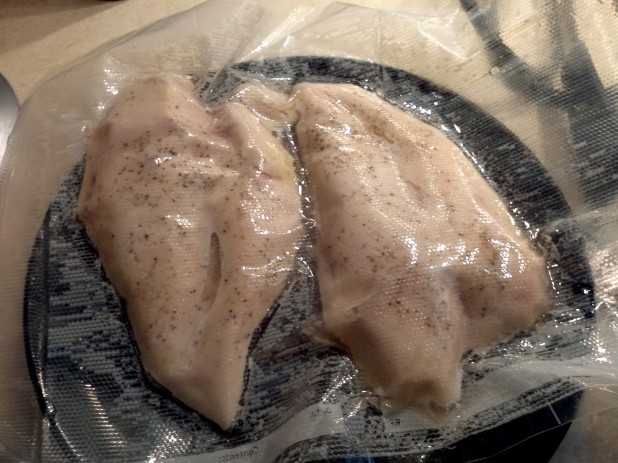 Here is the finished chicken.  It was definitely one of the most moist chicken's I've ever eaten! Alternatively you can just cut the chicken into strips and pan fry.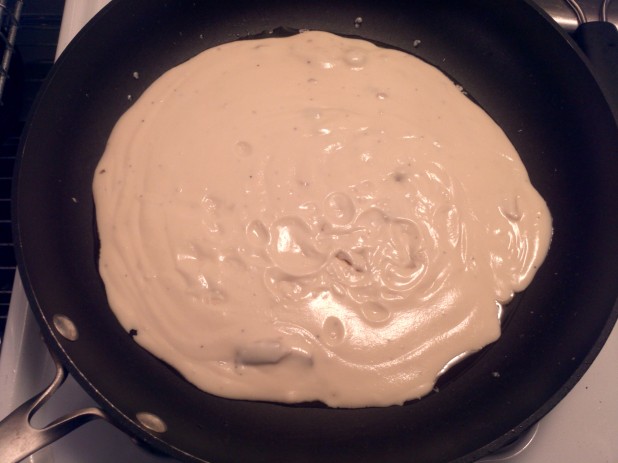 For the sauce, start by heating a jar of Alfredo sauce in a pan.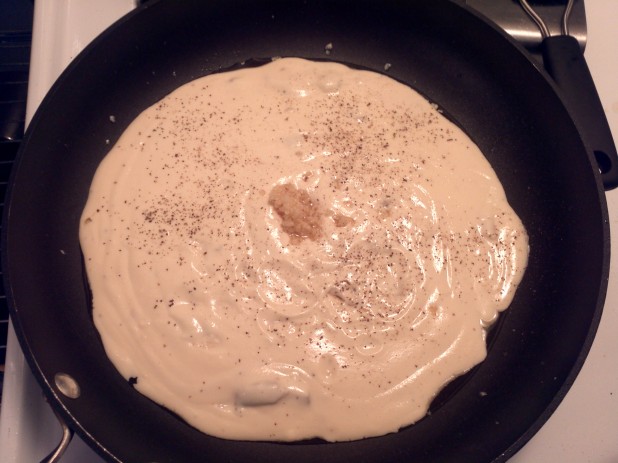 Add in some salt, pepper, and garlic.  Stir this to combine and heat.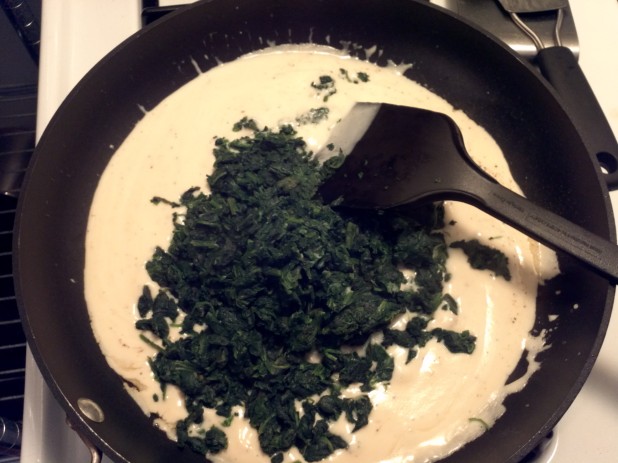 Add the cooked spinach.  I just took some of my frozen BJ's spinach, popped it into the microwave and hit frozen vegetables.  Stir this in really well.  You want the sauce to basically be green with spinach.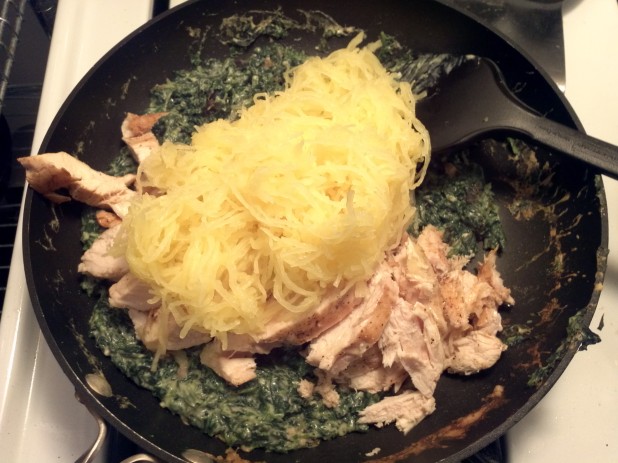 Finally add in the chicken and the pasta and combine / heat it all!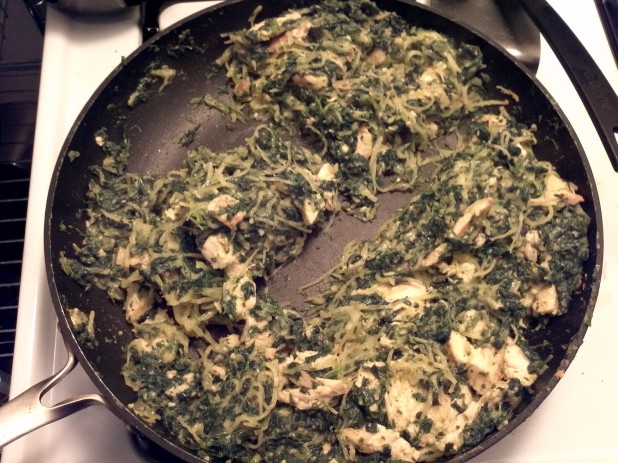 And your all done!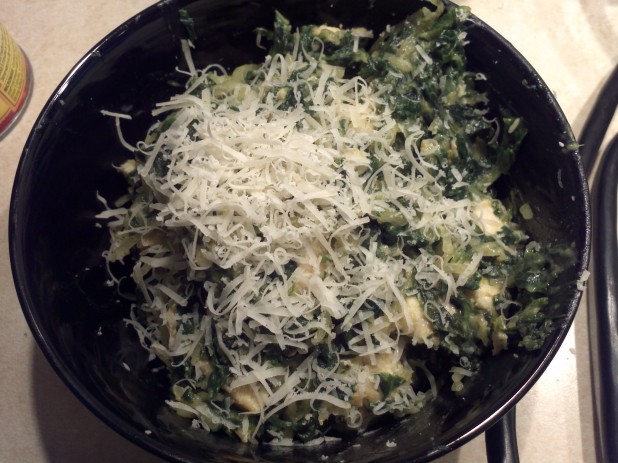 I had some fresh Parmesan cheese sitting around from another recipes so I grated that onto the pasta and it was all done! Overall I thought this was a very tasty pasta dish.  Although I have to admit I could probably eat this without the pasta given the amount of stuff that goes into just the sauce and the chicken.

Chicken Squash Alfredo
Nutrition Information
Serving size:

¼th

Calories:

304
Fat:

13

Carbohydrates:

14

Fiber:

7

Protein:

30
Prep time:
Cook time:
Total time: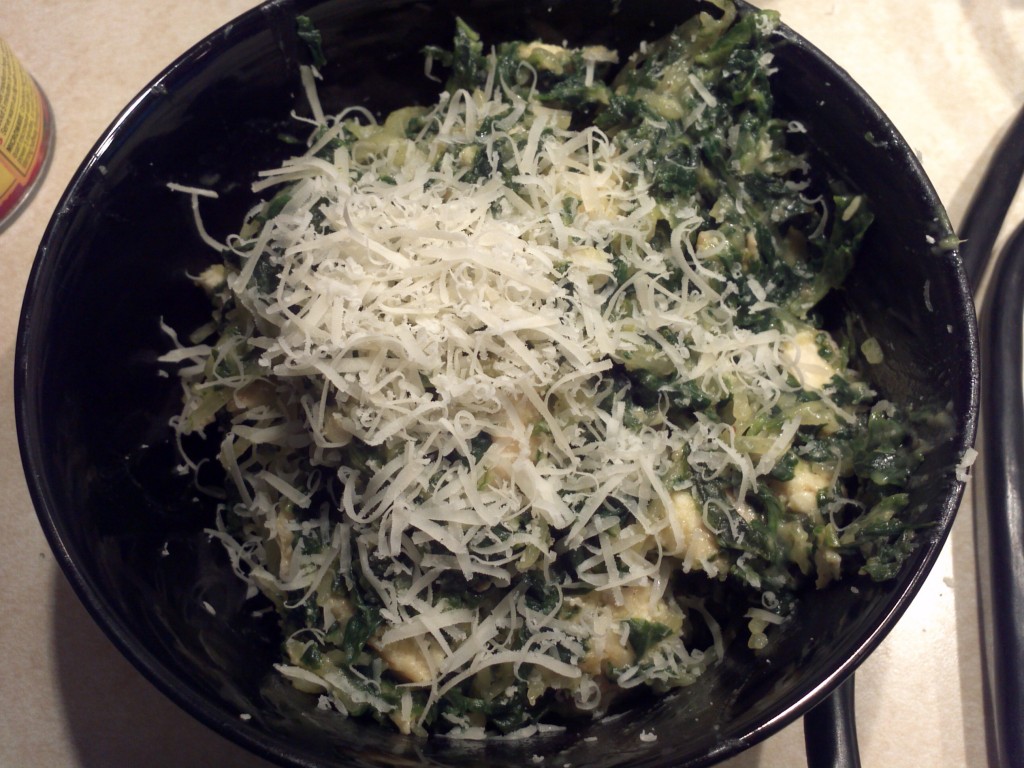 Ingredients
1 Jar Alfredo Sauce
2 Chicken Breasts
½ Squash
1 Tbsp Minced Garlic
To Taste Salt and pepper
255 g Spinach
Instructions
Start by splitting the squash in half and cooking face down in water for 30-45 minutes at 400 degrees
Using half of the squash, shred the meat of the vegetable with a fork to form noodles
Cut the chicken breasts into strips and pan fry
Heat the Alfredo sauce in a pan with salt, pepper and garlic
Thaw and heat the spinach in the microwave and add to the sauce, stir until fully incorporated
Stir in the cooked chicken and Squash
Serve with fresh grated Parmesan!
Anova Sous Vide Cooker
Sous Vide was one of my first forays into extreme stunt cooking. I made my own DIY Sous Vide machine but you can skip all that trouble and just pick up a commercial model. The prices have dropped dramatically and its insane how nice cuts like prime rib cooked for 10 hours come out!
FoodSaver V3835 Vacuum Food Sealer
A Vacuum Sealer is more like an enabling technology in the CMK kitchen. Its necessary for a Sous Vide setup but once you get one you'll find yourself resealing half eaten bags of pork rinds, or buying bulk meats at BJs and freezing them in perfectly sealed, pre-portioned bags.
Thermapen
This probably shouldn't be the first thing you buy for your keto kitchen, but eventually, you'll end up buying this thermapen. It seams ridiculous to blow $80+ on a temperature probe but once you go through 5 other cheap ones, or burn your hand waiting for the temperature to stabilize, you'll wish you just picked one of these up. Its way faster and more accurate at reading temperature and I now almost exclusively cook meat to a done temperature rather than a specific time.
Save