So my mom always likes to get everyone in the family zainy Christmas gifts for the holidays. Of course she knows I'm on keto and that I'm into kitchen gadgets. This year she got me a Zoku Popsicle Maker. Now, I normally don't post desserts cause I think a lot of people on the keto diet are triggered by eating sweets but I had to try this thing out. At first I was very skeptical and wasn't sure it would be very keto friendly. However, after I did the math, it comes out to just 1 carb and 104 calories! So I whipped out all my sugar free syrups and got to mixing. Surprisingly, the darn thing worked! Could it be, a keto popsicle?

Here is the Zoku. Its basically like an ice cream maker in that its filled with liquid and you freeze it before use.  Then it freezes the popsicles a lot faster than traditional methods.  The stick goes in the center and the thing on the right is a drip guard.  The green knob is the extractor.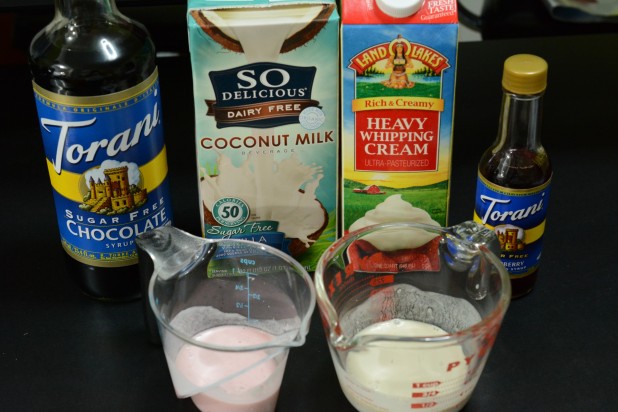 Here's the ingredients.  Basically you just combine with a 3:2:1 ratio of heavy cream, unsweetened coconut milk and sugar free syrup.  For my first test I decided to make a two flavor, half and half popsicle with chocolate and raspberry. Make sure all of the ingredients are cold.  They say the device can make three rounds of popsicles, so 6 with this model, but depending if you try anything fancy like multiple flavors, that gets reduced.  If you precool the ingredients they'll go faster and you'll get more runs.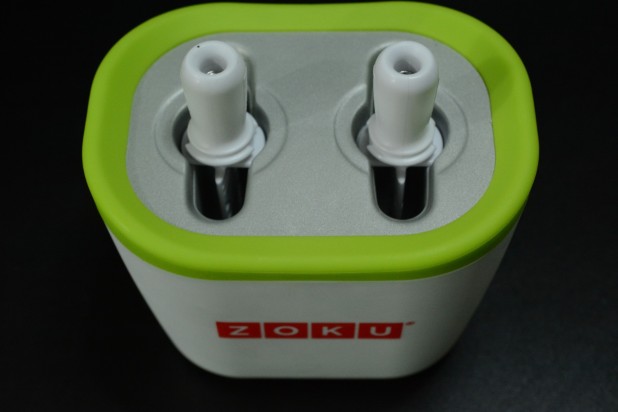 Here's what the device looks like when you start. You insert the popsicle before you add any ingredients.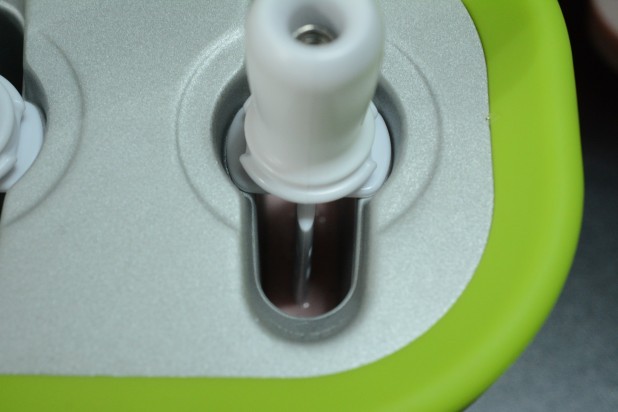 Here's what it looks with half of the liquid in.  I don't know why but I decided to make them opposite where I put raspberry in one half and chocolate in the other half. After you add one liquid, you want to let it set for a minute or so before you add the second flavor.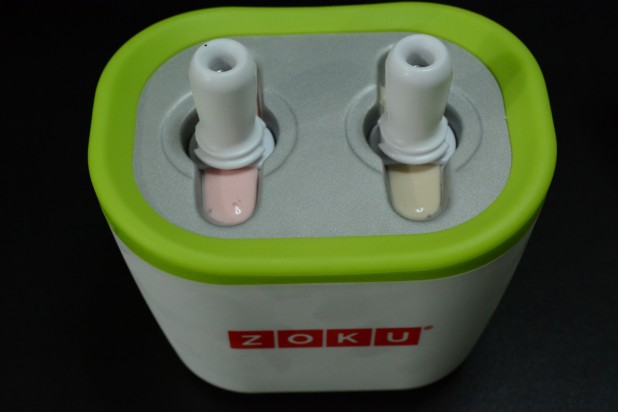 You fill to the line and let it freeze!  I think in the future I would actually fill a little lower because it overflows the line.  It didn't end up being a problem though.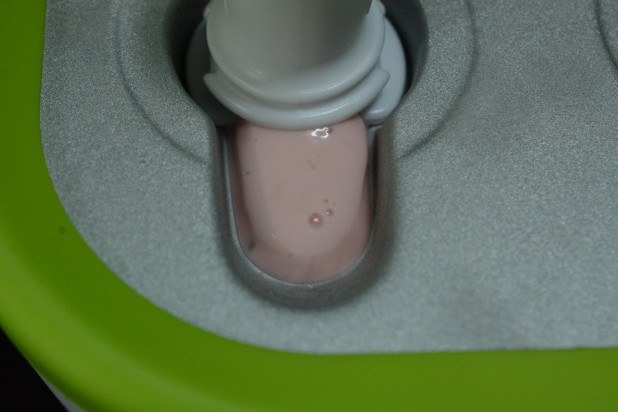 You can literally see it freezing!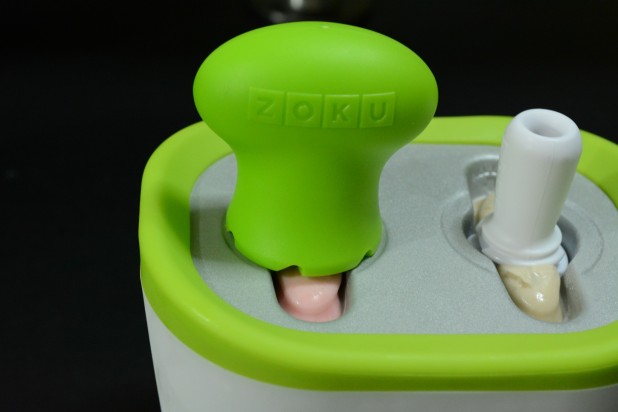 Next is the big green knob.  I didn't really understand at first but basically the stick is threaded and the knob has a screw inside it.  You twist the knob and it applies equal pressure to the zoku base which then extracts the popsicle.  It makes sure it comes out evenly.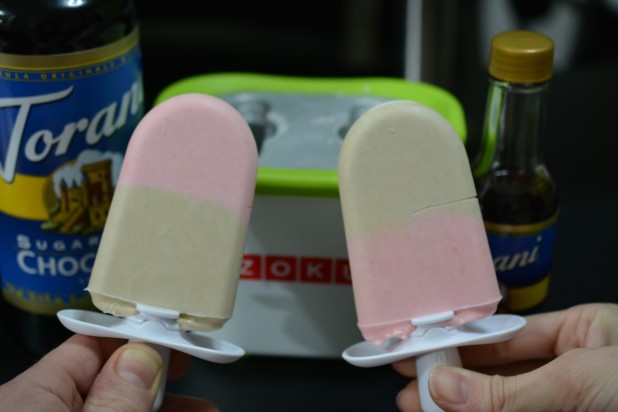 Here's round one!  I couldn't believe how well they came out!
Next I wanted to get fancy.  The manual mentions making all sorts of crazy, diagonal pops. So, what I did was make three mixes this time and I poured one third of a popsicle in and then set it on a book.  I then had to let it freeze almost completely.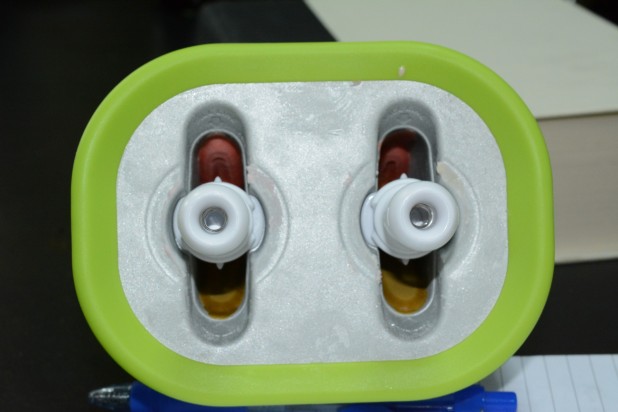 Then I did the same thing on the other side and again let it freeze completely. Finally I added the third flavor in the middle and let it freeze again.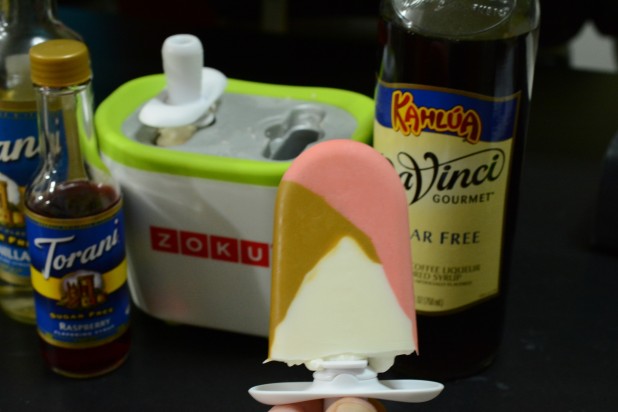 The result was amazing! The main caveat is that you'll probably only get one or two freezings total if you do it this way since it takes so much longer.  For this one I did Kahlua (coffee flavored), Raspberry and Vanilla.  I actually had no idea I had accumulated so many sugar free syrups!

Keto Popsicles
Nutrition Information
Serving size:

1 Popsicle (60 mL)

Calories:

104
Fat:

10

Carbohydrates:

1

Fiber:

0

Protein:

0
Prep time:
Cook time:
Total time: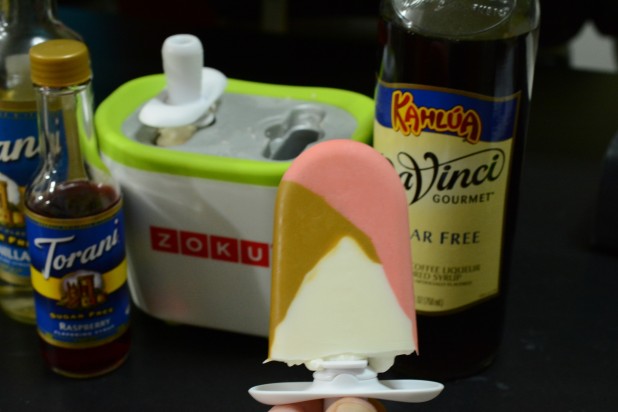 Ingredients
60 mL (4 Tablespoons) Heavy Cream
40 mL (2 Tablespoons + 2 teaspoons) Sugar Free Coconut Milk
20 mL (4 teaspoons) Sugar Free Flavored Syrup
Instructions
Freeze Zoku device for 24 hours or until fully frozen
Each popsicle uses 60 mL or 4 Tablespoons of mix total, if only using one flavor, make as above, if making multiple flavors, make a mix of (3 parts Cream to 2 parts Coconut Milk to 1 part Flavored Syrup ) to total 120 mL for two
Mix the ingredients and place them in the freezer as well, you want all the ingredients to be as cold as possible
Bring out the Zoku and place the popsicle stick in it
Add the liquid and wait 9 minutes, if adding multiple liquids, let the first liquid set for a minute or two before adding the second
Once it is completely frozen (you can check by using a toothpick), screw on the extractor to release the mold
Snap on the drip shield and eat!
Zoku Popsicle Maker
This crazy kitchen tool makes near instant popsicles! Combine Heavy Cream, Coconut Milk and sugar free flavored syrup to make the perfect keto dessert. It can even be reused with out freezing to make up to 6 popsicles!
Torani Sugar Free Syrup
Sugar Free Syrups are great if you want to create a special keto cocktail or spice up your coffee. Since these things are so specific, they are rarely found in stores and have to be bought online.