So the latest crazy in low carb, keto cooking is Shirataki noodles. If you're not familiar, Shirataki noodles are an asian noodle substitute made from devil's tongue with between 0 and 1 carb per serving depending on the type.  Since this is an asian noodle, what goes better than Kimchi? If Shirataki isn't your style, make sure to check out my other faux pasta articles!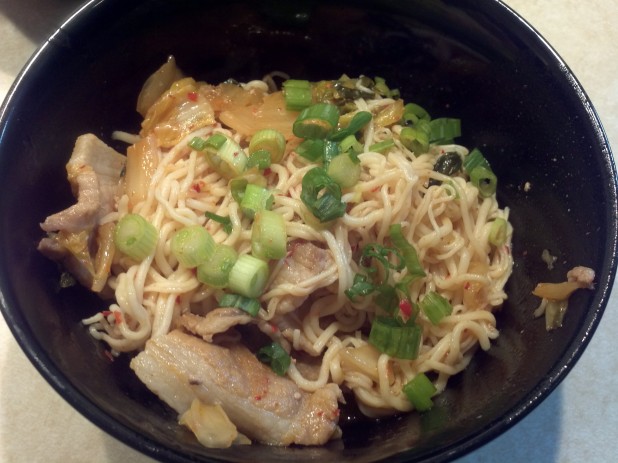 Here is the finished dish and I think it turned out really well!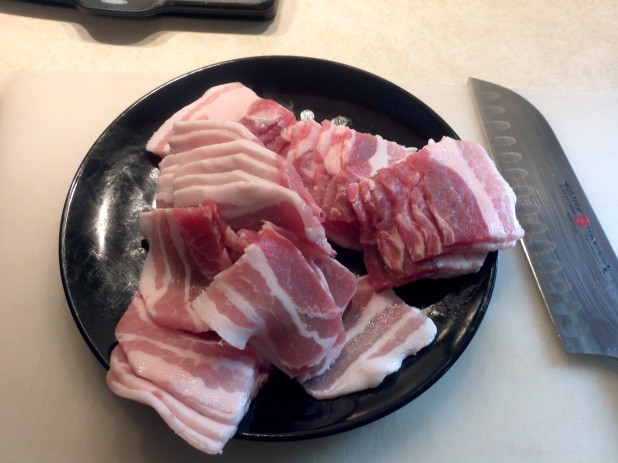 For the protein portion of this dish, I went with thinly sliced pork belly. Since I will be stir frying this quickly in a wok, I made sure to prep everything ahead of time.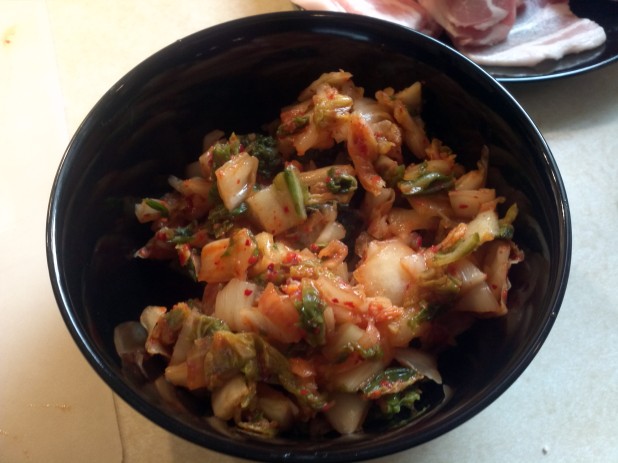 For the vegetables, I used chopped up kimchi.  Kimchi are spicy, fermented vegetables and should be available at any specialty asian grocery store.  Alternatively, you can just get some stir fry vegetables and add some hot sauce.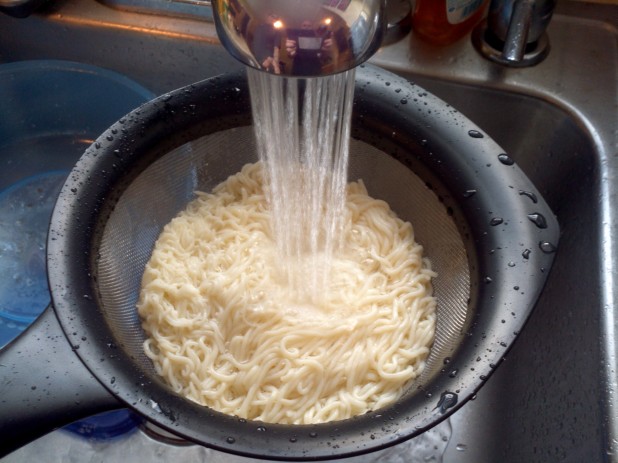 Make sure to wash the noodles REALLY well.  They stink and are stored in some sort of nasty liquid. However, a good washing gets rid of that entirely.  The above is a combination of two different packs, one angel hair and one spaghetti.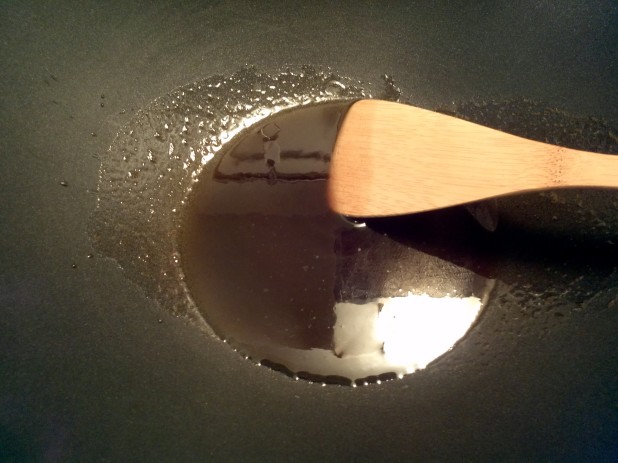 Now that all of the ingredients are prepped, we're ready to start stir frying!  Assembly a variety of asian oils and spices into a nonstick wok and heat.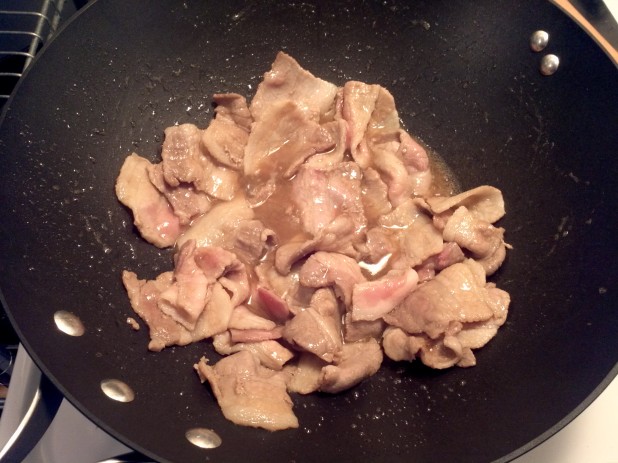 Start by cooking the meat in the sauce.
Add in the kimchi and incorporate it into the mix.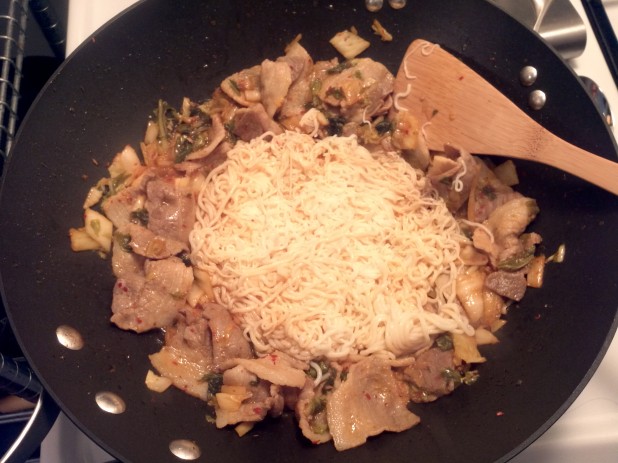 Make a hole in the center of the wok and drop in the noodles.  Fry for a few additional minutes and mix it all together.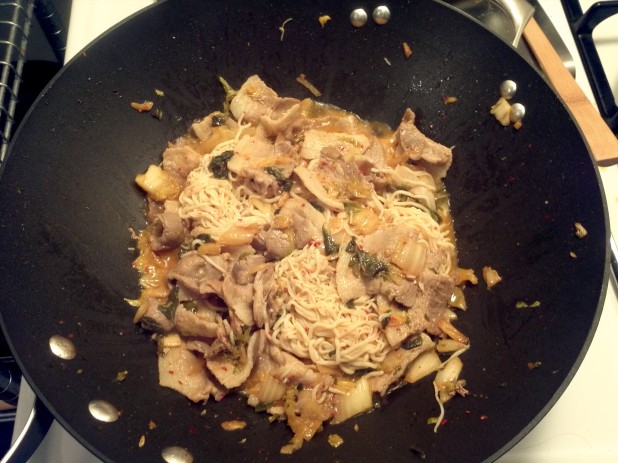 Here is the final dish in the wok!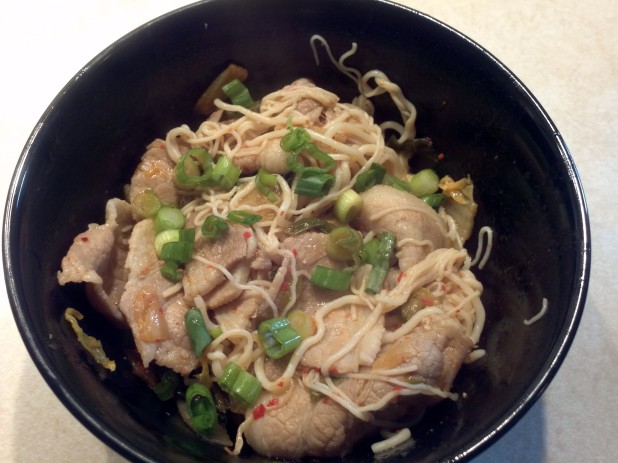 Add some cut green onions on top and the dish is finished!  I really liked the mix and it was pretty simple, just rinse the noodles, cook meat and vegetables, add noodles, and your done!

Kimchi Shirataki Noodles
Nutrition Information
Serving size:

¼th

Calories:

221
Fat:

19

Carbohydrates:

6

Fiber:

4

Protein:

6
Prep time:
Cook time:
Total time: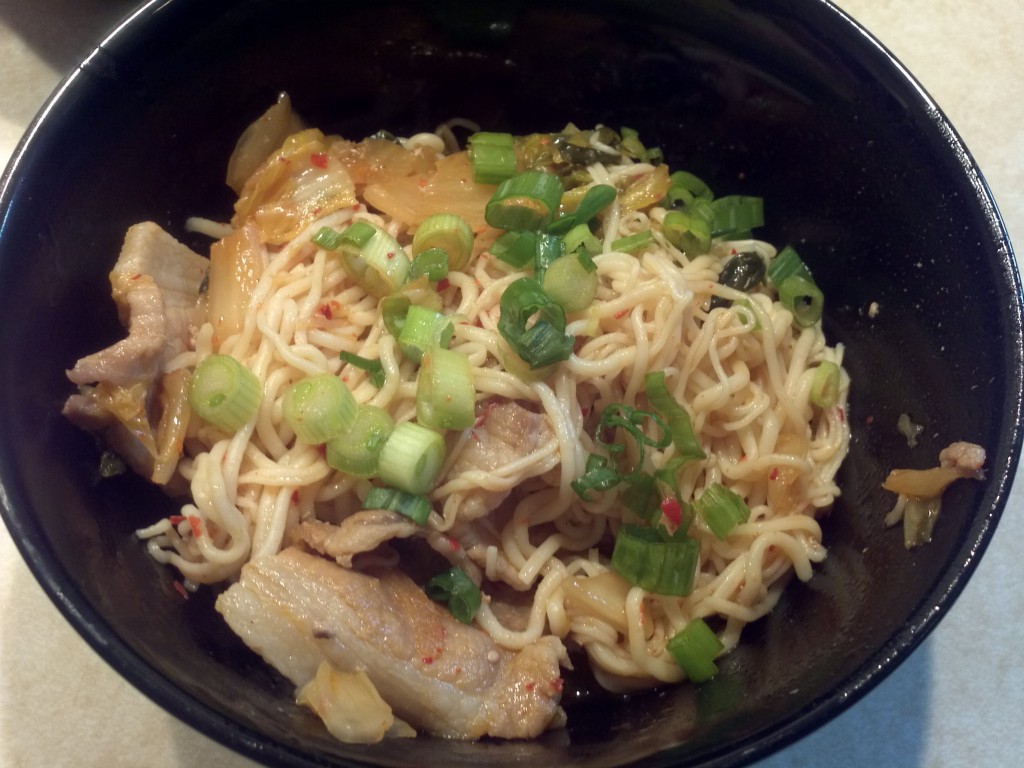 Ingredients
2 House Foods Tofu Shirataki Noodles
4 Oz sliced pork belly
½ containter Kimchi (210 g)
1 Tbsp Soy Sauce
1 Tbsp Fish Sauce
1 Tbsp Sesame Oil
4 Stalks Green Onions
Instructions
Prep all ingredients first before starting stir fry process
Cut up the pork belly into bite size pieces
Cut up kimchi into small bite size pieces
Wash noodles thoroughly
Add oils to the wok and heat on high
Add pork belly and fry for a few minutes until cooked
Throw in kimchi and continue to fry
Make a hole in the middle of the wok and add noodles, frying until hot
Transfer to a serving bowl and top with green onions