Since this past Thursday was Valentine's day I wanted to go all out in celebrating with the missus.  For dinner I made seared and stuffed flank steak and I made some brussel sprout burgers as a side. This Strawberry Cheesecake really hit the spot for dessert!  I've actually made this several times in the past but I'm always conflicted posting dessert recipes.  A lot of people dieting have issues with desserts and often stay away from them.  Also, even though keto desserts are low carb, they are often "lower" carb and should only be eaten sparingly.  Now, with that off my chest, lets get baking!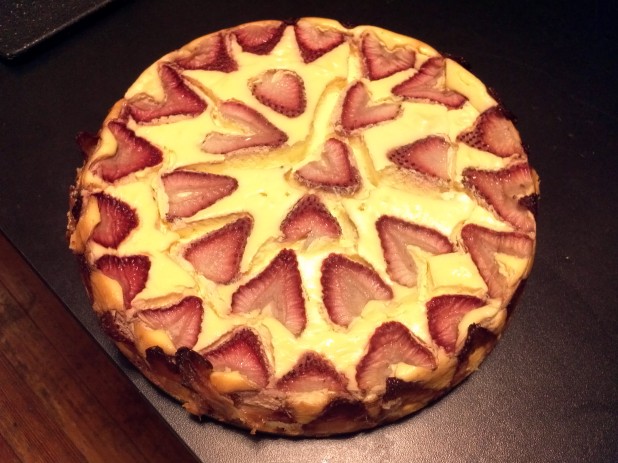 Here is the finished product!  I think it turned out really well!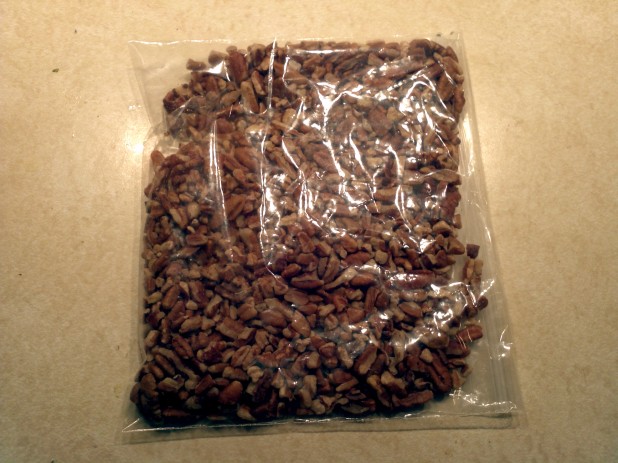 First, we'll start with the crust.  I like to do a combination of both Pecans and Almond flour.  The first steps is to get 3/4ths of a cup of pecans and crush them.  In my case I started with chopped pecans but you could use whole as well.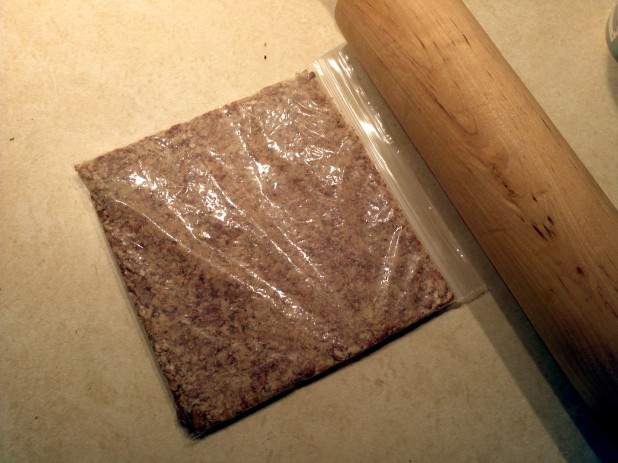 Once you have the pecans measured and put in a bag, you'll want to grab your favorite bludgeoning tool and bash away! In my case I just grabbed a roller.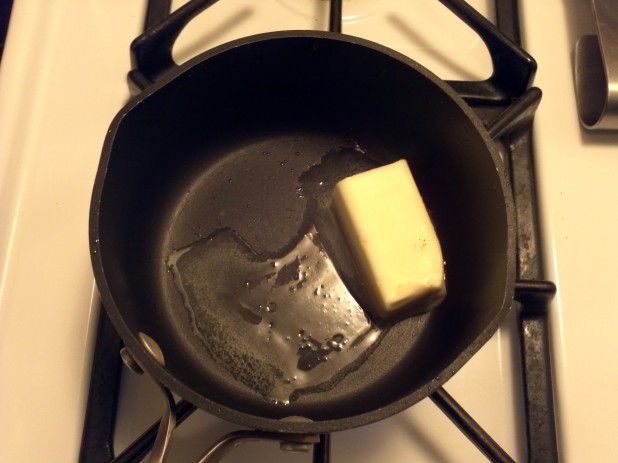 Melt 4T of butter in a small saucepan.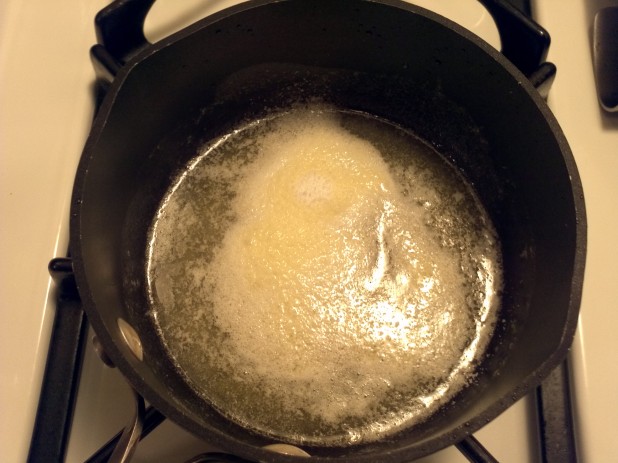 Add the splenda and combine.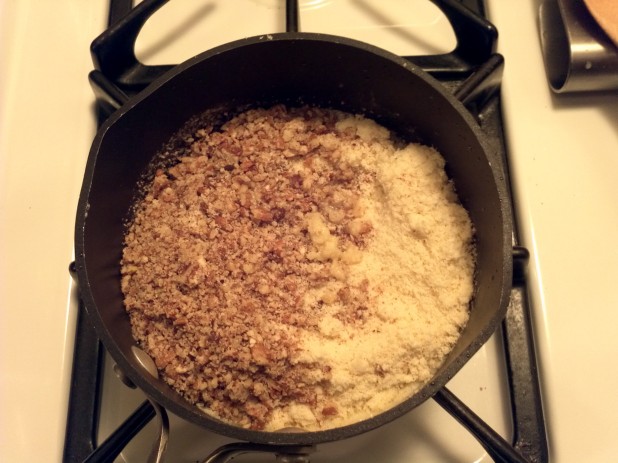 Now add the nuts to the butter and combine. I really like the texture of the combined nuts. The almond flour is fine and fills in the gaps in between the coarsely crushed pecans.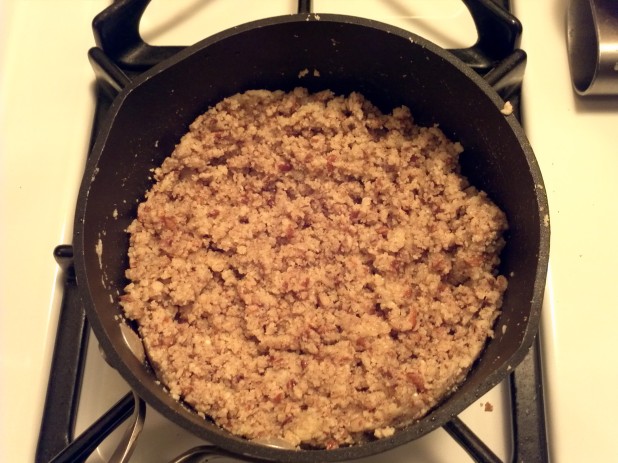 Cook it over medium heat long enough to combine all of the ingredients and warm it up.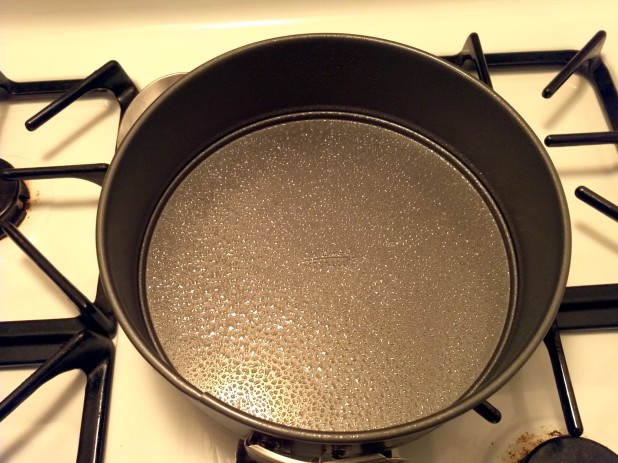 Next grease your 9-inch Springform Pan and get ready to put in the crust.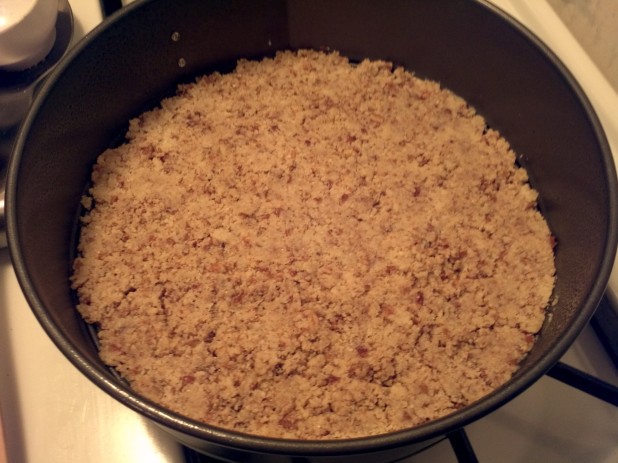 Spread the crust around the pan and make sure to pack it down. Throw it in the oven at 400 degrees for a few minutes to brown it.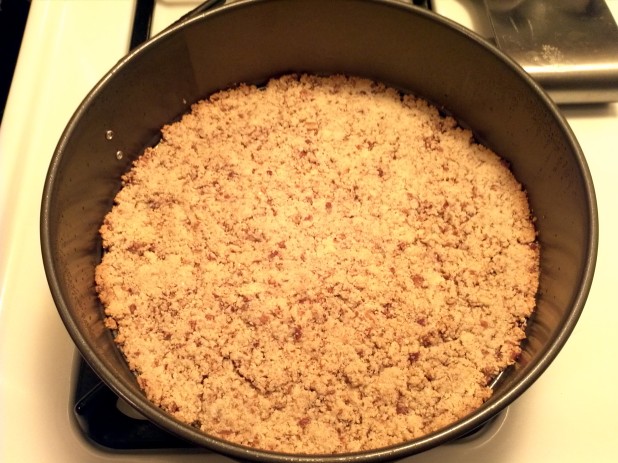 You should only have to cook the crust for 7-10 minutes.  When it starts to get brown on the edges like this, definitely take it out.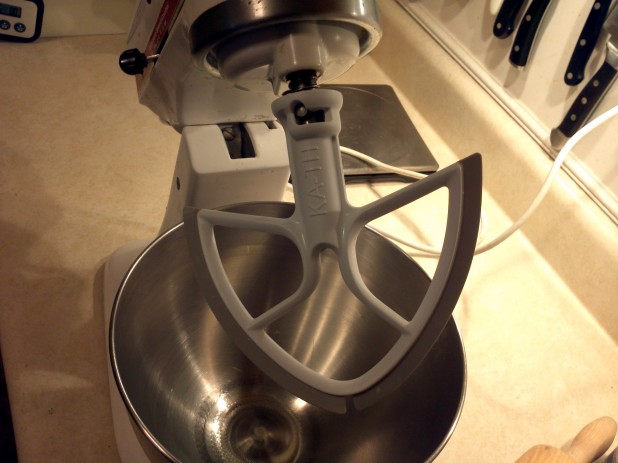 Next, break out your stand mixer and get ready to mix! By the way, if you have a Kitchen Aid mixer, definitely consider picking up this aftermarket beater blade. It makes it much easier to mix recipes like this cause it squeegees the bowl as it mixes. It makes it even less work to combine all the ingredients of recipes.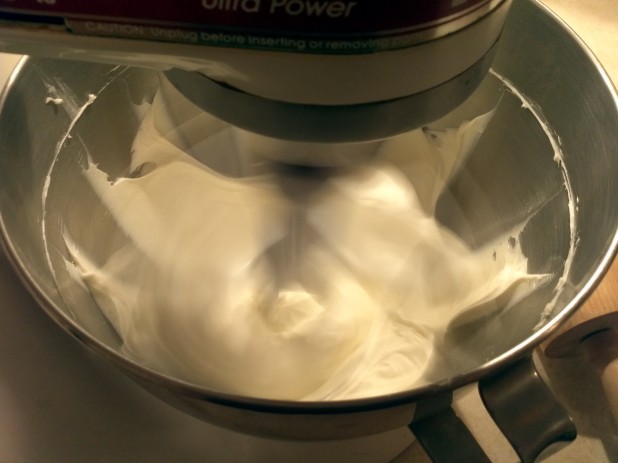 The first step on the liquid is to beat the crap out of the cream cheese. Ideally, the cream cheese should be room temperature but no one has time for that!  Just beat it really well.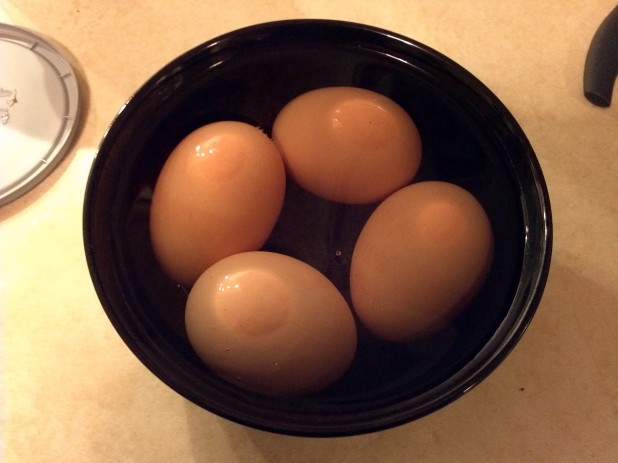 The eggs should also be room temperature … sitting them in warm water for a few minutes can warm them up to the desired temperature.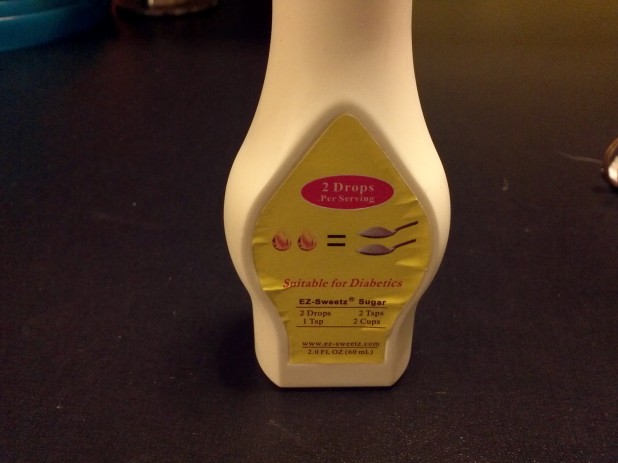 For the liquid part of the cheesecake, I prefer to use the liquid sweetener EZ-Sweetz. As you can see from the label, this stuff is crazy potent! For this whole recipe we only use 1/2 tsp!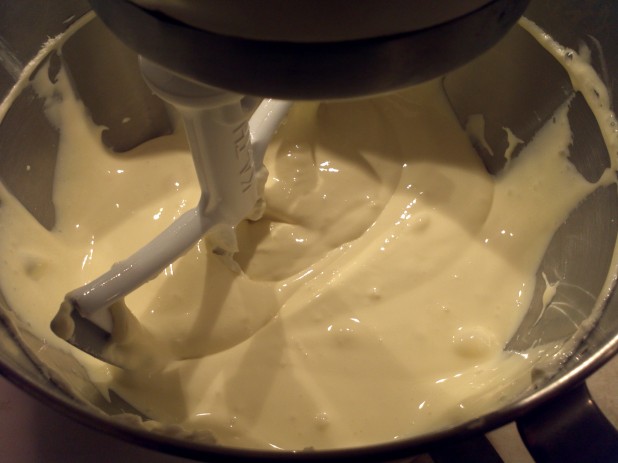 Here is the final liquid.  It should be pretty easy to spread around, next we'll prepare the crust before we pour it in.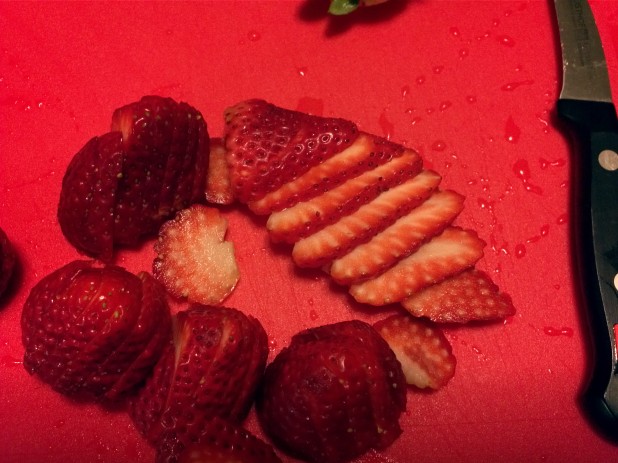 Since this was for V-day, I decided to get a little fancy and add sliced strawberries!  Feel free to leave these off for less carbs. I sliced them as shown so I could adorn the cheesecake crust and top with them.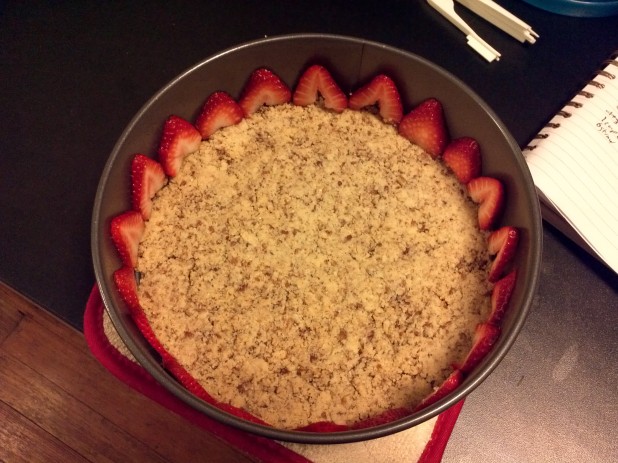 I took the slices and lined the springform pan with them.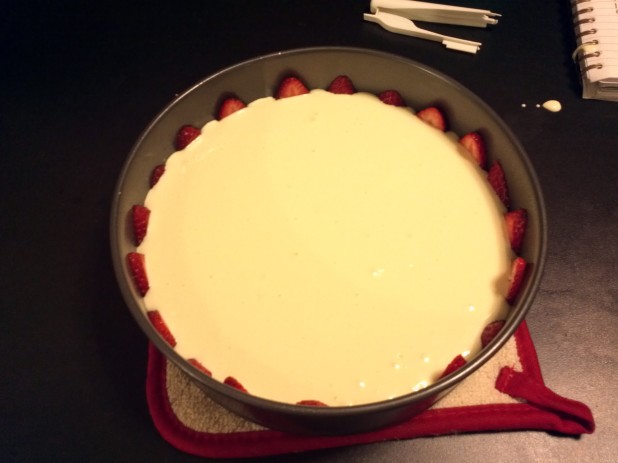 Now add the liquid.  It expands pretty well and covered the strawberries.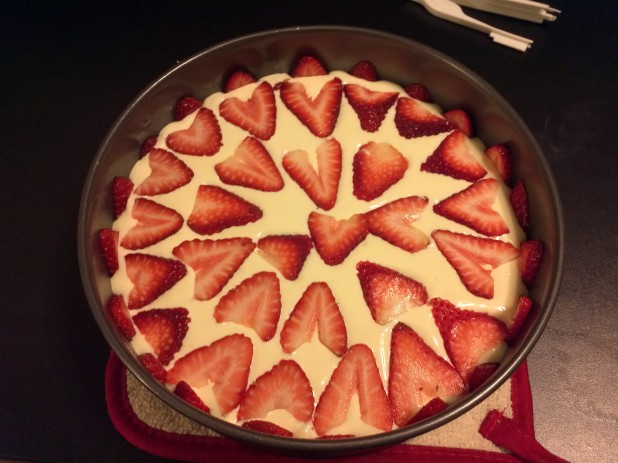 For even more flare, I added strawberries to the top of the cake.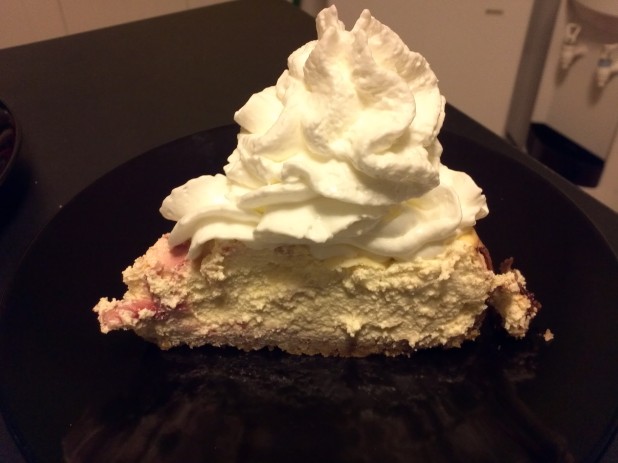 And there you go!  Here's a slice of the finished cheesecake!

Low Carb Strawberry Cheesecake
Nutrition Information
Serving size:

⅛th

Calories:

535
Fat:

49

Carbohydrates:

9

Fiber:

2

Protein:

13
Prep time:
Cook time:
Total time: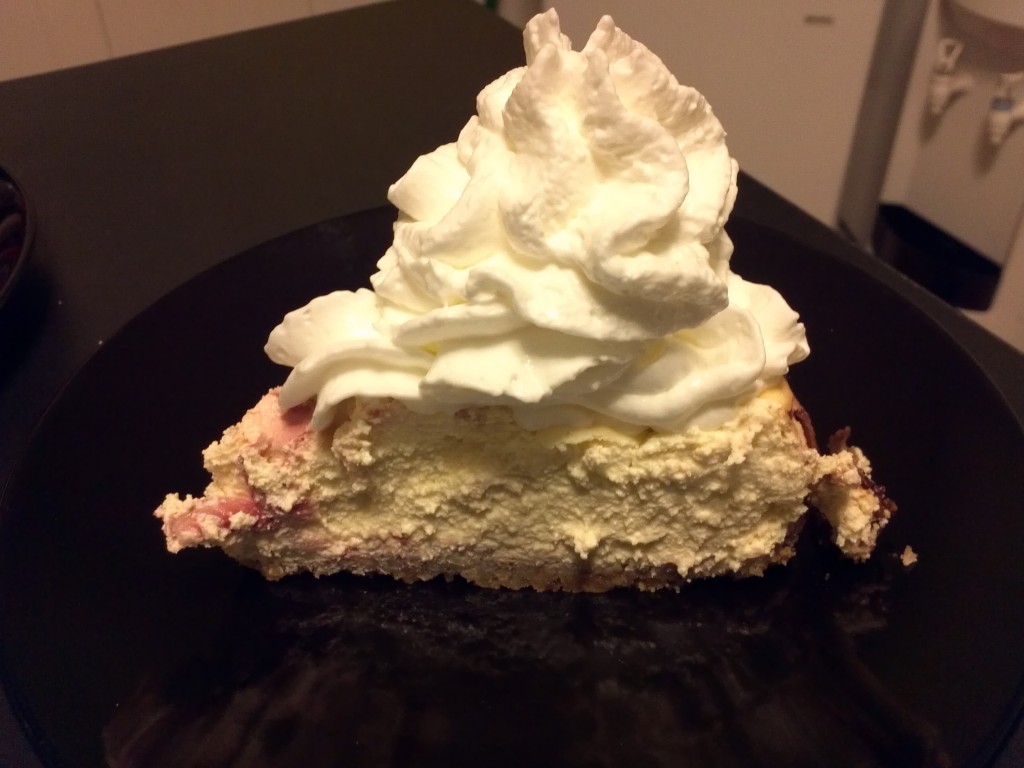 Ingredients
Crust:
¾ Cup Pecans (84g)
¾ Cup Almond Flour
4 Tbsp Butter
2 Tbsp Splenda
Filling:
1½ lbs Cream Cheese
4 Eggs
½ Tbsp Liquid Vanilla
½ Tbsp Lemon Juice
½ tsp EZ-Sweetz (Equivalent to 1 cup sugar, if splenda, use 1 cup)
¼ Cup Sour Cream
9 Strawberries
Instructions
Preheat the oven to 400 degrees
Crush the pecans
In a small saucepan, melt 4T butter and then add pecans, splenda and almond flour
Mix the crust in the saucepan for several minutes until combined
Grease a 9" springform pan and line the bottom with the crust
Cook for 7 minutes at 400 or until it just starts to brown
For the filling, combine all the room temperature ingredients in a stand mixer and mix well
If desired, slice strawberries and line the side of the crust
Add filling on top of the crust / strawberries
Optionally top the cheesecake with strawberries
Put the cheesecake in the oven at 400 degrees but drop it to 250 as soon as you put it in
Cook for 60-90 minutes or until the cheesecake has set.
Let cool, then store in the refrigerator, serve cold with whip cream optional!
Notes
You could easily serve this as 1/16th sizes as well. It makes a lot of cheesecake!
KitchenAid 4.5 Quart Stand Mixer
The KitchenAid mixer is a classic in any kitchen. Even though baking is tough on keto, there are still plenty of uses for this thing. You can bake some cheesecake, grind some meat, and even make ice cream!
EZ-Sweetz
EZ-Sweetz is liquid sucralose. In case you weren't aware, powdered splenda contains carbs as binding agents to get it to look and act like sugar. If you're making something like a chocolate mousse or a Low Carb Cheesecake, this stuff is perfect. I've never seen it in a store before so I stock up on it online. You can get liquid stevia or truvia at somewhere like Whole Paycheck but I like this stuff better.
Bob's Red Mill Almond Flour
Almond flour is the go to flour on keto. Its the base for stuff like almond buns and I use it as a filler anytime I want a flour substitute. I'd check your local grocery store first, but if you can't find it locally, buy it online. By me, it varies between $8-$12 per lb.