So when this first came out, I vowed to never buy one. A Bacon Bowl? Who would get such a thing? Sure, I've made Bacones, hundreds of Bacon Weaves, even a Bacon  Basket Weave, but never have I bought a commercial product just to cook bacon!  Well, this gem was on clearance at a local store so I decided it was finally time to take the plunge.  That, and as the holidays approach, I was looking for more cool gadgets to add to the Caveman Keto's Kitchen section of the website.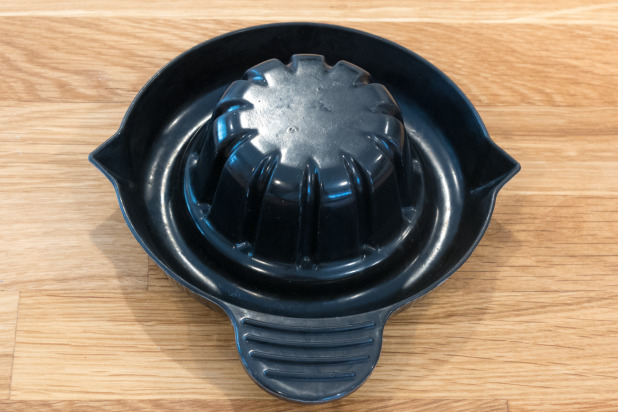 Well, here it is, the bacon bowl. There are some cool features built in.  First, the groves along the sides allow air to get into the bacon bowl and the bacon grease to flow down. Then there is a spout to pour the bacon grease.  The box says this is to discard the grease, Ha!  I of course pour it directly into my grease keeper!!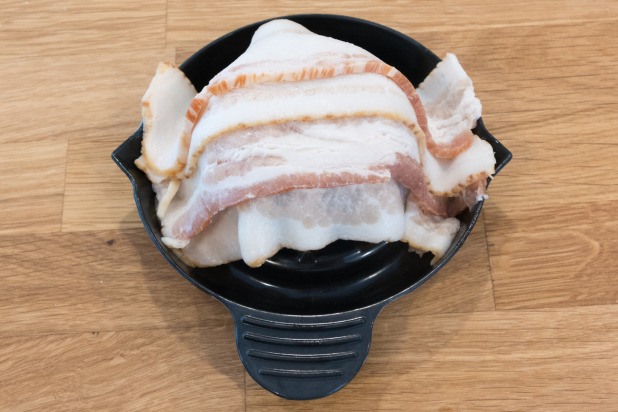 It didn't come with any instructions, I guess they figure its obvious.  Of course, my first one completely fell apart so its not so obvious.  The first time I didn't put enough overlap and the bottom had holes.  On this round I cut two pieces in half and used four slices as shown for the bottom.  I use pretty thick and long bacon so YMMV.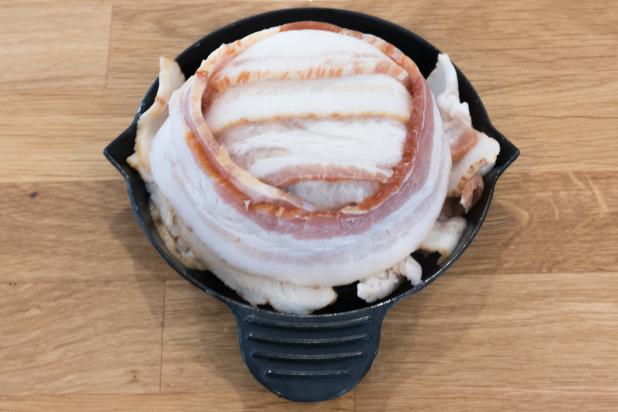 Finally, wrap a piece of bacon around the outside toe form the sides of the bacon bowl.  I didn't use a toothpick or anything to hold it but it might not hurt.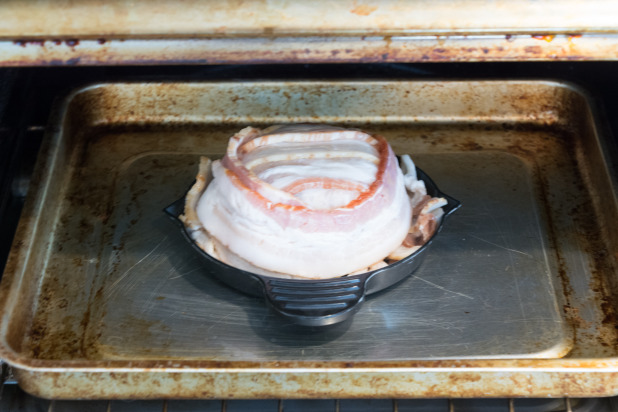 The box says you can put this in the microwave. I would not be caught dead cooking bacon in a microwave so I used my tabletop convection oven.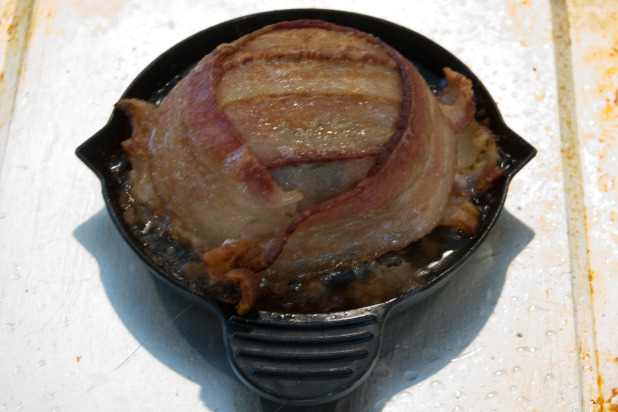 Here's the bacon bowl out of the oven.  It browned up well and you can see the amazing bacon grease at the bottom.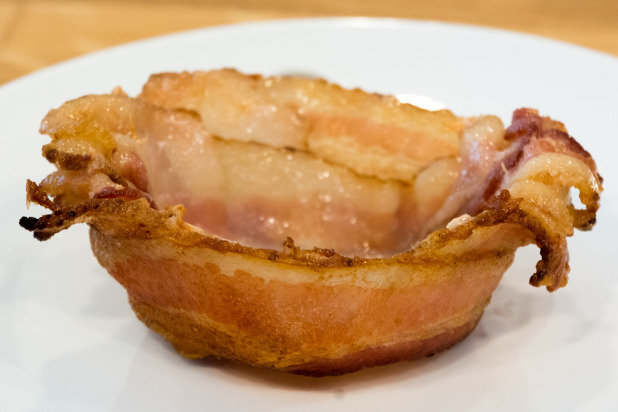 Here's a shot of the side. It held together better than I thought it would.  I think the ruffles help.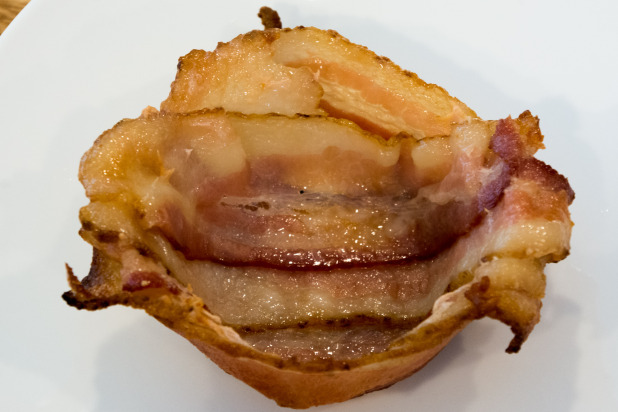 And here's a shot of the inside.  The first time I cooked one I did it at my usual baking temperature of 450 with convection.  This resulted in the bottom of the bowl being undercooked.  Instead I lowered the temp to 375 and cooked it for 18-20 minutes.  Keep in mind that I always use super thick bacon so if you use wimpy bacon it will cook faster.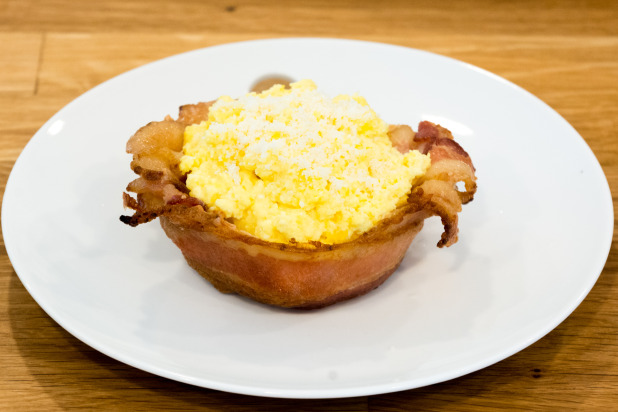 As advertised, it worked quite well at holding some eggs!  Of course it fell apart as soon as I cut into it but at least its something bacon-y that you can buy for that special ketoer this holiday season!!

The Perfect Bacon Bowl?
Prep time:
Cook time:
Total time: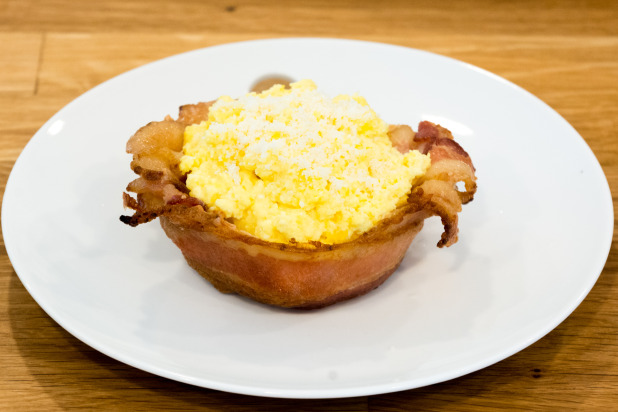 Instructions
Preheat convection oven to 375
Cut two slices in half and spread four pieces over the base for the bottom of the bowl, make sure to overlap pieces
Tightly wrap the third slice around the base to form the side
Bake for 18-20 minutes or until golden brown
Bacon Bowl
Ok, so I honestly never though I'd buy one these. I even made my own bacon bowls before they were cool. But, this was on sale and I made an impulse buy. Pretty convenient if you want a bacon-y bowl for your eggs 🙂
Black and Decker Convection Oven
My convection oven is my best friend. Whenever I am making a dinner for just one or two I always use this over my full sized oven. Meals like Lazy Keto Chicken were designed for this thing, the hot air cooks stuff super fast and uses less energy.
RSVP Stoneware Grease Keeper
Never throw away bacon fat. Ever! This thing is the coolest invention. It's a little ceramic container that has a built-in filter that stores your bacon grease. You simply pour the grease into it when you're done frying some bacon and its ready to spoon back into the pan next time you're frying some veggies!