Simple, cheap and tasty; the keto trifecta!  This dish is the ultimate in keto comfort food.  As you know, I've got a little bit of an obsession with finding the perfect keto-friendly pizza.  Most of the methods involve creating some sort of faux bread, whether it be almond bun based, or a pita.  Today's pizza is even simpler, its just making a pizza on top of a chicken thigh!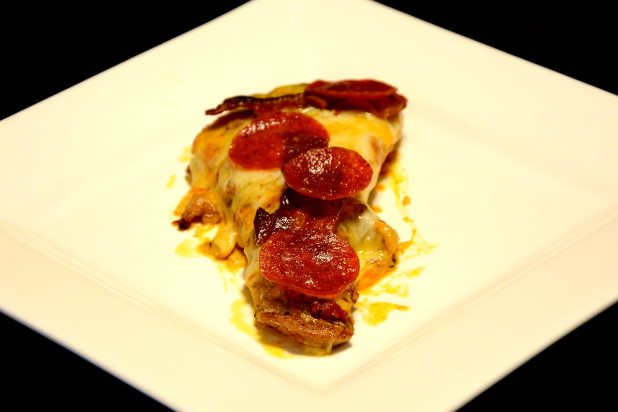 And as you can see, it turned out amazing!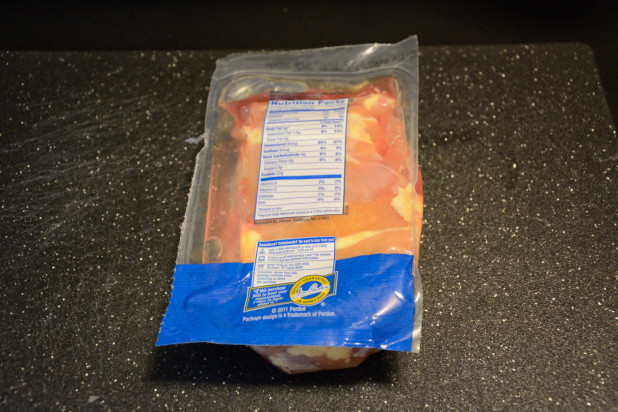 This recipe starts with the humble, boneless chicken thigh. If you're not aware, chicken thighs are the cheapest chicken meat and at BJs you can buy 6 of the above packs for less than $20.  Each pack has four thighs.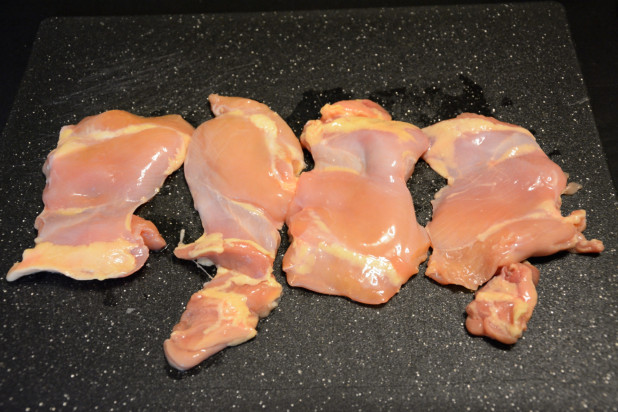 Start by taking a large cutting board and laying out the chicken breasts.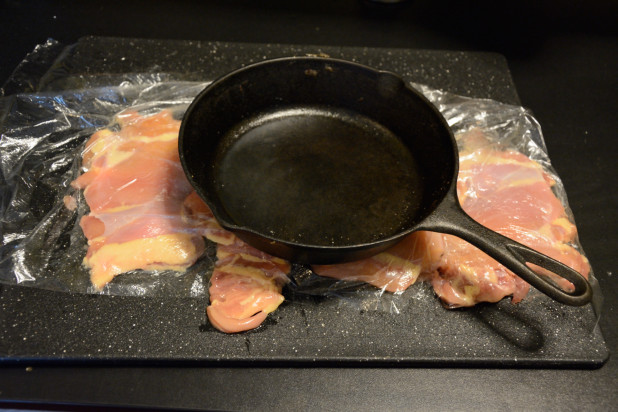 Then cover them with saran wrap and beat the crap out of them with a flat surface.  I used my 8″ Cast Iron Skillet as the bludgeoning tool. It was the perfect size as it wasn't too heavy but still has enough surface area to crush the chicken.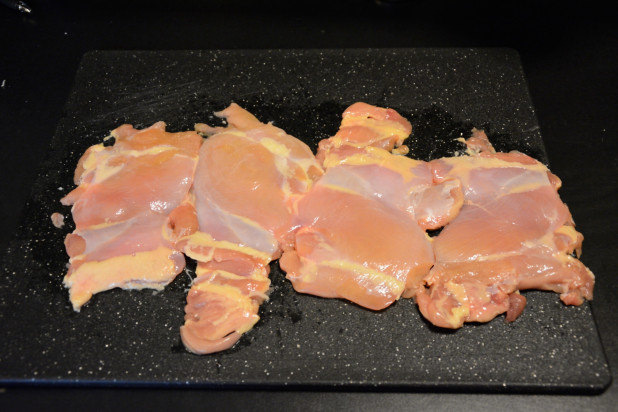 After they've been crushed, they really flattened out!  This serves two purposes, one it gives us more surface area for our pizza.  Secondly, it makes them an even thickness so they cook well.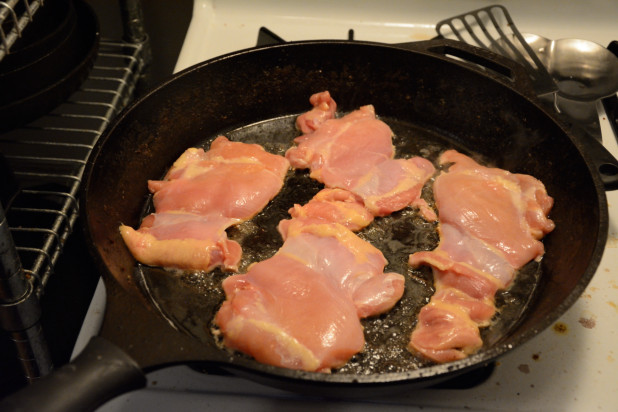 Speaking of cooking, the next step is to sear the chicken over high heat with some bacon grease. Salt and pepper both sides.  One minute per side should do. After they've seared, throw them in an oven at 350 degrees for 10 minutes.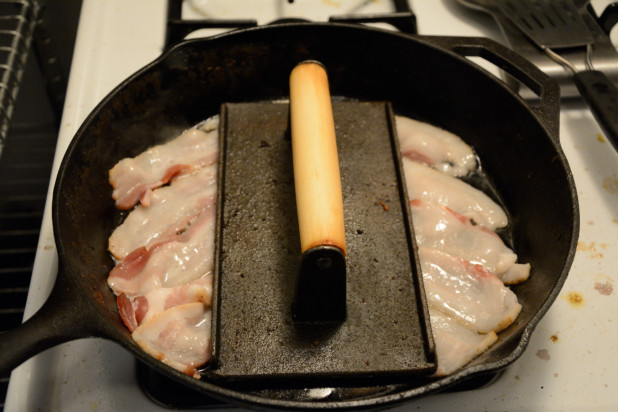 What would pizza be without bacon? My trusty bacon press keeps the bacon nice and flat during frying!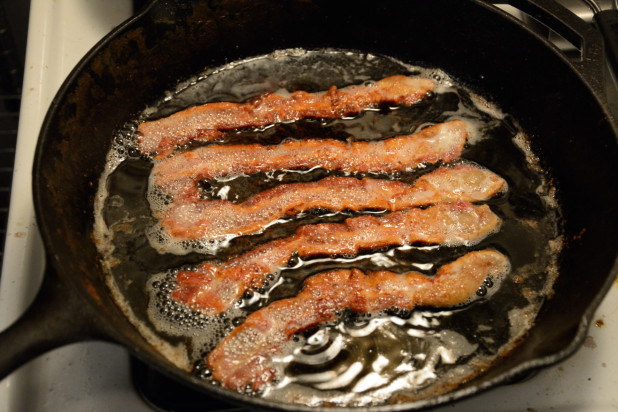 Mmmmm, bacon!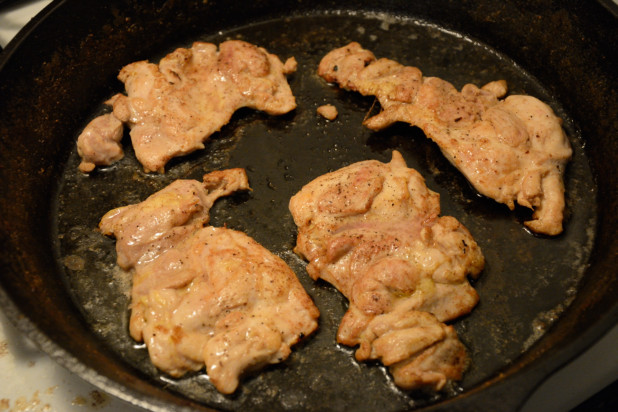 Here's the chicken thighs after its trip to the oven.  10 minutes should do, although I did check them with a meat thermometer to make sure they were above 165 degrees just to be safe.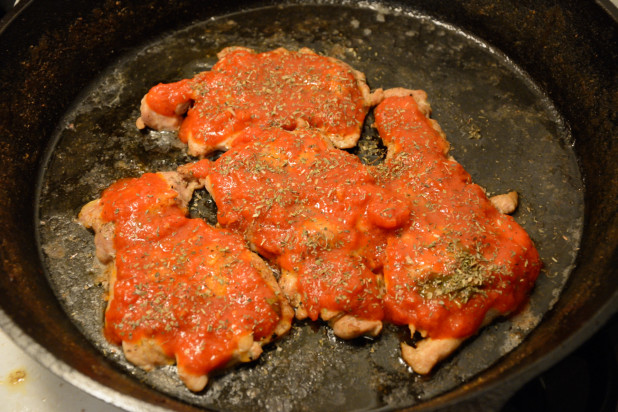 Next, throw a low carb pasta / pizza sauce on top of them.  Then sprinkle with whatever pizzaesque spices you have laying around.  I used italian seasoning.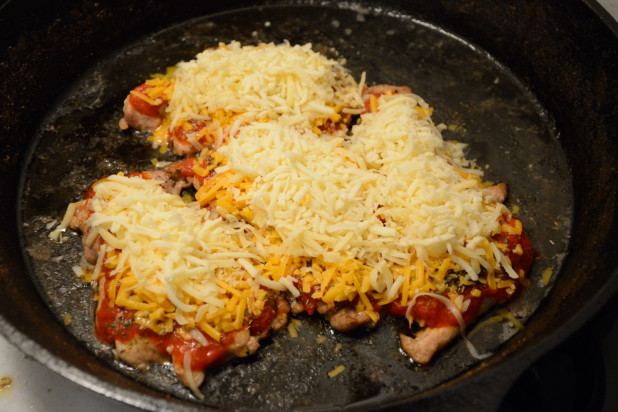 Now for the cheese!  I had three types of shredded cheese in my fridge so I used all three.  This amounted to Cheddar, Monterey Jack and Jarlsberg (Swiss). After applying the cheese, switch the oven to Broil High and cook for 3 more minutes.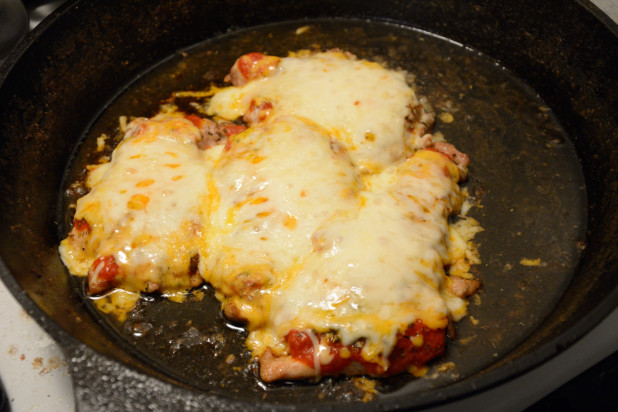 After three minutes, the cheese is all melted and ready for the final toppings.
Throw that bacon on there!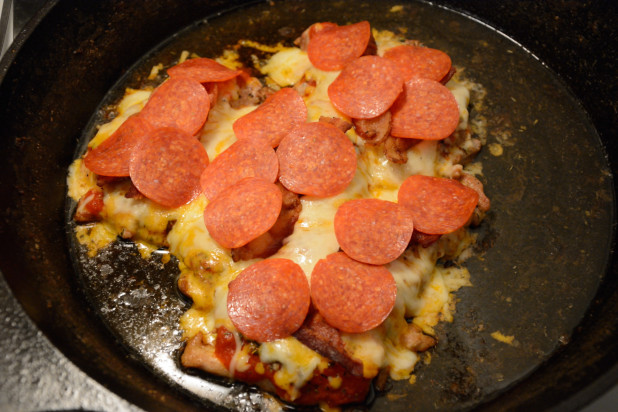 And some pepperoni!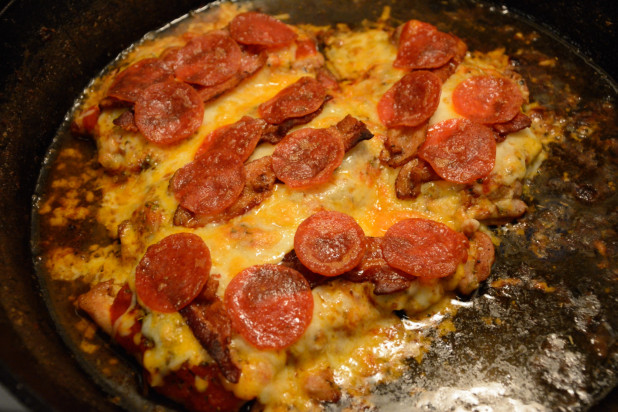 Hit it up for two more minutes and we have pizza perfection!  The cheese, bacon, pepperoni and chicken thighs make an awesome flavor profile.

Pounded Chicken Pizza
Nutrition Information
Serving size:

1 Thigh

Calories:

461
Fat:

36

Carbohydrates:

1

Fiber:

0

Protein:

32
Prep time:
Cook time:
Total time: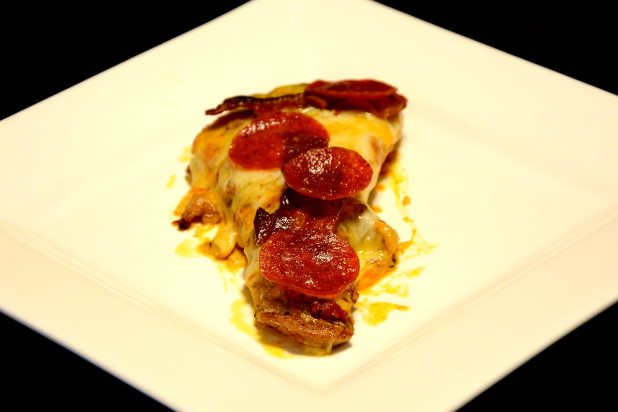 Ingredients
4 Chicken Thighs
½ Cup Marinara / Pasta / Pizza Sauce
2.5 Oz Cheddar Cheese, Shredded
2.5 Oz Jarlsberg Cheese, Shredded
1 Oz Monterey Cheese, Shredded
4 Slices Bacon
16 Slices Pepperoni
Italian Seasoning (Can substitute oregano, thyme, or whatever you have)
Salt and Pepper
Instructions
Preheat oven to 350 degrees
Start cooking the 4 slices of bacon
Place chicken thighs on a large cutting board, cover with saran wrap, and pound with a heavy pan
Salt and pepper both sides of the chicken
Heat some grease / oil in a pan on high heat and sear chicken on both sides for one minute on each side
Transfer the skillet to the oven and cook for 10 minutes
Remove the skillet from the oven; add sauce and seasoning
Cover with cheese and add back to the oven for 3 minutes, this time cooking on Broil
Remove from oven, add remaining toppings of bacon and pepperoni, then broil for an additional 2 minutes.
Notes
I cooked 5 pieces of bacon but only used 4 for the pizzas.