When I was young I always liked ribs.  I would order them every time we went out.  However, most ribs these days are coated in a thick, sugary BBQ sauce that's not very keto.  Even dry rubbed ribs often contain brown sugar as a primary ingredient in the rub.  Luckily you can make them at home with no added sugar!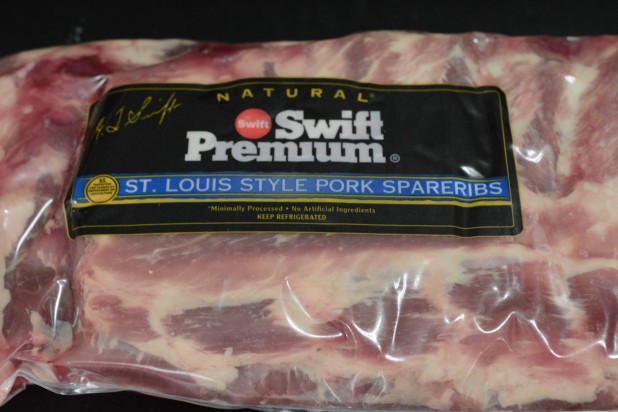 For this recipe I'm making Saint Louis style pork spareribs.  I got a huge pack of them from BJs.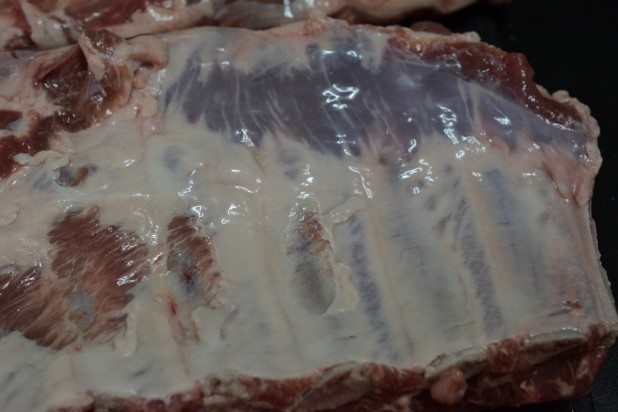 The first step is to remove the membrane if it is present.  This membrane is a thin but very tough layer that can ruin the experience of eating the ribs if not removed.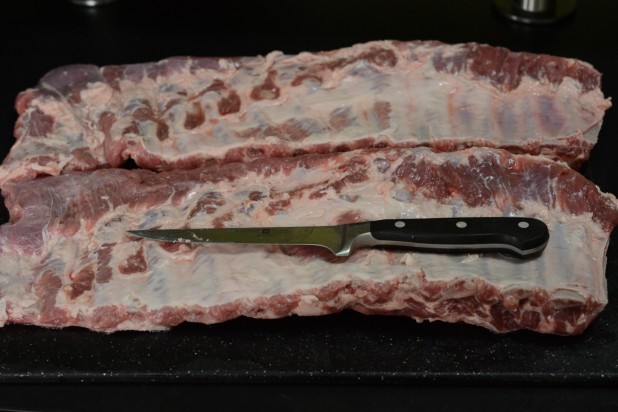 Here's an after picture, I used my boning knife to try and cut the membrane free.  When possible, I tried to grab it and pull it off and just loosened it with the knife when necessary.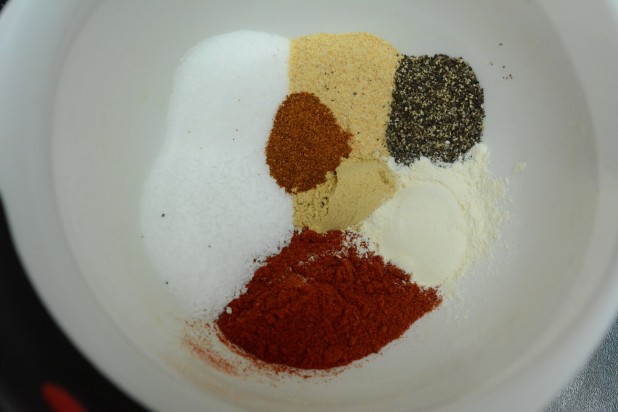 For the dry rub, mix together all of the spices!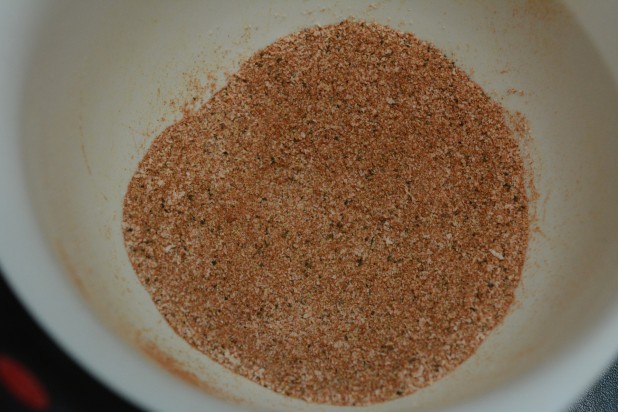 Here's a look at the spice mixture after its all mixed together.  You could even make a larger batch and store it for another time.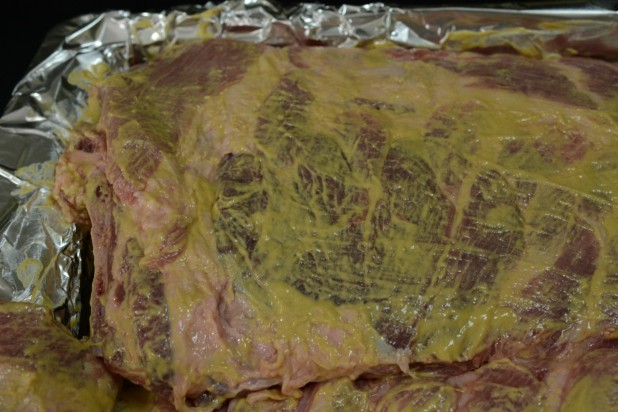 Now, smother the ribs with mustard. The mustard will help keep the rub on the meat and also help form a nice bark on the outside after cooking.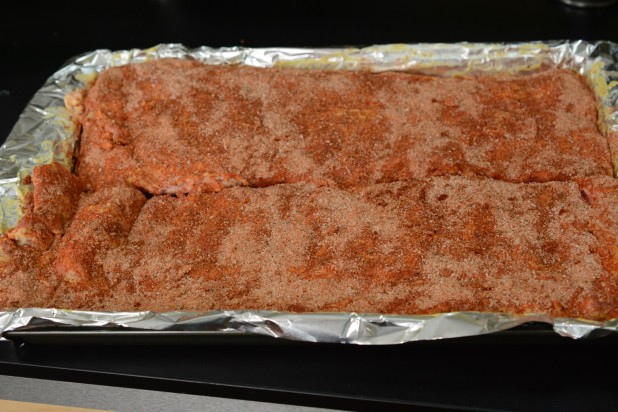 Here's the rubbed down ribs, ready for the oven!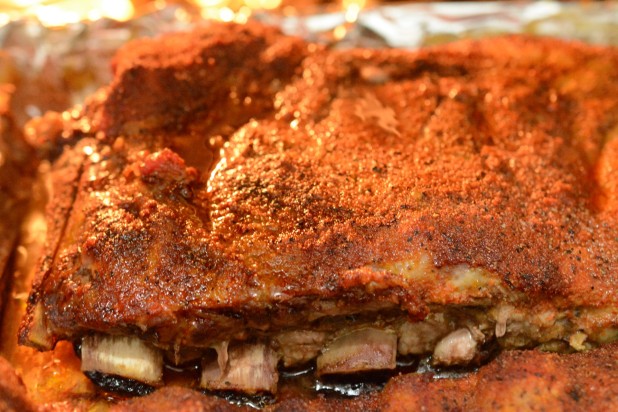 Here you can see the bark forming and that awesome, bone poking rib action going on 🙂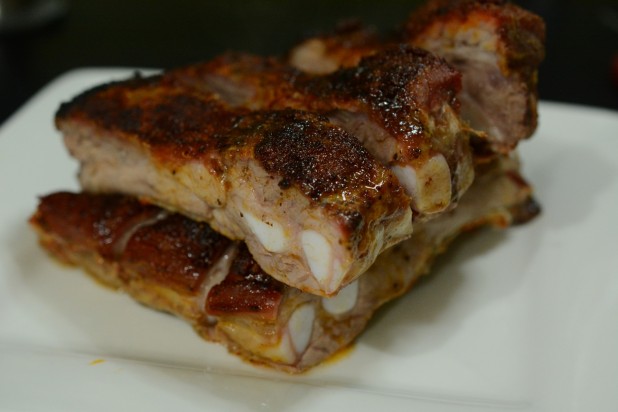 Oh man, these were sooo good!

St. Louis Ribs - Keto Style!
Nutrition Information
Serving size:

4 Ribs

Calories:

925
Fat:

59g

Saturated fat:

36g

Unsaturated fat:

0g

Trans fat:

0g

Carbohydrates:

4

Sodium:

1869mg

Fiber:

1

Protein:

99g

Cholesterol:

269mg
Prep time:
Cook time:
Total time: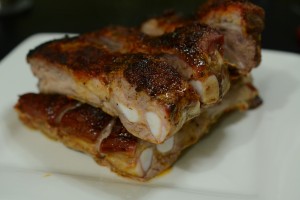 Ingredients
2 racks of St. Louis Ribs (6.72 lbs)
2 Tbsp Paprika
2 Tbsp Splenda
1 Tbsp Garlic Powder
1 Tbsp Salt
½ Tbsp Pepper
½ Tbsp Ground Ginger
½ Tbsp Onion Powder
¼ Tbsp Cayenne Pepper
2 Oz. Dijon Mustard
Instructions
Preheat oven to 225 degrees
Using a sharp knife, remove the membrane on the back of the ribs if it is present
Mix together all of the spices
Spread mustard all over the ribs
Rub the spice mixture into the meat
Place the ribs on a foil lined sheet
Bake uncovered for 60 minutes
Tent the meat with some aluminum foil and cook for 3.5 more hours or until the internal temperature reaches 180 degrees, turning after 2 hours
Remove the foil and broil on high for 5 minutes to develop a good crust
Cover and let rest for 10 minutes
Wusthof 6-inch Boning Knife
A narrow yet flexible blade that is well suited for boning poultry. Useful in case you want to whip up a turducken or debone a chicken! Also good for anytime you need to remove skin or need delicate knife work. Very sharp!
Thermapen
This probably shouldn't be the first thing you buy for your keto kitchen, but eventually, you'll end up buying this thermapen. It seams ridiculous to blow $80+ on a temperature probe but once you go through 5 other cheap ones, or burn your hand waiting for the temperature to stabilize, you'll wish you just picked one of these up. Its way faster and more accurate at reading temperature and I now almost exclusively cook meat to a done temperature rather than a specific time.